West Bengal: Awareness of Rights Under FRA Brings Tribal, Forest Communities Closer
There's growing political consciousness, thanks to campaigns and marches in over 12 districts led by the newly formed Banadhikar O Prakriti Bachao Adivasi Mahasabha.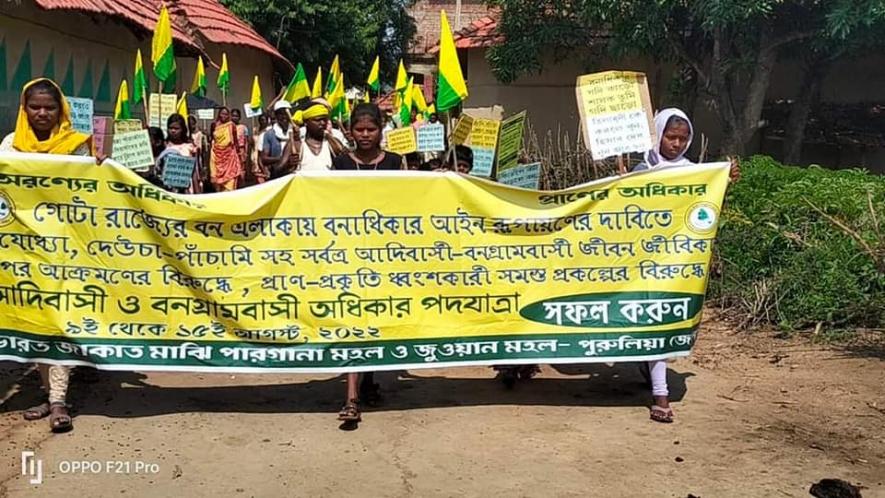 Kolkata: Tapan Kumar Sardar, a school teacher in Bankura in West Bengal, is from the Bhumij community. Growing up, he had little idea of what that meant. But once he entered college, he read about the community's identity, rich history, and own language and realised how most people in this community do not even use their constitutional rights, such as reservation, mandated for the Scheduled Tribes. 
So, right after college, Sardar decided that he was going to work on this. For over a decade now, he has been working on the Bhumij language and making people of the community aware of their constitutional rights.
But last week, the school teacher was leading an awareness rally that was different from his usual campaigns. The focus was single this time and comparatively new for the Bhumij villages of Bankura – to make people aware of their rights mandated by the 2006 Forest Rights Act (FRA).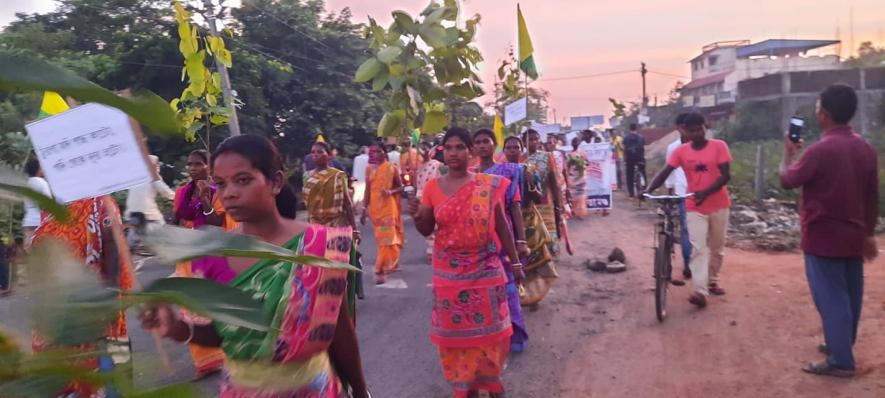 This Act recognises the forest rights of the Scheduled Tribes and traditional forest dwellers and aims to protect the culture of the communities in these areas. This became an important intervention in a system where the forest dwellers have been displaced for big government or private projects in huge numbers. 
Like in Bankura, similar awareness campaigns and marches were taking place across the state in more than 12 districts last week led by the newly formed organisation, Banadhikar O Prakriti Bachao Adivasi Mahasabha. 
"Though many people were really interested to know more, the extent of lack of awareness about one of the most empowering Acts for the tribal community was overwhelming," says Sardar. 
What was also new is a larger collaboration of members of indigenous communities across the state.  "Though multiple organisations of the Adivasi communities have been working in the state for many years, I haven't ever heard of a collaboration that spread so wide," says Sundarsing Rava, who belongs to the Rava community of North Bengal and is a convener of Uttarbanga Banjan Shramajibi Mancha, a north Bengal-based rights group. 
While there were many marches of hundreds of people in the bigger centres like Alipurduar city in North Bengal or Bankura in the West, an important achievement was to reach out to several villages in these districts, feels Rava.
The root of this unique large-scale campaign and a state-wide adivasi organisation lies in the long protests in Purulia's Ayodhya Hills for the last four years. This ongoing protest is against the Turga pumped storage project which is feared to endanger the ecosystem of the hills and according to the agitators violates the FRA. 
"At that time we had more than 11 adivasi organisations coming under a platform, Prakriti Bachao Adibasi Bachao Mancha, which was spearheading the movement. This was an important phase in the realisation of forest rights in the state as people were experiencing for the first time how they could use the law to assert their rights in this case," says Saurav, an environmental activist, who was a key campaigner in the Ayodhya Hills protests and is also associated with the state-wide campaign. 
Saurav says that apart from the Sundarban Delta, there has been no campaign for the 2006 FRA in South Bengal. This is because it is hard to find people who would understand that law and are willing to come and work in these regions. 
"There have been many attempts at consolidation and campaigns since 2006 to make people aware of their forest rights. But none of them really worked or could spread. This changed during the protests at Ayodhya Hills. What started with only the locals slowly saw people from much further in the Jangalmahal area of West Bengal, that spans across the districts of Bankura, Purulia and Jhargram and other neighbouring districts, take part," he says.  
During their participation in the agitations and campaigns of Prakriti Bachao Adibasi Bachao Mancha, the people from these districts and other places were witness to the assertion of the forest rights and rights of the tribal community in action. 
"This has led to a new political consciousness and we started discussing a larger organisation. Apart from this, there has also been a rise in discussions in different gram sabhas about rights in the districts of Jhargram and Purulia. A part of this is because of the fact that the FRA empowers the gram sabha as a very important body when it comes to taking administrative decisions about the village," says Rajen Tudu, an activist and a resident of Purulia.
When the dialogues started, major developments at the national level started having an impact here too. In 2019, there was a proposal to amend the colonial Forest Act which was later turned down, then came the controversial 2022 Forest Conservation Rules, which people fear made it easier for private concerns to take over forests without informing the villages. 
"Now, when the state wanted to start a coal mining project at Deocha Pachami in Birbhum, the collaboration between these movements became stronger. With the experience of the agitation and the constitutional rights that they exercised in Ayodhya Hills, the village leaders there helped villages in Deocha Pachami to form gram sabhas in accordance with the FRA so that they could channelise their protests in the right direction," says Saurav.  
But they realised that activists from one end of the state travelling to other parts to share information and awareness only when there is a major event, is not a great model.
"So this year, we decided to come together to form an organisation with a single plan. This does not mean that the other issues of the people in different parts will not be taken up, just that, as of now, we will be focussing on empowering the people with forest rights as much as possible," says Saurav.
The author is a freelance journalist based in Kolkata.
Get the latest reports & analysis with people's perspective on Protests, movements & deep analytical videos, discussions of the current affairs in your Telegram app. Subscribe to NewsClick's Telegram channel & get Real-Time updates on stories, as they get published on our website.
Subscribe Newsclick On Telegram