Cornered by Political Violence, Can Bengal Choose Peace?
As Trinamool and BJP engulf the state in strife, ordinary citizens feel powerless.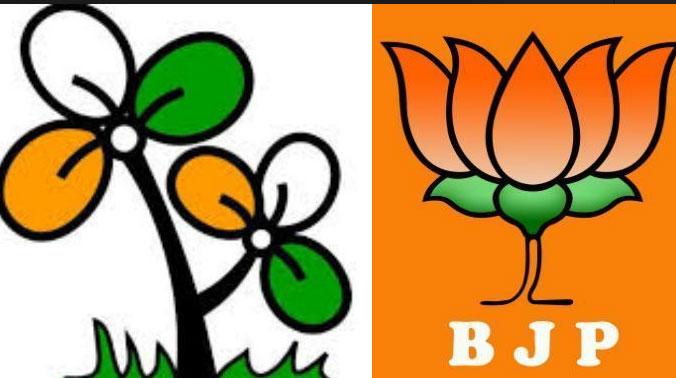 Image Courtesy: Orissapost
"One party is forcing us to chant 'Jai Sri Ram', another 'Jai Trinamul'. We don't want to do either; where do we go, what do we do?" a traumatised Subrata Chattopadhyay cried out, as dozens of cellphone cameras zoomed in on him.
This professor of Bengali at Nabagram Hiralal Paul College in Konnagar, Hooghly, had been abused, thrashed and flung to the ground by supporters of Trinamool Congress Chhatra Parishad - on the afternoon of July 24 - when he tried to protect college girls who were being forced to chant 'Mamata Banerjee Zindabad.'
As videos of young men slapping the aged professor circulated wildly and protests by the Left mounted, chief minister Mamata Banerjee, eager to mend the party's image, intervened swiftly and Trinamool leaders rushed to apologise and minimise the damage. Lost in the din, however, was the professor's heartfelt cry - We want neither BJP nor Trinamool, where do we go?
Synonyms of Conflict
Three clumsy words dominate Bengali news on television channels these days -- dhundhu-mar (violent clashes) rono-khetro (battlefield) bedhorok maar (sound thrashing). TV channels air an endless series of news clips involving clashes, ransacking, bombings, shootings, beatings from across the state. In just six days (July 27 to August 1), almost two dozen cases of bombings, clashes, murders, bombs killing or maiming children, office ransacking etc were reported. Alarmingly, these incidents of violence are treated as aberrations, not worthy of scrutiny, even though these have been happening for nearly a decade.
Soon after winning the 2011 Assembly elections, the Trinamool Congress (TMC) opened its own chapter of violence. Within 15 days of being sworn in, 13 CPI(M) or Communist Party of India (Marxist) cadres, including three women members, were killed across the state. After eight years, the CPI(M)'s loss stands at a staggering 220 cadres killed, including the gruesome lynching of ex-MLA Pradip Tah in 2015. While declaring 'change, not revenge' (bodla na, bodol chai), the ruling TMC created a regime of fear, rendering thousands of CPI(M) members homeless, shutting down party offices, filing thousands of false cases against Opposition members and grabbing local bodies won by Left or Congress candidates.
This intolerance towards mainstream Opposition parties destabilised communities at the grassroots level and created an atmosphere of impunity where small-time ruling party politicians could get away, not just with corruption, but even arson and murder. In fact, after the unprecedented violence and electoral malpractice of 2018 panchayat elections, which saw the ruling party win 34% seats uncontested, the Bhartiya Janata Party (BJP) too changed tactics. The right-wing party so far had been focused on polarising people with toxic propaganda and low-intensity communal violence, but after 2018, it appeared convinced that West Bengal can be won only by terrorising voters and escalating clashes.
After winning 18 Lok Sabha seats in the state, not a single day has passed since May 23, without the BJP and Trinamool disrupting normal life with violence. The price is being paid by ordinary citizens, children, policemen and lower-level party workers. And lost in the cacophony is the voice of those who want an alternative -- a state where politics does not overwhelm their daily routine and electoral victory is not settled with bullets, booth-auctions and bombs.
TMC Era: Violence & Silence
Two trends in the violent politics of TMC need to be noted -- violence on students and children, and the deadly nature of Trinamool infighting. Since 2011, mainstream media and a section of Bengali intelligentsia has devoted themselves to protecting the image of the chief minister. Events which should have generated public outrage and discussion were buried in the inside pages of newspapers or dumped in 'crime files'.
In January last year, nine-year-old Arabul Mollah was shot in Basanti, South 24 Parganas, when he was caught in a crossfire between Trinamool Congress and Trinamool Youth Congress hooligans. Left supporters circulated pictures of a hapless father carrying his injured son to hospital, who later died, but poor Muslim boys dying in remote areas due to ruling party factionalism is not considered newsworthy, and the tragedy passed unnoticed.
In April 2018, eight-year-old Poulomi Haldar, of Haroa, North 24 Parganas, lost her left arm, elbow down, when she went to pluck puja flowers for her mother and picked up a bomb instead. It was one of the innumerable bombs strewn around the countryside in the run-up to the bloodiest panchayat elections in West Bengal. Extensive campaigns conducted by All India Democratic Women's Association helped attract public attention to her plight. Financial support did pour in, but the media was careful to focus on the 'human interest' angle and stubbed out any outrage against the regime.
Just six months later, in October, Bibhash Ghosh, 8, was killed and 10 others injured in an explosion in front of a building in congested Nagerbazar area of North Kolkata. The building housed the office of South Dum Dum municipality chairman Panchu Roy, a TMC leader, who claimed that he was the actual target of the blast. Little Bibhash was collateral damage and a 'tragic story' for a few days.
In West Bengal, campus politics and clashes are as old as the campuses themselves, but a handful of relatively minor events help understand how violence was normalised. In January 2016, members of the Yuvak Sangha Nischinda Club in Howrah, affiliated to TMC, set fire to a private B.Ed college building and its women's hostel, owned by one Bishnupada Das, said to be close to CPI(M). According to media reports, 40 odd girls in the hostel managed to escape alive with help of the Fire Brigade, even as the mob laughed at the victims screaming in terror. The news barely attracted any uproar.
In January 2018, a Trinamool youth leader repeatedly slapped a girl in a common room at Hooghly's Rishra Bidhan College, as per reports. A CCTV clip of the incident was widely circulated. The culprit was arrested, let off on bail and the issue was forgotten. In March 2018, Trinamool supporters thrashed students, including two foreign students, of the iconic Visva Bharati University, who were protesting the felling of full-grown trees in Shyambati area of Shantiniketan. The middle-aged hooligans reportedly flung young women to the ground, kicked and punched the foreign students. The outrage was limited to social media and died within 24 hours. In Trinamool's Bengal, ruling party excesses were ignored, played down and pushed away from public scrutiny.
Until recently, the mainstream media narrative was that Trinamool's violence is 'nothing new', violence is endemic to West Bengal and Mamata Banerjee's regime should not be singled out for it. Street protests carried out by the Left on issues ranging from chit fund scams to massive corruption in government recruitment to violence on its cadres, were routinely kept away from the headlines. Over the years, this failure to call out repression, especially on the young, and give space to genuine grievances of people took the form of a million festering wounds.
Impact of TMC In-Fighting
The rationale for terrorising the Left-liberal opposition is widely accepted in West Bengal's 'winner takes all' model, which is why systematic attacks on Left and Congress cadres, activists and leaders did not create too much agony. During 2016 Assembly polls, the CPI(M) lost 16 of its members, many of them brutally killed. At least 100 people died during last year's panchayat election, 12 of whom belonged to the Left. The most gruesome incident was the burning alive of party cadres Debu and Usha Das. The more inexplicable violence, however, is the deadly Trinamool in-fighting, locally known as goshti dondo. This least examined phenomenon -- where Trinamool members are engaged in a 'fight to the finish' over control of territory -- has done much to harm socio-economic stability in the state.
As early as March 2012, news of 'Trinamool in-fighting' started appearing in the media. One of the earliest reports was from Durgapur, where three people were severely injured when they beat each other up with iron rods at a TMC event. Initially, much of the heartburn was over CPI(M) men joining TMC in droves, resulting in mistrust and hostility. Fast forward to 2018. In February, a Trinamool panchayat upa-pradhan, Nantu Pradhan, was hacked to death by mobs when he tried to force brackish water into paddy fields and convert these to commercial fish ponds or bheris, in Bhagawanpur, East Midnapore. Nantu, whose family once belonged to CPI(M), had amassed huge wealth since TMC came to power, by converting paddy fields into temporary bheris. His other source of wealth was to collect bribes from village youths by promising them non-existent jobs. This enabled the muscleman to even open his own BEd college! Nantu's dream run came to an end when enraged villagers hacked him to death.
It is in this context, that the mind-numbing violence of the panchayat elections can be understood. A report in the Times of India last year charted out Trinamool's control over every illegal operation -- from coal mining to sand mining, cow smuggling to illegal prawn bheris -- for which absolute power at the panchayat level was essential. Reportedly, at every stage, paying the price of this 'politico-financial model' were Trinamool workers themselves. In December 2018, four party workers and leaders were killed in separate shootouts, all within 36 hours.
As the body count piled up, and the nature of killings became chillingly professional, the silence of mainstream political commentators also got more stubborn.
Post-LS polls: BJP on Warpath
This is a bad time to be a journalist in West Bengal. Bureau chiefs and reporters have every reason to fear for their lives. During the first phase of the recent Lok Sabha elections, two television journalists from the Ananda Bazar group were thrashed with nail-fitted bamboo sticks when they tried to report booth-capturing in North Bengal. During panchayat elections, almost 20 journalists and photojournalists were injured. A Times of India photographer was allegedly kidnapped by Trinamool goons in the heart of Kolkata, stripped and threatened.
No sooner were the results announced, Kakinara and Bhatpara, in North 24 Parganas, came under relentless bombing for almost 45 days. Four people were killed, two from bombing, two in police firing, a school teacher was shot on his way home, countless shops and homes were looted. Fact-finding teams from Association of Protection of Democratic Rights, National Alliance for People's Movement and the CPI(M), reported how shops were looted, houses plundered and stores captured and converted into BJP offices during this month and half period. The attackers not only looted cash and jewellery, they even took away identity documents and groceries.
Media reports indicated that those who did not align with the saffron party were ceaselessly terrorised. The BJP, of course, lost no opportunity in pumping communal hatred in a region which had lived in perfect harmony for decades. The fact that TMC muscleman and four-time MLA Arjun Singh -- a man notorious for his strong-arm tactics and foul mouth -- had got elected on a BJP ticket from Barrackpore LS constituency, made matters worse. The CPI(M) held several rounds of peace meetings in these areas. On July 28, the Congress and Left organised a major rally in Barrackpore to send out a message that TMC-BJP violence need not be the only option for people in the state.
Violence Spares No One
Unfortunately, the collective failure to acknowledge the politics of Trinamool Congress is now singeing the ruling party itself. In a shocking incident from Arambagh, a TMC worker, Lalchand Bag, was beaten to death, allegedly by BJP gangsters, for attending Mamata Banerjee's signature July 21 Martyrs' Day rally. In the past, intimidation was something that happened to Left supporters. Even a month ago, nobody could imagine that TMC workers would meet the same fate.
Ever since the Lok Sabha results, the BJP has been trying furiously to enter newer areas and for some reason believes that by showing off its muscle power and bombing skills, they will be able to woo voters. Thus, the violence is no longer confined to villages and district towns. Middle class lives in Kolkata are beginning to get disrupted. According to a report in Times of India, hoodlums ended up severely beating scores of people, locking them inside homes for hours and terrorising children, during a BJP recruitment drive in an area called Shahid Smriti Colony, Panchasayar, Kolkata.
In this vortex of violence, children continue to be victimised. On July 25, BJP-TMC politicians organised bombings in front of Swamiji Primary School in Bhetipara village, Keshpur, Arambagh, where an infant nearly lost an arm, even as students and teachers hid in terror, according to reports in Bengali daily Ei Samay.
Alternative Politics
For the moment, mainstream media has severely constricted West Bengal politics to a Trinamool-BJP electoral binary, leading people to believe that they are bereft of alternatives. No attempt is made to expose the fact that the citizen is being asked to choose between two political parties whose supporters will not hesitate to shower bombs on them. Editors, political commentators and people themselves have been brainwashed into believing that bombing citizens for turf control is perfectly 'kosher' and an acceptable electoral practice. There is no effort to speak on behalf of the thousands of men from poor and middle-class families who form the foot soldiers of TMC and BJP - men who are sent to thrash fellow citizens and get thrashed in turn, men who may be arrested, beaten, their homes torched - all for the sake of votes. No attempt is made to understand what happens to the families of men who have been killed or injured while unleashing this senseless violence.
While the Left parties keep track of families of their party cadres who lose their lives to political violence, the TMC and BJP show no such respect. The chief minister observes Shahid Diwas with great fanfare for the 12 Congressmen who fell to police bullets in 1993, but does little to offer succour to the TMC men who are being sacrificed almost daily.
The CPI(M) is giving a lot of emphasis on opening up a space for alternative politics in the troubled state. Including working jointly with the Congress and other Left, democratic outfits. The party has launched its digital platform that will help bring greater visibility to the numerous grassroots movements taking place throughout West Bengal. With very little resources and no mainstream platform, social, political and cultural activists of the Left have been fighting a behind-the-scenes battle against Trinamool's political oppression and BJP's communal agenda. Only time will tell whether the people of West Bengal will be allowed to choose 'alternative politics' that brings peace to the state, if not prosperity.
SR Bhattacharya is a freelance journalist based in Kolkata. The views are personal.
Get the latest reports & analysis with people's perspective on Protests, movements & deep analytical videos, discussions of the current affairs in your Telegram app. Subscribe to NewsClick's Telegram channel & get Real-Time updates on stories, as they get published on our website.
Subscribe Newsclick On Telegram