When Covid-19 Moves Into Rural India
If two-thirds of India's daily cases are from rural areas, it is mostly because the government refuses to accept how serious the situation is.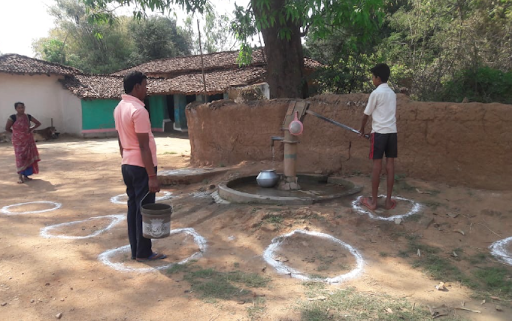 Statistics now confirm that around two-thirds of the approximately 1 lakh daily Covid-19 cases in India are being detected in villages or rural districts. The Novel Coronavirus has reached most corners of India including deep in the hinterland where 65% of people live. At least 714 districts have reported active Covid-19 cases, which means 95% of the population is at risk of getting infected. It is important to note that 65% of all government hospital beds are located in urban centres. A Union Health Ministry official confirms that a higher number of cases are also being reported from semi-urban regions.
Under these circumstances, virologists and epidemiologists believe it is no longer feasible to try controlling the pandemic. Rather, the best strategy, public health experts from the Indian Public Health Association and Indian Association of Preventive and Social Medicine believe, is to focus on providing medical attention to moderately and seriously ill patients, so as to keep a check on the death rate.
Leading virologist Dr Shahid Jameel, who is also the CEO of Wellcome Trust DBT India Alliance, says, "Trying to contain the disease by tracing contacts of those who have Covid-19 is next to impossible now. We have to focus on the moderate cases and those who are seriously ill."
Dr. Jameel says, "Our daily death rate of around 1,150 cases is the highest in the world in contrast to where were were in mid-July, when our daily death rate was 540. In just two months, our daily deaths have gone up 115 per cent, while our daily case load has gone up 230 per cent. This is an extremely worrisome situation."
Even more alarming is the poor state of public health infrastructure in rural India. It has been neglected, especially over the last two decades. In July, a heart-wrenching video from Jehanabad district in Bihar showed a mother walking with the dead body of her three-year-old son who had died because there was no ambulance to take him to Patna, the state capital, just 48 km away. Covid-19 is a reality in rural India but where are the affordable hospitals, the medical staff or the ambulances required to deal with it?
Dr K Srinath Reddy, president of the Public Health Foundation of India also maintains that the sharp acceleration in cases in the southern states can be explained by the fact that the rural-urban population divide no longer exists. "People are moving between rural and urban areas, primarily because of work, and carrying the virus with them. I would say that extensive localised transmission is taking place," says Dr. Reddy.
"The horse has bolted and cannot be contained any more. The spread is more complex because it is at a different pace in each state," says Dr Vikram Patel, Pershing Square Professor of Global Health in the Department of Global Health and Social Medicine at Harvard Medical School.
Three states, Odisha, West Bengal and Bihar, are illustrative of the present situation. More than 60% of new cases in Odisha have been emerging from its rural parts. Till the end of April, the infection was largely confined to urban areas but this changed after migrant workers began returning, bringing the virus along. West Bengal faced a similar spike after migrants returned in large numbers. Bihar, too, is facing a double whammy of severe flooding coupled with exponential growth in Covid-19 infections.
In Maharashtra as well, the disease trajectory shows widespread infections in rural areas: there have been 17,423 deaths reported in municipal areas, and over 5,371 deaths in rural areas.
Efforts are on to ramp up the healthcare infrastructure in Andhra Pradesh, where primary health centres and community health centres (PHCs and CHCs) in semi-urban and rural areas are doubling up as Covid-care centres. In Telangana the disease has spread like wild fire in all rural districts while in Madhya Pradesh, officials estimate, the infection's footprint is being felt in all 52 districts.
In Assam, 41% of recorded cases were in rural areas a month ago, but this has now jumped to 70%. Punjab reported a death rate of 2.94%, which alarmed the state government and it launched an initiative to shift attention to rural areas. Now the health system is trying to encourage rural residents to come out in large numbers and get tested.
Dr Patel feels the infection will continue to spread till India hits herd immunity, though it is also not possible to predict with complete certainty the behaviour of this Coronavirus. Combatting it in villages requires a mix of strategies, such as building up capacity in all available facilities, even setting up isolation wards in railway coaches. "The government had planned to use railway coaches earlier, but they got very hot in the summer months. If refurbished, these coaches can be used in the present weather," Dr. Jameel says. He says that since most Indians own a cell phone, tele-medicine can be an effective way to communicate with patients.
Dr. Reddy supports immediately setting up citizen-led volunteer groups who, after being given basic training, can help with implementing containment strategies.
The fault for the rising Covid-19 count, experts believe, lies to a large extent with the government for the mixed messages it has been sending for the last over six months. For instance it has repeatedly said that India's death rate is low and recovery rate high, but these are half-truths. It could be argued that all South Asia has a "low death rate": Sri Lanka has a death rate of 0.6 per million, Bangladesh has 29 per million, Pakistan 29 per million and the death rate is 13 per million in Nepal.
Another example of ambiguous messaging was the Ministry of Health and Family Welfare statement that "only" 3.6% of India's Covid-19 patients have needed oxygen, that "only" 2.1% ended up in intensive care and only 0.3% required ventilator support. These may appear small percentages, but the real number of patients in India is massive—second-highest in the world—so the need for oxygen support, ICUs and ventilators is actually massive.
What these claims do not take into account is also that India has a large number of undetected cases: between 410 and 650 million (41 crore to 65 crore), according to one estimate, which Dr. Jameel confirmed was a possibility in a recent interview. The Indian Council of Medical Research's serological survey, conducted between May and June, had suggested that for every one detected case there were likely to be between 82 and 130 undetected cases. Thus, India's current 5 million recorded confirmed cases implies 410 to 650 million undetected cases.
The result of the government's mixed messaging is that initially, when there were a 1,000-odd new cases each day, the public was extremely cautious and staying home. But now, with 1 lakh new cases being detected each day, caution seems to have been thrown to the winds, public health experts believe, thereby only worsening the situation.
At the speed at which the virus is spreading, India is all set to overtake the United States because we are averaging at present at around 93,000 daily cases, while the United States is adding just 39,000 cases every day.
India's Covid-19 tally crossed 20 lakh on 7 August, 30 lakh on 23 August, 40 lakh on 5 September and 50 lakh on 16 September, Jameel said in the recent interview.
Independent Covid-19 trackers are also reporting a slightly higher mortality rate than the health ministry. According to Worldometers.info, India has 5,818,570 confirmed cases and that 92,317 Covid-19 deaths.
There have been pandemics in the past, and these, too, largely affected the poor who received little media attention even in the past. As Dr. Patel says, "The difference this time is that the virus is killing the rich and the poor. The pandemic has helped highlight just how regressive our health system is. It is a wake up call for the government about the crying need to restructure the health system."
The sooner the government does so, the better it will be. Otherwise, not just this virus, the inexorable march of pandemics in the modern era will always leave a trail of destruction in India.
The author is a freelance journalist. The views are personal.
Get the latest reports & analysis with people's perspective on Protests, movements & deep analytical videos, discussions of the current affairs in your Telegram app. Subscribe to NewsClick's Telegram channel & get Real-Time updates on stories, as they get published on our website.
Subscribe Newsclick On Telegram