When People's Mind is Rigged, Uttar Pradesh Results Happen
It was never the EVM that was rigged in the state.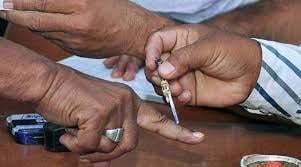 The Bharatiya Janata Party's victory in the Uttar Pradesh Assembly election would suggest that the past of five years that people outside the state saw was quite different from what its people did—and experienced.
It would seem the people of Uttar Pradesh were not battered by the brutal second wave of Covid-19; that bodies were not found floating in the Ganga or buried in its shallow banks; that the 2020 lockdown, imposed on just four hours of notice, did not compel the migrant labour, hungry and stalked by death, to walk hundreds of kilometers to reach their homes in Uttar Pradesh.
It would seem the farmers of Uttar Pradesh were not enraged at Prime Minister Narendra Modi enacting laws inimical to their interests, sparking protests of the kind never, really, seen in India or the state before; that stray cattle never grazed the crops of farmers, ruining them overnight.
It would seem there was never any disquiet over Chief Minister Adityanath favouring his Rajput community, prompting people, out of bitterness, to describe his rule as a veritable "Thakur Raj"; that the Adityanath government did not deny the Other Backward Classes the 27% quota in the appointment of assistant teachers; that the promise of subcategorising the OBCs was never given; that Dalits were not packed off to jail when they came out protesting against the dilution of the Scheduled Castes and the Scheduled Tribes (Prevention of Atrocities) Act.
And yes, Adityanath's police did not cremate that Dalit girl in Hathras in haste, under cover of darkness, after she had been raped, which led to her death.
Any government alienating people on so many counts would have been shown the door. Yes, it is possible to argue that all governments encounter protests and opposition from those who feel they have not benefitted from governance. Yet economic indicators convey the sense that Adityanath's misrule adversely affected every segment of Uttar Pradesh's population.
The Reserve Bank of India figures show that Uttar Pradesh's Gross State Domestic Product, between 2011 and 2017, grew at an average annual rate of 6.9%. This came down to 1.2% between 2017 and 2021. Adityanath, remember, became chief minister on 19 March 2017. No doubt, the two years of Covid-19 hit the State's growth rate hard. But the GSDP was already down to 5.6% before the SARS-CoV-2 virus compelled the country to order a lockdown.
The Adityanath government's expenditure in the social sector, between 2017 and 2020, grew at an annual average rate of 14.3%, down by 2.6% than what the state had been spending between 2011 and 2017. Low social sector expenditure explains why Uttar Pradesh's suffering was heart-rending during the Covid-19 years. This had Adityanath to increase, thankfully, the social sector spend, enabling his government to register an average rate of 17.13% in his five-year rule.
Employment opportunities shrank under Adityanath. Forty-one out of every 1,000 people in urban Uttar Pradesh were unemployed in 2011-2012. This figure grew to 97 in 2017-2018 and 106 in 2018-2019. In 2011-2017, only nine out of every 1,000 person were unemployed in rural Uttar Pradesh. This figure ballooned to 55 in 2017-2018—and came down to 43 in 2018-2019. Although surveys were not conducted after 2019, the employment scenario likely became grimmer subsequently, because of lockdowns induced by Covid-19.
Given the past five years of Uttar Pradesh, its people, judging from the elections results, were willing to forgive Adityanath his misrule and give him another chance. Or he represented to them ideas and issues they thought were of greater importance to them than their own woes for which he was largely responsible.
Before and during the election campaign, pundits cited two reasons to predict why Adityanath, despite his misgovernance, could still get another term as chief minister. One, the BJP's welfare measures, particularly his decision to grant free ration to 15 crore people until the festival of Holi later this month. He did this to appease the millions who had seen employment opportunities shrink because of the slowing economy and the distress caused to them by lockdowns, the severity of which was entirely the BJP's doing.
The improvement in Uttar Pradesh's law and order situation, touted by the BJP as its principal achievement, was the second reason pundits cited to argue that Adityanath could still trump the Opposition. Adityanath's idea of improving law and order was to let the police stage encounters, maim and kill alleged gangsters. The people, as evident from media reports, appreciated and applauded him and the police for adopting extra-judicial methods to provide security. For many of these cheerleaders, it came down to deploying state power to fix Muslims who, they believe, are given to violence.
Yet for the Dalits, Uttar Pradesh's most vulnerable social group, life became even more perilous during Adityanath's tenure, the National Crime Records Bureau figures suggests. Indeed, the rate of all crimes against Dalits in the state increased from 27.7% in 2017 to 30.7% in 2020.
Experience tells us that welfare measures and claims about law and order improvement, even though debatable, do not provide sweeping victories. When the BJP's claims of good governance in Uttar Pradesh is negated by statistics, when years of social and economic distress acquire tangibility in the form of dead bodies floating in the Ganga and the year-long farmer protest, its victory has to be ascribed to the change in the consciousness of the people.
That change, let us face it, is about Hindutva increasingly becoming the commonsense of north India, particularly Uttar Pradesh, because of which its people were willing to condone Adityanath's misgovernance. Or, as cynics would say, they are prepared to risk another five years of misgovernance and what appears to be popularly authorised authoritarianism. For Uttar Pradesh, it can only be hoped the cynics are not proved right.
We must accept that an extraordinary large segment of Uttar Pradesh now constitutes the core of the Hindutva family, hard to divide. And what is true of most families, so it is also of the Hindutva family: members are always forgiven for their most egregious faults. As long as the BJP continues to target Muslims, as Adityanath did through the last five years, as long as the BJP's national leaders, including Prime Minister Narendra Modi, bait religious minorities and Hinduise the public life, the Hindutva family will more or less stick together.
This unity of the Hindutva family has been forged by nurturing past prejudices against the Muslims and inventing new ones. To the latter category belongs the claim that the hijab undermines the uniformity of India's public life, a claim we could laugh at but for its likely tragic consequences. No less important factors for this unity are the enactment of laws inimical to the Muslims, such as the Citizenship Amendment Act, and deploying state power to crush their protests and tossing them into jail.
For sure, the BJP's control over the media gives it ample scope to promote its own narrative, often imagined than real. This narrative largely goes unchallenged. The media does not target the BJP as it did, for instance, the United Progressive Alliance—II.
This is not to suggest that the BJP is invincible in Uttar Pradesh—or north India. Yet it is also true that the Opposition will find the going tough as long as India's common sense does not change. And this change is not possible to bring about four or five months before every election, which is usually the time the Opposition surfaces to educate the people about the constitutional idea of India—and works out the caste arithmetic to vanquish the BJP.
It is for this reason why the Opposition has failed to prevent the Sangh, engaged in the ideological battle for 24X7X365 days, with an army of fulltime volunteers and extraordinary financial kitty, from rigging India's mind. It was never the EVM that was rigged in Uttar Pradesh; rather, its collective mind was. That is why the results we have.
The author is an independent journalist. The views are personal
Get the latest reports & analysis with people's perspective on Protests, movements & deep analytical videos, discussions of the current affairs in your Telegram app. Subscribe to NewsClick's Telegram channel & get Real-Time updates on stories, as they get published on our website.
Subscribe Newsclick On Telegram