Why Social Distancing is a Distant Dream
Neither 'janata curfew' nor absolute lockdowns will work. We have to detect and drown the virus with medically-sound measures.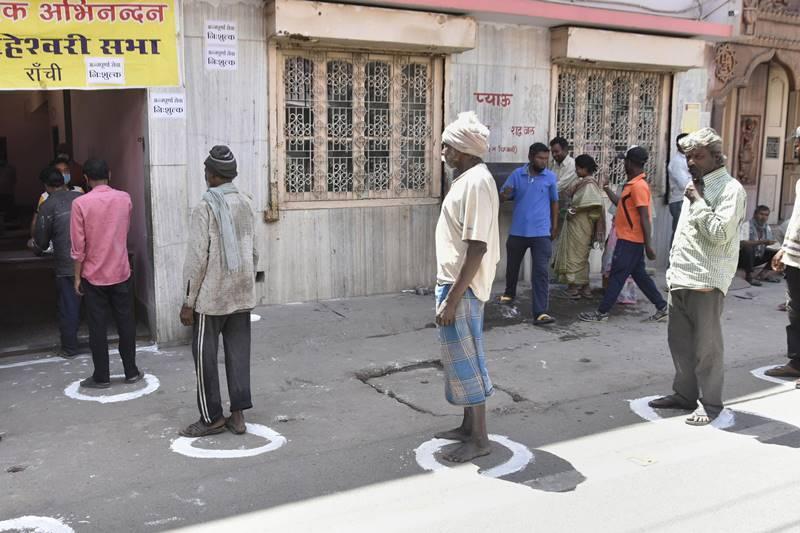 Image use for represantional only. Image courtesy: The Financial Express
Here is a mysterious and fatal virus that has robbed something which is central to human existence and expression—the sense of touch. It has maligned the sacrosanct idea of 'touch'. Touching out of love; touching as a sign of affection; touching as a gesture of care could be dangerous. The touch of a family member, or a friend, or a neighbour, or anyone else could be death-inducing, for all you know.
We are suddenly at war against some things that constitute the social—physical proximity, adequate reciprocity and close exchange.
The virus is compelling us to act as asocial beings.
You got to live alone. You have to suffer alone. And eventually you could be dying a solitary death—not surrounded by people who care for you.
The contagious logic of this disease is such that it calls for isolation. It compels individuals to take immediate measures to maximise quarantine. We are 'alone' (not just in the crowd), but socially and literally distant from each other while living in the society. Ironically, the only way we can apparently help each other is through maintaining distance, or by accepting imprisonment at home, which we already have.
Like an imprint on the body of a bullying truck on a hellish highway, the message is loud and clear: 'Keep Safe Distance'! The crisis has intensified to such an extent that an apparently asocial medical directive has been imposed on the human species that is fundamentally social.
Distancing is a distant dream
In order to fight the global menace, the most efficient recommended strategy is: social distancing. We are all practising it, propagating it, subscribing to it—with or without a choice. Social distancing has emerged as the most efficient preventive measure to flatten the scary upward curve (that indicates the exponential increase in Covid-19 cases, in a very short duration, as has happened in Italy).
There are prescriptions regarding how close is close enough and how far is sufficiently far. But the pressing question is: how many people in this densely populated country can afford to successfully subscribe to such aspired social distancing? Or is this imposed idea of social distancing fundamentally flawed; bound to fail in India?
First, it is important to understand that the physical and the social are not synonyms words. Physical and social distancing are not the same either. Unfortunately, we are unable to draw the line of distinction between the two. In the context of the Global North, social distance may often imply physical distance as well. Solidarity and reciprocity within families, between neighbours or amongst friends could be detached, distant and informal on most occasions in the West. In such a scenario, it is quite normal that even under normal circumstances a certain degree of social, physical and literal distancing is maintained anyway. Much of that distancing is also effortlessly realisable, because of cultural attributes and low population density.
But in city like Bombay [now Mumbai], for instance, with 73,000 people per square mile, physical distancing would appear to be nothing short of a grand Utopia. Or, in any other Indian metropolis, where people have to push and pull and shock and knock off others just to cling on to a square inch of the footboard on a local transport, the idea of physical distancing is illusive. In a scenario where five or more people struggle for space in a 10-by-10-feet shelter—the desired physical distancing would be a super-luxury.
When tired labourers march out of terminals and stations by the tens of thousands in search of daily wages—the notion of distancing seems unrealisable and unrealistic. Congestion, overcrowding and intimacy are structurally-embedded realities for the vast majority in this country. Distancing is a distant dream here. For the majority, it is impossible to earn their livelihood, work, or even reach the destination of work while maintaining so-called 'social distance'.
Also, physical presence is integral to most social interactions. Body-mediated solidarity in different quarters of life constitutes the social DNA of the subcontinent. And it is unlikely that a virus scare will alter this chromosome overnight. It is improbable that any hand-wash or sanitiser will wash off age-old habits, including bad habits. People may start wearing masks, but there won't be dearth of those who would pull it off for a split second to spit in their favourite corners. Old habits die hard, and these habits are better ingrained in our consciousness than Covid-19 or the fear of it.
Then there are surfaces that one cannot avoid touching. There are handles, knobs, buttons, railings, garments, crockeries, papers, files, gadgets, instruments, currencies, other hands and bodies…what all will you not touch? What all will you distance yourself from, and for how long, and from how far? How long will you wash each of these—with what sort of intensity and how frequently? How many people can afford to sanitise these surfaces, as frequently as you can? Or, will you conveniently quarantine yourself from all those lesser mortals (read potential carriers) who come from outside to provide services?
Think of a factory worker, a wage labourer, a hawker, a fruit, vegetable or meat-seller, a sweeper, a domestic help, cook, gardener, or a host of others who have to travel daily in overcrowded public transport to reach your doorstep. Do they really have the option of WFH? It is a well-known fact that such organised privileges are strictly confined to less than five percent of the entire workforce in this county, and that too for those strictly working in the organised sector. Microsoft-labouring on internet and con-calls are not meant for the masses or for those engaged in so-called menial jobs—the ones which are yet to be automated.
The bottomline is that a total public transport lockdown may have ensured a blockade of carriers for the time being, but what about the contamination that has happened already due to hyper-congestion in almost every quarter of everyday life? What about those who rushed back in unhygienic conditions—getting infected in the process, or carrying it to their respective villages, or infecting people along the route as they are walking and halting?
Where are the tangible medical measures?
We are dealing with a situation whose size, scale and damage is unprecedented. Reduction in production capacity, and breakage of supply chains are inevitable—particularly hurting the large informal service economy and MSME. Its impact spreads across sectors—retail, manufacturing, transport, tourism and agriculture.
The template of "united we fall and divided we stand" is not sufficient to save us. Enforced social distancing in India is not entirely realisable. Not for once I am saying that distancing is absolutely unnecessary or inessential. Distancing is necessary, but certainly not sufficient, as examples from across the globe have already proven. Preventive measures need to be appropriately and simultaneously complimented with a series of other medical measures to combat the calamity—its velocity and volume.
But unfortunately, currently, there are more issues to be addressed, and as citizens, we are still in the dark:
It defies logic why Covid-19-testing remained well below its capacity in the last one month. When and how will this be up-scaled?
Why was testing limited to patients with a history of contact with the effected, or with a history of arrival from an affected country? Anyone else, even with strong symptoms of fever, cough or headache was denied a coronavirus infection-test even a few days ago.
In the absence of robust public health sector infrastructure across the country, why were private testing faculties were not called on board, or asked to collaborate earlier?
What sort of complacency convinces us that the infected figures (in the hundreds) are not significantly higher than the official numbers that are currently being projected?
In the absence of tough enforcement (the Chinese model), and mass testing (the Korean model), do we even have an assurance that large-scale community spread has not already begun? Given the mass exodus of migrant workers from the metropolises to their respective villages over the last two weeks,  isn't there a real possibility of a massive outbreak in rural India?
Are we sufficiently equipped to deal with an extremely contagious virus, which has a relatively long gestation period and which is capable of sudden outrage? Do we have enough quarantine facilities, ICUs and ventilators—even if 1% of the population (or ten million people) gets critically ill in the next couple of months?  Even if the mortality rate is around 3%, one does not need a calculator to guess the probable loss of human lives.
Why was this curfew not imposed before the festival of Holi? And now that it has been sanctioned, is there any clarity on how we will access essential supplies? How will the daily-wage earner cope for three weeks or find decent ways to return home, when public transport is suspended?
Do we even have a road-map other than abrupt lockdowns? Because we have not heard a word on any pragmatic medical planning in those patronising and paternalistic 8'O clock speeches that seem to infantilise the masses without briefing them about concrete medical measures. While the success of the execution of direct cash transfers, EMI deferrals, and other relief packages are yet to be seen in the coming months—there is a huge section of daily wage earners with very little staying power who are on the move, and who are vulnerable to hunger-induced-death and Corona both.
With vaccines and herd-immunity years away, lockdown/curfew could be a strategy to buy time and slow down the spread—keep the steep curve from rising. But pulling the brake has to be complemented by large-scale testing and up-scaling the medical infrastructure to prepare for the worst while hoping for the best.
While the privileged among us can retire to our safer dens, stock up on supplies, consume Netflix,  and wait for the virus to turn impotent, or for us to turn immune, that still might not prevent the inevitable massacre. Hasty janata curfews followed by ceremonious tali-cheering and thali-banging may increase the decibel levels, and announce the sonic solidarity of the bhakts, but it does nothing to either detect, or defend, or drown the virus.  
The author is associate professor, sociology, at Shiv Nadar University. The views are personal.
Get the latest reports & analysis with people's perspective on Protests, movements & deep analytical videos, discussions of the current affairs in your Telegram app. Subscribe to NewsClick's Telegram channel & get Real-Time updates on stories, as they get published on our website.
Subscribe Newsclick On Telegram