Why Are Assam's Farmers Still Getting a Raw Deal
Despite vast tracts of fertile land, commercial viability of agriculture in the North Eastern state still remains a distant dream for farmers.
The country is witnessing an unprecedented wave of farmer protests demanding the scrapping of three farm laws, with the proposed blockade of Delhi's borders and huge support in favour of the call for Bharat Bandh recently.
Assam, too, has witnessed widespread support for ongoing farmers' movement. However, there are numerous issues pertaining to agriculture and farmers that are very specific to the North-Eastern state and have remained unaddressed so far. As a result, Assam, despite having huge tracts of fertile land, lacks self-reliance in agriculture.
Looking back at the region's history, before the 1890s, the period when the British colonial regime initiated migration of agricultural labourers from erstwhile East Bengal, wide scale organised agriculture was not visible in Assam. People were mainly dependent on nature and the little farming that they indulged in was mainly in 'subsistence mode'. The colonial regime called it a 'waste land'.
This historical 'subsistence mode of agriculture' can be seen even today in a large section of farmers, especially among the indigenous population of the state. Commercial agriculture is mainly done by the section of the population that has East Bengal origin. However, with time, a section of the indigenous population has also begun commercial agriculture. Nevertheless, the chronic issues related to agriculture in Assam impact everyone, especially those involved in commercial production.
To get a glimpse into the plight of farmers in Assam, NewsClick spoke to Bonojit Hussain, former research professor in SungKongHoe University in Seoul, South Korea. He is now involved in agriculture in his ancestral land in Nalbari district, and grows varieties of rice, mustard and seasonal vegetables.
Hussain, while expressing his solidarity with the ongoing farmers' movement, spoke about the chronic problems faced by Assam's farmers and why commercial viability was still a distant dream for them.
"One of the major points of the ongoing farmers' movement is MSP (Minimum Support Price). But in Assam, very few farmers know of something called MSP," he said.
Citing an example, Hussain said: "Assam is a good producer of rice, and currently is the ninth highest producer of rice in India. The MSP of per quintal rice for 2020-21 is Rs 1,868, while last year, it was Rs 1,770. But here we get a selling price of Rs 800-1,000 per quintal of rice. This is an average value that rises up to Rs 1,250 during Magh Bihu, when demand goes up."
He said the case of mustard was similar. "Assam also produces good mustard but the farmers never get MSP. The MSP for mustard in 2019-20 was Rs 4,450 per quintal, whereas farmers in Assam have to sell their product at almost half the price. The price varies in the state ranging from Rs 2,500 to Rs 3,500 a quintal with an average of Rs 3,200, which is way behind the MSP," he added.
Unlike states (mainly Punjab and Haryana) where the Green Revolution took place, MSP has never been an issue in Assam, the main reason being the non-functionality of the APMC (Agriculture Produce Market Committee) Act, which is a duty of state governments. The Assam APMC Act was introduced in 1972 during the chief ministerial period of Sarat Singha, but has not seen any practical implementation in the state.
"The state agriculture department has 24 Regulated Market Committees (RMC) that regulate 20 principal market yards and over 250 sub-market yards. The RMC s are supposed to ensure fair transaction for farmers, including MSP, but our experience shows that this is more on pen and paper", said Hussain.
(the data can also be availed in the website of the state agriculture department)
In Assam, rice farming is done thrice a year -- Aahu Kheti (where the seeds are shown in March –April and harvested in June-July), Xali kheti (harvested in November- December), which is the monsoon farming season and 'Boro Kheti' (seeds are shown in December-January and harvested in February-March). These are the traditional ways of rice farming in Assam.
Ironically, even after farming thrice a year, most rice farmers in Assam don't see any major commercial viability. Whereas, Punjab, as an example of comparative data, does rice farming once a year, and its production, including the cost-benefit for is higher than in Assam. Moreover, Punjab is not a producer of rice historically, but started growing it after the Green Revolution in 1965.
For a comparative analysis between Assam and Punjab in the productivity of rice and the cost-benefit of farmers, let's look at the previous year's average data.
(data provided by Bonojit Hussain)
Family labour is included in this calculation. In Assam, family labour input in rice farming is widely practiced. If the family labour cost is excluded, then the loss does not seem to have occurred, and should not be considered as the actual scenario, according to Hussain.
Moreover, FCI (Food Corporation of India) procurement of rice also varies from state to state, which reflects in the plight of farmers in Assam. Highlighting this, Hussain says: "As per data we could avail, FCI procured almost 81% of the rice produced in Punjab in 2019-20 and that, too, on the MSP. In Assam, FCI procurement of rice is a meagre 3.15%. The rest of the product is sold to local traders, where farmers get a way lower price than the MSP. And, this has been a trend."
He said the main reason given by FCI for meagre procurement of Assam rice is that it has higher moisture content. "The FCI recommended moisture content is 17% maximum, but in Assam rice this is 22%. The question is can't FCI arrange for dryers and extended storage facilities for Assam rice? Moreover, FCI, in some instances, takes up to a year to transfer the money to farmers' accounts," he added.
Even if FCI procurement does not meet the requirement, the state government can arrange for it at MSP and distribute the rice through the public distribution system (PDS). "This DCP (decentralised procurement) is being practiced in many states. But non-implementation of the APMC Act for years, a visible apathy from the government's side to give farmers their right share, have made it a chronic problem in Assam," he said.
In Assam, small scale local traders collect rice directly from farmers and sell to middle-range traders, who eventually sell it to the big traders. At the base, the farmers don't get a chance to earn their share of profit.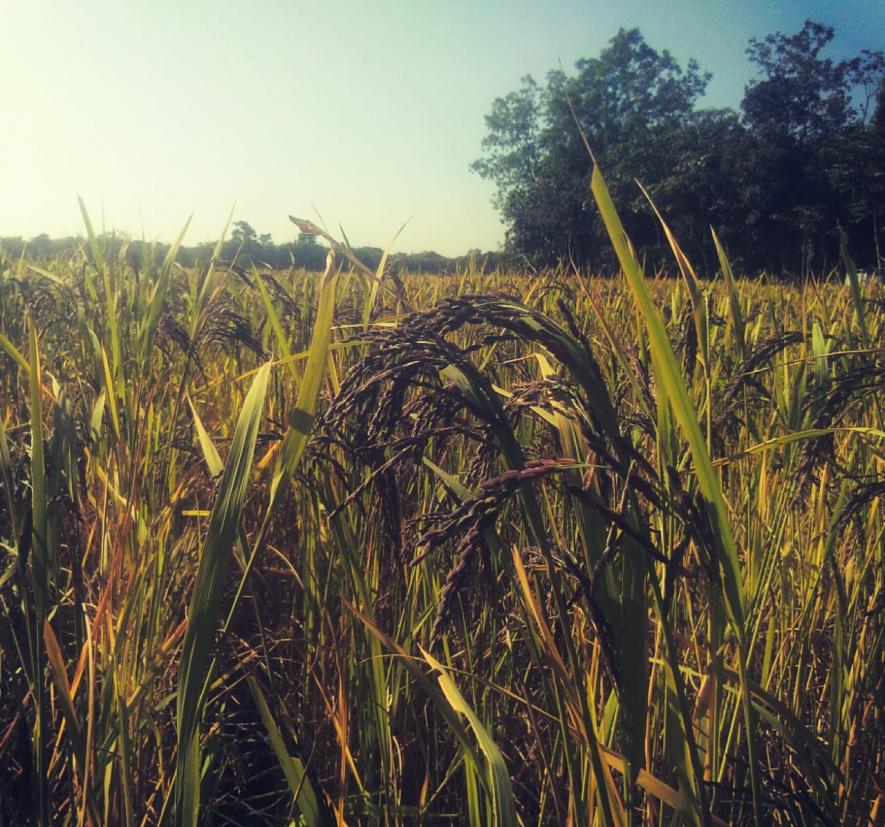 To sum up, non-functionality of the APMC Act, the near absence of MSP, inept government handling of RMC s and market yards and FCI's attitude toward procuring Assam rice have been deterring rice farmers from getting their share of profit. Which is why, rice farming in the state, where it is the staple food, is still practiced majorly in the 'subsistence mode of production' rather than as 'commercially viable production'.
Get the latest reports & analysis with people's perspective on Protests, movements & deep analytical videos, discussions of the current affairs in your Telegram app. Subscribe to NewsClick's Telegram channel & get Real-Time updates on stories, as they get published on our website.
Subscribe Newsclick On Telegram