Why Is Govt. Unable to Control COVID-19 Surge in India
More testing but weak contact tracing, and no protection to workers is causing the surge but the government is living in la-la land.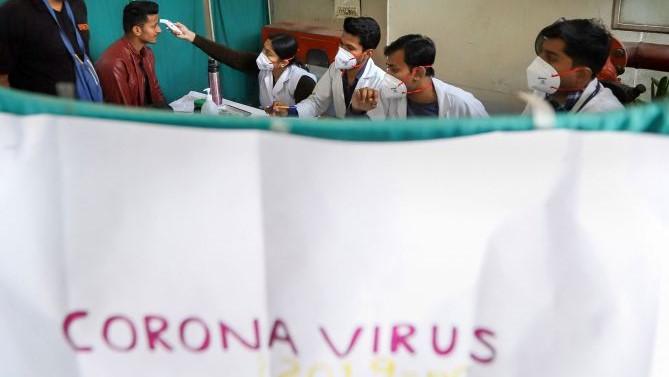 Representational image. I Image Courtesy: rediff
In India, confirmed cases of COVID-19 are now over 15 lakh and deaths over 34,000, as of July 29. The virus has now spread to practically all districts, with 200 districts reporting over 1,000 cases. In several cities, cases have overwhelmed medical care facilities. Healthcare workers – from sanitation staff to doctors – are stretched beyond belief, despite difficult conditions. 
Yet, the central government appears to have buried its head in the sands of dodgy statistics and homilies to people. Prime Minister Modi himself in a recent 'Mann ki Baat' speech devoted considerable time to doing what he has been doing right from the first address to the nation back in March. He warned the people of the country to be beware of the dangers of this 'fatal' disease, exhorting them to follow the protective measures, even as he claimed that India's fatality rate is much lower than other countries, implying some kind of responsibility for this. Nothing wrong in what he said, but partial truths and what is not said is what makes this worrisome.
But, first have a look at whether the numbers, as put out by the health ministry, justify the breezy confidence that PM Modi appears to be radiating. The chart below shows the new case numbers added up weekly. Thus, for the week ended July 28, about 3.39 lakh cases were reported from across India. New Cases. A month ago, on June 30. the country had recorded 1.29 lakh cases in the preceding week. In other words, weekly new cases recorded has tripled in a month. And the numbers are now staggering, chilling.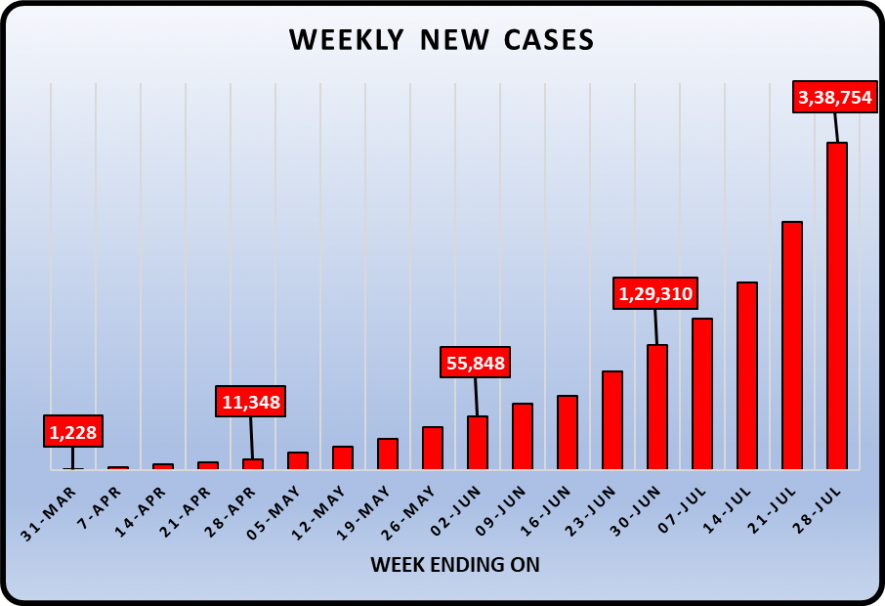 It is being argued strenuously by ministers, chief ministers and bureaucrats that since testing rates have gone up dramatically, there was bound to be a rise in number of cases. There is nothing wrong in stating that – its true that if you test more, you will find more cases. But the implication – that this is some kind of statistical event is missing the wood for the trees. Or burying one's head in the sand. Because there is no denying that the cases are surging uncontrollably.
But there is another tragic flaw in all this chest thumping going on about how India is now testing nearly five lakh people daily, and that over 2 crore tests have been done. This flaw is: after testing the individual, if he/she turns out to be positive, are the contacts being traced and isolated? Otherwise, you can go on testing and admitting people to hospitals while all the people who were infected by the person will soon develop the infection. It is like pouring water in a bucket with holes – or building sand castles on the beach. With every wave it will be washed away, and you start all over again.
Although the government is claiming that its strategy is "test, track and treat", reports suggest that neither is there any plan for contact tracing or isolation, nor is there political weight behind it. In some places, like Bengaluru, tracing was being done earlier but collapsed after cases surged. In Kerala and Odisha, the state governments did manage to do tracing and isolation, and the number of cases has been kept under control, compared to other places. 
Also read: Study on Kerala's COVID-19 Management Model Details Emphasis Given to Decentralisation
Also, the tracing part requires an army of people, with some training on how to go about it. Leaving everything on the police forces has been a mistake, and there is no plan of training people to do all that.
Now, have a look at the chart below which gives the weekly death toll due to COVID-19. So, on July 28, the total number of deaths taking place in the past week were 5,341. This is again just short of double the weekly total a month back, on June 30. (June 23 shows a big spike because Maharashtra adjusted some numbers and a backlog was added on June 17.)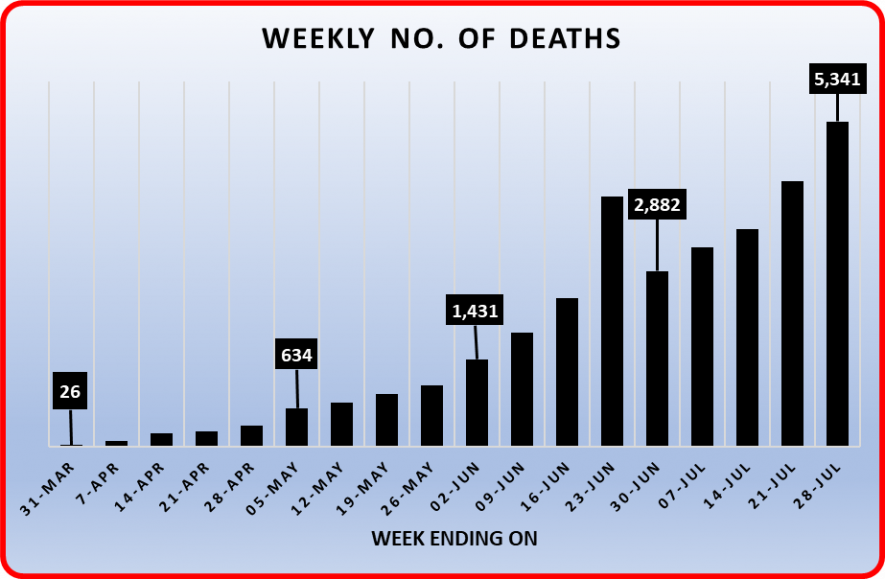 What this chart shows is that deaths are also rising steadily. They may not have reached the shocking levels reached in some of the Western countries – probably because the proportion of younger patients in India is more – but there is no denying that even the deaths are rising. Is there any solace in claiming that fatality rate is low, as the PM and others never tire of saying? There isn't, because death is very real for those whose loved ones have passed away, and for the rest, the dread of getting the disease still remains, unmitigated. 
There is another grievous mistake that the government has committed. It has allowed the resumption of work without providing for protection of workers and employees. True, some guidelines were issued about social distancing in work places and other measures. But there is no monitoring, no review, no attempt to educate and guide the people. The only weapon that the government has is – lockdowns of various forms. Either full lockdown, or restrictions of various degrees. Everybody is involved in taking these decisions – from Sub-divisional Magistrates right up to the Home Minister. And, the police is the only way these diktats are enforced. This shambolic handling of the pandemic has neither helped the economy nor the control of pandemic. Since most people in India are poor, with no social security and no savings, living on the edge at all times, to expect them to stop working was always a folly of monumental proportions. But the government has never provided income support to prevent people from going out and getting infected.
So, India is speedily heading to the brink of an abyss. And, the leadership is blissfully ignorant.
[Data collated by Peeyush Sharma and the Newsclick Data Analytics team]
Get the latest reports & analysis with people's perspective on Protests, movements & deep analytical videos, discussions of the current affairs in your Telegram app. Subscribe to NewsClick's Telegram channel & get Real-Time updates on stories, as they get published on our website.
Subscribe Newsclick On Telegram