Why Has Karnataka Government's Suvidha Portal Been Switched Off?
The state government introduced a portal named Suvidha almost a year ago. Since September 2022, the portal, created by a company in the Reliance Industries Limited group, has been switched off for inexplicable reasons.
Representational use only.Image Courtesy:Stocknap
Bengaluru: The Karnataka government introduced the Suvidha portal in November 2021. The site was developed as a new technological platform that would allow for online welfare programme applications and score residents to determine who needs a benefit the most.
The site established preference points to seek the most qualified candidates from its database and employed machine-learning algorithms to sort out false or unqualified applications. Based on the personal information submitted by applicants, it also suggested programmes for which a candidate could be qualified. Another motivation for implementing the Suvidha platform was its ability to reduce or, to an extent, completely erase corruption from the bureaucratic application processes for loans.
Since September 2022, however, the Suvidha portal has been switched off.
Launched with Fanfare
The Suvidha site was created by the firm EasyGov and was nominated for an "AI (artificial intelligence) for Good" award by the National Association of Software and Service Companies (NASSCOM). EasyGov was established in 2015 and was later acquired by Reliance Industries Limited (RIL) for an undisclosed price in 2019.
By June 2022, according to the Digital India Catalogue, the Suvidha portal had already received more than two crore applications for various schemes. After about 1.5 lakh eligibility checks, more than 6,000 applicants received benefits worth Rs 47 crore.
Although the Karnataka government has invited applications for various business and education loans and for which the deadline to apply has been extended until October, the Suvidha portal is not being used for the application selection process, as intended and has been unavailable since September 2022. Why has the system, which was applauded for its innovation and openness, been switched off?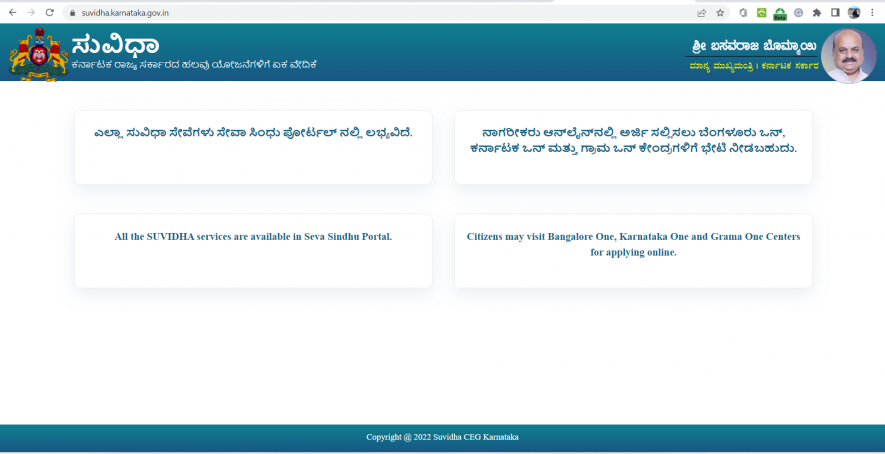 Screenshot of Suvidha Portal directing users towards Sewa Sindhu portal. September 2022. Source: Suvidha
According to its user manual, Suvidha helps government agencies process applications, verify the beneficiary's eligibility for various benefits, give the verified applicants priority using machine learning, and disburse all types of benefits directly to the beneficiary. Due to this, Suvidha may have significantly improved the welfare distribution system in the background.
Where the end user is concerned, it eliminated the need to visit various department offices to submit applications physically and the need to look up different welfare programmes one is eligible for. It was beneficial for those unable to visit government offices physically. Individuals merely had to update their data to get the appropriate social programmes for which they were eligible.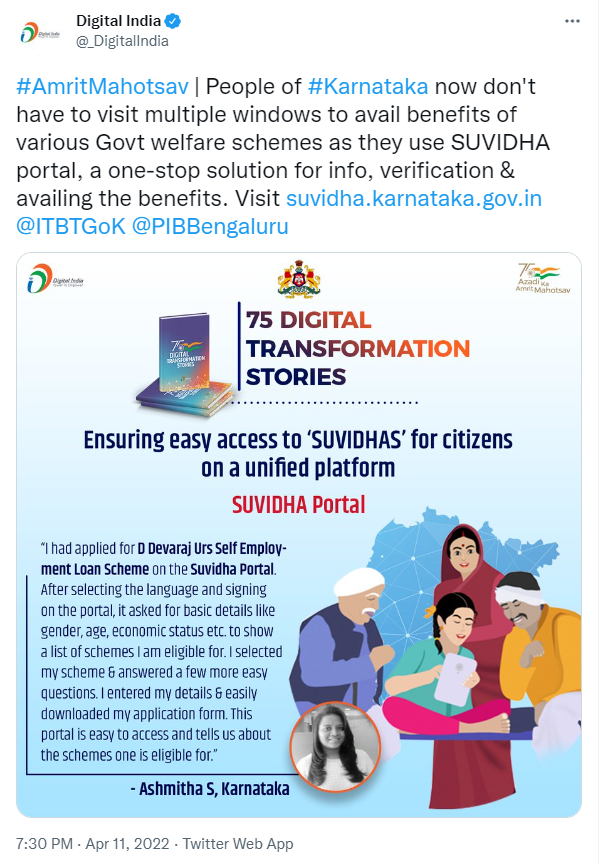 Tweet by Digital India in April. Source: Twitter
A Sub-Par Replacement
Suvidha was extensively advertised through the Digital India campaign and by ministers in both the Central and the state governments. Fast forward to September, however, and the Suvidha portal page displays a message diverting users to the Sewa Sindhu Portal, a different system altogether. Sewa Sindhu was developed by the government of India's National Informatics Centre (NIC) and launched in 2018; it is meant to provide government services such as downloading identity cards or educational degrees.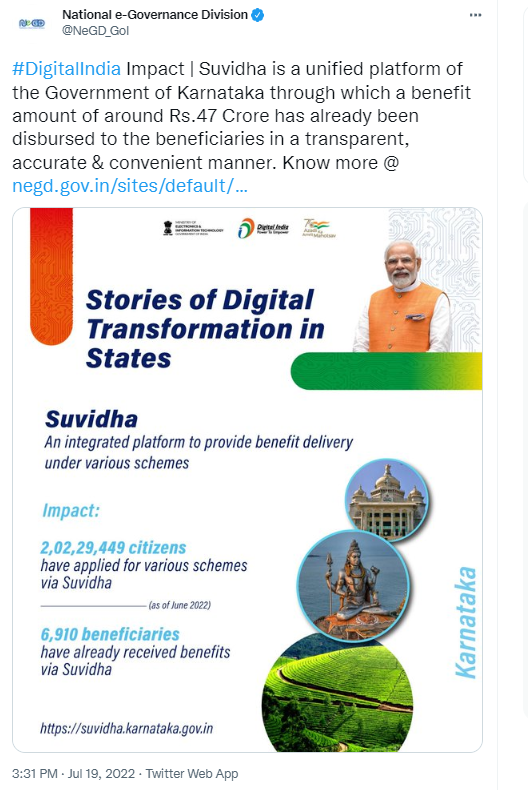 Screenshot of a tweet by the National e-Governance Division dated July 2022. Source: Twitter
Suvidha verifies applications using machine learning algorithms, but it also analyses data from other government databases and the applicant itself, performing the majority of the work automatically. In contrast, Sewa Sindhu relies on manual examination and has a significant human component to determine eligibility.
Additionally, Suvidha's feature of scheme discovery, which makes it simpler for users to identify schemes based on the information they gave, is absent from Sewa Sindhu. On its website, Sewa Sindhu displays a lengthy number of schemes under several page categories and leaves it up to the customer to actively search for services.
Screenshot from Sewa Sindhu portal showing 561 user manuals for various services. Source: Sewa Sindhu
Glitches Galore
Recently, Seva Sindhu encountered a technical issue that led to the rejection of applications for discounted bus passes for qualified students. As one mobile number could only receive one bus pass, most children from low-income households who did not have access to several mobile phones for each child were left behind. It is important to note that it was made mandatory for pupils to register for online bus permits.
The Sewa Sindhu site has made headlines for not performing as intended. Migrant labourers nationwide were in a dire predicament in March 2020 when Prime Minister Narendra Modi abruptly ordered a nationwide lockdown. At that time, the Karnataka government inserted Sewa Sindhu into the mix of uncertainties of the pandemic. It proposed using the portal to register migrant workers who want to return to their respective states on special trains.
The strategy did not go as planned, as the government sent a follow-up SMS (short messaging service) to those who had previously registered on the site, asking them to give a confirmation again via a difficult process. It did not prove particularly practical or very sensible for workers to browse a web portal for updates and send messages multiple times while hastily ensuring the survival of their families.
But it is not just Sewa Sindhu that faces technical glitches and dissatisfaction; the Department of E-Governance and the government of Karnataka released a mobile application to access the Suvidha portal; the app had positive ratings in the year 2021, which significantly fell in the subsequent year. According to app store ratings and reviews, various components of the Suvidha App were not working correctly; as a result, people left negative feedback on the app's page.
Although the app is just one component of the larger Suvidha portal and does not necessarily reflect the shortcomings of the whole web portal, it indicated a drop in its functionality.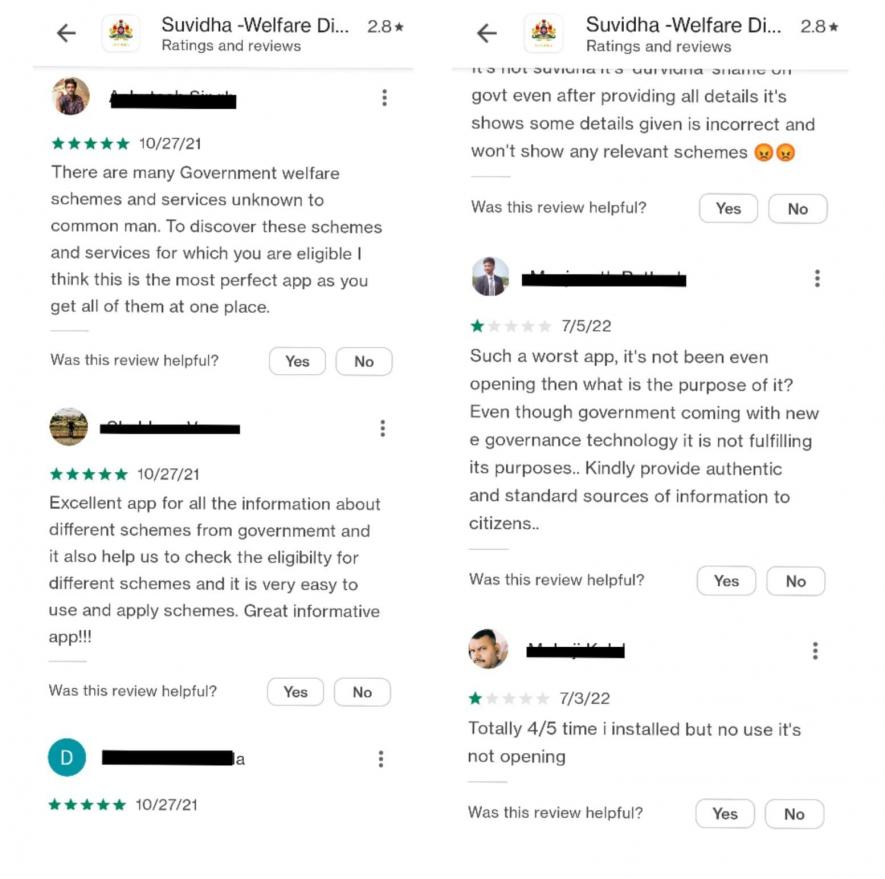 Screenshot from Suvidha app's page on Google Play store, September 2022.
Official Response
According to a response provided to the author by EasyGov over email, the Suvidha portal came online in November 2021 with only seven schemes from the Karnataka State Backward Class Welfare Department (BCWD). By August 2022, this had extended to more than 100 schemes, mainly from the Social Welfare, Sericulture, and Energy Departments.
Multiple initiatives from other departments were subsequently integrated into Suvidha. According to the information shared by EasyGov over email, by the end of July 2022, 40,000 recipients had received a total benefit of more than ₹45 crore.
It should be noted that the number of beneficiaries and total amount disbursed in the Digital India catalogue and emailed responses from EasyGov to the author of this report varied significantly. The digital India catalogue lists 6,000 recipients for ₹47 crore by June 2022; however, EasyGov's official responses to the author list 40,000 recipients for ₹45 crore by the end of July 2022.
Suvidha had onboarded more than a hundred schemes by the first week of August, boosting traffic from 70 applications per day to an average of 2,000 applications per day, nearly reaching the maximum count of over 5,000 applications per day.
Many of the schemes had application deadlines in August, which led to increased traffic and hindered the application process on the site. According to EasyGov's response, the government of Karnataka decided to modularise Suvidha into three platforms;
Suvidha1.karnataka.gov.in (discovery portal)

Suvidha-admin.karnataka.gov.in (admin portal)

Suvidha.karnataka.gov.in (end-to-end)
The state government then assessed the end-to-end portal, the default platform for filling out user data and filing new applications and disabled it from accepting any new applications. EasyGov also disclosed that the Karnataka government is now cleaning the backlog of old applications and, as a result, cannot open the site for new applications.
Citizens can now only visit the discovery portal to look through various schemes while the departments use the admin portal to clear backlogs.
Rajeev Chawla, the former Additional Chief Secretary (e-Governance) under whom the Suvidha platform was launched, said that the decision to adopt Suvidha was left to the departments themselves.
According to Chawla, the Karnataka government, which is spending more than Rs 2,00,000/scheme addition into Suvidha, has not yet made it mandatory for departments to include Suvidha in their welfare distribution system. He further stated that having retired from his post, he is unaware of the reasons behind the current disruptions in the Suvidha platform. While Chawla spoke to this reporter on the record over the phone, he requested that his quotes be confirmed before publication. He did not, however, confirm his statements despite multiple reminders.
Although most people waiting for their turn in the Bangalore One centre located in the Banashankari area, who were asked about the Suvidha portal by this reporter, were unaware of its existence, few who knew about the portal shared their dissatisfaction due to not getting a chance to use it. Operators in the centre said almost a hundred individuals were coming every month to avail education loans. Similarly, many others visit to avail free laptops under another scheme. Most of these individuals must complete some part of their application by visiting the Bangalore One centres.
The Suvidha portal, which was applauded for its innovation and unique machine-learning capabilities, is currently switched off. Citizens of Karnataka have to now go back to queuing up in government offices to avail their welfare benefits – potentially exposing them to rent seeking by corrupt officials. The absence of clarification from the Karnataka government behind the unavailability of the Suvidha platform should be worrisome for ardent advocates of Digital India.
The author is an independent journalist.
Get the latest reports & analysis with people's perspective on Protests, movements & deep analytical videos, discussions of the current affairs in your Telegram app. Subscribe to NewsClick's Telegram channel & get Real-Time updates on stories, as they get published on our website.
Subscribe Newsclick On Telegram