Why NPS is National Problem Scheme for Employees
Exposure of the retirement funds to vagaries of share market uncertainty defeats the purpose, as it is increasing old age insecurity.
Nowadays, the movement for restoration of the older pension scheme in place of the National Pension System (NPS) is gaining momentum amongst organisations and federations representing the huge army of government employees.
Even in the ongoing Uttar Pradesh Assembly elections, NPS is among key issues of concern, as was evident by Samajwadi Party (SP) Akhilesh Yadav announcing at a press conference that if his party comes to power he will restore the old pension scheme for government employees.
The NPS system was introduced to replace the earlier guaranteed pension system from January 1, 2004, for all Central government and Central autonomous employees joining service on and after this date.
The older system was based on years of service and pension was based on last basic salary plus dearness allowance. A pay revision provision was also provisioned in the older system. In the older system, an employee was guaranteed the right of pension as half of the last basic salary plus dearness allowance at the time of retirement, if the service was not less than 10 years. And in case of death of an employee while in service or after retirement, the provision for family pension was also half of the last basic salary plus dearness allowance (DA). Also, at the time of retirement and in case of in-service death, an employee or his family was given economic support, called 'Death cum Retirement Gratuity (DCRG).
In December 2003, the Union government implemented the NPS based on a contributory system in place of the older system in a bid to lessen its economic burden. In NPS, 10% of basic salary and DA is compulsorily deducted from an employee's salary and the same amount is added by the government for the pension fund. There was provision that at the time of retirement, an employee will be given back 60% of this fund and remaining 40% would be have to compulsorily invested as annuity for pension.
Unfortunately, NPS replaces the 1972 Central Civil Services (Pension) Act, which had provision for inbuilt family pension and gratuity.
In its performance audit of the NPS (Report No.13 of 2020), the Comptroller and Auditor General of India (CAG) provided this revealing snapshot of how the NPS compares with the old pension scheme: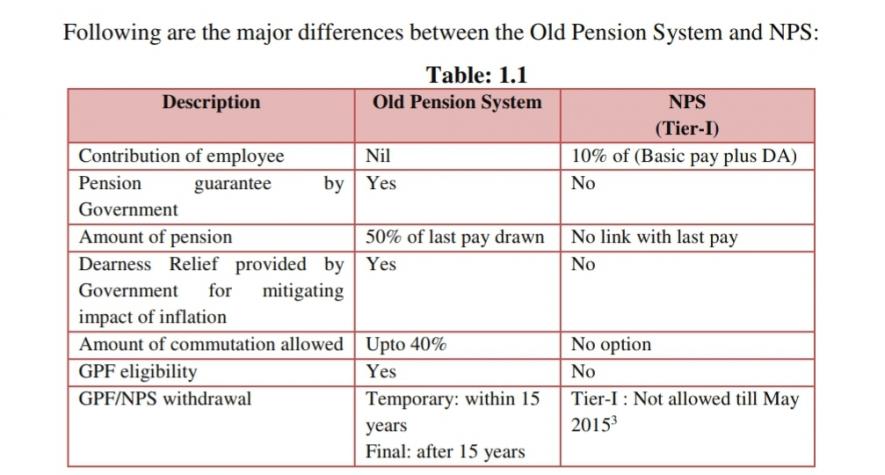 Ultimately, under NPS, the families of deceased employees have suffered due to lack of 'gratuity' and 'family pensions'. Due to several such cases and complaints, in 2009, the Union government announced gratuity and family pension provisionally. But, according to this provision, the government was offering family pension to the deceased employees' family only after usurping the total NPS corpus of the deceased.
After several protests, writ petitions and representations, the Centre amended the family pension system of NPS on March 30, 2021. It provided that, for the purpose of family pension in case of death of a working employee, only government contribution will be taken back and the employee's contribution with interest will be surrendered to deceased's family. And no completion of seven years' of service will be compulsory for full family pension from this date.
Still, there is no provision for minimum guarantee of pension in case of less than 20 years' service prior to retirement. There are so many cases of retirees who are getting pension below Rs 5,000/month because of the corpus-based pension system.
The NPS is based on long-term investment fund ideology and it could be better in the case of more than 30 years' service. But, in case of less years' service, due to lower corpus, the pension is not sufficient for the retiree's survival.
Today, the NPS is implemented in every state except West Bengal. But in many states, neither employees' contribution has been deducted for many years nor has government contribution been added. Therefore, no corpus was invested for many years, as a result of which pension funds couldn't be accumulated. In such a situation, in case of retirement, employees are getting very low pension, which is creating uncertainty and insecurity in old age
These drawbacks in providing basic and essential needs of pension security to retirees has been causing deep uncertainty among more than 70 lakh NPS employees in the Central and state governments. Protests against NPS have been going on for quite some time and the demand to restore the old pension scheme has been growing, across Central and state government employees.
In 2017, the Kerala government set up a committee to review NPS after protesters demanded the older scheme. In 2018, Andhra Pradesh, Assam and Punjab governments and last December the Himachal Pradesh government also set up committees on the issue of NPS after big protests by NPS employees. In February 2020, the UP government also announced a committee to review NPS after employee protests.
The Second National Judicial Pay Commission also suggested that NPS should not be imposed on the judiciary in its report in February 2020.  
In 2018, a CAG report stated that on the basis of planning, implementation and monitoring, the NPS was failing in its purpose of providing old age socio-economic security. On December 20, 2021, the  National Human Right Commission wrote to the Centre, asking it to respond and set up a committee to review NPS to ensure the protection of human rights of employees. The Pension Fund Regulatory and Development Authority or PFRDA also announced that over Rs 1,600 crore of the pension fund was drowned in share market, invested through debt-ridden IL&FS.
Although the Centre has made some amendments in the NPS to protect employee's interests, such as provision of death-cum-retirement gratuity in 2016, enhancement of government contribution from 10% to 14% in April 2019 and stopping of usurpation of employee contribution in case of death, these are not sufficient to provide old age socio-economic security.
Undoubtedly, this is the matter of increasing old age insecurity as the pension fund is being invested in market, which is risky and provides no guarantee of return even after over 17 years of implementation of NPS.
So far, more than Rs 6 lakh crore has been invested in the market, according to National Securities Depository Limited's Central Record-Keeping Agency and PFRDA sources. So, the big question right now is: where is the guarantee of security of this huge corpus? And, who will be held accountable in case of this funds being swallowed by share market big bulls?
The writer is president, National Movement for Old Pension Scheme, Delhi, and is a social reform activist. The views are personal.
Get the latest reports & analysis with people's perspective on Protests, movements & deep analytical videos, discussions of the current affairs in your Telegram app. Subscribe to NewsClick's Telegram channel & get Real-Time updates on stories, as they get published on our website.
Subscribe Newsclick On Telegram