Why are Residents of Howrah Protesting a High-end Sports Complex?
Residents are alarmed after learning that trees are being felled and water bodies are getting filled for a proposed sports city in the 55-acre open green space of Dumurjala.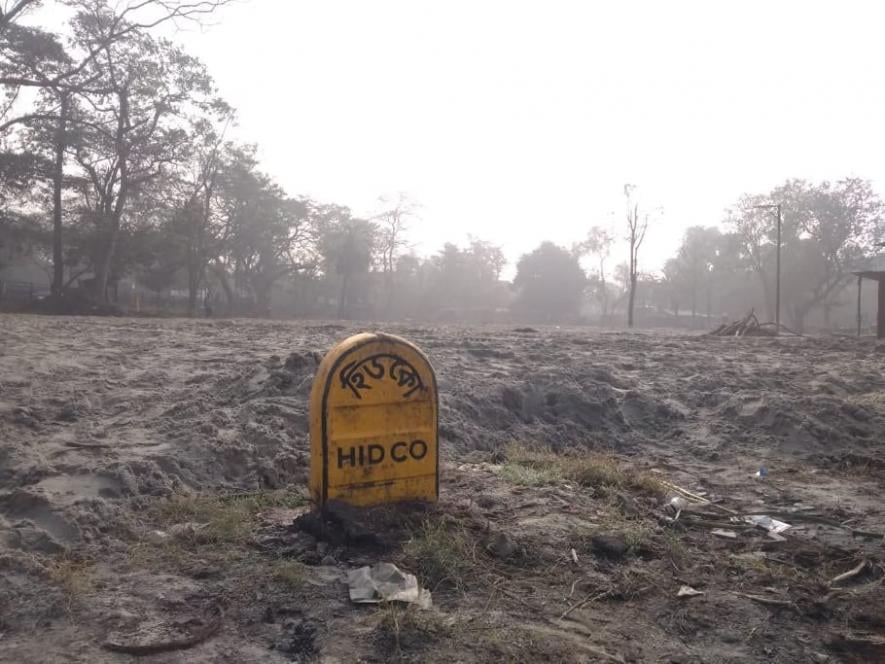 Balaram Chara, like most residents of Howrah, has always called the 55-acre open green space of Dumurjala the lungs of the city as it is used by many residents to walk, jog, play sports, etc.
So when Chara heard that trees were being felled and water bodies were being filled for a large infrastructure project, he was alarmed.
"Like any aware person living in Howrah, I know the significance of Dumurjala. So around December, when I came to know of trees being felled, I immediately approached the local police station to find out what was going on. They had no details except that a sports complex is to come up in the place," says Chara.
As of now, what is known is that the proposed Khel Nagari (sports city) work will be undertaken by the Housing Infrastructural Development Corporation (HIDCO) and Cricket Association of Bengal (CAB). It will likely include an international stadium, tennis court, gymnasium, shopping complex, and housing complexes and will cover Dumurjala's green expanse entirely.
Chara and other concerned residents of Howrah got together to form a joint forum to save Dumurjala. There were multiple demonstrations and rallies. Two separate cases have been filed at the Calcutta High Court to know more about what is going on with the project and how much of the thriving biodiversity will be harmed.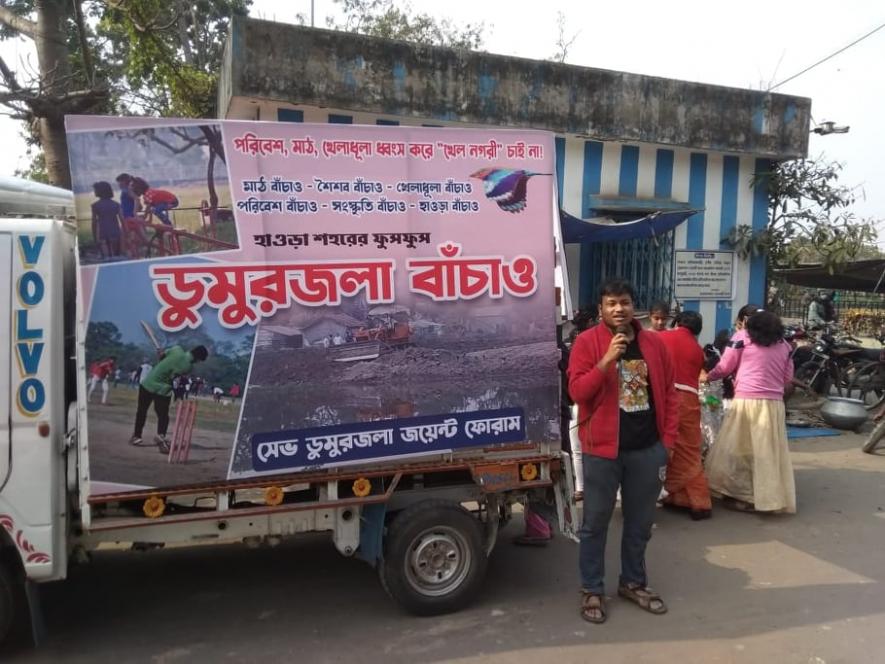 "None of us know what is going to happen in Dumurjala. We can just see that what is going on is seriously detrimental to the place. Every day, ponds are being filled and trees felled. Even if a sports infrastructure has to come up, there are guidelines under which any construction in a natural green patch like this can happen. We need to know if these are being followed," says Imtiaz Ahmed, an advocate. He has filed a petition in the Calcutta High Court demanding that the details of the project and its environmental impact be made public.
After the hearing in January, the Calcutta High Court has asked the state government to justify its project by February 28. But the work of clearing the vegetation and filling ponds has continued, upsetting many residents. They fear that by the time the cases conclude, much damage will be done to Dumurjala's biodiversity. There are also fears that this will sharply amplify civic woes like waterlogging and pollution.
"It will be a disaster if the biodiversity is not protected in construction of whatever infrastructure," says Pradip Das, who is the district co-ordinator of Howrah Children's Science Congress and has been involved in the biodiversity study of Dumurjala since 2007.
Das points out that apart from being like a sink for water in a city that is so prone to inundation during rains, wetlands are crucial to the ecological balance of the whole region.
"After we witnessed the severe climatic changes, the repeated floods and cyclones like Yaas (2021) and Amphan (2020) that battered many parts of the state, how can we even think of filling up ponds? In many areas of Kolkata and Howrah that did not flood earlier, filling up ponds has resulted in standing water after every heavy downpour," he says.
Dumurjala's vegetation is diverse, consisting of more than 500 trees with varieties like mango, bottle-brush, Gulmohar, etc. It is also the natural habitat of bird species like cuckoos, doves, kingfishers and owls, and mammals like squirrels, mongoose, foxes, and palms civet.
But this is only a fraction of what it had even a decade ago. Das says that the damage to Dumurjala's ecosystem had started long back.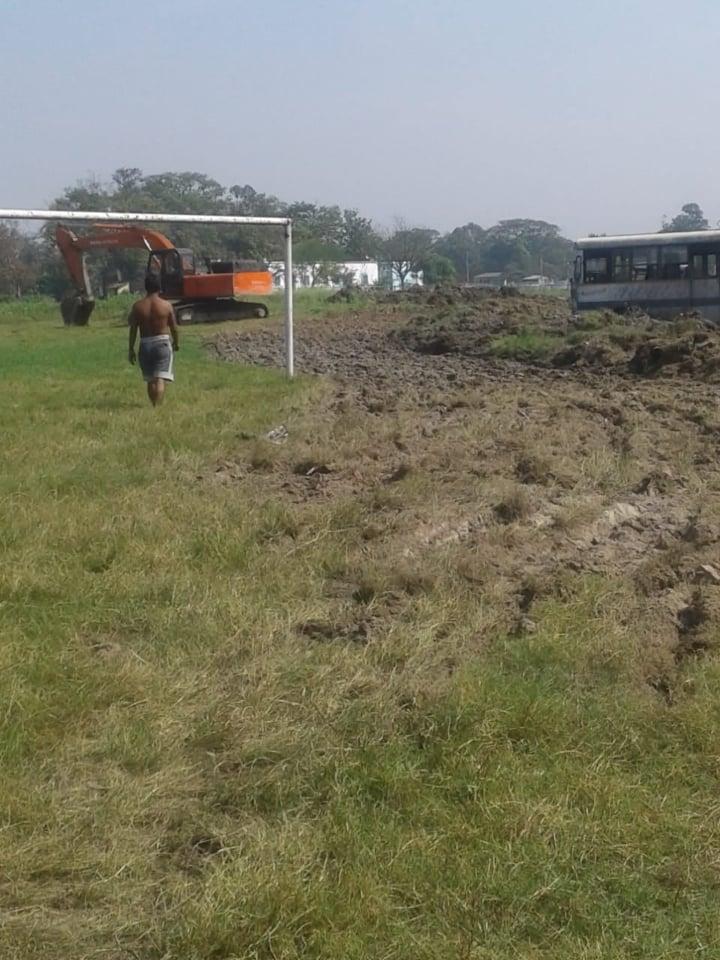 "Around 1990, I had identified around 32 different kinds of butterflies and around 37 kinds of birds- if we were to count all seasons. Back then, a few political rallies were held at the ground, for which a lot of the bushes were cleared. Slowly the types of birds and butterflies have come down to six to seven now. Now, instead of trying to revive the earlier situation, such large scale construction like a sports city will destroy this whole system," he says.
Das explains that even if twice as many trees are planted after uprooting the trees, the damage would have been done.
"The roots that held the soil, the ancient balance of nature that grew here, the soil quality, will all be irreparably damaged. That is why it is essential to know what the government plan is," says Das.
But the discontent about the threat to Dumurjala is not just an ecological concern. In a congested industrial city like Howrah, Dumurjala is one large green space that anyone can access. What people fear is that it might not remain the same.
"A green patch like this is part of the culture. It is a great equaliser, where the rich and the poor both come to play. The young come to practice sports in different groups and academies, and the older people come to walk. It is all free. A built infrastructure with a price will change that. Even if one has to pay Rs 10 to come and play, it will keep away all those children who cannot afford to spend that much every day," says Animesh Dutta, a college student who is part of the Save Dumurjala movement.
As things stand now, the residents are looking forward to the government's roadmap that will be presented in front of the court. But in the meanwhile, the protests against the felling of trees and other such activities will continue, says Chara.
The author is a freelance journalist based in Kolkata.
Get the latest reports & analysis with people's perspective on Protests, movements & deep analytical videos, discussions of the current affairs in your Telegram app. Subscribe to NewsClick's Telegram channel & get Real-Time updates on stories, as they get published on our website.
Subscribe Newsclick On Telegram