Why Hindutva Supporters Find Trump's Defeat Hard to Accept
Trump's presidency was like oxygen to the Hindutva ecosystem. Never mind that minorities, including Hindus, can never be equals in a white supremacist project.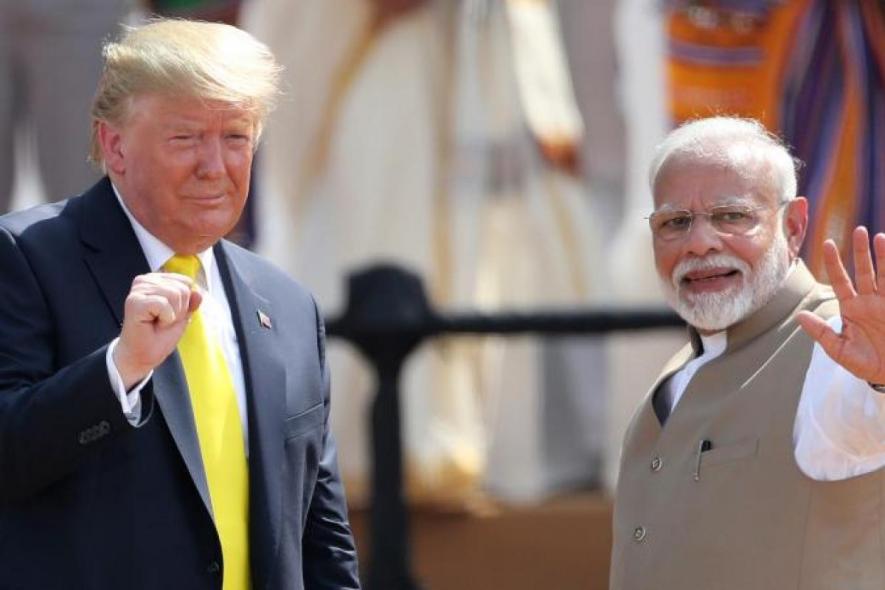 In the aftermath of the "insurrection" by a pro-Trump mob at the Capitol, the Hindutva ecosystem in India showed a bizarre spectacle: Donald Trump appeared in it as an alien who it has never encountered before until his supporters rampaged through Capitol.
In this new propaganda, the Hindutva firmament seeks to foster an extraordinary amnesia: that it and Narendra Modi has been the greatest cheerleaders of Donald Trump (and by implication, his ideology of White supremacism), both in India and America. Thus, it wants to reduce the issue to the Indian flag being waved at the Capitol by a Christian supporter of Shashi Tharoor (even as reports emerged of Hindutva supporters also doing the same).
But in this obfuscation focused on trivialities, what is ignored is the complementarity between Hindutva and white nationalism, driven by the united hatred of Islam, the Left and liberalism and the penchant for authoritarian politics based on the great leader. Therefore, Indo-US relations under Trump cannot be seen only through the lens of shared geostrategic interests.
The Narendra Modi government had an unsurprising lack of moral consternation about Donald Trump's dangerous racist, majoritarian project or the impact of his authoritarianism on democracy globally despite the claims of India being 'vishwaguru' and the "mother of democracy."
This is what led to one of the most humiliating moments of India's foreign policy history: an Indian prime minister endorsing an American presidential candidate with Modi's "Ab ki baar, Trump sarkar" statement at the "Howdy, Modi!" rally. This was followed by the serenading of Trump in Ahmedabad at a cost of Rs.100 crore to the exchequer.
Both these acts go beyond what is necessary in a diplomatic relationship. Former President Pranab Mukherjee, whom Modi considers a mentor, writes in his autobiography that "...Modi plays up personal equations too much" when national interest is "driven by cold, hard facts." And that "to take such [personal] relationships as true is a bit absurd." This is especially so with a personality like that of Trump who has been so fickle with even allies. But the Right-wing commentator R Jagannathan gives a justification to this absurdity or what he calls a "lovefest" between Trump and Modi that emerges from "the kind of extreme hostility they have faced from ruling elites in both countries, the US deep state and the left-liberal ecosystem" in India.
Journalist Aarti Tikoo Singh, who defended India's action on Kashmir in a US Congressional hearing, applauded Donald Trump after his loss for taking on a "highly corrupt establishment of Left-Islamists-Media-Deep State, day in day out for 4 years."
This ideological affinity, founded on deep autocratic tendencies and disdain for democratic institutions, drove the personal bonhomie between these two leaders. Occasional disputes and divergences between the two nations in matters like trade and immigration did not deter this relationship. Thus, crucially, the success of the Hindutva majoritarian project in the global arena was dependent on Trump's majoritarian project and its acquiescence in the former's legal excesses, like that of the Citizenship Amendment Act and the abrogation of Article 370 in Jammu & Kashmir. This was further affirmed with Trump's silence on the Delhi communal violence (in which some ruling Bharatiya Janata Party leaders' role is being questioned) despite his presence in the city.
After all, Trump's presidency was the oxygen that Right-wing populist demagogues in the world needed.
Trump also sought to cash his personal friendship and ideological affinity as votes in his election campaign by emphasising the "great support" from India and his "great friend" PM Modi. He had even stated before: "I think they like me in India certainly more than the media likes me in this country." This was emphatically demonstrated during the elections when Hindutva commentators, supporters and BJP functionaries were unabashedly egging on Trump.
The unanimous view about him could be summarised by the Hindutva propagandist  Shefali Vaidya's words: "Only Trump has the guts to call out Izlamic [sic] terror." After Trump's loss, unsurprisingly, many among them parroted the American extreme Right's theories about a "stolen election" which fuelled the present "insurrection". Even Jagannathan of Swarajya, which claims to be a "liberal right of centre" magazine, was of the opinion that "the scope for hanky-panky is not inconsiderable" with the huge numbers of mail-in and absentee ballots.
Despite Joe Biden's victory, the BJP's top functionaries, like the in-charge of its foreign affairs department, did not think there is anything diplomatically amiss in praising Trump and deriding Biden.
And after the bans imposed by social media platforms on Trump following the Capitol incident, BJP leaders like Tejasvi Surya, the president of the Bharatiya Janata Yuva Morcha, were quick to offer commiseration to him. BJP's IT cell head Amit Malviya thought Trump's incitement to violence, which claimed the lives of five people, was simply his exercise of "freedom of speech" and stating a "different point." Nothing shocking here, again, when we consider that Union Minister Anurag Thakur roams freely even after one year of egging on public calls to 'shoot anti-nationals'.
But the homology of Hindu nationalism and white nationalism becomes evident when we look at its articulations in America. The new Hindutva propaganda seeks to erase that Trump came to power in 2016 riding on the support of movements like "Hindus for Trump" and the Republican Hindu Coalition (RHC). The trope of Islam keeps recurring in the ideological world of both Hindutva (and white nationalism).
Ingrid Therwath, who has researched extensively on diasporic Hindutva, argued before: "Indian American lobbies have a tendency to identify Islam as the irredeemable Other." Unsurprisingly, diasporic Hindutva reduces India to Hindu, and as dalit-American activists like Thenmozhi Soundararajan contends, to Brahminical Hinduism.
The RHC fundraiser that Trump attended in 2016 was titled "Humanity United Against Terrorism" where he had famously declared that "I am a big fan of Hindu. And I am a big fan of India." The foreign policy section of RHC's website has a picture of Trump hugging Modi and it states, "As a leader of the Free world, we need a firm foreign policy to combat radical Islam."
In contrast to the shock evinced by Hindutva commentariat at an Indian flag at a Trump rally, 28% of Indian-Americans (not only Hindus) are estimated to have voted for Trump and his supremacist "Make America Great Again" project, up from 16% last time. Hindutva groups completely gloss over that the American "alt-right" or the extreme Right forms the core base of Trump or that he did not condemn violent neo-Nazi attacks, like the one in Charlottesville.
Alt-right is a loose alliance of various kinds of White supremacists and neo-Nazis like Proud Boys, Three Percenters, Oath Keepers, Confederates, etc. (some drawing ideological resources from White American Christianity) and whose members are now being arrested for the Insurrection. Scholar Sitara Thobani, by looking at the "Hindus for Trump" campaign, shows that rather than contest white xenophobia, Hindutva in the US is "predicated on the preservation of this very whiteness."
This is despite the fact that Hindus, or any other ethnic minority, will never be treated as an equal in any white supremacist project.
The fact that the Modi government has no qualms about white supremacism was demonstrated by the fact that Harsh Shringla (India's current Foreign Secretary and the then Ambassador to the US) met with Stephen Bannon (the former chief strategist of Trump) in 2019, even when he was not a part of the Trump administration. Bannon is a leading figure of the alt-right who is now seeking to forge a global alliance of extreme Right movements and parties. Shringla,  described Bannon as a "legendary ideologue," a "'Dharma' warrior" and "an avid follower" of the Bhagavad Gita. Recently, Twitter banned Bannon permanently for his calls to behead US officials, like the FBI Director.
The affinity between Hindu nationalism and white supremacy goes back to Nazism with its ideology of the superiority of the "Aryan race". This emerges in other forms like in the manifesto of the Norwegian far-right terrorist Anders Breivik (who killed 77 people), which spoke of Hindutva as an important global partner of his version of Christian crusades against Muslims and Marxists. Of course, diasporic Hindutva also makes its own ideological adjustments, abandoning the anti-semitism of white nationalism, and embracing Zionism and the Israeli state as the model to be adopted in places like Kashmir.
The current attempts to distance Modi and Hindutva from Trump and white nationalism are bizarre, but this disavowal is strategic given the global outrage at the Capitol mob. But the ties and history are something that cannot be erased by the whims of those who justify mob rule and reap its dividends, like in Ayodhya 1992 or Gujarat 2002.
The author is an associate professor with Dalhousie University. The views are personal.
Get the latest reports & analysis with people's perspective on Protests, movements & deep analytical videos, discussions of the current affairs in your Telegram app. Subscribe to NewsClick's Telegram channel & get Real-Time updates on stories, as they get published on our website.
Subscribe Newsclick On Telegram