Will Bring All Sectors to Standstill if Labour Codes, Privatisation Not Rolled Back, Say TUs
Workers' convention plans countrywide protests, jathas across sectors, including Railways. Talks on between 10 central TUs and SKM for joint programmes.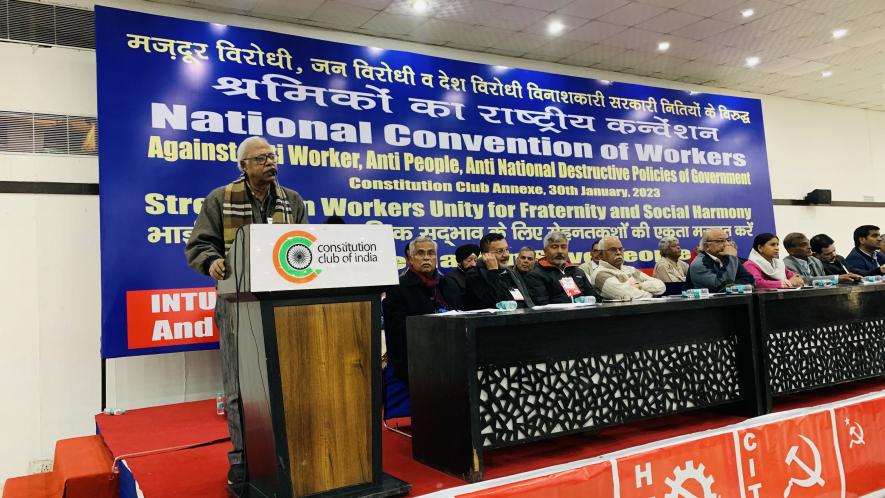 New Delhi: In a stern warning to the BJP government, 10 central trade unions, who came along in the national capital at joint convention of workers here on Monday, said they would bring work to a standstill in every sector across the country if the four contentious labour codes and privatisation of public undertakings was not rolled back.
Addressing a packed hall workers and their representatives, Tapan Sen, general secretary, Centre of Indian Trade Unions (CITU), said the central trade unions would launch a pan-India campaign on the lines of the Quit India movement, to mobilise national opinion on threats to workers. He said unions were closely coordinating with the leadership of Samyukta Kisan Morcha to make its reach felt in every corner of the country.
"We are witnessing an unprecedented attack since Independence which has affected every sector, be it industry, social security or education. There is even an attack on the right to demand [work] for a few super rich to make profits. They are calling this period the Amrit Kaal, but no corner of the country is spared from communal venom that is dividing workers. We have to accept this challenge, and not let anyone disrupt our unity," he added,
Sen said only the unity of workers could save "our public sector" from landing into private hands.
"We have to come out of cynicism that struggles do not yield results. It was our struggle that stopped the privatisation of Bharat Petroleum, Bharat Earth Movers Limited, Central Electronics Limited. Had it been the 1990s, when liberalisation was introduced, these units could have been sold. If we do not fight, they would not let our children study, forget the question of work!"
The CITU leader also noted that education was getting commercialised.
"We first heard about contract workers but a new term is getting currency: trainee workers. This is a new name for slavery because a trainee would not be covered by any labour law. So, prepare yourselves. We will begin our campaign in March. In August, on Quit India day, we will do 'mahapadav' in all district headquarters. Sectoral strikes will continue. The power sector workers' strike in Maharashtra has reminded us of our strength. If we resolve, we will bring this government to its knees," Sen added.
Talking to NewsClick on the sidelines of the convention, CITU leader A R Sindhu, who has been organising Anganwadi workers, said the need for this convention was realised given the attack on the values of India's Independence, as also on workers.
"The Independence struggle was fought for a secular country, but this government facilitated the spread of communalism, which has been used to break the unity of workers. It is workers who have made this country. You are attacking their rights. There will be no power for collective bargaining if the labour codes get implemented. Your right to seek justice has been snatched. They are now seeking affidavits that citizens will not protest even if their land is getting acquired," she added.
When asked about failure to capture popular imagination on the question of labour codes, Sindhu accepted that it had been a challenge after the corporate media shunned every voice critical of the government. "It is correct that despite mass actions, we could not capture the national imagination, like the farmers movement. They garnered sympathy from each section. To correct it, we have decided to launch a country-wide campaign on workers issues," she said.
Shiv Gopal Mishra, secretary, All India Railway Men's Federation, told NewsClick that railway employees would also stop work if unions call for a pan-India strike.
"We are witnessing that national assets are getting privatised despite generating consistent profits for the government. The number of our employees are reducing and fixed term employment has only increased. We have at least three lakh vacancies despite recruitments. About 46,000 employees retired last year. Our pain is that our right to unionise is getting snatched," he said.
Mishra said no railway federation could turn away from these questions.
"We met the Railway Minister and expressed concerns about these sweeping changes. He too expressed his opinion and accepted that privatising railways was not a wise move. Even after this, if they move ahead with privatisation, we will participate in the strike. We have already said that railway workers can only stop work if it's a three-day strike because only then every worker can participate," he added.
Sonia George, general secretary, Self Employed Women Association, said it was workers who made this country and this was only realised during the pandemic when the middle class did not find workers in homes and offices.
The condition of workers, especially women, has worsened after supply chain managers not only cut wages but amount of work too.
Talking to NewsClick, George said: "Women workers are particularly fearful because their future seems hazy. The supply chains have already reduced work. So, it is a crisis of livelihood. The government has not come clear on the social security code and how welfare boards will work under the new regime. We came here to express our commitment that informal sector workers will also contribute to the struggle."
Adopting a joint declaration, the convention said: "This National Convention of Workers, while reiterating their 14 point charter of demands, which projects the alternative to the entire gamut of the neoliberal policy regime, resolves to work in this direction and proposes to organize in Month of March 2023 to May 2023 should be devoted to organize state/district/and sectoral conventions. Jatha programmes: Padyatras/jeep jathas/cycle jathas/motorbike jathas etc. be adopted in the conventions to be carried from June onwards. These mass campaigns through jatha programmes to culminate into state-level Mahapadav from 09th August the 'Quit India day'. It may also be multiple days programme as per decision of the joint state conventions."
Get the latest reports & analysis with people's perspective on Protests, movements & deep analytical videos, discussions of the current affairs in your Telegram app. Subscribe to NewsClick's Telegram channel & get Real-Time updates on stories, as they get published on our website.
Subscribe Newsclick On Telegram