Within Hours of Election Announcement, Bihar Village Boycotts Assembly Polls
While the promise of a railway underpass and a road leading to the National Highway 19 remains unfulfilled, the sitting MLA commented that he doesn't have time to comment on this useless issue just before elections.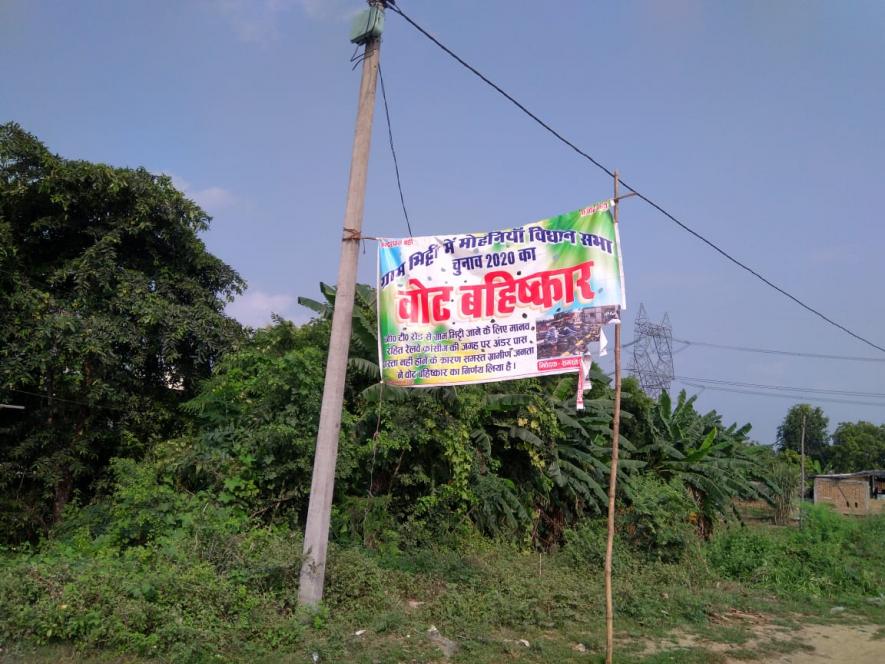 Banner announcing the poll boycott
Bhitti, Kaimur: "Humare bidhayak mar chuke hain (Our MLA is dead)," a 60-year-old villager from Bhitti panchayat of Mohaniya Assembly constituency in Bihar told NewsClick.
The villagers of Bhitti and nearby villages have decided to boycott the upcoming Assembly elections as the promise made to them of a railway underpass and a road leading to the National Highway 19 (Delhi-Kolkata Grand Trunk Road) remains unfulfilled. According to the villagers, there are about 25-30 deaths every year because of an unmanned railway crossing where there are five parallel tracks of the busy East-West Corridor.
The decision about "Chunav Bahishkar" (boycott elections) was announced through posters which were put up within 48 hours of the announcement of the elections right outside the village and other places inside the village. The villagers have to walk about 10 km for any medical emergency and children have to cross the deadly railway tracks to reach their schools.
Mohaniya goes to polls in the first phase of elections.
"There is no road for us, we have been asking for one for almost 50 years and since the tenure of Jagjeevan Ram, we have submitted several applications but all of them have gone unheard. We have just given up now and we just won't vote now onwards," said Prabhu Narayan, a farmer and resident of Bhitti Gram Panchayat.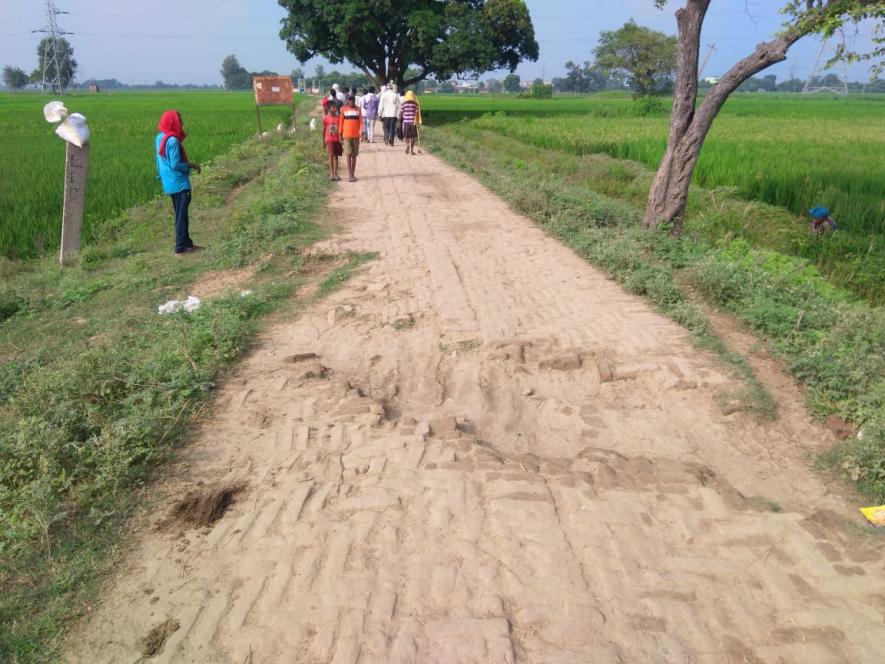 The road leading to Bhitti village
Bhitti Gram Panchayat consists of 10 villages Barhulli, Bhopatpur, Karigawan, Kewrhi, Mamrezpur, Pandepur, Pusauli, Rasulpur. According to the data uploaded on Jalshakti mission, the estimated population of Bhitti Gram Panchayat is over 9,000.
Also read: Bihar Elections: Angry People, Indifferent Leaders
Ramanand Singh, a farmer from a nearby village, on being asked about what was done by the Mohania MLA in the last five years, folded his hands and said, "Sir, nothing has been done! The MLA told the village head once that the underpass project has been finalised, but so far there has been no progress."
Forced to Walk Miles for Medical Emergency
When it comes to medical emergencies for these villagers, they mostly take the patients on cots and cross the deadly railway tracks on foot to reach the main road, from where the only sub divisional hospital accessible for them in Mohania is about 10 kilometres away.
Another villager, Sanju Devi, in her 30s, walks with her small daughter for about 2 km each way every time she goes out to buy anything. All she wants is a railway crossing so her children and family can be safe.
The only available way for the villagers to reach their houses is a 15 feet wide concrete track for about 400 metres but after that there is only a brick lane where people can hardly walk on regular days. What the situation will be in the rainy season can be anyone's guess.
'It's just 4-5 villages, it doesn't matter'
Meanwhile, Aslam Ansari, who proudly proclaimed to be the Bhitti panchayat head when NewsClick reached out to him over phone for his comment on the issue, said, "There are only four, five villages, that's not a problem."
He added, "We have written to the other departments but the work will take some time. And, now there is the model code of conduct so how is it possible."
On being questioned about his wife, Saheedan Bibi, who is actually the elected gram panchayat head, he said, "I am the one who takes care of the work, she is just the pradhan."
It's not in my hand, they are lying: MLA
Talking about the boycott, Niranjan Ram, the sitting Bharatiya Janata Party (BJP) Member of Legislative Assembly (MLA) told NewsClick, "Everything is a lie. I have done a lot of development work in the area. I have got the roads constructed and everything done in the village." NewsClick, however, couldn't find concrete road in the village.
"I cannot get the underpass constructed as it required the permission of the railway department and I have written one letter in this regard. I cannot do things which are not in my hand and cannot spend every penny from the MP lad funds on village development. I also have my expenses and villagers are lying," he said.
Notably, on being asked about his last visit to the village, the MLA bluntly replied, "I do not remember when it was. I am in Patna for the ticket and don't have time to speak on a useless issue.'
Railway related accidents in India
The lack of a road exposes the villagers to the threat of accidents. It may be mentioned that in 2018-19, railways recorded 16 deaths due to accident, 28 deaths in 2017-2018 and 195 deaths during 2016-2017.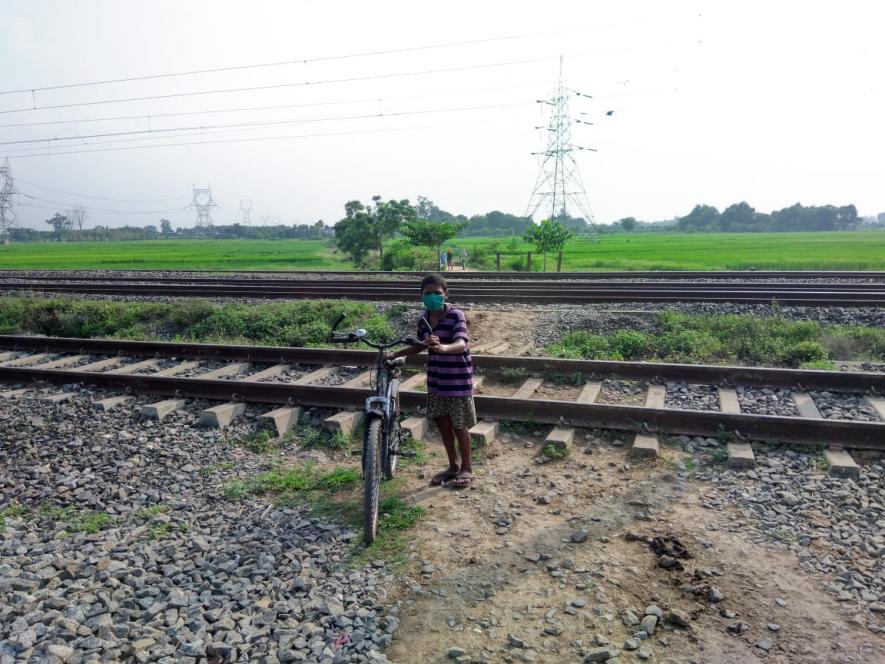 A man crossing the railway tarck in Bhitti village.
Meanwhile, between 1990-1995, an average of more than 500 accidents took place every year, with around 2,400 deaths and 4,300 injured in those five years. A decade later between 2013-2018, an average of around 110 accidents took place every year which killed around 990 people and injured about 1,500 people, according to data available with PTI.
As per the information available with the Railway Ministry, as many as 65 railway accidents were caused due to unmanned level crossings across the country in the year 2009-2010, 48 accidents in 2010-2011, 54 accidents in 2011-2012, 53 accidents in 2012-2013, 47 accidents in 2013-2014, 50 accidents in 2014-2015, 29 accidents in 2015-2016, 20 accidents in 2016-2017, 10 accidents in 2017-2018 and 3 accidents in 2018-2019. While, over 32,000 animal deaths were recorded between 2016 and 2018.
Also read: NITI Aayog Questions Railways Safety Data on Zero Deaths
Get the latest reports & analysis with people's perspective on Protests, movements & deep analytical videos, discussions of the current affairs in your Telegram app. Subscribe to NewsClick's Telegram channel & get Real-Time updates on stories, as they get published on our website.
Subscribe Newsclick On Telegram