Years after Tapi Sugar Mill Shut Down Workers Await Salary, Basic Amenities
While some who could manage other jobs or had land to cultivate in their native villages have left, those who stayed back have lived without basic amenities like electricity and water.
Office of Shri Ukai Pradesh Shahkari Khand Udyog, a cooperative sugar mill in Vyara
Sureshbhai Chotubhai Gamit, a 54-year-old sugar mill worker, lives in a residential quarter once provided by the mill authorities. As of now, Gamit and his family are the only residents of the three-storey building that once was the abode of families of sugar mill workers of Shri Ukai Pradesh Sahkari Khand Udyog Mandli, a cooperative sugar mill in Paniyari, a village in Vyara tehsil, Tapi district.
The building in which Gamit resides is in shambles, like most abandoned buildings in the residential premises of the sugar mill.
"This is a ghost town now. Most families have left, barring about 40 or 50 families who have been stuck here like me," Suresh Gamit tells Newsclick.
"Once about 700 or 800 families of sugar mill workers used to live here. Many like me left their home from far away villages to live here so that it would be easier to work night shifts. But, things began to change drastically since 2008-2009 when the mill fired workers for the first time. Thereafter, the mill would remain functional for a month and shut down for rest of the year. This is how we carried on till 2019, when I was fired too. The mill authorities would hang a notice with 200 or 250 names of workers who would be fired without notice or any benefits," recalls Gamit.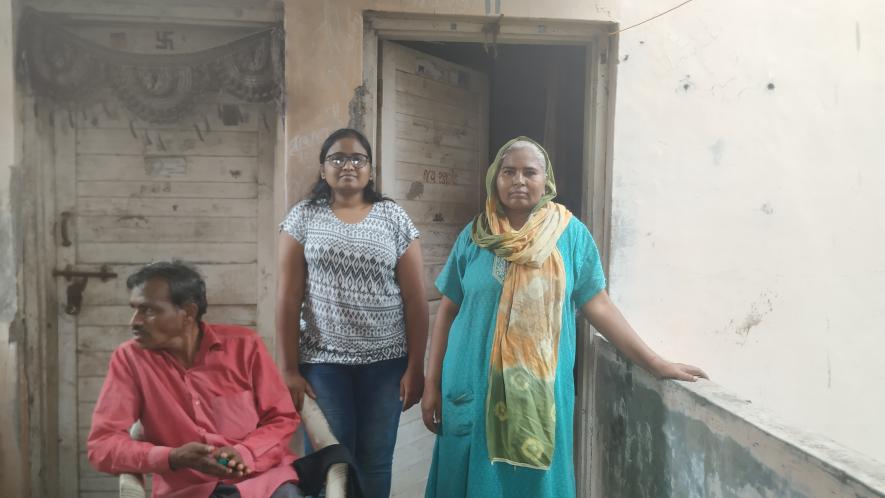 Suresh Gamit with his wife Kalawati, daughter Tejal in front of their residential quarter   
"Families began to leave after the electricity connection of the quarters was cut off in 2014. We were told the mill had not been paying the electricity bill. That was despite the electricity bill being deducted from the salaries of workers every month," says 50-year-old Kalawati, Gamit's wife.
"We have been living without electricity for the past seven years. We installed a small solar plate couple of years back but that can only power one fan or a tube light. So, we usually finish cooking and eating dinner while there is still light outside," she adds.
Notably, there are sixteen cooperative sugar mills in south Gujarat which were generally run by Patidars (Patels), except Shri Ukai Pradesh Sahkari Khand Udyog Mandli in Vyara, Dadariya Sugar Factory in Valod and Mandvi Sugar Factory in Mandvi which were run by people who belonged to tribal communities.
"Dadariya was taken over by Bardoli Sugar Factory while the Shri Ukai Sahkari Khand Udyog and Mandvi sugar mill are non-functional. The three mills had to be shut down primarily due to mismanagement and internal corruption. Shri Ukai Sahkari Khand Udyog had opened in the year 1982-83 as a cooperative mill that had an elected functioning body of 22 or 23 members and about 22,000 tribal farmers as shareholders. The mills workers were also primarily tribals from Tapi and neighbouring districts," Romel Sutariya, a tribal rights activist tells Newsclick.
"By 1996, mill workers were disgruntled with the management and went on a strike under the leadership of union leader Dashrath Nagar. They demanded better wages. The mill authorities did not relent to the workers' demands which led to closure of about two years. The sugar mill never recovered from the financial set back. The mill reopened but the authorities began to pay sugarcane farmers and the mill workers partially. The mill continued to operate like this till 2014. That year, the mill authorities failed to pay farmers, leading to farmers' protests under the newly found organisation Adivasi Kisan Sangharsh Morcha. Eventually some of the families of sugar mill workers joined the protests, demanding their salaries," he adds.
"After a year of protests in Tapi and then in Ahmedabad, the issue was heard by concerned authorities in the government. However, by then the mill had shut down completely and, as a result, the water and electricity connection of the residential premises were also disconnected. Later, the local authorities helped in setting up a bore well within the residential premises of mill workers. However, despite our repeated demands, electricity supply was never restored. In 2016, the then Collector agreed to restore electricity connection for three months as multiple children were to appear for their board examinations and had to study. Since then, the workers of the sugar mill colony have been living in the dark," adds Sutariya.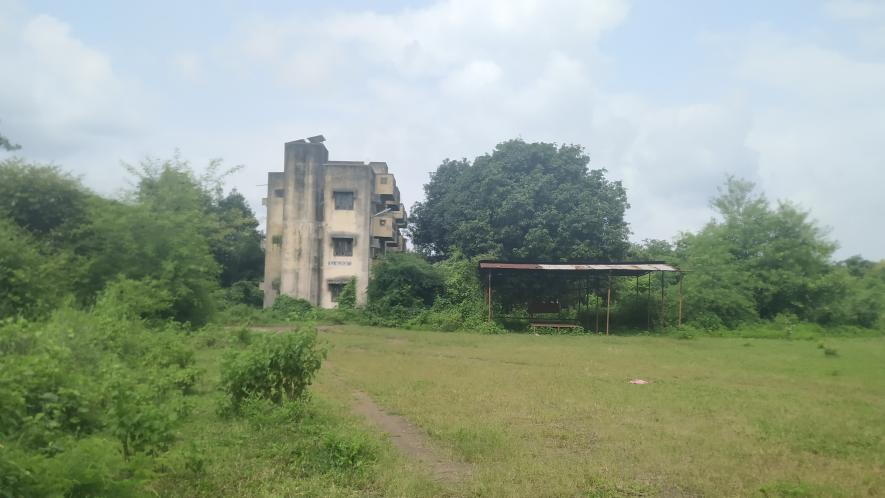 The residential premises of the mill workers is a ghost town now as most workers have left 
While most mill workers are still are waiting for salaries which are due and their provident fund, some who could manage other jobs or had land to cultivate in their native villages have left.
"In early 2019, they (mill authorities) informed us that they would be paying us salaries for two months, but, in effect, we got a month's salary. Since then, I have not received any salary. They mill owes me about Rs 10 lakh, including my provident fund. I still have a feeble sense of hope that someday they will clear my due salary," says Suresh Gamit.
"It was very difficult intially – we were left to starve with our kids and family with no money. Most of us mill workers had to resort to work as daily-wage earners. But the income was not enough so my wife, and then my two daughters, had to work as daily-wage labourers," adds Gamit.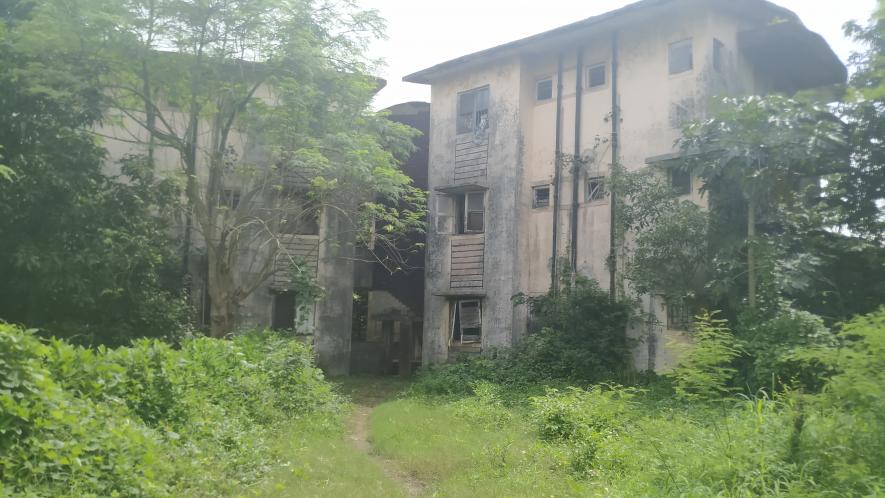 Once home of mill workers, the residential quarters now stands dilapidated 
"Initially, a ten hour shift as an agrarian labourer would fetch us between Rs 70 to Rs 100 per day. Both my parents would work overtime to bring more money. Eventually, both fell sick and we sisters had to work as daily wage earners to run the household. My sister worked in the fields more than me. There was a time when her income was our primary source of sustenance," adds Tejal Gamit, Suresh and Kalawati's daughter.
"Our entire family worked as daily wage labourers for about ten years till we sisters completed our education. My mother was affected the most durinng those years of struggle. Later I took a loan and established a small garment shop in Vyara town. The income from the shop has helped us sustain," adds Tejal.
"We don't want to live here anymore. There is nothing left for us here. My daughters have grown up and now my husband and I want to go back to our native village of Dhanduri (Dolvand taluka, Tapi). I have no good memories of this place, my family has lived through hell here all these years," Kalawati says.
Get the latest reports & analysis with people's perspective on Protests, movements & deep analytical videos, discussions of the current affairs in your Telegram app. Subscribe to NewsClick's Telegram channel & get Real-Time updates on stories, as they get published on our website.
Subscribe Newsclick On Telegram