A Lesson in Story-Telling for Professional Historians
A new book examines how, unlike other dynasties, the Scindias of Gwalior survived 1857 and 1947 and could parachute members from palaces to ministries.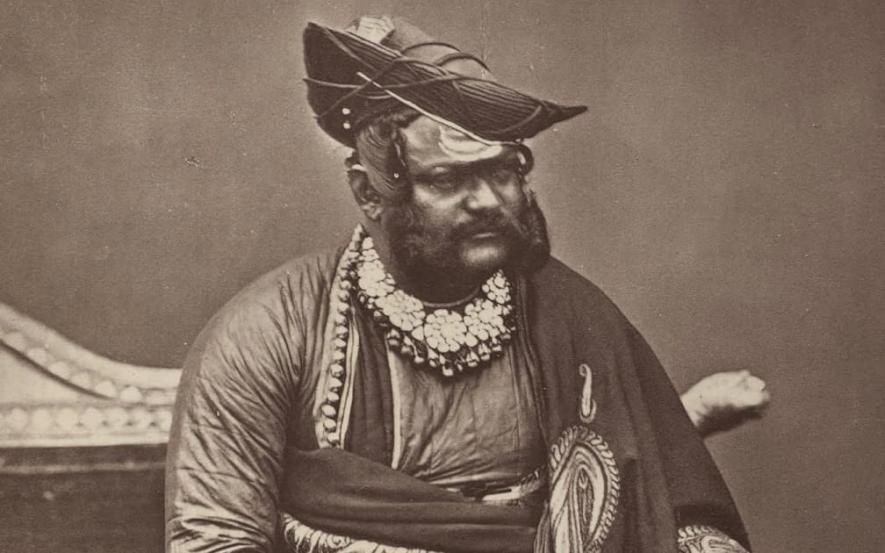 Image Courtesy: Asian Voice
The 18th century was a defining period of Indian history, after which events took a trajectory that even academic historians regard as a distinct specialisation. India got colonised during this phase. A substantive explanation for the subjugation is the over-dependence of Indian kingdoms on merchant bankers. The latter foresaw better prospects in aligning with the British East India Company. Helping it become a powerful political force was more profitable than investing in local rivalries and annexations.
Nonetheless, some principalities managed to survive till 1857, and some endured till 1947. In this respect, the Gwalior Scindias stand apart, for they not only survived 1857 and 1947 but continued as not insignificant "rulers" even in republican-democratic India. Is this why author-journalist Rasheed Kidwai chose to examine the history of the Scindias and profile some of its dynasts in his book, The House of Scindias: A Saga of Power, Politics and Intrigue, published by Roli Books? Possibly. In terms of the chronological sweep, this slim monograph describes events that took place over almost four centuries.
In the late Mughal era, the Maratha kingdom under Shivaji emerged as a powerful force in western India. It gave way to the Peshwa rulers, who held a Maratha confederacy with the Gwalior Scindia clan, the Gaekwad rulers of Baroda, the Indore Holkar dynasty, the Bhonsale clan of Nagpur and others. None of them endured like the Scindias, who migrated uninterrupted from their palaces to political parties and from legislative assemblies to Union ministries. At least one member of the family was a chief minister twice, though outside the territories historically held by the Scindias.
Both Shivaji (1627-1680) and his succeeding chieftaincy offshoot—the Scindias—had relatively humble origins. In part, the rise of Shivaji gets attributed to the enabling social atmosphere created by Maharashtra Dharma, a Maratha variant of the Bhakti movement, but it was not enough to secure legitimacy. Shivaji had to claim Kshatriya status during his coronation at Raigarh in 1674 through the agency of a priest, Gaga Bhatt from Varanasi. The Scindias, too, had to fight for legitimacy. Though the dynasty takes pride in its humble class origins from the Shinde community, a cultivating group from the Satara region, its high socio-political mobility is on account of services rendered to the Peshwas in humble capacities.
Historian Christian Lee Novetzke records the complex evolution of the Maratha identity from the 14th to the 20th century in a 2004 paper. In the 14th century, "Maratha" was a regional identity that applied to all Marathi-speaking people. By the 16th century, it came to identify only peasant families employed as armed men by the Deccan kingdoms led by Muslim rulers. In the 17th century, the Marathas acquired Kshatriya identity, yet, many Brahmins regarded them as Shudras regardless of whether they were employed in Shivaji's army or by his rivals.
During the Brahman Peshwa rule after Shivaji, only 96 elite Maratha clans came to be regarded as Kshatriyas. All other Marathas saw no change in status. Therefore, intra-Maratha conflicts over social status continued even after 1818, when after the end of the Anglo-Maratha wars the East India Company grew dominant. In this century, the Jyotiba Phule anti-Brahmanism movement developed a base among the Marathas and other Shudras. A century later, ordinary Marathas constituted an anti-British force, while the royal neo-Kshatriya Marathas aligned with the British. In the late-colonial and post-Independence period, elite Marathas dominated the Congress and other structures of power.
Given the social changes in 20th-century India, particularly after independence, some members from the Gwalior Scindia dynasty entered inter-caste marriages. For example, Vasundhara Raje married into a Jat dynasty from Dholpur, Rajasthan. These marriages were all between erstwhile dynasts, except Yashodhara Raje Scindia, who married a US-based doctor. She is now with the BJP, though not without grievances against the party.
Kidwai offers a very engaging read, enmeshing a beautiful continuum of the past and the contemporary. He tells the story of the Scindias with absorbing anecdotes. In India, the telling of history has been confined to professional academics. It is one reason why self-serving myth-makers have paraded concoctions as history. Academic historians must learn how to tell a story from author-journalists such as Kidwai. Else, pernicious political forces will always find space to propagate concoctions as history, more so with the aid of Whatsapp "University".
Kidwai opens with Andrew Rawnsley, who said politics is far too important to be left to politicians. Kidwai leaves unsaid that history is also far too important to be left only to historians. His book is undoubtedly a challenge to professional historians who, with their obsessession with jargon, have shorn history of its stories.
Kidwai devotes the first chapter to a brief history of the Scindias, drawing from rigorous secondary works and primary sources such as travelogues, ethnographic accounts, memoirs of Europeans and Indians. In subsequent chapters, which are about post-independence and contemporary history, Kidwai uses well-informed and professionally accomplished Indian and foreign journalists as his sources. He creates a mix of the past with the present, individuals with processes, state and society, local and global, creating a delightful read through revealing anecdotes and deep insights into more than a century of power-play.
Citing scholar Amar Farooqui and others, Kidwai tells us about Baiza Bai (1784-1863), the "shrewd dowager of Gwalior" who put the Scindia dynasty on firm financial footing. She harboured a deep antipathy against the British and set about "extending and demanding back enormous loans" from the British. Her successor-heir Jayajirao, according to his biographers HM Bull and HN Haksar, secretly colluded with the British in 1857. This aspect Kidwai deals with rather scantily, by quoting Savarkar's harsh remarks about the Scindias' for having backed the British. This aspect has been explored in greater detail by the historian Iqtidar Alam Khan.
Against the "patriotic" credentials of the Scindias, one can recount, first, their alignment with the British against Rani Laxmibai of Jhansi in 1857. Two, the pistol used by Nathuram Godse to kill Mahatma Gandhi had a connection with the Scindias. As Kidwai writes, "Then, it was alleged that the Italian-made revolver that was used to kill Gandhi had been brought to India from Ethiopia by a colonel from the Gwalior Regiment who fought in the British regiment in the Second World War. This officer had later become the ADC to the maharaja of Gwalior...The Italian pistol of the ADC was available with a gun trader named Jagdish Prasad Goyal in Gwalior."
Three, this dynasty often funded exclusionary and divisive political forces in the post-independence period, contrary to the pluralistic concerns and practices of its ancestors such as Ranoji Scindia (d. 1745). Ranoji had a shrine built at Beed dedicated to Mansoor Ali Shah, a Suhrawardy Sufi saint. The Scindias are said to believe that it is the blessings of this patron saint that empowered them to establish an enduring dynasty under Mahadji (1730-1794).
On the other hand, the Scindias also patronised the arts and literature. Daulat Rao Scindia (1779-1827) supported the Gwalior Gharana, the cradle of Hindustani classical music and its doyen, court musician Mohammad Khan. Jayajirao Scindia (1834-1886) was a moderniser who had a narrow-gauge railway laid between Agra-Gwalior-Shivpuri. He had some enduring architectural works erected, such as the Jai Vilas Palace. His successor Madho Maharaj (1876-1925) was a "truly modern maharaja" according to Kidwai and other historians. In 1897, Madho founded the residential Scindia School for modern education for the sons of Gwalior chieftains. Sixty years later, in 1956, Vijaya Raje Scindia started a school for girls. The Cambridge-educated Maharaj invested in TISCO, created a new department of civil engineering to manufacture large storage tanks and dig irrigation canals. He started a Gangajali Fund for education, famine relief and irrigation, encouraged some industrialization and supported a bilingual weekly, Jayaji Pratap.
Having somewhat strengthened and modernised his military, Madho Maharaj extended assistance to the British in quelling the Boxer Rebellion in China (1899-1901), not to speak of the troops he dispatched to Europe and Africa in the First World War. The state wasted a whopping Rs.25 million on this war, but Kidwai does not write about the hardships this would invariably have inflicted on the people.
Historians who argue that the Mughal empire did not decline but instead disintegrated, or got diffused, may arguably find an endorsement in the administrative terminologies that endured among the Scindias until the 20th century. Smelling the advent of democracy, by the 1930s, Jiwajirao Scindia (1916-1961) revamped his administration by creating a Majlis-e-Aam and Majlis-e-Qanoon, which served as proto-legislative houses. After independence, he became Governor (Rajya Pramukh).
For the more curious readers, Kidwai's profile of Vijaya Raje Scindia (1919-2001) and Nilanjan Mukhopadhyay's 2019 book, The RSS: Icons of the Indian Right, are great companions. Her journey, via her husband, a reluctant politician, from the Congress party to the Swatantra Party and then the Bharatiya Jana Sangh-BJP makes for fascinating reading alongside the journey of her son, Madhavrao Scindia (1945-2001), who went the other way, from the Jana Sangh to the Congress. This is important, for many anti-Congress leaders, as well as Balasab Deoras of the RSS, were trying to buy peace with Indira Gandhi while efforts were on to create an all-India Opposition, as outlined by Rakesh Ankit in his 2016 essay.
Many anecdotes reveal the complex, contradictory, and sometimes downright strange, aspects—call it mercurial vicissitudes—of erstwhile royals engaged in modern power politics. For example, Vijaya Raje's daughter, Vasundhara Raje, is known to have very good personal relations with Maneka Gandhi, whose husband, the late Sanjay Gandhi (1946-80), was the "villain" of Emergency. Another "infamous" aide of Sanjay Gandhi, Akbar Ahmad Dumpy, is good friends with Vasundhara. Dumpy's nephew, Adil, and was allegedly close to Vasundhra as well. (So was Lalit Modi, the IPL entrepreneur. Kidwai also writes about the corruption scandal that surfaced during the 2008 Assembly election campaigns in Rajasthan.)
Ironically, both Vasundhara and her mother were tormented during the Emergency: The daughter while she searched for her mother, and Vijaya Raje while she was under rigorous imprisonment in Tihar Jail, where she was lodged unbeknownst to her family. Kidwai writes, referring to Vijaya Raje's autobiography, "In her book, the Rajmata has admitted that her daughters, Usha and Vasundhra, tried reaching out to Indira for some sort of a 'solution' and get her released. The Rajmata claimed that a person close to Indira spoke in double entrende, wondering what all Vasundhra was ready to sacrifice in order to rescue her mother's release..."
For Emergency-era excesses with reference to Maneka Gandhi, then a student of JNU, readers should refer to Gyan Prakash's, Emergency Chronicles. The first chapter tells the story of the persecution of JNU students at the instigation of Maneka. Kidwai writes, "After the Emergency, Vasundhara continued to have cordial ties with Rajiv [Gandhi], but her support for his [now] estranged sister-in-law, Maneka Gandhi,...cast a shadow on their friendship."
Further, despite the suspicions over the Nathuram Godse episode, C Rajagopalachari's Swatantra Party (Rajaji's daughter married Mahatma Gandhi's son) reached out to Vijaya Raje and helped her win the 1967 Lok Sabha election on the party symbol. Simultaneously, Vijaya Raje also contested and won as a Jana Sangh nominee for the provincial legislature. She preferred to go to the provincial Assembly.
Having chronicled most of the ups and downs, twists and turns of the Scindias, Kidwai seems to suggest to his readers that Jyotiraditya's opportunistic political character should be seen as consistent with power-play in general and a dynastic trait in particular. However, while assessing the performance of the three ex-royals of democratic India—Madhav Rao and Jyotiraditya as Union ministers and Vasundhara as a two-term chief minister—Kidwai finds it in his heart to give them good marks.
That said, Kidwai concludes with the "ugly property wars" within the family over wealth that is said to be worth Rs. 40,000 crores. The members of the family are fighting over these properties in various courts across India. Some of the disputed property is in Samudra Mahal in Mumbai, a building as coveted today as it is notorious for having hosted Nirav Modi. [Few can also forget that Lalit Modi, who lived in Samudra Mahal too, was protected by Vasundhra Raje, the former chief minister of Rajasthan.]
Mahadji Shinde (1730-1794), the "Great Maratha" came within striking distance of the throne of Delhi but never ascended to it. Similarly, the chief minister's chair was within Vijaya Raje's reach in 1967, but she walked away. Her memoir, The Last Maharani of Gwalior, does not explain that. This omission is odd, for she details her entire role in toppling the DP Mishra-led Congress government of Madhya Pradesh, to teach a lesson to "arrogant" Congress. Similarly, Jyotiraditya, in March 2020, helped topple the Kamal Nath-led Congress government in Madhya Pradesh—but could not replace him in the chief minister's office, and then moved to the BJP, where he is waiting to get pre-eminence. This "dream", if it persists, remains unfulfilled as a Scindia has never become chief minister of Madhya Pradesh, nor ever got the prime minister's seat.
The author teaches modern and contemporary Indian history at Aligarh Muslim University. The views are personal.
Get the latest reports & analysis with people's perspective on Protests, movements & deep analytical videos, discussions of the current affairs in your Telegram app. Subscribe to NewsClick's Telegram channel & get Real-Time updates on stories, as they get published on our website.
Subscribe Newsclick On Telegram