A Lie Presented with 'Folded Hands and Bowed Head'
Modi's claim that his government has implemented the Swaminathan Commission's recommendation is wrong –and farmers have lost Rs.1.93 lakh crore as a result.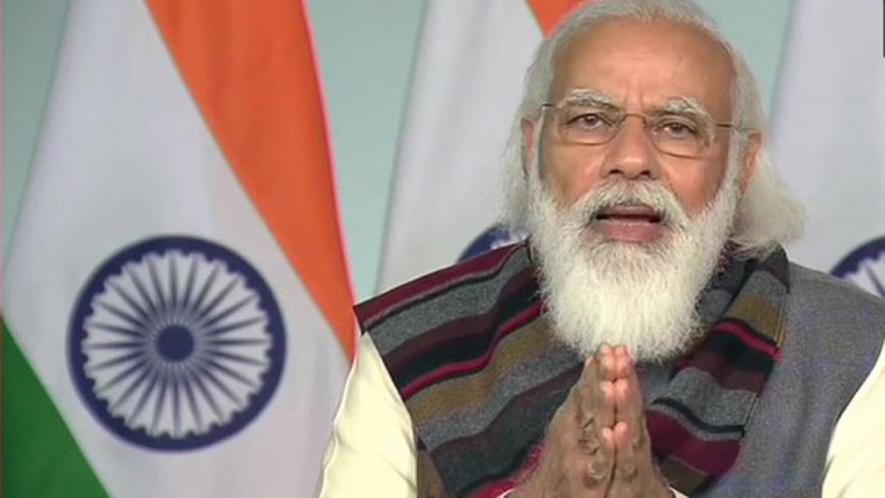 Addressing farmers in Madhya Pradesh recently, Prime Minister Narendra Modi once again claimed that his government had implemented the key recommendation of the Swaminathan Commission that Minimum Support Price (MSP) should be 50% more than the total cost of cultivation (called C2). 
This is an egregious lie that has been repeated by the government many times, even though its own documents show otherwise. Modi was campaigning in support of the three farm laws that have sparked off country-wide protests by farmers and led to the ongoing blockade of Delhi by thousands of farmers.
Between 2014-15 and 2020-21, the Central government paid out about Rs.7.43 lakh crore for procuring wheat and rice. However, if the government had fixed MSP of various produce at C2+50% (as recommended), the cost to the government would have been Rs. 9.36 lakh crore. The balance Rs.1.93 lakh crore is a direct loss to the farmers. [see table below]
How is this calculation done and where does one get these numbers from? There is a government body called the Commission on Agricultural Costs & Prices (CACP) functioning under the Agriculture Ministry. Every year it publishes reports on kharif and rabi crops, giving detailed numbers on prices, trade, stocks etc. On that basis, it recommends the MSP for two agricultural seasons. From there you can get the total cost (C2) for each produce. For procurement, the department of food and public distribution publishes monthly data on how much of what produce was procured by the government (states and Centre). This procurement is done at the declared MSP for that season. Simply multiplying the total procurement of any commodity in any particular year by the MSP gives the total spending by the government. Similarly, C2+50% can be computed and when multiplied by total procurement you get the spending that would have taken place if the Swaminathan Commission recommendation had been implemented. Adding each year's figures, you arrive at the numbers given above. See detailed data and calculation at the end.
The above is an illustration only by taking two main crops -- wheat and rice. There are 21 other crops, ranging from various millets, maize, pulses and oilseeds that also have MSPs fixed every season. If you were to calculate the difference between the Swaminathan Commission recommendations and MSP for these produce, a much bigger gap would be evident. However, the economics of these produce is worse because only a very small fraction of these is actually procured. This means most of these produce are sold below MSP across the country. 
Why MSP Has Become An Issue?
After the three laws were first promulgated as ordinances in June and then passed by Parliament in September, it has become clear that one of the laws is surreptitiously laying the ground for dismantling the whole public procurement system because it provides for private traders to compete with government-run mandis (wholesale grain trade centres also called Agricultural Produce Market Committees or APMCs) in buying up crucial food grains. 
This would lead to a fall in prices for the farmers because in the absence of APMCs or procurement machinery, they fear that traders are hardly likely to pay them at par with MSP. This has fuelled the anger of farmers and the protests have demanded that the MSP system should be made a legal right. The farmers have rejected the government's proposal to give in writing that MSP will be retained – because simply having an MSP declared is meaningless unless there is procurement.
In order to counter this widespread anger, the ruling Bharatiya Janata Party and the governments led by it have launched a campaign where they are trying to convince the farmers of the government's commitment to MSP. It is in that context that figures of how much MSP has increased in the Modi era and how much money has been spent by the Modi government on paying MSP for grain procured are being talked of by everybody, PM Modi downwards. 
To establish his credentials, PM Modi had to take recourse to pleading with farmers "with folded hands and bowed head" that they can come and talk about any issue, everything will be resolved, etc. However, since all the farmers are acutely aware of the fact that they are not getting the Swaminathan Commission recommended prices, these histrionics are unlikely to have any effect.
APPENDIX: Detailed Data
Get the latest reports & analysis with people's perspective on Protests, movements & deep analytical videos, discussions of the current affairs in your Telegram app. Subscribe to NewsClick's Telegram channel & get Real-Time updates on stories, as they get published on our website.
Subscribe Newsclick On Telegram