In Absence of Govt Aid, Bareilly's Traditional Industries on Verge of Extinction
"We hardly have any work now. The average earning of a worker earlier was between Rs 400-500 a day, but it has now been declined to Rs 150-200 a day. First demonetisation and now GST (18% on raw materials and another 18% on finished products) destroyed our business," an artisan said.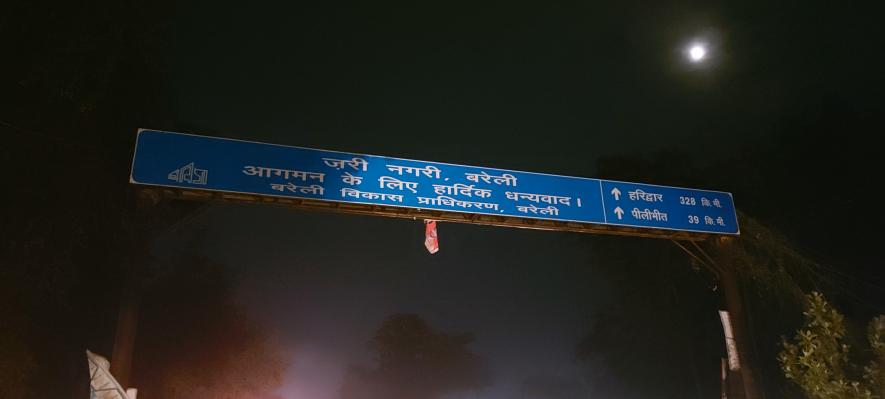 Bareilly (Uttar Pradesh): Once known for its zari zardozi (gold embroidery), surma (kohl), manjha (abrasive kite string), striking cane furniture, the western Uttar Pradesh district of Bareilly is fast losing its traditional, small-scale and unorganised industries. 
The reason? Ill-conceived GST (Goods and Services Tax) policy, skyrocketing prices of raw materials, almost static price of the final products, several prohibitions, invasion of international products and tough competition from cheaper domestic products are cited as the unanimous answers to the question.
This city is home to a mostly Muslim community of artisans for whom these works are like a tradition.
ZARI EMBROIDERY LOSING ITS SHEEN
Mohammad Wahid, 45, used to have three manufacturing units and 20 workers in pre-demonetisation days, but the number has now gone to one and nine, respectively. First, demonetisation, then GST and at last two successive lockdowns hit the cottage industry hard.
As normalcy was returning in the industry, price rise of raw materials such silk, kardana pearl, kora kasab, fish wire, nakshi, nos, pearls, tubes, chanla, jarkan nori, leaves, mirrors, golden chain etc. came as another major blow. 
"We hardly have any work now. The average earning of a worker earlier was between Rs 400-500 a day, but it has now been declined to Rs 150-200 a day. First demonetisation and now GST (18% on raw materials and another 18% on finished products) destroyed our business. Whatever was left got finished in the two lockdowns. There is a drastic decrease in the number of orders. As a result, the livelihood of hundreds of artisan families has eroded," he told NewsClick.
The condition of those associated with the traditional industries has not improved in the past 40-50 years, and they continue to remain as daily wagers. This is why the region's unorganised sector workers are worst hit by demonetisation.
He further said the price rise of raw materials had increased the input cost; however, the price of the finished product is unchanged. It has brought down the profit margin, and therefore, most artisans are abandoning their traditional work to find other sources of income.
He said low wages paid to workers has played a major role in the "ongoing extinction" of the industry. "The existing wages are too low. An artisan gets not more than Rs 200 after working for eight hours in the workshop. The amount is too little to run a household. You stop any e-rickshaw driver here and ask what he was doing earlier. The answer would be zari embroidery work. In addition, zari embroidery involves fine work, which strains the artisans' eyes. Most of them lose their eyesight in their early 40s," he added, saying that six of his artisan brothers too have left the sector.     
There was a huge demand for zari-zardozi products in three prominent areas Bareilly, Delhi and Jaipur. The bulk of orders came from these cities. These orders kept zari-zardozi workers engaged almost throughout the year, but in the post-GST era, their livelihood activity has shrunk to mere four-five months.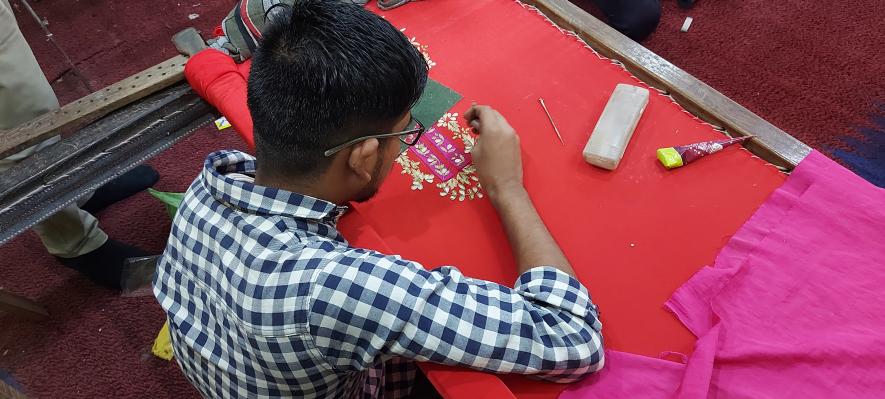 Unable to make ends meet, Shahid had to open a grocery shop in addition to the embroidery work. "An artisan like me cannot only depend on it for survival. It takes plenty of time, and the return is not enough to fulfil the daily monetary needs. Therefore, I had to open this grocery shop," said the father of three daughters.
He claimed 70% of the workers depend on labour work for their day-to-day survival. They hardly have any savings. "Earlier, when work was in plenty, women's participation was also higher, but nowadays involvement of women in work too has reduced due to fewer orders," he concluded.
In 2009, under the 'Zari Card Health Benefit Scheme', the government had issued a smart card linked to the cardholders bank account to the workers engaged in this economic activity. Its upper limit was up to Rs 30,000. However, it failed to work after some time. 
When asked about the industry's downfall, Shan Mohammad, a designer and manufacturer, explained middlemen who mostly belong to Delhi play a major role in this sector. 
"Those manufacturers who quote the least price get the work order from the middlemen. We take orders and outsource them to small manufacturers. Since we get less, we also pay less for the work we give. We work on wafer-thin margins," he said.
He said the demand for this art form might be soaring in the domestic and international market, but local manufacturers are struggling to make ends meet.
Firdaus Khan, who has employed 13 workers in his workshop, is deciding to shut down his ancestral business as it is no more profitable. 
"We barely get orders from exporters and domestic market because of increasing competition. Computer works in this field have made the work easier and less time-consuming. It has led to a massive decline in the work orders," he said. 
India exports zari embroidery to the United States, the United Kingdom, the United Arab Emirates, Japan and Saudi Arabia. "The annual turnover of zari production is somewhere near Rs 175 crore. It is mainly exported to the US, Europe and the UAE. Overseas exporters also get their consignment manufactured here and export it to other countries. We also do indirect export like this," Delhi-based exporter Gopal Agarwal told NewsClick.
FEW TAKERS FOR CANE FURNITURE
The narrow and dingy by-lanes of Baans Mandi locality is no more a hub of the once-thriving cane furniture — intricately woven sofa sets, diwan, stools, tables, trays, side racks and swings.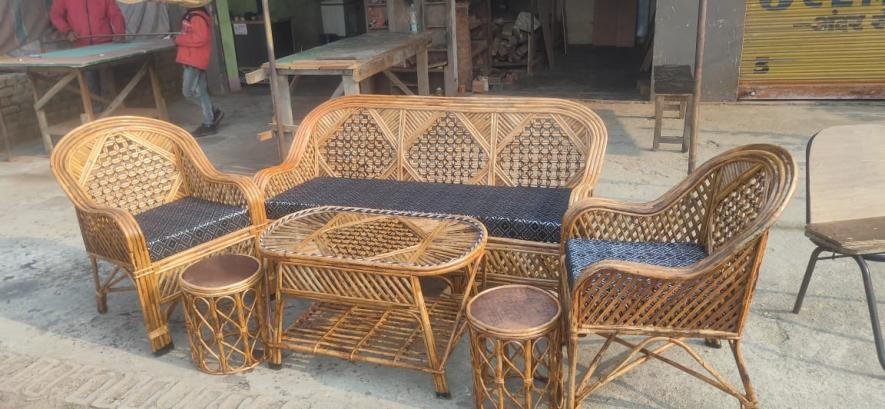 Once a favourite of middle-class families because of its affordable price, elegant look, and low maintenance requirement, the furniture now have few takers left. The industry is suffering from an existential crisis. 
"The marriage season is at its peak, we still have no orders," said Suresh Agarwal, who owns a retail cane furniture shop in the city, recalling how he had to employ additional workers to attend a flood of orders in this season earlier.
Mohammad Sabir lamented they had to refuse urgent orders in the wedding season. "But it's now a history," he added.
There are few workshops in the Baans Mandi locality. "Baans Bareilly to ab sirf naam ka rah gaya hai. Kaam to lagbhag khatam ho gaya hai (Now, Baans Bareilly exists for namesake. The industry is almost extinct)," said the 70-year-old whose children too have left the business.
Only 1,100 artisans and 50 traders are associated with this industry, said Naseemuddin, adding that the sector will get new life only if the district gets manufacturing, branding and marketing facilities.
"If the government wants this industry to survive and prosper, it must set up a furniture park in the city where artisans can get training and sell their products, make the trade GST free and increase the availability of raw materials. It should establish cane clusters, and entrepreneurs should also be given subsidy on loans," he added.
According to him, craftsmen are unable to manage their living through the business. "We have to sell our products at very small profits and sometimes even on no profit, no loss because the customers do not want to tilt their wallet much."
The artisans have leant the skill from their forefathers and inherited the business from them. But they have made several changes in designs and have diversified their products to compete with today's trendy wooden furniture. 
Another furniture shop owner Safdar said the labour cost and the prices of raw materials have gone up. "As a result, we have to sell a cane sofa set between Rs 8,000 to Rs 25,000 based on its quality and design. Therefore, customers prefer to go for wooden furniture, which is considered more durable," he added.
Others in Baans Mandi said the demand has dipped because cheaper and durable furniture is available in plastic variants.
"In the absence of any government help, the industry is on the verge of extinction," they added.
THE MANJHA INDUSTRY STORY
Manjha is an abrasive string used in kite-flying to cut the string of other kites. The condition of this industry is no different from others. The manjha makers are forced to quit this 200-year-old business because of the continuously decreasing demand. It is resulting in large-scale unemployment.
Despite a nationwide ban imposed by the National Green Tribunal, Chinese manjhas are still being sold in the market at lower prices. Cheap nylon imported from China is available on half of the price of local cotton manjha. 
"It has brought down the demand of Bareilly-made manjha by at least 50%. It has severely impacted the traditional business of the city," Yasin Chutka, who owns a small manjha-producing unit in Bareilly's Hussainebagh, told NewsClick.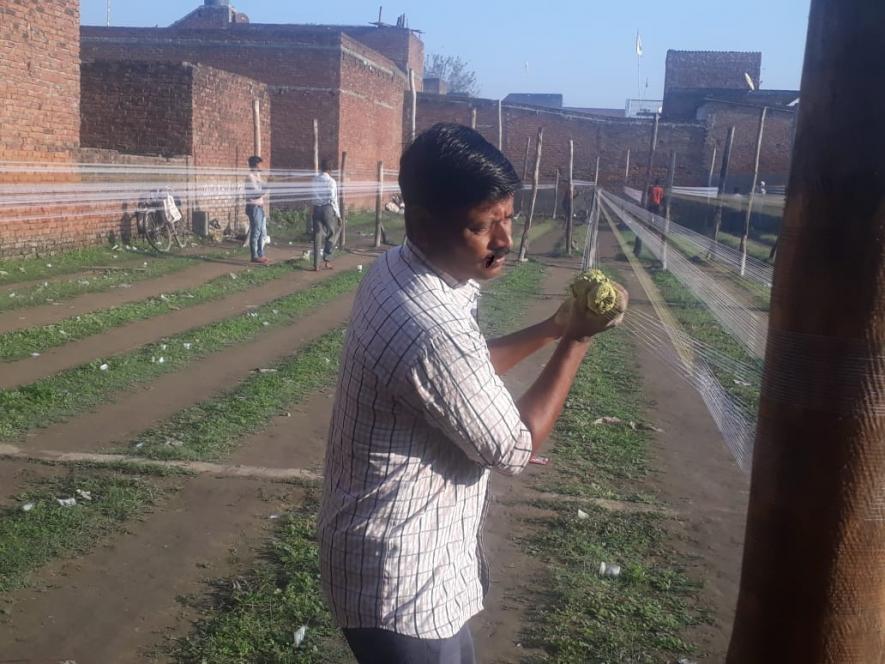 Manjha artisans, too, complained about nominal wage. "After working for over eight hours, we get Rs 100-150. It was Rs 250-300 a day a few years ago," said an artisan.
Imran Ali, a kite trader, alleged the lackadaisical attitude of government authorities in imposing the ban is helping the international manjha enter the market. "It is extremely disappointing," he said, adding that while one gitta (unit) of nylon manjha costs Rs 200, the same quantity of manjha made in Bareilly costs up to Rs 600. "Therefore, people prefer to buy the nylon instead of local manjha," he explained.
Bareilly's artisans make manjha through a natural process. Coarse rice is boiled into a thick paste. The paste is then kneaded with powdered marble or ceramic fragments, kohl, psyllium husk, a few herbs and colour to make lugdi (dough). Finally, the lugdi is smeared over cotton strings tied between two wooden poles and then left to dry for a few hours.
At least 30,000 people in the district are engaged in this profession. Most of them don't have any other source of income. The trade has an annual turnover of around Rs 50-60 crore.
GOVT SAYS ALL IS WELL
While the traditional industries are collapsing and people associated with them are struggling, the government seems to have turned a blind eye to their plight. Instead, it claims that the Micro, Small & Medium Enterprises (MSME) sector has witnessed record investment and employment generation in the state.
"With a total 88.99 lakh registered units that accounted for country's 14.20% MSMEs," claimed Chief Secretary Rajendra Kumar Tiwari, adding that "Uttar Pradesh is on the top in the country in establishing MSMEs."
He further claimed the government organised loan fairs from time to time to distribute loans to MSMEs to the tune of Rs 73,765 crore in 2021-22 against Rs 28,136 crore in 2016-17.
He further said a unique and first of its kind scheme of one district, one product (ODOP), was launched in the state in 2018, and Bareilly's zari-zardozi is one among the ODOP.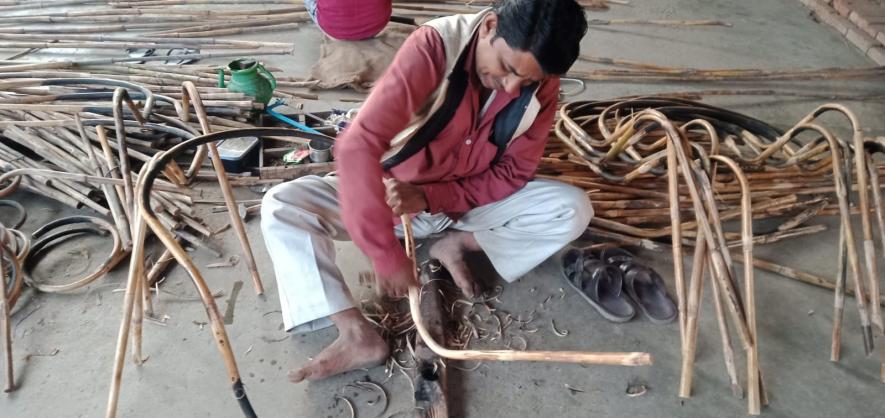 He said the state has also got an in-principle nod to set up a cluster for zari-zardozi work, among others.
Get the latest reports & analysis with people's perspective on Protests, movements & deep analytical videos, discussions of the current affairs in your Telegram app. Subscribe to NewsClick's Telegram channel & get Real-Time updates on stories, as they get published on our website.
Subscribe Newsclick On Telegram