Acknowledge Caste Discrimination, say IIT Delhi Students After Suicide of an SC Student
The students maintained that the condolence message from the Dean of Students did not reveal that he was a student from the Scheduled Castes community.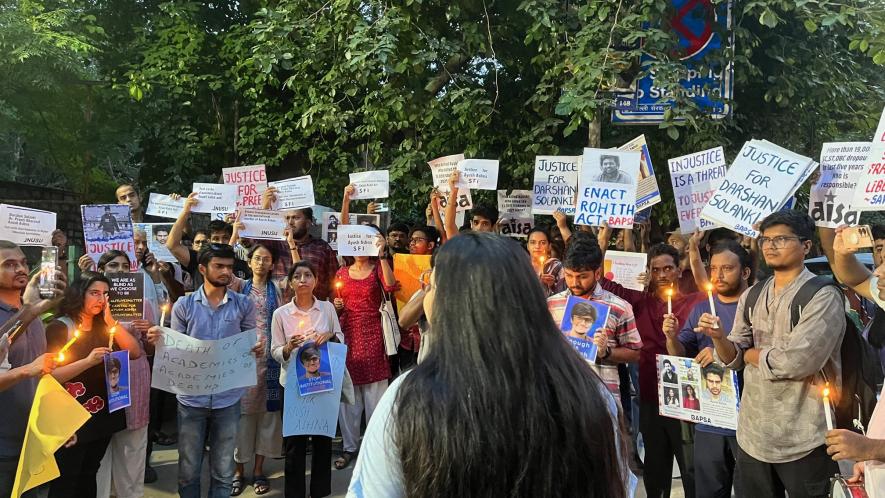 The students at the Indian Institute of Technology, Delhi, on Thursday evening, protested to demand an inquiry into the suicide of a student Ayush Ashna who was found dead in his room in the Udaygiri hostel. 
The students maintained that the condolence message from the Dean of Students did not reveal that he was a student from the Scheduled Castes (SC) community and that a thorough investigation should be conducted if he faced caste-based discrimination. Delhi Police has not found foul play or suicide letters in the case.
Shaina Verma, the SC/ST student representative at IIT Delhi and a PhD scholar at the Department of Humanities and Social Sciences, told NewsClick that it is easy to set a narrative that Ashna died by suicide due to mental health issues.
"How do we know that it was not a caste discrimination case? We have ample examples to see that caste discrimination is rampant at the IITs. We want a fair investigation into the case. We also wish to see what corrective measures IIT Delhi will take to ensure justice is delivered to students going through the agony that Ayush went through and what it can do to make SC/ST students feel safe within the campus."
Yatendra Kumar, a student of M.Sc Cognitive Sciences, told NewsClick that the structure of the Indian Institutes of Technology is designed in such a manner that students from marginalised communities often do not get mentors in the first year. 
"There are no SC teachers. Where do students go when they were kept outside for many decades?" 
IITs introduce senior students as mentors to new students to help them adapt to campus life and share their concerns.
"Even if the suicide resulted from mental health issues, where do we go? Is the institute equipped with mental health professionals to counsel us on caste-based trauma? We do not know about it. We would see their faces during orientation programmes or emergencies. If we look in totality, caste makes this demise more grim."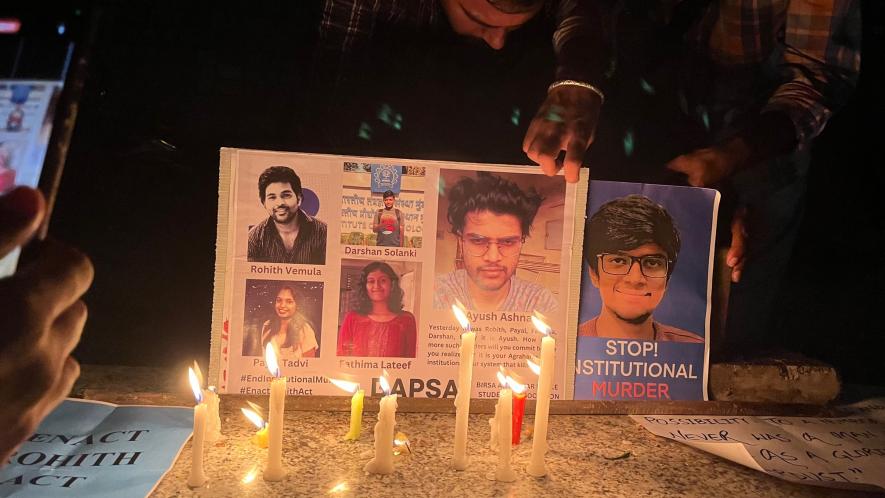 He maintained that post the suicide of Darshan Solanki at IIT Bombay, the director reached out to them for their concerns. 
"It was a good move. We said that we wanted a faculty as a representative in every department to whom distressed students could reach out to us. Second, we wanted a student body to address such issues."
Kumar questioned why the administration concealed the caste identity of the victim in this case. 
"We had to fight for SC/ST Cell, for which we were asked why we needed such body. Darshan Solanki was not the first dalit student who died by suicide. There were several cases earlier, too, in IITs. Yet, it took so long to acknowledge caste-based discrimination on the campuses. The condolence message that came to students did not mention his background. It is inexplicable why you wish to conceal it. "
The students maintained that discrimination starts with asking for rankings. Students from marginalised communities get lower rankings in IIT-JEE results. 
"Even if the seniors would not ask for your caste, they would learn about it through your rank. A student I talked to said that an inferiority complex is deep in SC/ST students because they are constantly reminded that they do not deserve to be here."
Kumar further talked about how caste-based discrimination must be acknowledged in university spaces. 
 "A student who fought several battles to reach here is made to believe that he is a non-deserving student. He will not get adequate representation in different committees. If you are ready to acknowledge discrimination based on gender and sexuality, what's the problem in recognising caste and its scourge?"
The students appeared visibly miffed with the culture of silence where nobody engages in dialogue on caste on campus. 
Another student said that the methods of teaching also need a revisit. 
"If you take the example of the mathematics department, 80% of students failed a paper, and professors take pride in its toughness. What pleasure do you derive from failing students?"
A teacher who requested anonymity told NewsClick that the institute has to do a lot to sensitise students about affirmative action. 
"The students carry many prejudices, including an ill understanding of reservations. There is a consistent feeling that IIT students are nation-builders and JNU (Jawaharlal Nehru University) students are nation-breakers. We are looking here at who is vocal on this issue. It is portrayed as an apolitical space, but it is deeply political in exclusion."
Aishe Ghosh, President of Jawaharlal Nehru University Students Union (JNUSU), who joined the protest with several other students affiliated with SFI, AISA, BAPSA and DSF, said that the education institutions must understand that a student attempts suicide only when they face alienation. 
"We are calling it an institutional murder because every suicide case in these premier institutions appears to be a student from SC, ST and OBC community. Why are IITs not delivering justice to them? Why do administrators start saying that suicides are happening just like that? Suicide is not a natural phenomenon!"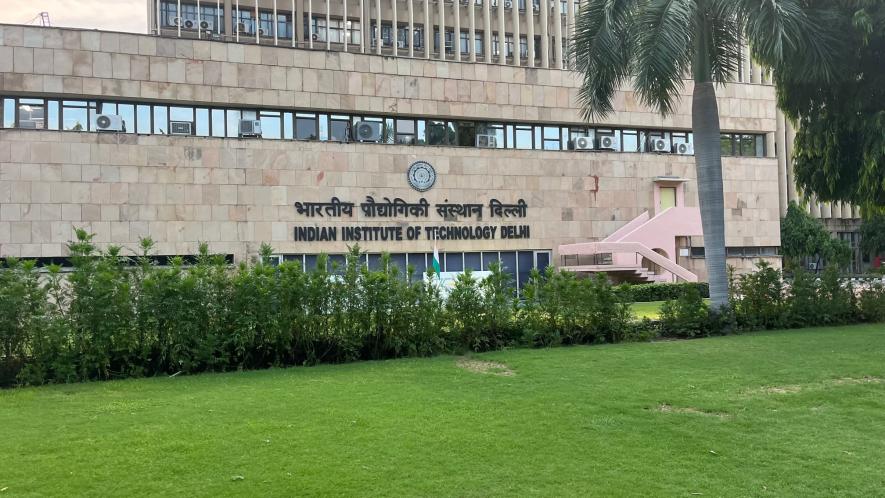 She said that students often left notes about how they were targeted based on their religion and caste. 
"We have examples of Darshan Solanki and Fatima Lateef. Sometimes students may not choose to write such letters."
Commenting on the rigidity of examiners to set tough papers, she said, "How can you feel happy that 80% of students have failed in a particular course? How can anyone derive pleasure from it? There is certainly no pride in it. We also need to see the social location of these professors who argue for merit in such tough papers. They will only portray that the students from marginalised communities use reservations to get admissions, and they cannot qualify for these papers. The success of your teaching would be a situation where students feel included and learn new things."
She further added, "However, there is an ongoing dichotomy in these institutions that there are two groups; one who is meritorious with 90% marks in board exams and another set of students who are failing consistently and do not deserve to be in IITs."
Citing the tweet of President Draupadi Murmu recently about government data that 19,000 students from SC, ST and OBC communities dropped out of IITs and IIMs in the last five years, she asked, "Will the government furnish its reply about systemic support given to these dropout students? Did their fee was affordable? Did they face any discrimination on campus?"
Ghosh appears to be apprehensive about New Education Policy and its implications. Educationists have raised concerns over the absence of reservation from the policy document. They are also worried that the proposal for the new structure of graduation courses with multiple entry and exit points will hit hard girls and students from marginalised communities.
"The representative of Ambedkar Study Collective told us that there are 0.5% SC teachers on the campus.'
She added, "JNU made headlines when Son Jharia Minz became the first women Adivasi Vice Chancellor in the country. Is it, not a shame that we had to wait for 75 years after independence to get this moment? The government links President Murmu with her adivasi identity. These 19,000 dropped-out students who may dream of being the next President Murmu are leaving campus now. Thus the government must answer how it is going correct it."
NewsClick is yet to receive a response to its questions from IIT Delhi Director Rangan Banerjee. The story will be updated.
Get the latest reports & analysis with people's perspective on Protests, movements & deep analytical videos, discussions of the current affairs in your Telegram app. Subscribe to NewsClick's Telegram channel & get Real-Time updates on stories, as they get published on our website.
Subscribe Newsclick On Telegram