Activists Counter Call for Genocide with a Call for Secularity
Human rights activists and experts talk about the dangers of increasing hate-speech in India during a press conference organized today.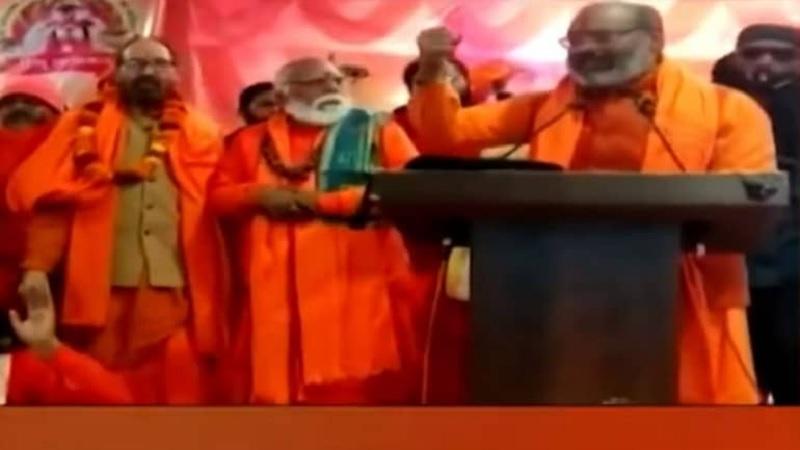 Image Courtesy:indiatoday.in
Human rights activists came together on December 24, 2021 and strongly condemned the hate speeches and call for a genocide during the 'Dharma sansad' organised by Swami Yati Narsinghanand a week ago. Reacting to the inciteful speeches made at the December 17-19 event, activists demanded immediate legal action and arrest of Narsinghanand and other accomplices Swami Prabodhanand Giri, Annapurna Maa, Dharam Das Maharaj , Anand Swarup Maharaj and all who organized this event, indulging in hate mongering.
Senior rights lawyer, Prashant Bhushan called upon civil society organisations and personalities to speak against such instances of hate speech. "The judiciary should have taken suo moto cognisance of this. Our duty is to activate action against incidents from the judiciary," he said.
During the Dharma Sansad, Narsinghanand targeted Muslims and said that on top of an economic boycott, the right-wing community should pick up arms against them. He even promised Rs.1 crore to anyone who agreed to become a "Prabhakaran or a Bhindranwale for Muslims". Narsinghanand gave a clarion call for Shastra Mev Jayate.
Academic activist, Syeda Hameed called the statements "repugnant" and asked all organisations to ally against such hate-mongering taking inspiration from the farmers and Shaheen Bagh protesters. "Who gave these people the right to make India a source of hate? People are worried about what is happening in India," she said.
"We demand an immediate stop to such gatherings which are organized to vitiate the atmosphere and polarize the people of India," added Shabnam Hashmi on Friday. 
A total of six speakers at the press conference condemned the Haridwar event wherein several "Hindutva" religious leaders and Hindutva extremist organisations called upon Hindus to arm themselves and eliminate Muslims from India. During this time, Hindu Mahasabha General Secretary Sadhvi Annapurna called upon "100 soldiers who can kill 20 lakh of them [Muslims]".
Questioning that such a statement was made openly during the BJP-led state government's watch, Hashmi said, "It is important to tell these right-wing threats that secularism, humanity, fraternity is still alive in India. The coming elections will show this tyrannical regime, the power of democracy."
Hameed also decried the willful manner in which the police filed a vague FIR a day after the event, naming a Wasim Rizvi, who had no connection with the event. Taking this further, Anjali Bharadwaj too demanded accountability from the police, judiciary and state administration for allowing such an event to take place. Calling the event "an assault on the Constitution", she questioned the police spokesman statement that "We are keeping an eye, will take suitable steps." She said that such FIRs only encouraged hate-ridden actions.
"Who asked for this Dharma Sansad? And who allowed it? Even national media channels covered the incident, so what is the police investigating? These actions close to elections must be stopped. We can no longer afford to stay silent," she asked.
Dev Desai said that his words were shameful for the Hindu community as well. He asked people to unitedly reject the "Gujarat model" and the "clean-chit committee" that only observed such violent events rather than curbing the spread of hate.
Another speaker Gauhar Raza expressed shock that a statement alleging the murder of former Prime Minister Manmohan Singh was ignored by the government. Anand Swarup Maharaj threatened to wage a war "scarier" than 1857 if the government failed to create a Hindu Rashtra through violence against minorities. He spoke of barring Christians from celebrating Christmas or Muslims from celebrating their festivals in Uttarakhand because the state supposedly belongs only to Hindus.
Further, BJP spokesperson Ashwini Upadhyay in October presented a "Bhagwa Constitution" to Narsinghanand. Hindu Raksha Sena President Swami Prabodhanand Giri encouraged people to "get ready to kill," And to all this, the speakers condemned the Uttarakhand Chief Minister Pushkar Singh for remaining silent and even for paying his respects to Yati Maharaj.
"These people are playing our future and our next generations. If no one else, then we citizens must stand against such forces," said Raza.
Senior activist Ram Puniyani called for communal harmony groups in India to allow people to consider whether the present regime will uphold the Constitution or allow the "Bhagwa Constitution" to be forced on them.
The group said in its press statement that the Sansad, held on the eve of elections in several states including Uttarakhand and Uttar Pradesh, smashes the 'Idea of India' held by our freedom fighters. They warned that when a state remains silent while hate speech is used against citizens, it bodes ill for the people. "A Hindu Sarkar will not be difficult if this regime remains in power," said Puniyani referring to the Bharatiya Janata Party.
Get the latest reports & analysis with people's perspective on Protests, movements & deep analytical videos, discussions of the current affairs in your Telegram app. Subscribe to NewsClick's Telegram channel & get Real-Time updates on stories, as they get published on our website.
Subscribe Newsclick On Telegram