Adani: Latest Expose Points to Secret Share Manipulations
Latest revelations by a network of investigative journalists show that associates of Gautam Adani's brother, Vinod Adani, used an investment fund to amass and trade large positions in shares of the Adani Group.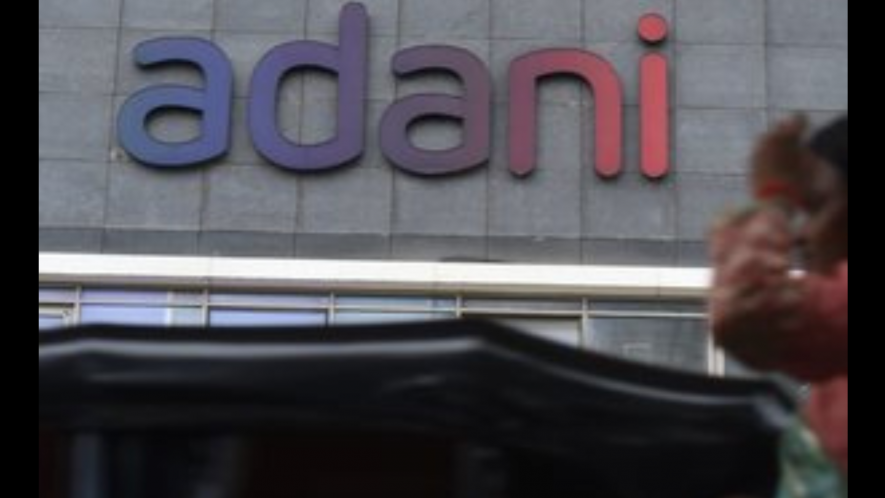 Latest revelations by a network of investigative journalists show that associates of Gautam Adani's brother, Vinod Adani, used an investment fund to "amass and trade large positions in shares of the Adani Group, one of the biggest and most politically connected private conglomerates in India", according to the London-based Financial Times. The investment fund goes by the name Global Opportunities Fund and it is based in Bermuda. The two men, identified as Nasser Ali Shaban Ahli from the United Arab Emirates and Chang Chung-Ling from Taiwan, made these investments "overseen by a Vinod Adani employee", according to the FT story.
These details were revealed by the Organized Crime and Corruption Reporting Project (OCCRP) to some leading newspapers across the world including FT and Guardian. The implication of this nexus is that Vinod Adani is part of the 'promoter group', that is, the main investing group (Adanis) in various companies that make up the conglomerate. So, investments made by him or through him technically become part of the promoter group's investments. This in turn leads to the promoter groups investment share to cross the regulatory 75% limit set by the law governing investments in companies in India. This violation was hinted at in the Hindenburg report published in January this year. But the recent OCCRP revelations provide more evidence.
The Adani Group had denied these allegations in January. According to FT, an Adani spokesperson also said "its listed entities are in compliance with all laws". Lawyers for the company that set up the investment structure denied there was any wrongdoing associated with it, the FT reported. The Hindenburg report had led to more than $90 billion getting knocked off the conglomerate's valuation.
According to FT, the new documents "outline a series of bespoke investment structures within the Global Opportunities Fund that were used by Ahli and Chang exclusively to trade Adani stocks". Based on claims made by people familiar with the investment architecture, FT alleged that "parallel sets of books at the fund provider and a Russian doll of companies and funds masked their stakebuilding". It also alleges that two sets of accounts were maintained – one for regulators and the other for each investor, according to an unnamed person quoted by FT.
The documents released by OCCRP show that in January 2017, Ahli and Chang secretly controlled at least 13 per cent of the "free float", that is, the shares available to be traded by the public, in three of the four Adani companies listed at the time, including the group's flagship Adani Enterprises. Company wise holdings are summarized in the table below, based on data published by FT.
Clearly, the data shows that if shareholding of associates of Adani Group – Ahli and Chang – is counted with the promoters' shareholding, the 75% limit is crossed. This could lead to regulatory action against the group which can also go up to delisting rom the stock markets.
According to FT, the new documents include "information from police investigations, corporate registries, bank records, stock market data, and correspondence", which the OCCRP has also shared with FT and The Guardian. These pertain to the period 2012 to 2018.
An Adani spokesperson said its listed entities were in compliance with all laws, according to FT.
"These are nothing but a rehash of unsubstantiated allegations levied in the Hindenburg report," which she says the group has previously rebutted: "There is neither any truth to nor any basis for making any of the said allegations against the Adani Group and its promoters and we expressly reject all of them in toto."
According to FT, the investment structures were provided by an Indian financial group now called 360 One. But lawyers for 360 One said the company disagreed with the FT's version of events, and that no 360 One "entity and/or its employees in their official capacity has been involved in any wrongdoing generally and particularly in connection with the Adani Group".
Chang told FT "I know nothing about this" when asked if he was an Adani associate who secretly purchased shares for them. He declined to say if he knew Vinod Adani, suggested the reporter "might be AI", and eventually hung up. Vinod Adani and Ahli did not respond to FT requests for comment. Sebi also did not respond to FT requests for comment.
Links between Ahli and Chang to Vinod Adani are established by a document trail leads to a Bermuda fund provided by 360 One, and it can be traced back to Dubai in July 2009, according to FT.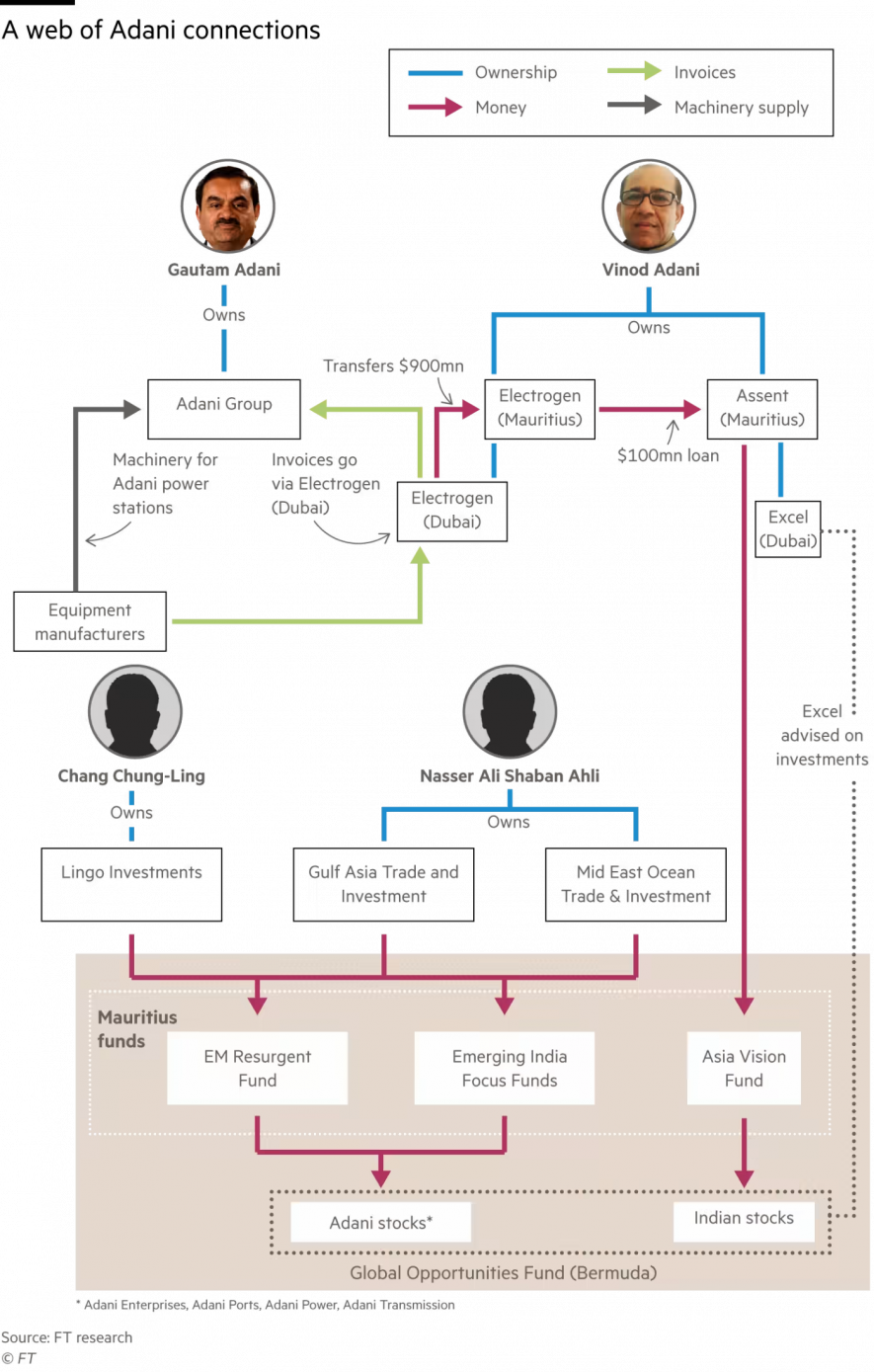 Earlier the Supreme Court had appointed a committee to look into the Adani Group's affairs related to stock market. The regulator had also appointed a committee for the purpose. This latter committee recently submitted its report to the Court in which it said that given its powers, it could not investigate beyond a point, referring to overseas transactions.
The latest revelations have fuelled more political comment as Opposition parties have yet again called for a Joint Parliamentary Committee to probe the whole issue, hoping to reveal the closeness between Prime Minister Modi and Gautam Adani.
In a related development Deloitte, the global auditing giant, had resigned as auditor of Adani's logistics unit, Adani Ports and Special Economic Zone (APSEZ). It said that it was unable to "thoroughly scrutinise transactions between companies in the group and the logistics unit", according to an FT report. This was seen to mean a reference to 'related party" transactions of the kind that have been revealed by the OCCRP documents, published by FT. Such transactions necessitate disclosure to SEBI and also get counted as promoters stake, potentially raising it beyond the 75% limit.
Get the latest reports & analysis with people's perspective on Protests, movements & deep analytical videos, discussions of the current affairs in your Telegram app. Subscribe to NewsClick's Telegram channel & get Real-Time updates on stories, as they get published on our website.
Subscribe Newsclick On Telegram