After 'Abba Jaan' Jab in UP, It's 'Land Jihad' in Uttarakhand
The Uttarakhand state government has failed to give any concrete data on the alleged demographic change cited in its recent order.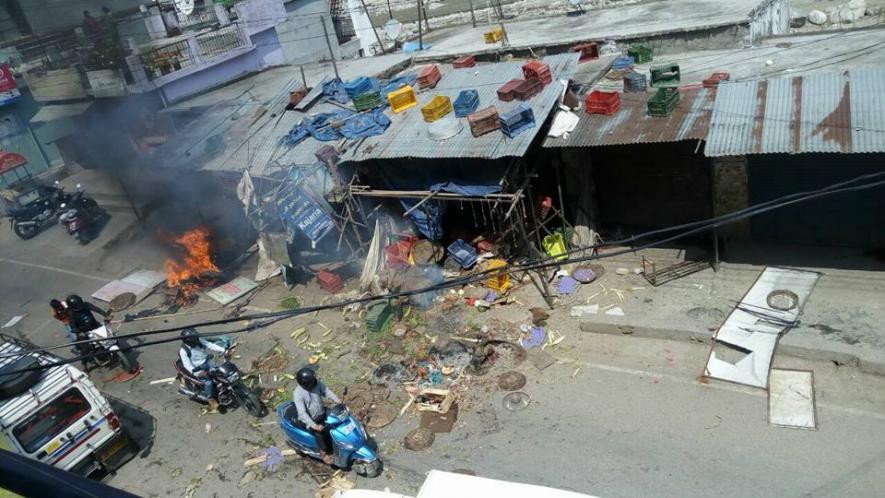 Shops belonging to Muslims burnt by a mob following rumors spread on Facebook that a Muslim youth had raped a minor girl in Augustmuni town of Rudraparayag district in April 2018.
Dehradun: After the communal jab of "abba jaan" by Uttar Pradesh Chief Minister Yogi Adityanath, the neighbouring state of Uttarakhand has come up with an order to target the minority community ahead of the crucial state Assembly elections to be held in Uttar Pradesh and Uttarakhand early next year. Although the Uttarakhand state government has not termed it as a measure against "land jihad", the order targets the Muslim community with an aim to create communal polarisation.
The government order in question says that there has been an "unprecedented" increase in population in some parts of Uttarakhand, by a certain community which has led to migration of the "members of a certain community".
The state government has ordered the police and administrative officers from all the districts to set up peace committees, track "illegal land deals" and prepare a list of outsiders with criminal antecedents. A government press release on Friday evening said: "Due to unprecedented rise in population in certain areas of the state, the demography of those areas has been majorly affected. And due to this demographic change, members of a certain community are forced to migrate from those areas. Also, there are possibilities that the communal harmony in those areas may be disturbed."
The district authorities have been asked to keep a check on illegal land purchase deals and ensure that nobody sells his or her land "under duress". The district authorities have also been told to identify foreign nationals who are using forged voter identity cards and other government ID proofs.
Interestingly, all this started after a BJP leader with close ties to RSS, Ajendra Ajay, wrote to the Chief Minister Pushkar Singh Dhami in July this year claiming that the Muslims in the state have started what he called "land jihad". In his letter, he alleged that Muslims are not only purchasing land in bulk, but are building their places of worship and urged the CM to look into the matter.
In the past more than four years, since the BJP came to power in the state after the Assembly elections in 2017, there had been nearly a dozen incidents where members of the minority community were targeted by RSS, BJP and other right-wing groups. Recently, in July, following the Id-ul-Zuha prayers by migrant Muslim labourers at an underconstruction site in Badrinath, right-wing groups had demanded action. Rumours were spread on social media that the prayers took place at the Badrinath temples to fan communal tension in the region. As a number of media outlets ran a campaign to put the onus of the COVID-19 spread on Tablighi Jamaat members, Mahendra Bhatt, a BJP legislator had advised Hindus to avoid barber shops and beauty parlours owned by the minority community members.
In April 2018, six shops belonging to Muslim shopkeepers were burnt in Augustmuni town of Rudraprayag district of Garhwal. The members of the right-wing groups including those allegedly belonging to Akhil Bharatiya Vidyarthi Parishad (ABVP) took out a procession and targeted these shops following a rumour that claimed a Muslim youth has raped a minor girl. Rudraprayag District Magistrate, in a statement, clarified that it was a mere rumor which was spread on social media. In October 2017, Hindu groups attacked and ransacked Muslim shops and homes from Rishikesh to Haridwar, following a murder at Raiwala. The accused in the murder case were Muslims.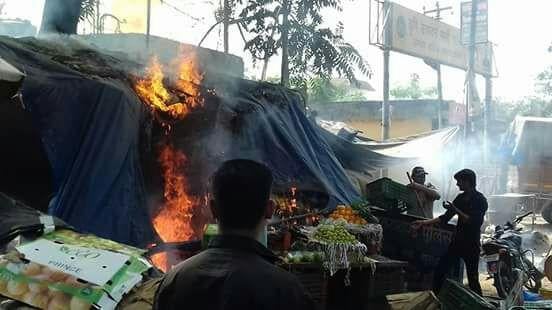 A fruit shop belonging to a Muslim set on fire by members of right-wing Hindu groups in Rishikesh in October 2017. 
On September 8, 2017, two Muslim boys from Kirtinagar town in Tehri Garhwal were caught roaming with two girls belonging to the majority community in Dehradun by the police. The police promptly reported the matter to Kirtinagar, where members of the right-wing groups vandalised shops belonging to the Muslim boys. The boys were sent to jail.
In July 2017, right-wing members attacked Muslims' shops in Satpuli town of the Pauri Garhwal district after an "offensive" Facebook post purportedly made by a Muslim boy. After a man was arrested for allegedly having sex with a cow, there was tension in Satpuli town with ABVP members forrcing a shutdown in the town market. 
In July, 2017, Kashmiri traders were targeted by a few right-wing groups in the Hill station of Mussoorie and given an ultimatum to pack up and leave Mussoorie by March 2018. The provocation for this was alleged raising of pro-Pakistan slogans after an India-Pakistan Champions Trophy match. The Kashmiri traders, however, had nothing to do with it.
Apart from the native Garhwali Muslims, who hail from Nandprayag and Tehri Garhwal districts, some Muslims from neighbouring districts of Uttar Pradesh run vegetable stalls, fruit shops, barber shops or other small businesses. The Garhwali native Muslims have been living in the hills for generations. The plain districts of Dehradun, Haridwar and Udham Singh Nagar already have a sizeable Muslim population living in the areas since before the formation of the state Uttarakhand in 2000. The Muslim population adds up to about 10% of the total population in the state and is mainly concentrated in the three districts.
The Uttarakhand state government has failed to give any concrete data on the alleged demographic change cited in the order. It has also failed to specify the areas where such "worrisome" demographic changes have occurred leading to migration of a "certain community".
On the other hand, the region has witnessed out-migration for many years due to an array of issues such as tough geographical terrain, lack of civic and health facilities, fewer opportunities for education and employment, etc. Former BJP Chief Minister Trivendra Singh Rawat had even set up a Migration Commission to look into the issue and suggest corrective measures. The Commission headed by S S Negi, a retired IFS officer, has submitted its report to the BJP government, but has not mentioned any reason of coercion or forcible migration due to the alleged demographic change cited in the order.
The opposition parties have termed the recent order an attempt by the BJP to create communal polarisation ahead of the state Assembly elections. Former Chief Minister and senior Congress leader Harish Rawat tweeted his apprehensions and said he hoped that no community is targeted using the order.
Indresh Maikhuri, secretary of the Garhwal region of CPI(ML), said, "They have nothing to show to the people by way of development in education, health services or providing employment opportunities. So, they are indulging in this blatant use of communal polarisation. The Muslims from outside who are running small businesses in the towns and cities of Garhwal could be counted on fingers. The allegations of 'land Jihad' are completely false and motivated."
Suryakant Dhasmana, Uttarakhand Congress vice president, too claimed that the BJP has nothing else to show on the development front and has, therefore, opted for communal polarisation to garner the votes of the majority community. "They want to play on the fears of the majority community by either shouting 'Taliban, Taliban!' or projecting the threat of Muslims to polarise locally. It is a crude attempt and they will fail miserably," he added.
Dr. Devender Bhasin, a senior BJP leader, defended the decision and said that such a move will identify the outsiders with doubtful credentials and ensure communal harmony in the state.
Dr Mukesh Semwal, state coordinator of the Socialist Unity Centre of India (SUCI), expressed surprise at the state government's order. "I habe been working in the villages, towns and cities of entire Garhwal and never came across any case of 'land jihad' or coercive land sales or migration due to Muslims' influx. These are imaginary fears created by RSS and BJP to polarise the situation for political gains," he said.
Razia Baig, vice-president of Aam Aadmi Party (AAP) in the state and a native Garhwali Muslim hailing from Tehri district, told NewsClick, "The BJP could stoop to any low in their attempt to communally polarise the social fabric. The allegations are completely baseless. On the contrary, in the past five years, there had been more than a dozen incidents where poor Muslims were targeted in Garhwal, their shops ransacked and they were forced to run away."
Meanwhile, when questioned about the order, Chief Minister Pushkar Singh Dhami, told reporters on Saturday that it does not target any particular community.
Get the latest reports & analysis with people's perspective on Protests, movements & deep analytical videos, discussions of the current affairs in your Telegram app. Subscribe to NewsClick's Telegram channel & get Real-Time updates on stories, as they get published on our website.
Subscribe Newsclick On Telegram