After Court Action and Fine, a Restrained Mamata Takes to Bhowanipore Bypoll Campaign
Meanwhile, her ministers are seen reiterating an oft-repeated poll promise of industrial and business growth.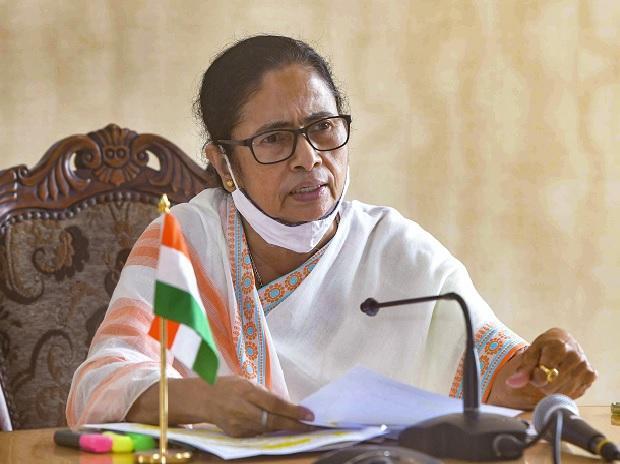 Kolkata, September 20: With her bravado not paying off at Nandigram, recent court orders that any government would find embarrassing and there being no signs yet of investors' interest in big-ticket manufacturing ventures, West Bengal CM Mamata Banerjee – back in her home turf of Bhowanipore to secure her chair at Nabanna – seems to have moderated her campaign for the bye-election slated for September 30.
Far removed from her entrenched image of a fiery leader and street fighter, Banerjee seems sober while campaigning. Senior ministers like Subrata Mukherjee and Firhad Hakim have been seen approaching voters in the city's cosmopolitan assembly constituency with folded hands in their door-to-door campaigns. And, surprise surprise! At a recent event that had nothing to do with the by-election, Hakim was heard saying what smacks of an oft-repeated election-time promise made by political parties: "...in this term, our priority is growth of industry and business".
The CM has to become a member of the Legislative Assembly by November 5, as under Article 164 (4) of the Constitution she can be a minister without being a member of the state legislature for six months. She was sworn-in on May 5.
Keeping in view the rather long Puja holidays (state government employees are beholden to her for this) and Kali Puja / Diwali on November 4-5, the CM has been repeatedly urging the Election Commission (EC) to hold the bye-election early. In a rather unusual move, even Chief Secretary Hari Krishna Dwivedi pleaded with the EC to hold the election as early as possible. An argument in her favour is that although cases of the unidentified child fever are rampant these days, the COVID-19 pandemic is under control.
Political observers who have followed her campaign over the past week contend that the CM seems to have learnt a lesson or two, not only from her defeat at Nandigram, but also from the after-effects of her election petition before the Calcutta High Court and the bunch of post-poll violence cases filed before the high court. She had lost by a narrow margin of 1,956 votes, to her protégé Suvendu Adhikari, who fought as a candidate of the Bharatiya Janata Party (BJP).
The Trinamool Congress (TMC) supremo took exception to the petition being assigned to Justice Kausik Chandra, who, her lawyers pointed out, was associated with the legal cell of the BJP before becoming a judge. As they apprehended bias against her, they demanded Justice Chandra should recuse himself from hearing the petition, which he did on July 7, but imposed a fine of Rs 5 lakh on her "for the manner in which she levelled charges". Also, he observed that like any other citizen of the country, a judge also exercises his voting rights... "but he lays aside his individual predilection while deciding a case". The case will come up before a new judge in mid-November.
The order passed by a five-judge bench of the Calcutta High Court on August 19 on the issue of post-election violence were embarrassing for the administration, as Banerjee herself has been the home minister from the day she formed her first ministry in May 2011. The high court ordered an inquiry by the Central Bureau of Investigation (CBI) into alleged rape and murder cases and the formation of a special investigation team (SIT) to look into other incidents of violence in parts of West Bengal. The SIT investigation will be supervised by Manjula Chellur, a former Chief Justice of the Calcutta High Court.
Only a few days ago, the CM brought in a new Advocate-General all of a sudden – a decision which was seen by informed quarters as an attempt to strengthen the state's legal team. (The new incumbent Soumendra Nath Mukherjee is the son of Satyabrata Mukherjee, a former BJP leader and minister in the Atal Bihari Vajpayee government.) There are indications that the state government will take the post-poll violence case to the Supreme Court.
Over the past few weeks, industrialisation moves made by the government are being rather frequently reported in the media, particularly by those known to be pro-TMC and pro-Banerjee. The CM constituted an industrial promotion board with herself at its helm and conducted its first meeting a few days ago.
On September 13, the cabinet enlarged the scope of incentives for private industrial parks. Incentives were hitherto meant for private industrial parks that were set up on at least 20-acre plots. Now, those coming up on even five-acre plots will qualify for incentives. Cold storages, fisheries and poultry firms that come up on five-acre plots will be accorded the status of industrial parks and will be entitled to incentives. The state has set a target for 100 industrial parks for this fiscal year alone. The chief minister wants to create 1.5 crore jobs in her third term. She made this promise ahead of the Assembly elections.
The Bhowanipore constituency has 2.06 lakh plus voters of which Gujaratis, Marwaris, Sikhs and Biharis account for nearly 40%. Twenty per cent of the voters are Muslims and the balance 40% are Bengali Hindus. Banerjee did register a comfortable win in the 2011 and 2016 Assembly elections. But, between 2014 and 2019, during which period an Assembly poll and two Lok Sabha elections were held, the BJP did make inroads here. In 2019, the BJP led in the Bhowanipore Assembly segment which forms part of the Kolkata Dakshin Lok Sabha constituency.
That the CM is being cautious before throwing a jibe was evident the other day when she referred to the BJP as "they", and said : "They accuse me of being pro-Muslim when I visit a mosque but they keep quiet when I visit a mandir or a gurudwara or when I perform Kali Puja".
The BJP has fielded lawyer and BJP youth-wing activist Priyanka Tibrewal against her. Tibrewal took up the cases of post-election violence which, at the moment, have culminated into a CBI inquiry and an SIT probe. She had lost the last Assembly election from the Entally constituency in central Kolkata.
The Left Front has put up Srijib Biswas of the Communist Party of India (Marxist) as its candidate. Biswas, also a lawyer, is a resident of Bhowanipore and has been associated with Left politics since his student days. The lack of growth and high rate of unemployment during the 10-year TMC regime are being highlighted by both CPI (M) and BJP.
In view of the COVID-19-related restrictions on large gatherings, the candidates and their parties are laying stress on closed-door meetings with a small number of people.
On September 30, elections will also be held in the Samserganj and Jangipur Assembly segments of the Murshidabad district. Polls could not be held due to the death of the candidates during the second wave of COVID-19. Counting will take place on October 3 in all the three constituencies.
The writer is a Kolkata-based senior freelance journalist. The views are personal.
Get the latest reports & analysis with people's perspective on Protests, movements & deep analytical videos, discussions of the current affairs in your Telegram app. Subscribe to NewsClick's Telegram channel & get Real-Time updates on stories, as they get published on our website.
Subscribe Newsclick On Telegram