After Record Jabs on Sept 17, Daily Vaccination Numbers Fall to Pre-PM's Birthday Level
If India wishes to achieve its target of inoculating the entire adult population by December, the overall average as it exists now is not enough, say experts.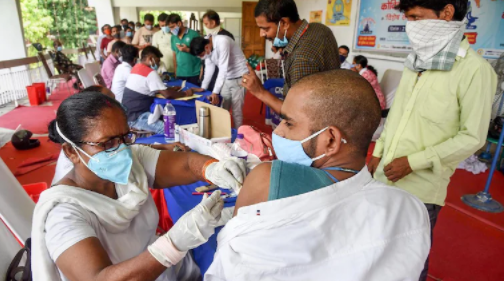 New Delhi: On September 17, India administered a record of 2.28 crore vaccinations to mark Prime Minister Narendra Modi's birthday, as part of a special vaccination drive called "Vaccine Diwas".
Congratulating the nation, particularly healthcare workers, in a virtual address on September 18, Modi said India had overtaken advanced nations with this feat. "Birthdays will come and go, but yesterday's feat has left a special place in my heart," he said.
However, a look at the vaccination data in the days preceding and following the Prime Minister's birthday shows that India's vaccination numbers dipped both before and after September 17.
Data shows that inoculation per day through September remains below the 10-million mark, the target required to ensure India meets its goal of inoculating its adult population by the end of the year.
Experts NewsClick spoke to said while single-day spikes might be encouraging, these do not reflect the reality of India's vaccination pace. They also claimed that a steep decline before and after single-day spikes shows that the fluctuations are not "organic".
NewsClick reached out to the Union Health Ministry through email and Union Health Secretary Rajesh Bhushan via phone and email but did not receive any response. This report will be updated once a response is received. 
One-day high
While over two crore vaccines were administered on September 17, the very next day, September 18, saw daily vaccinations dip by over half. According to the Ministry of Health and Family Welfare's CoWin dashboard, as opposed to the 228.8 lakh jabs administered on September 17, the number fell to 90.6 lakh on September 18, followed by a further dip to 41.9 lakh on September 19. On September 20, 96.1 lakh jabs were administered.
Through September, however, average weekly vaccinations have hovered around 8.5 million per day. Daily vaccinations have crossed the one crore mark only on one other day, i.e. September 6 apart from September 17. (see box)
Health Ministry data on Cowin19.org shows that India administered the following doses per day through September.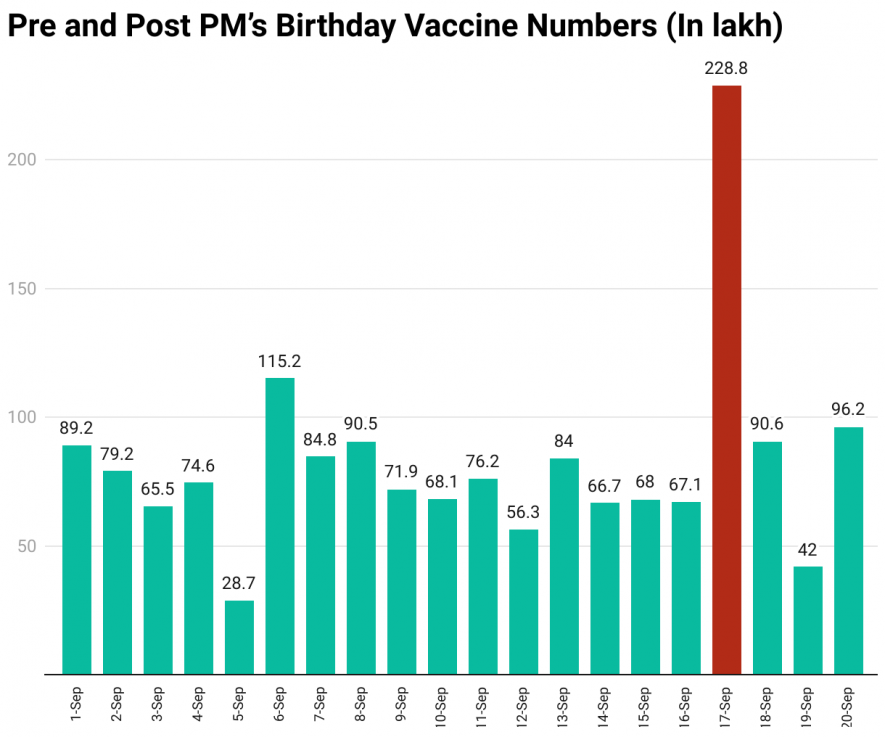 The top five states surpassed the previous weekly average by five times. 
According to CoWin data, the five states that had pushed the tally on September 17 were; Bihar, Karnataka, Uttar Pradesh, Madhya Pradesh and Gujarat. These states also saw vaccination numbers dip in the days before and after Vaccine Diwas.  
Bihar administered the highest number with 33.3 lakh doses on September 17 administered only to 2.17 lakh doses on September 18 followed by a further dip on September 19 with 1.26 lakh doses and 8.38 lakh jabs on September 20.
Karnataka, administered the second-highest doses with 31.7 lakh on September 17, saw inoculation numbers dip to 2.47 lakh on September 18 and further to 67,354 on September 19 and 3.29 lakh on September 20.
Uttar Pradesh gave out 29.2 lakh doses—the third highest among all states and Union Territories on September 17, gave only 6.13 lakh doses on September 18 and 34,683 on September 19 and 16.0 lakh on September 20.
Madhya Pradesh recorded the fourth-highest doses administered (29.04 lakh doses) on September 17 gave out 7.04 lakh on September 18 and 2.48 lakh on September 19, and 6.74 lakh jabs on September 20.
The fifth highest state was Gujarat with 24.7 lakh doses, but here too, the numbers dipped to about 4 lakh doses on September 18 followed by 2.1 lakh on September 19 and 3.9 lakh on September 20.
According to Health Economist Rijo M John, who is also a consultant at World Health Organisation (WHO), the top five states also surpassed their previous seven-day average by five times to reach September 17's figures.
Here's an updated table with the final numbers. The point remains the same. pic.twitter.com/PNRlg2UM4v

— Rijo M. John (@RijoMJohn) September 18, 2021
Speaking to NewsClick, John said that such large fluctuations in administering doses only shows that the spike is not organic. "Fluctuations happen on different days depending on days of the week; Sundays and festive days also we see fewer vaccinations. So fluctuations of 10-15% are acceptable. But here we are looking at states giving 2-3 lakhs doses on an average but suddenly giving 30 lakh on such big event days. Such fluctuations appear manufactured". 
'Cannot rely on single-day spikes'

 
Other experts that NewsClick spoke to also said that it is necessary to look beyond single-day spikes. "We cannot go by single-day spikes even if they are encouraging. We need to see weekly averages of vaccination rates which are consistently high," said Dr Srinath Reddy, President, Public Health Foundation of India.
Experts said that though the pace of vaccination has increased, the overall picture hasn't improved. "There is no doubt that the pace of vaccination has improved. However, the average has not picked up. Our weekly average was 8.2 million doses at the end of August, and since then, it has been on a decline and reached 6.9 million on September 16. There was a decline through the month of September, until September 17. So when you add September 17's numbers, the average is back to the same as on August 30," said John.
Experts said that if India wishes to achieve its target of inoculating the entire adult population by December, the overall average as it exists now is not enough. "Overall, our weekly average is below the required 10.5 million that is necessary to meet the December-end target," he added. 
"Pragmatic vaccination strategy needed."
The focus, according to experts, should be to vaccinate the vulnerable at the earliest. "Whether the December deadline is sacrosanct or not, we need to ensure that the vulnerable groups, which include those above 60 as well as those with co-morbidities in the 45-plus age group, are vaccinated at the earliest. Even if the entire adult population is not vaccinated by the end of the year, we ought to be looking at ensuring that the entire population aged above 30 is at least vaccinated by December end," said Dr Reddy. 
Experts also said that what is required is a pragmatic vaccination approach. "Natural history of the disease shows that people above the age of 60 are more vulnerable. Our research has shown that a possible third wave won't reach the height of the second wave. What is essential is combination prevention. Each state should implement a strategy that combines prevention of progress into severe disease through vaccines and ensuring prevention of infection through masks. If we do this, then we can prevent a disastrous third wave," said Dr Samiran Panda, head of Epidemiology and Communicable Diseases, Indian Council of Medical Research (ICMR). 
Get the latest reports & analysis with people's perspective on Protests, movements & deep analytical videos, discussions of the current affairs in your Telegram app. Subscribe to NewsClick's Telegram channel & get Real-Time updates on stories, as they get published on our website.
Subscribe Newsclick On Telegram