After Stonewalling, New Delhi Opens Doors to Kashmir's Political Parties
Welcoming the 'thaw', political parties believe "growing international pressure" and "lack of achievement" of objectives on ground are playing a key role in the Centre's re-engagement with parties they have been trying to "vilify" for years.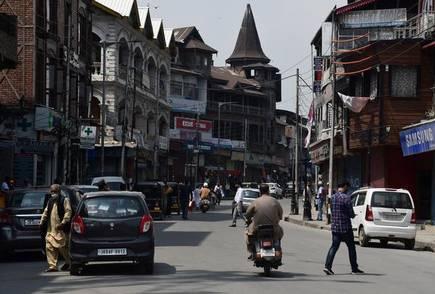 Image Courtesy: The Hindu
Srinagar: After being stonewalled for nearly two years, political parties in Jammu and Kashmir are setting off to a renewed engagement with New Delhi for the first time since Article 370 was abrogated on August 5, 2019.
The political parties, including National Conference (NC), People's Democratic Party (PDP) and Jammu and Kashmir People's Conference (JKPC), witnessed one of the most difficult opposition during this time in the form of Bharatiya Janata Party (BJP), a party that has been a former ally to each of these regional parties. Leaders from all political parties including the strong NC and PDP were detained ahead of the revocation of Article 370 with hundreds of others, in a mass arrest spree carried out by BJP to thwart any opposition to their move that stripped the region of its so-called special status.
Almost two years later, the political parties, which include the newly formed Apni Party led by former PDP minister Altaf Bukhari – overvalued as the 'King's party' – are expected to meet the top Central leadership in the national capital on June 24, according to sources privy to the development.
The thaw comes days after the People's Alliance for Gupkar Declaration (PAGD), a political front against the August 5 decision, held a meeting in Srinagar after remaining dormant for nearly six months. The PAGD, since it formally organised last year, was disparaged by the BJP leadership and even called "Gupkar Gang" by the Home Minister, a reference that drew massive flak from the PAGD constituents.
The PAGD's newly appointed spokesperson Mohammad Yousuf Tarigami of the CPI(M), however, told NewsClick that he was "not aware" of any such development. But, many others sounded optimistic that New Delhi is likely to be open to discussion that can pave way for a fresh political process in the region.
"There are signs and instances from where one can only move forward with constructive engagement. I think the Delhi leadership has also realised that the way Kashmir is being handled cannot last for long...there has to be involvement of the political class now," a politician said wishing anonymity.
PAGD president NC leader Farooq Abdullah had shown willingness after the last alliance meeting on June 9. "We have not closed any door for engagement if they (New Delhi) will invite us. Our options aren't closed...we will do whatever is good for the people," Abdullah said.
PDP leader Mehbooba Mufti told PTI: "There is no clear-cut agenda about the talks with New Delhi. However, I have asked my party's Political Affairs Committee (PAC) for a meeting to discuss the same."
The fresh engagement between Kashmir's mainstream political leadership and New Delhi comes after intense speculation of a further possible bifurcation of Jammu and Kashmir Union territory and part restoration of statehood to the region, claims that were laid to rest by Lt Governor Manoj Sinha later. Many, however, believe there is more to it.
Jammu and Kashmir, one of the most volatile regions of the world, has been witnessing heightened tension since the Central government carried out a series of political and administrative changes, many of them arbitrarily, which includes the Article 370 move. Since then, PAGD parties had been calling for the restoration of pre-August 5 status of the region, a demand that Pakistan has put as a precondition before any formal dialogue between the two nations takes place.
"The demand for restoration of statehood is genuine and all parties and other stakeholders from trade, civil society and even the external stakeholders are demanding it. So restoration of statehood is bound to happen," a Srinagar-based political worker said.
Earlier last month, Pakistan Prime Minister Imran Khan said the stalemate over talks between the two neighbours could only end if New Delhi reverses its August 5 decision and brings back Kashmir's semi-autonomous status. The two nations were asked to "refrain" from steps that would alter the status of entire Jammu and Kashmir territory by the president of the United Nations General Assembly (UNGA) Volkan Bozkir.
J&K's political parties believe that "growing international pressure" and the "lack of achievement" of objectives on ground is playing key role in Delhi's re-establishment of relations with the parties they have been trying to "vilify" for years now.
"There are apprehensions with the ongoing delimitation process which needs support of local leaders for smooth implementation. It is not any other administrative decision it will impact the political outcome for future," the political worker added.
Apni Party leader Altaf Bukhari, who is also expected to be invited to the meeting, has called it a "welcome" development. "We openly state that we have a relation with Delhi. Solutions to J&K's problems lie at New Delhi not Islamabad, New York or London," he told a local news agency, KNO.
Even as Delhi seems to have initiated a process to 'build confidence' with the political parties, including the NC and PDP "dynasts", it remains to be seen whether BJP will change its course against Hurriyat Conference, too for the sake of 'negotiating peace' in the region.
Get the latest reports & analysis with people's perspective on Protests, movements & deep analytical videos, discussions of the current affairs in your Telegram app. Subscribe to NewsClick's Telegram channel & get Real-Time updates on stories, as they get published on our website.
Subscribe Newsclick On Telegram