Agnipath is a Complete Shake-up of Defence Services: Retired General
Retired Lieutenant General Shakti Gurung explains how the ethos of the Army was built and why the new recruitment system seems to put it at risk.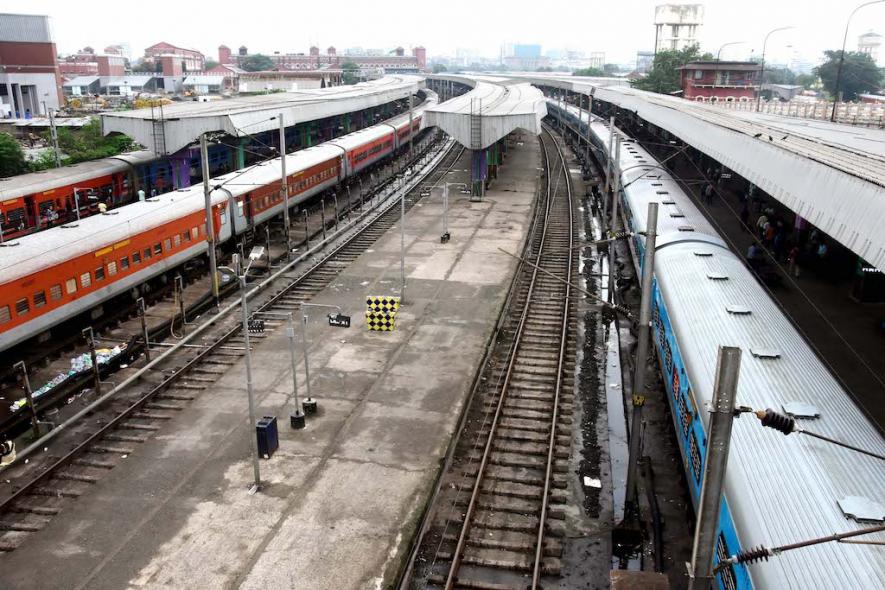 Kolkata, Jun 19 (ANI): Trains stand at the Howrah Railway Station as several trains were cancelled in view of the ongoing Agnipath agitations, in Kolkata on Sunday.
Lieutenant General Shakti Gurung (Retd.), a highly decorated senior officer who served as Military Secretary and military attaché in Myanmar, speaks to NewsClick about the Agnipath scheme. It is a new system of recruiting soldiers to the military announced by the Narendra Modi government on 14 June, which has sparked violent protests by aspirants. Gen Gurung explains the implications of the new system for the armed forces, youth and society. He says it is a boon for the technical arms within the Army, which would select the most capable soldiers for extended service. However, it is a setback for the youth and may end up releasing disgruntled youngsters into society—edited excerpts.
Will the ethos of the Indian Army change with the short-term Agnipath recruitment scheme? 
The Indian Army is now 75 years of age. It has fought five major wars besides innumerable counter-insurgency, anti-militancy operations etc., where a lot of blood has been shed and sacrifices made. Over these 75 years, the Indian Army, after shedding its colonial tag, made a name as one of the finest professional armies in the world. 
Moreover, with our Line of Control with Pakistan and Line of Actual Control with China still active and live, I don't think it was the right time for the government to tinker with the stability of the services. 
Infantry Regiments still take pride in their history, traditions and lineage, most of which are older than 250 years. Similar is the case of armoured regiments and artillery units. Even services like the Army Service Corps and Army Ordnance Corps have anecdotes that may go back to before the Second World War. 
The Gorkha regiments, for instance, began getting recruited by the British East India Company and, later, the British Army for their bravery during the Anglo-Gorkha Wars of 1814-16. 
This is how the foundation of the ethos of the Indian Army was built, which now appears under threat with the Tour of Duty recruitment scheme. 
Is it that a soldier looking no further than a four-year tenure will be unwilling to make the supreme sacrifice? Additionally, if recruitments are from across the country, will a soldier's understanding of his identity have to change, too? 
Given the diverse nature of India, the British structured regiments based on communities. This was applicable only to specific communities with a unique language, lifestyle and culture, like most of the infantry regiments. These are known as Fixed Class regiments, where no individual from a different caste or community can get recruited. Similarly, we have Mixed Class regiments, like mine, The Grenadiers, which has three to four castes in one battalion, but companies are based on individual caste. Lastly, we have the All India All Caste (AIAC) regiments, like the Mahar and Guards regiments, where we find a complete mix of castes at the battalion and even company levels. 
Over the years, these compositions have matured. Each regiment has its peculiar war cry, an essential battle-winning factor, especially for the last hundred yards when the infantry closes in on the enemy to charge for the final capture. The war cry, too, is essentially based on the composition of the regiment, which would be peculiar to specific communities. These war cries have been designed to bring a sense of izzat [respect] to the regiment and create an esprit de corps. 'Naam, Namak, Nishan' is irreplaceable in its performances and display. The three Ns mean izzat for the country, but for the jawan, they also mean izzat for the regiment. Each regiment has a distinct character that cannot—should not—be disturbed unless thought out and deliberated upon in detail. 
The Tour of Duty (ToD) talks of recruiting AIAC recruits in the Army, who will be inducted into regiments irrespective of their caste composition. No recruitment has taken place for two or three years in the Army. The reason given was the coronavirus pandemic which is correct in a way, but it appears now that hidden behind it was the agenda of starting ToD. 
When stopping recruitment temporarily, the recruitment process was ongoing with the result that a number of individuals who had cleared various tests were suddenly left in limbo. Now, a sizeable number has exceeded the maximum age limit for recruitment. To address this, the government increased the age restriction by two years to 23 but has not addressed tests passed when it temporarily halted recruitment. 
Will single-class units affect the functioning and efficiency of the Army? 
There will be turbulence, which will take some time to settle. The leadership will have to take it in its stride and see how best it can enmesh Agniveers in the overall profile of their units so that combat efficiency is not degraded. 
How well will troops from different cultural backgrounds integrate? 
This problem could arise in Fixed Class regiments. However, in Mixed Class and AIAC regiments, I do not see much of a problem as their composition is mixed. But in these also, it will take some time to stabilise. 
Several senior retired army generals point out that the ground-level problems of entry and absorption have not been thought through? 
The main issues being talked about are regimentation suffering and the manner of absorption after four years. The government has not given any firm assurance of how the soldiers released after serving their term will be absorbed. This would, in a way, lead to that many trained youth entering society who, if not absorbed, would remain disgruntled and could resort to anti-social activities, bringing a bad name to the services. 
Absorption should have been spelt out with percentages and vacancies indicated clearly and, if possible, through legislation so that the released youth do not suffer after four years. It will also reduce the chances of released soldiers taking the legal route to resolve their cases. 
Having been Military Secretary, I can say with full conviction that Short Service Commission officers, who we release after a fourteen-year term, find it extremely difficult to get absorbed in any government organisation. 
Some say the six-month training for Agniveers will adversely affect operational effectiveness. What would you say? 
It will have to be a condensed form of training to be imparted at regimental centres. Currently, recruits get trained over ten months before being sent to their units. Once the Agniveers join their units, they will have to be given "on-the-job" training. Unlike currently, an Agniveer will not be able to undertake "dual task training" as his availability time to the unit is short. Specific jobs will have to be identified for each Agniveer to specialise. "Dual tasking" can be resorted to after the Agniveer is re-enlisted. 
Presently, the appointment of section commander, the lowest form of command in an infantry battalion, is held by a Havildar with a minimum service of 14 years. This means an Agniveer will not lead but will have to be led, for which leadership has to be of a high order. How an Agniveer performs in battle or crisis will depend entirely on the leadership, morale and motivation, and whether he has been integrated sufficiently to make the supreme sacrifice. 
The army had proposed this scheme as a pilot project for five years. Why do you think this was not accepted? 
It is how it should have happened, especially since this would result in a complete shake-up of the defence services. It should have been tried out first as a pilot project. If the Army had given this suggestion and it was not accepted, it is easy to assume from where these directions have emanated. 
Will the four-year tenure create job insecurity in the recruits? 
It definitely will. The post-release absorption pattern is not clear, and the criteria for selecting the 25% to be retained have also not been spelt out. Regarding the retention criteria, an Agniveer will serve for three-and-a-half years in a unit, after which it will be considered whether he is fit or not for retention. Given the tenure units serve in the field-peace pattern followed in the Army, this period will get divided with either a bias towards a field or a peace station. A field exposure, compared to a peace station, is an opportunity for an Agniveer to give a good account of himself. 
The government's rationale seems to be cost-effectiveness and lowering the pension burden. But experts warn the switch to Agnipath will raise recruit training and turnover costs. What are your views on this? 
Training is expensive and cannot be quantified. It would thus prove very expensive for the government to release trained youth into the environment. Being a contractual army, which the scheme appears to be heading towards, it would not be a cost-effective manner of handling India's security imperatives. 
Will it lead to the greater militarisation of society if thousands of youth trained in using arms "retire" every year? Given the unemployment situation, many may not find other jobs. Your views? 
This is a high possibility which cannot be denied. 
Will six-month training suffice for specialised training today's armed forces need? 
There is no denying the Agnipath scheme could be a boon for the technical arms. They will get to choose and retain the best with a technical bent of mind. 
There is social unrest amongst our youth hoping to join the Army. Should the four-year service period be extended? 
The scheme is undoubtedly a setback for the youth, who see the profession of arms as their only choice. They will have to work doubly hard to get retained now. 
Will financial savings ensure more money to modernise the armed forces? 
The government will have to decide its priorities. 
(Rashme Sehgal is a freelance journalist.
Get the latest reports & analysis with people's perspective on Protests, movements & deep analytical videos, discussions of the current affairs in your Telegram app. Subscribe to NewsClick's Telegram channel & get Real-Time updates on stories, as they get published on our website.
Subscribe Newsclick On Telegram