Prison of Poverty: Agri Workers' Wages Have Barely Increased in Modi Years
No scheme touches them, no law reaches them – but they hope that a better deal for farmers will benefit them.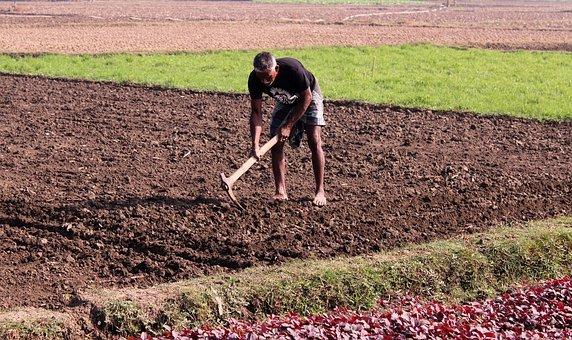 At the Ghazipur border between Delhi and Uttar Pradesh, Manish and a few of his friends have joined the farmers' dharna only a few days back. They live in Baghpat district, barely a few dozen kilometres from the protest site but it could be another continent, or another age. 
"In the sugarcane season, I get about Rs.250 per day, and dal-roti, for about a month or so. When there is no work, I try to find work in any construction activity. I have my parents and wife and children to look after, but there is never enough money…we are just surviving," says Manish.
His cousin, Ravinder, explains the deathly – and shocking – economics of their earnings. "Daily wage rates are practically the same since last several years. The land-owners say that they are not getting enough returns themselves, how will we give you more." 
That is why both of them decided to come to Ghazipur border for a few days – they feel that perhaps, the struggle of farmers (land owners) will give them also some benefits, ultimately. 
Survival Wages – Minimal Increases
Data for wage rates, recently released by the Labour Bureau, shows that in UP, daily wages of agricultural workers have risen from about Rs.200 in September 2015 to Rs.272 in September 2020. That's an aggregate increase of Rs.72 in five years, or about Rs.15 or about 7% per year. That doesn't sound too bad, but if you adjust for price rise of an average 4.4% per year in those five years, the increase gets whittled down to just about 2.5% per year. With Rs.272 per day and an average increment of 2.5% per annum – Manish and his fellow landless labourers are condemned to eternal poverty. 
In the charts below, you can see the absolute increases in wages for different types of agricultural workers. For various cultivation-related activities like ploughing or tilling the soil, sowing, harvesting/winnowing/threshing, irrigation and general care of standing crops and plant protection (applying pesticides, fertilisers etc), the increases range between Rs12-16 for male workers and Rs.10-14 for female workers. 
These are all India averages: in some states, the conditions are worse. Uttar Pradesh is one of these worse states in terms of wages, as are most Northern states.
Cultivation work is seasonal, and depending upon how many crops are cultivated in a yearly cycle, work also varies. Between seasons, agricultural labourers need to find any other kind of work, including migrating to cities or towns for earning something. 
Price Rise Wiping Out Wage Increases
The chart below shows what inflation – annual price rise in percentage terms – does to the meagre increases in wages. Since the average annual inflation was about 4.4% for the period October 2015 to September 2020, as per the Labour Bureau's Consumer Price Index for Agricultural Labour (CPI-AL), published by Reserve Bank of India, adjusting the annual wage increases to this price rise shows that wage increase is virtually stagnant – ranging between 0.5% to 1.6% for men and between 0.4% to 3.1% for women. The 3.1% increase for women is in ploughing, an activity very rarely undertaken by women, and it can be safely ignored.
What this means is that the Rs.10-15 increases are meaningless and earnings are the same over five long years. In other words, the agricultural workers' living standards would only have become worse as illnesses, education, and marriages/deaths – the nuts and bolts of everyone's life – would mean taking loans which would remain outstanding, with interest piling up. Poverty will continue to shackle them, with no end in sight.
Crafts Persons Too Suffer
In the chart below, you will see that the situation is worse for those involved in traditional crafts or other manual work closely intertwined with agrarian life. Thus, male weavers have seen an increase of just Rs.13 in the past five years, while female weavers saw a marginal decline in their daily wage rates. Similar conditions are there in beedi-making, bamboo and cane basket weaving and making of various handicraft items. 
Like earlier times, these activities are supplements to incomes for most. But as the agrarian crisis has deepened, and land owners have replaced workers with machines to save costs, many families depend on such work for survival – yet the economic equation grinds them down mercilessly wherever they turn to.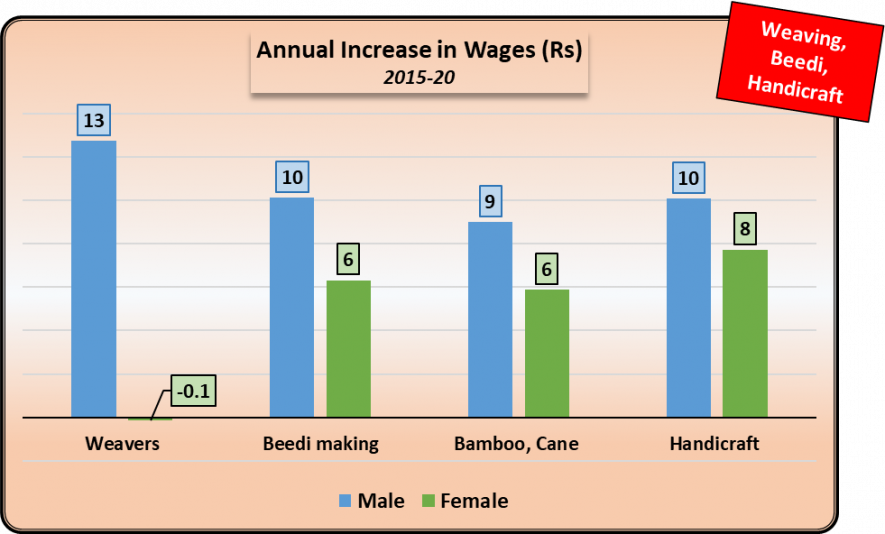 Non-Farm Wages Are the Same
Some streams of agriculture have been applauded and recommended by urban intelligentsia as being the future of farmers. These include cultivation of fruits and vegetables or dairy/poultry business. Indeed, a large number of small and marginal farmers do undertake vegetable cultivation because of the rapid turnaround and cash returns. But their profits are meagre. Those who are landless may get employed in larger farms and dairies/poultries. The wages here show (as in chart below) the same trends – Rs.14 annual increase for five years in fruits and vegetables, and Rs.13 in animal husbandry.
Another widely popular activity is construction work – roads and highways, dams, projects, buildings, etc. Wages? It's the same sorry state of affairs, as shown above. Besides this, there can be diverse non-farm activities that desperate labourers seek and work in. But wage rates remain the same, as do the increases.
Despite a law existing for 'equal pay for equal work', women workers invariably get lower wages than men. Manish says his wife does seasonal work in the sugarcane fields (weeding, tying up the standing canes, removing dry leaves, etc) but gets anything between Rs.175 to Rs.200, and food. "She is allowed to collect dry canes and leaves for cooking fuel, so that is counted as part of her wage too," he explains ruefully.
Will the farmers' struggle to get the new farm laws scrapped help them? Jagpal from Pilibhit is unsure but says that we support it because farmers are fighting for better prices, like MSP. "We hope that if they get better prices, our wages will improve too. Otherwise, they (the farmers) will become like us one day."
Get the latest reports & analysis with people's perspective on Protests, movements & deep analytical videos, discussions of the current affairs in your Telegram app. Subscribe to NewsClick's Telegram channel & get Real-Time updates on stories, as they get published on our website.
Subscribe Newsclick On Telegram