Ahead of Kumbh Mela, Adityanath Govt's 3-Month Closure Jolts Kanpur Leather Cluster
Labourers hit the most by 'longest' ever period of closure, exporters, traders claim big dip in orders.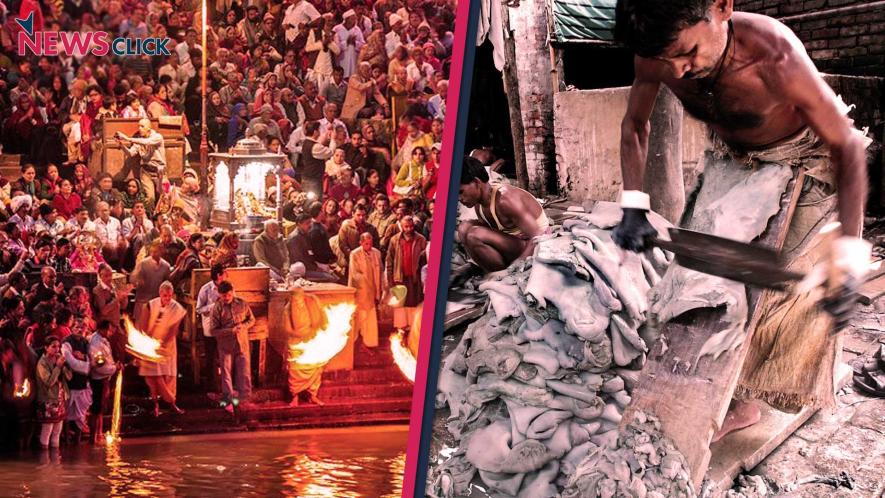 Mohammad Kayyum is now forced to work two shifts a day so that he can save enough for his family to survive the three months when the tanneries are closed. A father of five girl children, Kayyum said he had also started asking his friends and relatives to let him know if any other job was available during that period.
Kayyum, a 46 year-old labourer, was informed by the owner of his tannery that the production unit would be closed for three months on the orders of the Bharatiya Janata Party-led Uttar Pradesh government ahead of the annual Kumbh Mela.  This is the first time that the units are being closed for this long a period.
"I have been working in this industry for more than 15 years and it is the first time ever that the industries will remain closed for such a long period of time," he says, adding that the decision will not only affect the leather industries of the state but lakhs of labourers working in different units, who will be kicked out of their jobs.
"Seth logo ka kya hai, unke pass to theek thaak paisa rehta hai aur unko itna farak nahi padega jitna ham majdooro ko padne wala hai (The owners are not going to be affected, they have enough money,  it is labourerslike me who will suffer the most)," said Kayyum.
It may be noted that the UP government has ordered the closure of leather tanneries for three months starting December 15, to keep the Ganges, considered a holy river by the Hindus, clean and pollution free.
The decision in this regard was taken by Chief Minister Adityanath in May and the order to shut the tanneries was passed by the Department of Environment's Chief Secretary Renuka Kumar on June 12.
The Kumbh Mela is to be held in Allahabad for three months, between January 15 and March 4, 2019. This reporter also learned that the decision was taken without consulting other departments of the state which were connected with the leather industries in the Kanpur cluster.
According to official figures available with Uttar Pradesh Pollution Control Board (UPPCB), there are more than 264 tanneries in Kanpur and Unnao district which dump treated water into the Ganges. Officials at the UPPCB say there is a 37 MLD (megaliters per day) chemical treatment plant at Jajmau which is more than enough to treat the water coming out from the tanneries in Kanpur cluster.
"There was no need to order the closure of industries for three months as the water which is dumped in the Ganga is treated. The treated water is not fit for consumption but good enough to be dumped in the river. The department has no other option other than following the orders of the government," said a senior officer on condition of anonymity.
The officer further said that earlier the tanneries were ordered to shut three days before the Shahi Snan and everyone followed that order happily, but this time there is a feeling of resentment among tannery owners.
"A lot of tannery owners have spoken to me and they are very upset with this order but our department can do nothing on this," he said.
'Pakistan, Bangladesh grabbing  opportunity'
Taj Alam, President of Uttar Pradesh Leather Tanneries' Association, claimed that seeing the uncertainty in the Indian leather market, foreign investors had started going to other nations for leather.
"There is no doubt that the quality of Indian leather from the Kanpur cluster is best and this is the reason that foreign investors were exporting a lot from Kanpur region, but now they too have started reducing their orders. I was recently in Hong Kong to attend a leather exhibition and not a single person ordered from us," he said.
"Exporters from United States, Australia and Europe gave orders to nations like Pakistan and Bangladesh. One of my oldest clients told me that he will not be buying from India now as there is a lot of uncertainty in Indian markets and they cannot depend on us for regular supply," he said.
According to the Council of Leather Exports (CLE), export value from the Kanpur cluster is around Rs. 8,000 crores of the total exports from entire Uttar Pradesh worth  Rs. 12,000 crore. This decision to shut the tanneries for three months will kill the leather exports from the state, sources said.
"See the order is just for three months, but technically we will have to shut the operations at least a month before as hide (raw leather) takes a minimum of 15 days for soaking. So this blanket ban is for four months and during this period we will not be able to do anything other than waiting for the time period to get over," said Taj Alam.
"Labourers have also started looking for other jobs and we are struggling to complete the orders," he added.
Time sought from CM
Mukhtarul Amin, Chairman of CLE, said the council had sought time from the Uttar Pradesh Chief Minister regarding this decision.
"This is a wrong decision for leather traders of Uttar Pradesh and it will harm the industry very badly. We will request the CM to review the decision and see what best can be done in favour of the leather traders. We also understand the importance of Kumbh. Let's see what happens next," Amin says.
A senior minister from the Uttar Pradesh cabinet on condition of anonymity told this reporter that this order was no less than a diktat.
"I have requested time from CM Adityanath and have not got any response yet. I will tell him  how badly this will affect the state and Indian economy. I am very confident that he will understand the consequences of this decision but for that I need to meet him," the Minister said.
Twitter: @saurbhsherry
Get the latest reports & analysis with people's perspective on Protests, movements & deep analytical videos, discussions of the current affairs in your Telegram app. Subscribe to NewsClick's Telegram channel & get Real-Time updates on stories, as they get published on our website.
Subscribe Newsclick On Telegram