AIAWU Calls for Strong Movements on Issues Concerning Women, Dalits, and Adivasis in its 10th Conference
In his concluding speech, A Vijayaraghavan, President, AIAWU, called upon the delegates to change the class equilibrium in rural areas.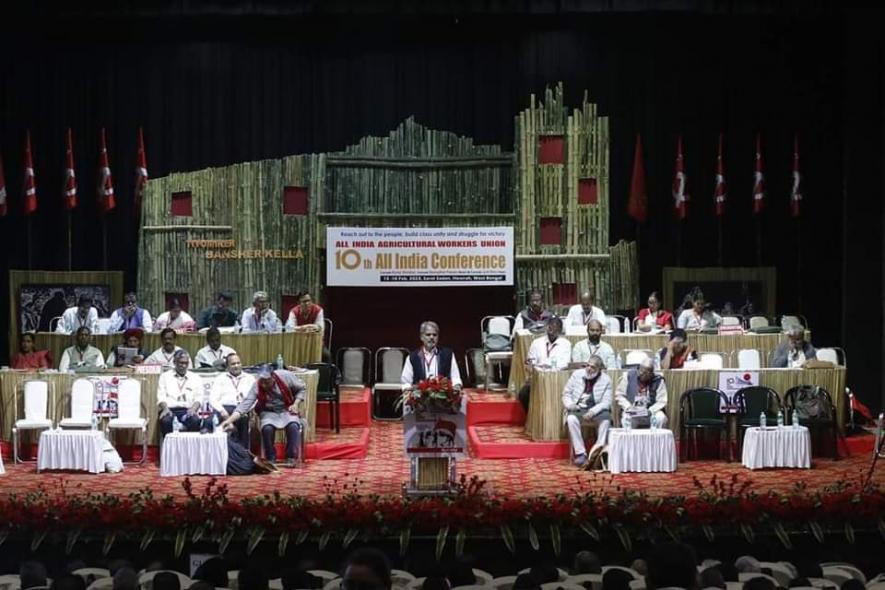 Photo:  A Vijayaraghavan, president of AIAWU 
Howrah: In its recently concluded 10th conference at Sarangdar Paswan Manch, the All India Agricultural Workers Union (AIAWU) called for strong class unity of the rural proletariat to thwart divisive forces. 
Ganga Devi, a delegate from Gorakhpur (Uttar Pradesh) at the conference, told NewsClick about how her family was beaten up by the upper caste people in her village. Hailing from an SC (Scheduled Castes) background, Devi mentioned that the Community Party of India (Marxist) (CPIM) and AIAWU helped her lodge cases against the alleged culprits in the matter. However, the police are yet to make any arrests in the case. 
Similarly, delegates from Andhra Pradesh and Telangana spoke about how AIAWU heroically took thousands of acres of land from the Zamindars and distributed it among the landless agricultural labourers of the region. 
In his concluding speech, A Vijayaraghavan, President, AIAWU, called upon the delegates to change the class equilibrium in rural areas. 
"We have to reach the economically and socially deprived masses directly at the village level to organise them into cohesive forces for the organisation to build militant struggles. AIAWU can foster strong movements demanding work and fair wages for the unemployed and stopping societal oppression of women and dalits." 
Vijayaraghavan also informed the gathering about the joint worker-peasant rally on April 5 towards Parliament house in Delhi. 
The conference started on February 15 in Howrah's Sarat Sadan, with B Venkat, general secretary, AIAWU, placing his report. Over the next four days, 43 delegates discussed the report and presented their opinions. After the discussions, the report was unanimously adopted on February 18. 
"Earlier, they promised Acche Din (good days), but we have been having Bure Din (bad days). Now, they say that this is Amritkaal, but I say that this is Andhakaal," said Kerala chief minister Pinarayi Vijayan in Howrah. 
Vijayan made the remarks while addressing a massive rally in Bijoyananda maidan in Howrah in the open session of the conference on February 17. 
Addressing the workers, Vijayan said, "The Left parties have always warned about the dangers of liberalisation policies. Right from the beginning, we were confronted with a question: what economic policy can you suggest as an alternative to liberalisation and globalisation? We presented alternatives. The LDF government in Kerala is an example within the limits of our federal structure." 
Venkat's speech emphasised AIAWU's organisational strength, which increased from 71 lakh in 2019 to 75 lakh in 2022. He desired that the organisation would crore one crore members in the future, reaching 300 districts of the country. Venkat also highlighted various issues around which strong movements can be forged at the grassroots level, such as 100 days work programme, regulation of microfinance organisations by the Reserve Bank of India, distribution of arable excess ceiling lands to landless labourers, universal public distribution system, corruption in rural infrastructural projects, etc. 
He also urged AIAWU to intervene in cases of societal oppression and marked that many rural workers are dalits and adivasis.
"Many women do agricultural work to sustain their living but do not get the same wages as their male counterparts. The Hindutva forces are attacking the livelihood of agricultural workers. The societal rights of dalits, adivasis and women are being curbed. A grand unity of the marginal rural class can be achieved by fighting for these causes. 
The conference adopted resolutions for the joint observance of International Women's Day on March 8 and making the April 5 rally a grand success. More resolutions were adopted around minimum support prices guarantee, strengthening the public health system, forest rights act, and codification of labour law. 
Vijayaraghavan and Venkat were re-elected for the next three years as President and Secretary of AIAWU, respectively. Furthermore, a 155-member general council and a 61-member Central working committee were also constituted. Senior AIAWU leaders Suneet Chopra, Nityanada Swami, and Hannan Mollah took leave from the organisation. 
Get the latest reports & analysis with people's perspective on Protests, movements & deep analytical videos, discussions of the current affairs in your Telegram app. Subscribe to NewsClick's Telegram channel & get Real-Time updates on stories, as they get published on our website.
Subscribe Newsclick On Telegram