Ailing AYUSH Hospitals in MP's Ratlam Without Doctors, Medicines
Most village centres are run by one or two staff members, some housed in old buildings with leaky roofs.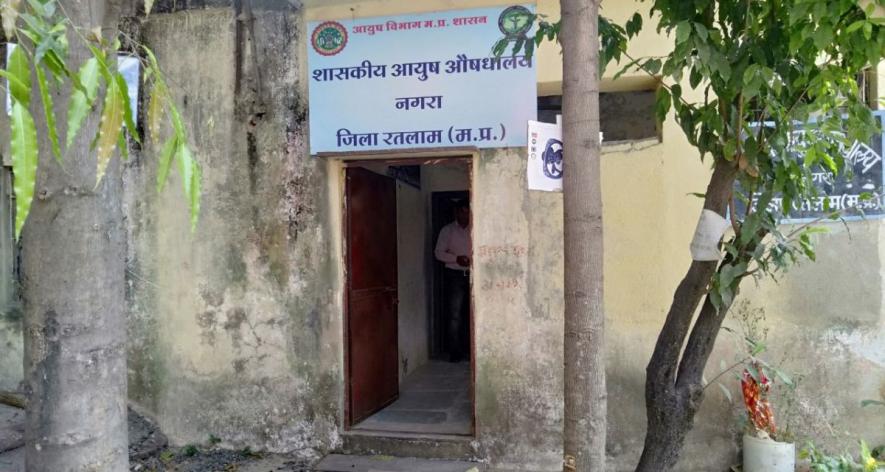 Most of the 39 AYUSH centres in Ratlam, Madhya Pradesh, are in a pathetic condition.
Ratlam, Madhya Pradesh: Sunita Patidar of Jaora town believes that regular intake of kadha (a herbal decoction) kept her out of harm's way when COVID-19 peaked. She was so impressed with the medication that she decided to rely only on Ayurveda for future treatment.
So, when she developed a cold and cough a few days ago, Patidar headed to the AYUSH Hospital in Jaora, located 30 km from Ratlam district headquarters, hoping to get some relief. Much to her dismay, neither the doctor nor the compounder was present. Two days later, she met the compounder, who informed her that medicines were unavailable. She returned empty-handed sick and coughing.
Most of the 39 AYUSH centres in Ratlam function like the Jaora hospital. In the 2023-24 State Budget, Rs 342 crore was allocated for AYUSH hospitals and dispensaries. However, one look at any of the centres in Ratlam makes one wonder where all the money is going.
'Fully-functional' clinics are either locked up or 'ailing' when the core idea of establishing them under the Centre's National AYUSH Mission (NAM) is to promote and develop traditional medicine and healthcare systems, including Ayurveda, yoga and naturopathy, Unani, Siddha and homeopathy. 
COMPOUNDER KEEPS DISPENSARY AFLOAT
A compounder manages Jaora's AYUSH Hospital in a nearly 80-year-old building that leaks during rains. The place has a musty smell, and the frayed wires keep one in permanent fear of fire and electrocution.
When 101Reporters visited the place, around 10 patients were at the hospital. As expected, the compounder attended to them one by one. She is the one and only person who works here though the hospital has two sanctioned posts of doctors to cater for a population of 75,000 in the Jaora Assembly constituency.  
Two sanctioned posts of women AYUSH health workers are also vacant with one transferred and the other attached to the Collector's office. Two chemists at the dispensary sit before the empty shelves awaiting medicine stocks that never arrive.
District AYUSH officer Dr Balraj Singh Chauhan admits to 101Reporters that only compounder Anita Vyas treats patients at the hospital. "Yes, there is a shortage of doctors. But the compounder consults with the district doctors before giving medicines," he claims.
A medical compounder is like an assistant to a doctor with practical knowledge of dispensing drugs. They are health professionals but can't prescribe medicines. Meanwhile, patients treated by Vyas claim they have never seen her consult any doctor.
Likewise, the AYUSH Department-run Ayurveda hospital in Hatnara village, in Ratlam, also depends on the compounder. "The hospital has approved posts of a doctor, compounder, women health workers, pharmacist and a part-time sweeper. Of them, the posts of doctor and health worker are vacant," compounder Anil Mehta tells 101Reporters.
The building is in such bad shape that the hospital operates from two rooms of a village school after the panchayat shifted the facility.  
Having a building, however, does not mean everything operates smoothly. When this reporter visited another dispensary in Nagra village, located five km from Ratlam city, it was empty.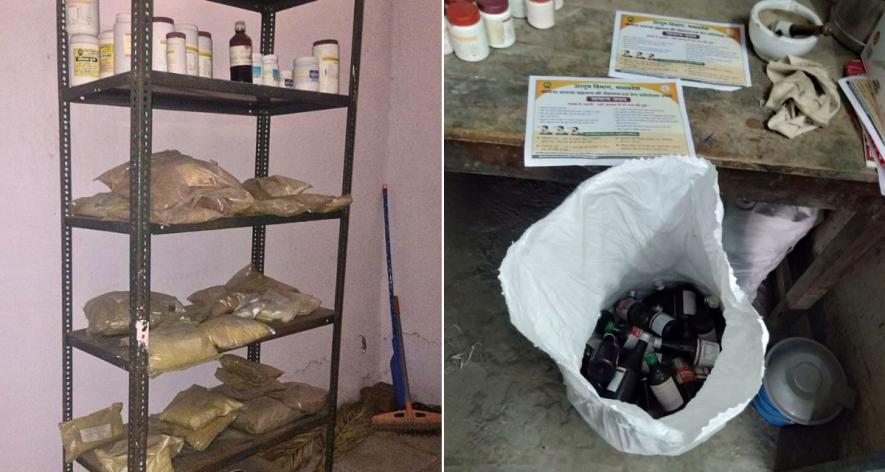 Medicines are stored in gunny bags at the AYUSH dispensary in Nagra village, located five km from Ratlam city, Madhya Pradesh.
A woman rushed in after 15-20 minutes saying she was in charge of cleaning. Two gunny bags of medicines were found inside the dispensary. Those responsible for maintaining the stock had not even opened and sorted them. On the other hand, patients perennially complain about drug shortages in the dispensary.
As per the records, a doctor, compounder and chemist were appointed here. The outpatient department register did not have any entries after March 29 with the last record about 13 patients visiting the dispensary. Surja Ram, a villager, claims that doctors and compounders are mostly unavailable.
37 NEEDED, JUST 7 AVAILABLE
Only seven Ayurveda doctors work under the AYUSH Department in Ratlam district against the sanctioned 34 posts. Similarly, only five of the total seven community health officers are in service.
"We will appoint more doctors across the state soon. The recruitment to select 710 doctors is going on," Chauhan replied when asked about this severe staff shortage.
During a recent visit to Ratlam district for an audit, divisional AYUSH officer Jyoti Panchal ordered that drugs should not be dispensed without consulting a doctor. Ironically, most of the dispensaries in the district—Khajuri Deora, Semliya, Madhopur, Asawati, Upalai, Naugaon Kala, Riyawan, Rattagarh Kheda, Umran, Malwasa, Birmawal, Talod and Kelkachh, to name a few—are run by Class IV employees who do not have the authority to prescribe medicines.
"The district AYUSH officer says if patients are not treated, class IV will not get salaries. If we give medicines, action will be taken against us. If we do not, then also our fate remains the same. The shortage of doctors is really affecting us," a Class IV employee requesting anonymity tells 101Reporters.
BUDGET ALLOCATION
The AYUSH Department does not seem to be in need of funds if the state Budget is taken into account. Of the total Rs 5,608.63 lakh provided under NAM in 2020-21, the government spent more than 90% (Rs 5,142.49 lakh). Of the Rs 3,123.80 lakh sanctioned in 2021-22, Rs 2,575.19 was utilised. The allocation rose to Rs 11,441.78 lakh in 2022-23, of which 82% was utilised.
Ratlam district too allocates a quarterly budget for the AYUSH Department. Recently, the department organised special camps for women with a set budget of Rs 40,000 per camp.
Not just the local dispensaries, even the AYUSH wing in Ratlam city has been sequestered so that most patients are unaware of its existence.
The writer is a Ratlam-based freelance journalist and a member of 101Reporters, a pan-India network of grassroots reporters, where this article was originally published.
Get the latest reports & analysis with people's perspective on Protests, movements & deep analytical videos, discussions of the current affairs in your Telegram app. Subscribe to NewsClick's Telegram channel & get Real-Time updates on stories, as they get published on our website.
Subscribe Newsclick On Telegram