Akhand Bharat Idea, a Menace to India and Neighbourhood
India's Hindu Right continues to pursue imperial aspirations, primarily for electoral purposes.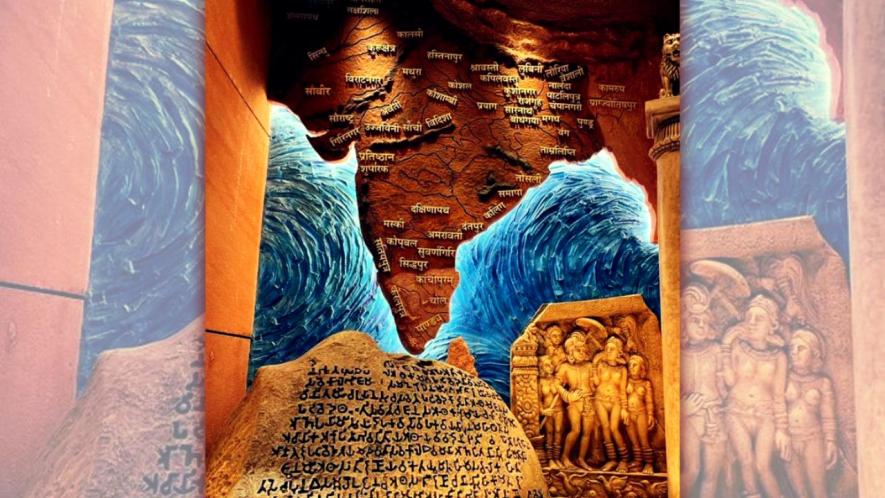 Union Parliamentary Affairs Minister Pralhad Joshi tweeted a picture of Akhand Bharat with the words, "The resolve is clear—Akhand Bharat." (10:32 AM, May 28, 2023) | Image credit: @JoshiPralhad
When India was divided to create a separate State of Pakistan, the call for a so-called Akhand Bharat was issued stridently by the Hindu Mahasabha. On January 28, 1950, the Working Committee of the Akhil Bharatiya Hindu Mahasabha adopted a resolution reiterating its determination to continue its fight for Akhand Bharat. It also declared that it was the birthright of every Hindu to agitate to attain it. Referring to that resolution, first Prime Minister Jawaharlal Nehru wrote to chief ministers on February 2,1950, saying that it was "the stupidest proposal". Nehru observed, "And yet, stupidity has a market if it puts on some kind of a nationalist garb."
It is this "market" of Nehru's critical observations that has been expanded by the Rashtriya Swayamsevak Sangh (RSS) and the government run by its offshoot, the Bharatiya Janata Party (BJP) since 2014. They have done so by injecting the divisive force of Hindutva into the body politic of India. Their invocation of Akhand Bharat is a possibly a strategy to appeal to those who constitute the "market" for votes in the electoral arena.
This same "stupidest" proposal, as described by Nehru, was first taken forward by unofficial and extra-constitutional bodies like the Hindu Mahasabha. But now it is being pursued by top government figures, such as Union Parliamentary Affairs Minister Pralhad Joshi, and it is even being endorsed by the Centre. Joshi recently tweeted a picture of Akhand Bharat with the words, "The resolve is clear—Akhand Bharat." The tweet included the picture of a mural installed in the new Parliament inaugurated on 28 May, which depicts several of India's neighbours as part of the RSS-BJP's idea of Akhand Bharat.
At the international level, the tweet immediately stoked an uproar among neighbouring countries. In Nepal, Pakistan and Bangladesh, serious objection has been expressed to Joshi's picture of the mural. In fact, the tweet and mural did not go down well in the entirety of India's neighbourhood, where concerns are being expressed that showing them as part of India clearly indicates the obliteration of their status as sovereign entities.
The spokesperson of India's Ministry of External Affairs, Arindam Bagchi, said the mural was not about "Akhand Bharat" but "depicts the spread of the Ashokan empire and the idea of responsible and people-oriented governance that he adopted and propagated". He asserted, "That's what the mural and the plaque in front of the mural says." When his attention was drawn to Joshi's tweet on Akhand Bharat, he remarked, "I'm certainly not going to comment on statements that other political leaders might have made."
Protests against Akhand Bharat
Despite such elaborate explanations, there were street protests in Nepal against the mural and politicians, too, expressed outrage. They said it would aggravate the existing trust deficit between Kathmandu and Delhi. The issue was raised in the Nepalese Parliament when Opposition parties accused the Prime Minister of not raising it during his recent India visit.
Pakistan's foreign office spokesperson Mumtaz Baloch described Joshi's tweet as appalling and said, "The gratuitous assertion of 'Akhand Bharat' is a manifestation of a revisionist and expansionist mindset that seeks to subjugate the identity and culture of not only India's neighbouring countries but also its own religious minorities."
On June 6, the Bangladesh Foreign Office sought clarification from India's Ministry of External Affairs on the issue. Bangladesh's Minister of State for Foreign Affairs, Shahriar Alam, said the Bangladesh High Commission in Delhi "has been instructed" to contact India's foreign office to "get India's official explanation on this matter".
Even in 2021, the Indian Home Minister had asserted in a speech in Nanded, Maharashtra, that Congress leader Sardar Patel's efforts to integrate princely States by thwarting the attempts of their rulers against joining the Indian union gave Nanded pride of place in Akhand Bharat.
What is more, the Akhand Bharat idea recently outlined by the RSS chief Mohan Bhagwat included Nepal, Bhutan, Pakistan, Bangladesh, Sri Lanka, Thailand, and Myanmar.
Akhand Bharat Map in Private Sphere
Maps that depict ancient India as encompassing Afghanistan, Nepal, and other neighbouring countries have existed for long, but were never part of Parliament or institutions created by the Constitution. For instance, the Lakshmi Narayan Temple, popularly known as the Birla Temple Complex in Delhi, has a large stone structure engraved with "Bharatvasrh", which depicts an India that includes several neighbouring countries. First Prime Minister of India, Jawaharlal Nehru, writes in his book, The Discovery of India, that the Mahabharata referred to India as "Bharatvarsh" for the first time and included large parts of Afghanistan, including, he said, Gandhar, or modern-day Kandahar.
But the expansive map of Bharatvarsh in a temple or references in Nehru's book did not trigger anxieties in the neighbourhood, for they were not officially endorsed. But when such maps or murals are placed in Parliament or endorsed formally, the countries included in these depictions are bound to disapprove and call for withdrawals.
Akhand Bharat on RSS Agenda Since 1925?
Since 1925, the RSS has been talking about Akhand Bharat, while top leaders of the freedom movement, from Mahatma Gandhi to Nehru, only spoke about liberating India from the colonial yoke, never Akhand Bharat. They disapproved of the British rulers' decision to annex Myanmar [then Burma] with India to serve their colonial and imperial interests.
But Bhagwat said in November 2022, while addressing an RSS meeting in Chhattisgarh, "We have been saying since 1925 [the year RSS was founded] that everyone living in India is a Hindu." He added, "Every Indian who is part of the 40,000-year-old Akhand Bharat has common DNA [genes]." He made it crystal clear that Akhand Bharat, as conceptualised by the RSS, was anchored in Hindu religious identity, and for nearly a century, it has been making the same point.
Gandhi-Nehru Vision of India Free From Imperial Ambition
In 1927, Nehru wrote in his article, "A Foreign Policy for India", that Nepal and Afghanistan would be treated as honoured neighbours. He made it abundantly clear that in the future federation of India, Burma [Myanmar] would be an honoured member, and should the people there decide on a separation from India, they would be perfectly welcome to do so. Even Gandhi wrote in Young India on June 26, 1922, "I have never been able to take pride in the fact that Burma has been made part of British India. It never was and never should be."
On March 10, 1927, in the article "Burma and Ceylon" in Young India, Gandhi wrote, "I have no doubt in my mind that Burma cannot form part of India under Swaraj." He said, "British India is an artificial description" that reminds us of "British domination" and observed that its boundaries contracted or expanded on the will of those who held India in bondage.
"Free India," Gandhi asserted, "will be an organic whole and will include those only who desire to remain as its free citizens." "Therefore," he remarked, "free India will have its geographical, ethnic and cultural limits" and "recognise the differences in race and culture of the Burmese". And it would also recognise the right of Burmese people to "complete independence", which India would help it regain and retain.
In the context of Ceylon [now Sri Lanka], Gandhi observed, "I have no imperial aspirations for India of my imagination," and wrote, "I should be content to regard Ceylon as an absolutely independent State."
Let us compare the vision of Gandhi and Nehru with that of the RSS leadership, which upholds Akhand Bharat with a clear intent for expansionism and hegemony.
When India was divided to create a separate State of Pakistan, the call for Akhand Bharat was issued stridently by the Hindu Mahasabha. As stated earlier, Nehru described the the demand of Hindu Mahasabha for Akhand Bharat as "the stupidest proposal" and acknowledged that there was a market for stupidity when it acquired a nationalist garb.
The "stupidest" proposal, being taken forward by non-official bodies like the Mahasabha, is what Minister Joshi is pursuing.
In Defence of the Constitutional Vision of India
The foundation of Hindutva, which sustains Akhand Bharat as an idea, clearly connotes the domination of the religion of the majority of people in India. In other words, majoritarianism defines Akhand Bharat, and this coming together of faith and majoritarianism, when combined with imperial tendencies is a terrible menace to both—the free India of our Constitution and its sovereign and independent neighbours. That is why the official sanction to Akhand Bharat has garnered sharp reactions from India's neighbours. Independent India must be free of imperial aspirations, and we must fashion our destiny with the constitutional vision of those who gained for us our independence.
The author was Officer on Special Duty to President of India K R Narayanan. The views are personal.
Get the latest reports & analysis with people's perspective on Protests, movements & deep analytical videos, discussions of the current affairs in your Telegram app. Subscribe to NewsClick's Telegram channel & get Real-Time updates on stories, as they get published on our website.
Subscribe Newsclick On Telegram