Al Aqsa Not Spared in Ramzan—Don't Expect India to Murmur a Protest
Experts explain why this year's Israeli attack on Al-Aqsa mosque is worse than in previous years.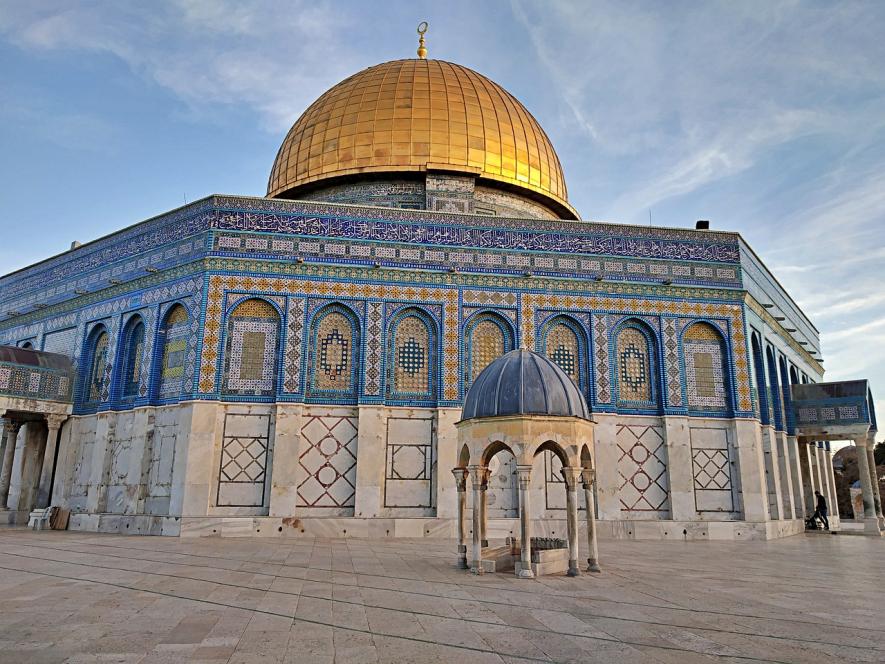 As I start to write on the violence unleashed on Palestinians in their own homeland by the Israeli forces over yet another Ramzan, the former Palestinian envoys to India I have met, and the words of well-known Arab academic Clovis Maksoud, were the first to come to mind. The vital question they raised whenever we met was, where were the Americans? Why weren't they crying foul about the anarchy and killings Israel has unleashed in the region?
The chilling extent of violence that accompanied this year's storming of the Al Aqsa mosque by Israeli forces and settlers is no secret. Their assaults on Palestinians as they worshipped during the holy month of Ramzan have been decried worldwide. But what has provoked these attacks, and what has been India's position on this front?
To better comprehend the situation today—and the attitude of India's 'sabka saath' government on the atrocities committed by the Israeli State, I contacted Achin Vanaik, retired professor of international relations and global politics at the University of Delhi. He told me over email that the assault on Palestinian worshippers at al-Aqsa differs from similar past actions at the holy site. "For the first time, Israel has a far-right coalition that includes Jewish religious extremists in government. This section has always wanted to destroy the mosque and replace it with a Jewish temple," he said.
Vanaik said very large numbers of Jewish citizens have been protesting against the Israeli government's attempt to erode the judiciary's independence. "However, the overwhelming majority of these very citizens routinely support brutal anti-Palestinian actions in Jerusalem and the Occupied Territories," he said. Therefore the Israeli government hopes the latest round of brutalities against worshippers at Al Aqsa can serve as a political diversion and enable the wider Jewish public to rally behind it against the natural Palestinian anger and retaliatory actions, given what has happened.
"As it is," Vanaik said, "The settler-colonial Apartheid regime is out to extend illegal Israeli settlements in the West Bank. Terrorising Palestinians through armed actions will make this effort that much easier."
I also asked Apoorva G, a coordinator with the Boycott Divestment Sanctions (BDS) movement, who described how Palestinians, young and old, were violently beaten, electrocuted, and denied medical care during the assault on Al Aqsa. Hundreds have been detained. She said Israel's warplanes have bombarded the besieged Gaza Strip, damaging farms, homes, and a children's hospital.
"Under the current ultra-right-wing Israeli government, Palestinians are under unprecedented attack by Israeli forces and violent settlers. Israel has murdered over 90 Palestinians, including at least 17 children, so far this year, and it is only April!" she said.
According to her, Apartheid Israel can keep acting with impunity because the international community does not hold it accountable for its crimes. India is the single biggest importer of Israeli arms, which are field tested on Palestinian civilians, enabling the colonial violence of this apartheid regime. "The Indian government is wasting billions of dollars in Indian taxpayers' money on Israeli weapons instead of investing them in jobs, health, and education," she said.
"Millions of Indians, especially farmers and workers, stand against the oppression of Palestinian people. They can give concrete form to their solidarity by supporting the popular BDS movement, ending institutional ties with Israel, and building campaigns against corporations profiting from these crimes, such as Google and Amazon, HP Enterprises, Netafim, HD Hyundai, and many more," she said over email.
I also contacted author-academic Sukumar Muralidharan, who expressed shock that violence against the Palestinian people has escalated through the month of Ramzan. He said a possible reason for the escalation could be the internal strife that besets Israel, with Prime Minister Benjamin Netanyahu facing an unprecedented wave of civil unrest. "In times of turmoil, the fractious Israeli people can agree only on one thing—getting tough on Palestinians. The erasure of the Palestinians from history and geography is the ideological programme that Israel is built on…."
While addressing concerns over the unrest in Israel during a visit to Germany in mid-March, Netanyahu assured his hosts that Israel would remain a liberal democracy. But, says Muralidharan, at roughly the same time, one of his cabinet ministers, Bezalel Smotrich, was calling for a Palestinian town to be 'erased'. "Days later, the same minister, at a public event in Paris, rejected any notion of a Palestinian people having existed at any time in history," Muralidharan said.
He referred to Edward Said, the great scholar of Palestinian descent, who once said the Palestinian people have been eye-witnesses to their own funerals ever since the creation of the Zionist State. "And at this stage, without powerful international sanctions, Israel will not back away from its foundational programme of effacing the Palestinians from history and geography," Muralidharan said.
Today Like Yesterday
For decades as a journalist, I met a succession of Palestinian envoys to India, from Khaled Al-Sheikh to Osama Musa, who detailed the America-backed Israeli intrusions into their territories. They decried how, without America's support, Israel would not survive, leave alone force millions of Palestinians into displacement, made into refugees in their land. Israeli forces have killed hundreds and thousands. But I veer around this year to remember they also told me there is no justice or civilisation left in the changed world order.
When I interviewed Clovis Maksoud, then professor of International Relations and director of the Centre for Global South at the American University in Washington (and in the sixties, the Arab League ambassador to India), he told me people in Arab countries had realised "outsiders" had vested interests in destroying their lands. In our conversations, he detailed why the Arab world was not taking on American intrusions and spoke of their broad "strategic dependence" on the United States based on the false assumption that it is the only power that could make Israel respond to the Palestinian issue. This logic was flawed, of course, for Israel has flouted all international norms. It is the only country to have never declared its boundaries since 1967. It has not acknowledged it is an occupying power and has given itself a license to expand its settlements. This has meant repeatedly violating United Nations resolutions that disallow an occupying power to alter the boundaries of the country it occupies.
I recall Maksoud telling me the United States has chosen to make Israel its principal ally, giving it the license to defy the United Nations with impunity.
Former Libyan leader Muammar Gaddafi's son, Saif-el-Islam, was particular when he spoke of "outside interests" behind the anarchy in their lands. In the autumn of 2001, when Saif-el-Islam (known as 'Engineer' though he is an architect) landed in New Delhi, I interviewed him for a national daily. He came across as brilliant and aware of the changing world order. He told me he held apprehensions about the American military and Israeli agencies. He stressed those threats could only be countered if there was some semblance of unity against them. He said he wished to see all of South Asia united. He pointed out that Libya was politically very different from other Arab countries, which is why it joined the African Union in 1999. Saif was probably more critical of the United States than his father. I recall him telling me the United States, being a superpower, considers it a right to impose embargoes or bomb and attack other countries, but those who bear the brunt of this have no choice but to view the United States as an aggressor. This includes Israel's bombardments of Palestinian regions and people.
A Pity India is Not Speaking Out
I have attended numerous press conferences of fiery Palestinian envoys to India and the emotions they generated amongst the Indian masses. I vividly recall the warm hug from Palestinian leader Yasser Arafat to former prime minister late Indira Gandhi when she hosted an elaborate reception for him here in New Delhi. Gandhi's office invited many, including middle-rung Muslim families, with the who's who. Of course, in those days, there was no security phobia. That was the phase of India's close bonding with Palestine.
Drastic changes in the Arab countries and India have affected Indians on several fronts. India's pro-Israel tilt was more than obvious right from 2014 and peaked in the summer of 2017 when Prime Minister Narendra Modi visited Israel with a shopping list of military equipment.
What a contrast to India's stand under Jawaharlal Nehru and Indira Gandhi, who made the so-called Muslim world tilt towards India. Today, there is no Nehru and little trace of India's connection with the Middle East, even as violence against Palestinians continues—despite fresh realignments in the region against the United States and its allies.
As Prof Vanaik said in his responses, "Please do not expect this Hindutva government to do anything more than officially mouth platitudes—if that much—about 'concern' and 'respecting religious sentiments'."
So far, New Delhi has not even said this much.
The author is an independent journalist. The views are personal.
Get the latest reports & analysis with people's perspective on Protests, movements & deep analytical videos, discussions of the current affairs in your Telegram app. Subscribe to NewsClick's Telegram channel & get Real-Time updates on stories, as they get published on our website.
Subscribe Newsclick On Telegram