Alaa Abd Fattah: Hungers Strike for Freedom
Alaa Abd Fattah is an Egyptian blogger, software developer, and political activist. He had been arrested in December last year on charges of organizing a protest march without the permission from the authorities. This protest was organized to demand ban on practice of using military courts to try civilians. This protest followed the controversial law which stated that only interior ministry can have the final say on whether a protest can be held or not. The government argued that this law was brought in to check daily protests organized by the Muslim Brotherhood. Secular activists believed it to be a tool to curb freedom of speech and expression of all dissents against the government. Fattah along with other defendants faced charges of attacking police officers and had been imprisoned. While rest had been set free on bail, Fattah was kept in jail for four months and has been in and out since then. A hearing was held in June where Fattah and others were not allowed to enter the court premises. All 25 defendants were sentenced to a 15 year imprisonment. Since the judgment was issued in Absentia, it was entitled to automatic retrial. When the case opened again on 22 July, the judge ordered the release of all defendants except Abdel-Fattah, Mohamed Nobi and Wael Metwali. The next session is due on 10 September.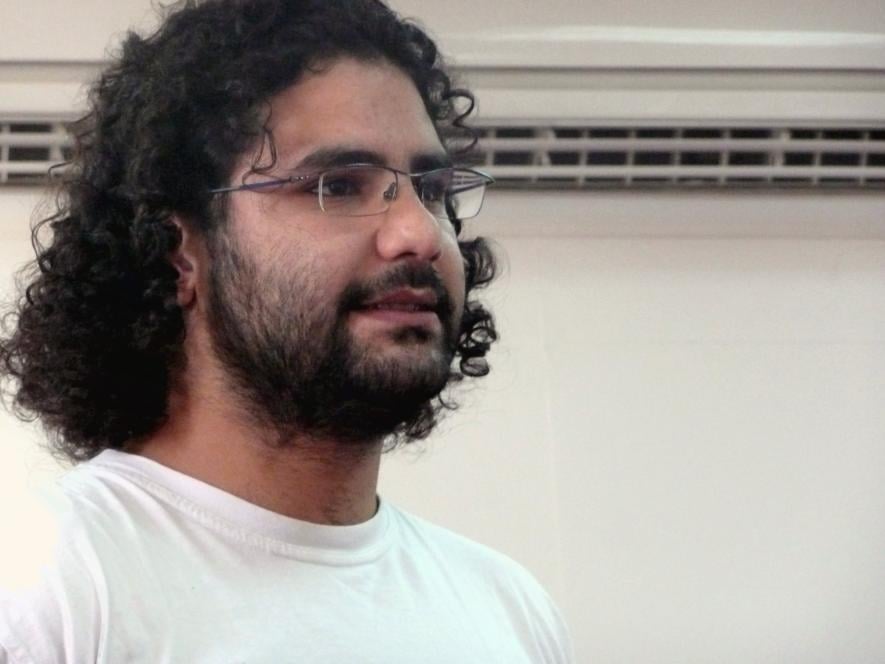 Abdel-Fattah while recently visiting his critically ill father Ahmed Seif announced that he would begin a hunger strike to press for his release. He also wrote an open letter expressing his thoughts which are mentioned below. More on Fattah and the movement can be read on weekly.ahram.org.eg/News/7099/17/Hungry-for-justice.aspx
An open letter
Translated by: Ahdaf Soueif
At 4 pm today, I celebrated with my colleagues my last meal in prison. I have decided — when I saw my father fighting against death locked in a body that was no longer subject to his will — I decided to start an open hunger strike until I achieve my freedom. The well-being of my body is of no value while it remains subject to an unjust power in an open-ended imprisonment not controlled by the law or any concept of justice.
I've had the thought before, but I put it aside. I did not want to place yet another burden on my family — we all know that the Ministry of the Interior does not make life easy for hunger strikers. But now I've realized that my family's hardship increases with every day that I'm in jail. My youngest sister, Sanaa, and the protesters of Ettehadiya were arrested only because they demanded freedom for people already detained. They put my sister in prison because she demanded my freedom!
They tore me from my son, Khaled, while he was still struggling to get over the trauma of my first imprisonment. Then there was the brute performance of the Ministry of the Interior as they carried out their "humane" gesture — my visit to my father in the ICU. The police tried to empty the hospital ward and corridor of patients and doctors and family and nurses before they would allow the visit. They set times and informed us, and then canceled. The police general could not decide how to ensure I would not escape. He was completely convinced that this was all a ruse, that nobody was sick and we were conspiring to deprive him of his hours of rest. I arrived at the hospital chained to the iron frame of the police transport vehicle, and, finally, in the ward they snuck in a camera and filmed us against our will.
All this served to prove to me that my being patient would not help my mother, Laila, my sister, Mona, or my wife, Manal. That waiting does not relieve my family of hardship but actually makes them prisoners like me, subject to the dictates and the moods of an organization devoid of humanity and incapable of compassion.
I have faced courts and prisons before, and I have welcomed them. I thought them a necessary and expected price for dissident positions and an opportunity to fight for the principles and the guarantees of fair trials. Every hearing or renewal or trial was an opportunity to exert pressure against exceptional justice, an opportunity to support those judges whom we thought was upright. But when finally I stood in front of my civil judge I found less justice than in the worst exceptional courts. Procedure, law, standards were all pushed aside, and even though we managed to bring into the open the details of many cases, not one judge raised his voice against the trials taking place in Tora Police Academy .
My days in prison are not bringing us any closer to a state committed to its laws or to courts committed to justice. Prison gives me nothing now except hatred.
Since the bloody conflict started between the state and the Islamists, I've declared more than once that it was imperative that we should have no part in it. When the conservative power traditionally responsible for stability forces a process of polarization and engages in a conflict that seems to have no end, except the utter submission or annihilation of one side or the other, then the role of those whose heart is with the revolution is to try to put the brakes on society and stop the conflict.
I have repeatedly said that we have to stand against the violations and crimes of both sides and to take the side of the victims, whatever their identity. I've also said that we have to remove ourselves completely from the conflict by not raising demands except within the limits of the right to life and the dignity of the body and the freedom of the individual, for today, the foundations of life itself are under threat.
I do not fight alone to save the foundation of life. My comrades are many, even though their voices have grown faint in the huge noise of the raging battle. But my closest comrades in the fight for the right to life, the dignity of the body and the freedom of the individual have always been my family.
My repeated imprisonment was a link in the chain of my family's struggle. Together, we were part of the struggle of thousands who never give up and millions who sometimes rise up.
Today that chain is broken. Sanaa, who used to look after me, is in prison and needs someone to look after her. Manal is working alone to protect Khaled from the emotional consequences of my imprisonment. Mona and my mother care for my unconscious father who can no longer defend me.
Therefore, I am asking your permission today to fight — not just for my freedom, but for my family's right to life. As of today, I am depriving my body of food until I am able to be at the side of my father in his fight with his own body, for the dignity of the body needs the embrace of loved ones.
I ask for your prayers. I ask for your solidarity. I ask you to continue what I am no longer able to do: to struggle, to dream, to hope.
August 18, 2014
The first day of the strike
Get the latest reports & analysis with people's perspective on Protests, movements & deep analytical videos, discussions of the current affairs in your Telegram app. Subscribe to NewsClick's Telegram channel & get Real-Time updates on stories, as they get published on our website.
Subscribe Newsclick On Telegram