Already in a Rut Due to COVID-19, Fishers Now Resist National Fisheries Policy
Fishers across India are already faced with labour shortage and the rising price of diesel during the pandemic, and the attempt to pass the National Fisheries Policy during this period is being seen as unjust.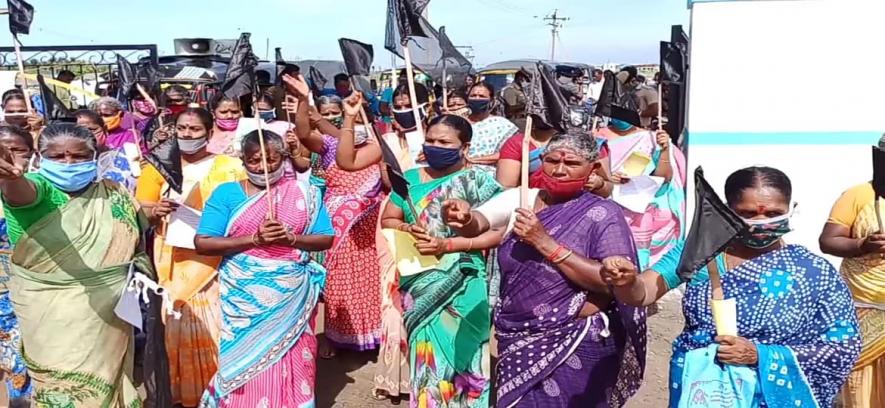 Fishers protest against the national Fisheries Policy in Tamil Nadu.
On April 28, a document was uploaded to the website of the National Fisheries Development Board – the Draft National Fisheries Policy 2020, a 32-page strategy document which outlines the future of the fishing sector in the country. Available in Hindi and English, not the first languages of fishing communities along India's coastline, it invited comments from stakeholders for its implementation, oblivious to the fact much of the country was in lockdown. This has become a pattern of late in India, the push given to certain free-market reforms under the cover of an unfolding pandemic.
Dr. R.V. Kumaravelu, Vice-President of the National Fishworkers Forum (NFF) based in Nagapattinam, said that according to him, the Tamil Nadu government is strategically extending the lockdown (most recently, till August 31) to push through these policies and notifications without due process. The pandemic is being used to their advantage, he said, and there is not much resistance from the opposition either. "Under the guise of Sagarmala and Blue Economy, these new moves are seeking to legalise encroachments in the ocean that destroy livelihoods, harm the health of the sea and privatise commons," he said.
The black flag protests against this draft policy – in Tamil Nadu and Pondicherry on July 24 – sought to highlight that instead of providing immediate assistance to a community that was hard hit by the lockdown, the government's priority lay elsewhere. "We thought the creation of a Fisheries ministry last year would actually help us," said NFF General Secretary T. Peter. However, the presence of a cabinet minister and two state ministers does not necessarily mean that marine fishing is getting the consideration it deserves. "There is disproportionate focus on fish farming and aquaculture," he said, adding that "those of us living along the coast are being neglected."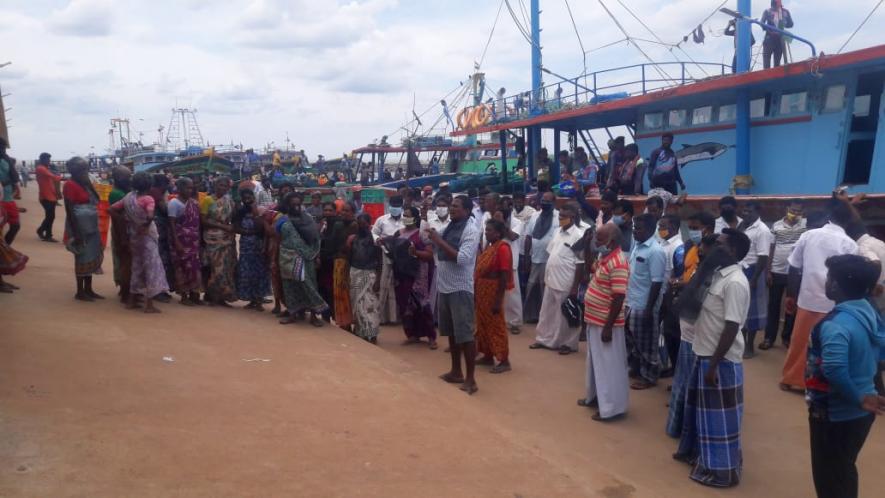 According to the stakeholders, the primary issue with the policy is that it aims to cover too much ground. Instead of separate policies for marine fisheries, inland fisheries and aquaculture, and mariculture that have been released over the past couple of years, the latest draft policy combines them all into one, paying inadequate attention to the concerns of marine fishers. "We are already fighting the creation of a shipping corridor along the west coast without consulting us, and now this…" said Peter. "They are totally inconsiderate of the plight of traditional and small-scale fishers," he added.
The policy looks at the sector purely from a commercial point of view, rather than from the point of view of sustainable livelihoods, said M. Krishnamurthy, district coordinator, Unorganised Workers Federation. "It effectively hands over common fishing grounds to corporates. It's a policy to divide and sell the ocean," he said. And in order to achieve this, it will displace coastal communities who have long been protectors of the sea, he added.
The policy reduces the jurisdiction of the states to 12 nautical miles, beyond which control lies with the Centre. Fishers worry that this centralisation will take them further away from decision-makers and diminish their voice. Traditional and small-scale fishers will be restricted to these territorial waters, with new licencing laws and heavy capital limiting their reach. "They say they are promoting deep sea fishing without considering if an ordinary fisher will be able to invest in it. It's an effort to bring in outside capital," said Krishnamurthy.
The move to encourage mariculture is also being viewed with suspicion. "This will divide up the territorial waters into units that can be leased, restricting our fishing grounds," he added. "Anyone can apply for this lease and become a fish farmer, even as livelihoods of existing fishers are imperiled. This will lead to an occupation of the coast," said Krishnamurthy.
For fisher unions, this is a multi-pronged attack. Not only have they not been involved in the discussion on policies which are bound to have an impact on them, it comes at a time when they are already facing the effects of the pandemic and are unable to agitate or mount a suitable defence. With the fishing season now open, fishers are preparing to go to sea. But they are being constrained by factors such as high diesel prices and low asking prices for their catch due to a decrease in exports and the difficulty involved in transporting fish to other regions.
"It is difficult to get a fair price for fish now, because there still isn't free transportation across district and states. So buyers are not turning up," said Kumaravelu. "Adding to this is the increase in the diesel price which is making fishing trips more expensive. A trip that would cost rupees four lakhs before now costs up to Rs 5.5 lakhs. This is affecting the income of fishers and driving them to debt," he added.
"The fear of the pandemic is also affecting the ability of small businessmen -- who depend on daily incomes – to transport the fish to nearby towns and villages for sale. Many fishing villages are containment zones and are under lockdown. People are worried that outsiders are carrying and spreading the virus," he added.
Peter also said that lakhs of migrants have gone back home to states like Madhya Pradesh, Jharkhand, Uttar Pradesh, Odisha and West Bengal and there was a shortage of labour on the boats. "They want to come back because there are no jobs back home but maintaining the COVID-19 protocol is hard. They have to be screened before they come and once they are here they have to be quarantined. Who will pay for these expenses?" he asked.
Instead of addressing a myriad issues that fishers face today, the government is rushing with these big policy changes. There is a lack of clarity on the deadline for implementation of these new changes as well. "It can be made into law anytime. They are making these decisions away from the purview of us fisherfolk. The draft is not in a language we understand and they are asking us to read them online and send in our objections online. This excludes much of the community," said Krishnamurthy.
Kumaravelu believes that even though the policy is the draft stage, the government has already started implementing it. "They make laws according to what is already happening on the ground," he said. The way forward now, they believe, is continued protest. The various fishers unions are linking these issues with larger protests around the draft Environmental Impact Assessment in the state. The draft national fisheries policy is being seen as an extension of proposed environmental laws that will allow for the corporate plunder of environmental resources.
The author is a freelance writer and a member of 101Reporters.com, a pan-India network of grassroots reporters.
Get the latest reports & analysis with people's perspective on Protests, movements & deep analytical videos, discussions of the current affairs in your Telegram app. Subscribe to NewsClick's Telegram channel & get Real-Time updates on stories, as they get published on our website.
Subscribe Newsclick On Telegram