Amid Pandemic, Bihar's AES Epidemic Strikes Again, Pushing Health Infra Concerns to Periphery
Twenty two cases of AES have been reported till date with four deaths among them. However the peak month for the disease, June, which is known to report a high number of AES cases, is yet to come by.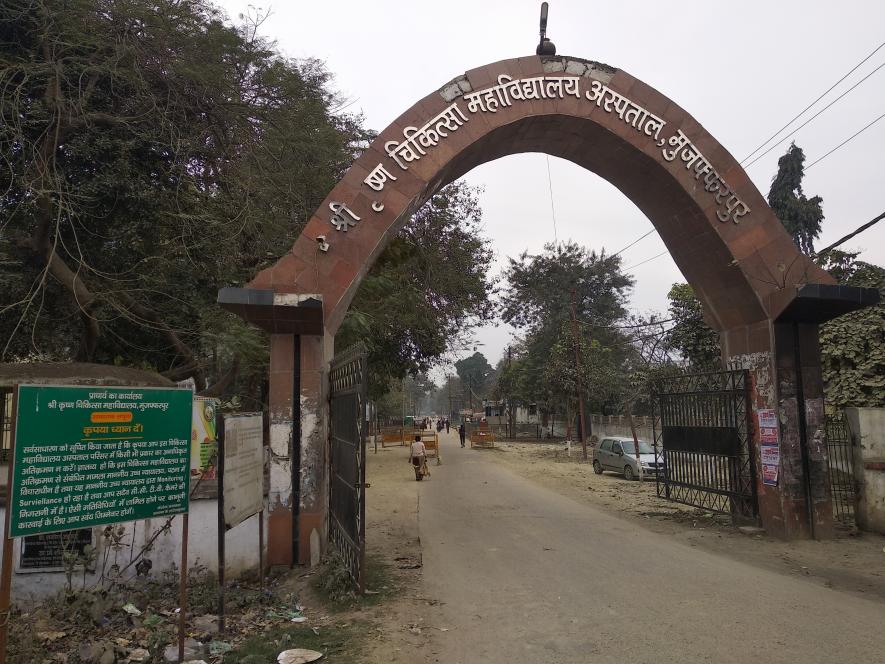 Pic: Sri Krishan Medical College and Hospital (SKMCH) Muzaffarpur
The annual epidemic outbreak of Acute Encephalitis Syndrome (AES) has made its entry in Bihar's hinterlands amid COVID-19. A shattered public healthcare system confronting the pandemic has now tasked with tackling AES cases. Tall claims of the health department on confronting AES are contrary to the preparedness of officials in AES-prone districts of Muzaffarpur, Sitamarhi, Vaishali, Sheohar, East and West Champaran.
Ankush Raj and Aditya Kumar of Motipur and Meenapur blocks were fresh AES cases in the paediatrics division of Sri Krishna Medical College and Hospital (SKMCH) Muzaffarpur. Mukesh Ram, a resident of Daria Chhapra village, saw his three-year-old son Ankush suffering convulsions in the afternoon on May 26 and rushed him to SKMCH's paediatric intensive care unit or PICU. As per Mukesh, the nearest Primary Health Centre (PHC) in Motipur was ill-equipped to treat AES.
The death of two-year-old Md. Imran hailing from Paroo block on May 26 was the latest in the list of losses due to AES. Imran too had severe convulsions and was taken to the hospital in a serious condition.
The first death due to AES was of 12-year-old Nandan from Kanti block. He had severe seizures and fever but his death was not categorised as one due to AES by the district health department.
Dr. Gopal Shankar Sahni, the head of the paediatric department at SKMCH, told Newsclick that most children who tested positive for AES had hyperglycemia and were malnourished. Twenty two cases of AES have been reported till date with four deaths among them. However the peak month for the disease, June, which is known to report a high number of AES cases, is yet to come by. AES patients are known to have weak socio-economic backgrounds and belong to backward sections of society (SCs, STs). Last year the AES patient count stood at 89.
Dr. Sahni's comments hinted at a 2019 audit report, which the accountant general submitted to the Bihar government, quoting the medical superintendent of SKMCH as saying that malnutrition in children, hot and humid conditions, and low baseline sugar levels were responsible for the AES deaths. This led to a government aided socio-economic survey in five worst AES-affected blocks of Muzaffarpur district which has not led to results thus far. 
The first AES case in the state was detected on February 19 in the Paroo block of Muzaffarpur. Since then the district administrations have claimed to be on their toes, making arrangements to treat AES suspected patients at the block level itself, but the ground reality seems far from so.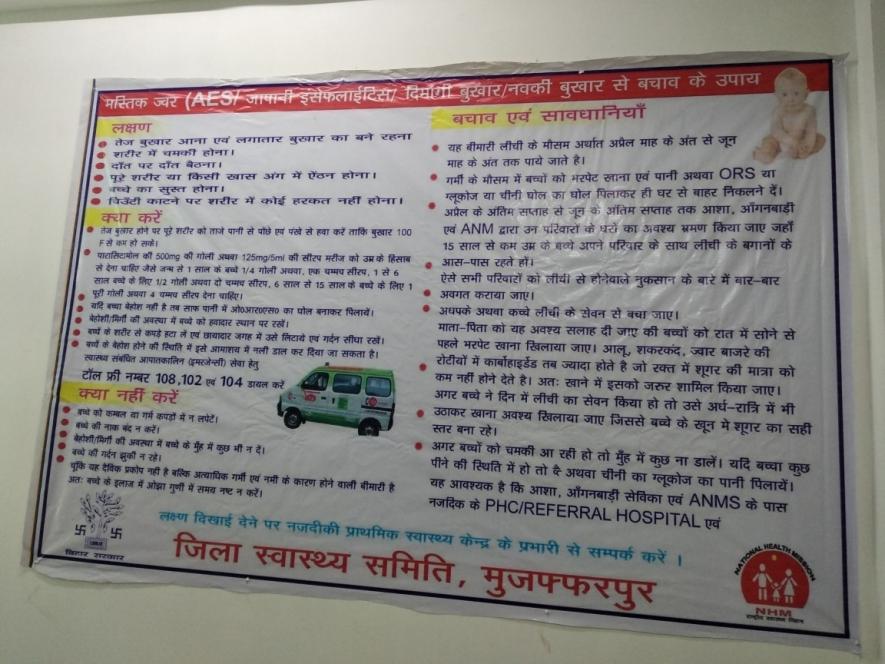 Pic: List of advisory to treat AES patients at Musahari block PHC
The ongoing COVID-19 pandemic alongside an AES outbreak has exerted immense pressure on health resources, pushing the focus on health infrastructure to the periphery. According to an official based in Musahari PHC, an area considered to be the epicenter of AES cases, said the PHC is under immense constrains due to the pandemic. He said that administering anticonvulsants during the initial signs of fever and convulsion at the nearest PHC was mandatory as per the 2018 AES SOP guidelines which are not in practice. An insufficient drug stock in PHCs across the district for emergency care of AES patients is a common sight.
The deaths of two girls from one family during the onset of the epidemic the previous year in Roshanpur Chakki village under Musahari block had rocked the health department. The unavailability of an ambulance was reported by the victims' family, pointing to negligence at the PHC level. Most villages severely affected by AES are situated along the embankment of the Burhi Gandak river, resulting in snapped communication lines to the hamlets during crisis hours.
Every PHC of the district (Muzaffarpur) were required to have a two-bed paediatric intensive care unit, but due to the COVID-19 scare, they were turned into COVID wards, said Dr. Prabhat at the Motipur block PHC. The scarcity of a PICU ward at the local level remains unresolved, resulting in no change in the status quo for AES-affected patients, he further added. As per ASHA workers in the same block, awareness programs and distribution of Oral Rehydration Solution (ORS) packets ceased to exist due to COVID-19 and the work burden on them. Distribution of milk powder and jaggery as per last year's directions did not see the light of day beyond video conferencing activity between officials and the CM.
According to the government's new SOP, when a child falls ill in a village, they need to be rushed to the nearest PHC and not to a larger district hospital such as the SKMCH. Ailing PHCs have further added to the challenges before the government. The deployment of trained doctors and nurses in AES-affected districts and setting up of an integrated command centre at the district hospitals as reported by the Tirhut Divisional Commissioner, is yet to happen. The purpose of roping in trained medical hands is aimed at documenting the intricate details of the illness like symptoms, the effect of drugs and so on.
A district health official, on the condition of anonymity, revealed that a serious counter to AES is not yet on the horizon. Lofty claims by lawmakers has not turned into reality. In 2014 when the deaths of more than 80 children from AES was reported from northern Bihar, the Union Health Minister had undertaken a visit to the area, following which he tweeted: "Visited hospitals in Muzaffarpur to know about children suffering from acute encephalitis syndrome. Really touching moment for me. Research? (sic)".
Visited hospitals in muzaffarpur to know about children suffering from acute encephalitis syndrome.Really touching moment for me .Research ?

— Dr Harsh Vardhan (@drharshvardhan) June 21, 2014
The situation has not changed much. Since then a new set of measures have failed to contain an annual outbreak with no step towards research to determine the causative factors of AES.
The writer is a freelance journalist based in Bihar.
Get the latest reports & analysis with people's perspective on Protests, movements & deep analytical videos, discussions of the current affairs in your Telegram app. Subscribe to NewsClick's Telegram channel & get Real-Time updates on stories, as they get published on our website.
Subscribe Newsclick On Telegram