Amit Shah's Siliguri Speech Reignites Anti-CAA Sentiments in NE, Bengal
Mamata Banerjee and NESO, an umbrella of student outfits, warn home minister against "playing with fire".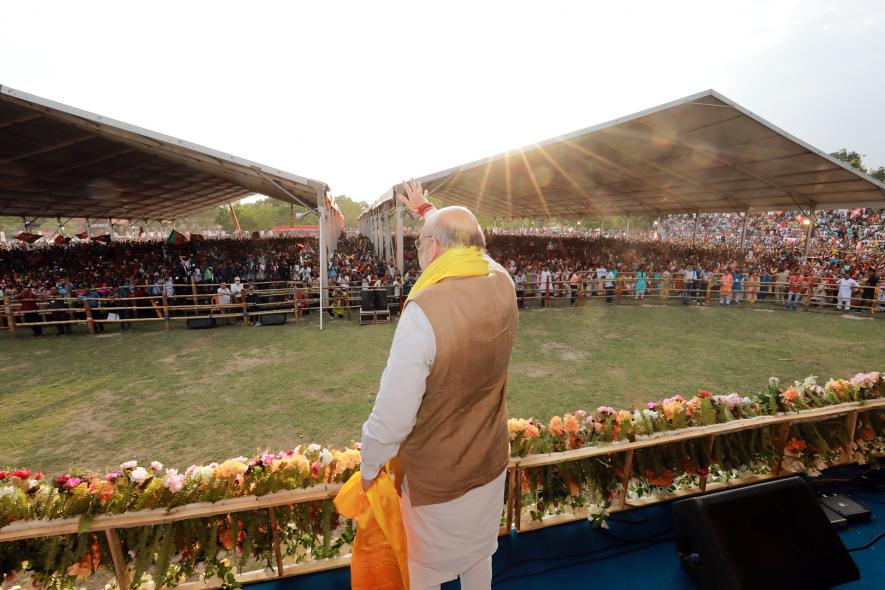 Union Home Minister Amit Shah at Siliguri
Kolkata: The visit of Union home minister Amit Shah to West Bengal and Assam between May 5 and 9 has helped reactivate the sensitive issue of Citizenship (Amendment) Act 2019 or CAA. The war of words against the Union home minister came from West Bengal chief minister Mamata Banerjee and the North-East Students' Organisation (NESO), an umbrella outfit of students in the NE states, except Sikkim.
The trigger was Shah's address in Siliguri on May 5 when he said that the West Bengal CM should be under no illusion that CAA had lost its priority with the Centre. The priority remains, the rules are being framed and implementation would start once the country was free of the COVID pandemic, he declared.
The Union home minister had to be assertive, for on the issue of framing rules, his ministry finds itself on a weak wicket. Despite the lapse of almost two-and-a-half years since Parliament passed CAA on December 11, 2019 and the President gave his assent to it the next day, the home ministry has missed deadlines on five occasions for notifying the rules. T
Shah also made it a point to also subtly push the Bharatiya Janata Party's (BJP) political agenda, saying that CAA would be implemented before the 2024 Lok Sabha elections.
Apparently, Shah tried to address discontent in the state unit of his party over the delay in notifying CAA rules, as people had voted in strength for BJP candidates in the 2019 Lok Sabha elections in the backward North Bengal and tribal-dominated Jungle Mahal region, and helped the party bag 18 out of 42 parliamentary seats.  
In her usual style, chief minister Mamata Banerjee lased out: "What CAA? Everybody is a citizen. The minister is lying. The Act has lapsed".
But, the reverberations of what the home minister said in Siliguri were pronounced in BJP-ruled Assam and other neighbouring Northeastern states where NESO, whose leaders emphatically claim its apolitical character, has been spearheading the anti-CAA agitation.
NESO office-bearers NewsClick spoke to strongly objected to Shah's "message from Siliguri" and asked him to stop "playing with fire". The NESO state units, including the largest All-Assam Students' Union (AASU), have demonstrated in the past their agitation organising capabilities and "would do so again if New Delhi tries to thrust CAA on us". This was their common refrain. They even said that the success of the prolonged, coordinated farmers' stir against the three contentious farm laws had boosted their morale.
Political parties in Assam, such as the Congress, MLA Akhil Gogoi-led Raijor Dal (translates into people's party, with Krishak Mukti Sangram Samiti as its parent), All India United Democratic Front (AIUDF) of Badruddin Ajmal and Assam Jatiya Parishad (AJP) led by Lurinjyoti Gogoi are also opposing CAA tooth and nail. Already, a large number of petitions, including one by Kerala, are pending in the Supreme Court. Efforts are on for early resumption of hearing.
According to chief adviser to NESO and AASU leader Samujjal Bhattacharya, the Centre is unable to address the issue of infiltration, "which is our main concern and by using CAA, it is trying to add to our load of illegally staying foreigners to realise its Hindutva agenda."
He said New Delhi "does not appreciate that in the process it would destroy NE's distinct ethnic and cultural identities. The load the Assamese were required to accept was laid down in the Assam Accord of 1985 with March 25, 1971 as the cut-off date. The Assam Accord went through all due legal, parliamentary and constitutional processes and BJP also had accepted the same."
Bhattacharya told NewsClick that there was a "new concern" for the Northeast that "stems from reported information with intelligence agencies that jihadis are finding their way into, among other Indian territories, Assam and six neighbouring NE states".
During six years (1979-1985) of the Assam agitation, thousands of people became physically-challenged, 860 people lost their lives, hundreds of students lost their valuable academic time. "These things can't be forgotten", Bhattacharya said. [A report (not officially corroborated) in Ananda Bazaar Patrika of May 12 speaks of the activity of banned extremist outft Al Qaeda's branch unit Ansar-ul-Bangla which is aiding the entry of Bangladeshi youths through the borders with Tripura and Meghalaya. Their agents, operating near Tura in Meghalaya, are assisting the infiltrators with identity documents readied in advance. Then, the infiltrators are sent to a religious place called Dhakalia in Assam's Barpeta for training .........]
NESO chairman Samuel Jyrwa was also angry with Shah's remarks in Siliguri. "We will never accept CAA. It is another act of injustice. New Delhi is playing a nefarious game, using religion. We have been bearing the burden of infiltration from that side [Bangladesh] since Independence. We do not differentiate between foreigners. A foreigner is a foreigner", Jyrwa told NewsClick.
Asked if there are plans for a fresh round of anti-CAA agitation by NESO after hearing Shah's Siliguri speech, Jywra said the organisation's state units were conducting awareness campaigns, and programmes for hitting the streets would depend on how the Centre proceeds. In its anti-CAA fight, apolitical NESO has the support of a number of social outfits, he added.
AJP president Gogoi sees CAA as an attempt on New Delhi's part "to nullify the Assam Accord of 1985; it is 100% politically motivated". The people of Assam and six neighbouring states will never be party to BJP's Hindutva game with an eye on the Lok Sabha elections of 2024, he said.
"We are now familiar with BJP's polarisation tactics during Assembly and Lok Sabha election campaigns. The latest instance was the UP Assembly election," he added.
Asked whether AJP would consider conducting anti-CAA stirs in association with Congress, AIUDF and the Left, Gogoi told NewsClick: "We would not like to ally with communal forces".
AIUDF general secretary Aminul Islam told NewsClick: "We condemn CAA; India is a secular state. It violates Articles 14, 19 and 21 of the Constitution and the Citizenship Act of 1955. I had an occasion to discuss the infirmities and inequities of CAA with the Union home minister. Shah did not utter a word in reaction to my arguments."
Party chief Ajmal went on record some time back saying: "BJP accuses me of bringing illegal immigrants into Assam. How can I do that? The state has a BJP ministry. At the Centre, there is the BJP-led government. In fact, I would say BJP is "officially bringing illegal immigrants" into Assam for their vote bank. Execution of CAA will help legitimise at least 10 lakh Bangladeshis – Bengali-speaking Hindus. If a Muslim is persecuted elsewhere, why do you not care for him", Ajmal asked.
According to Donald Thabah, general secretary of Meghalaya's Khasi Students' Union (KSU), his state is badly in need of an Inner Line Permit (ILP) mechanism under the Regulation of 1873 to check infiltration from Bangladesh and even Nepal, but the Centre is obsessed with CAA.
"We will not allow CAA; already Khasi-speaking population has dwindled to just 14 lakh ; it is a question of preserving our language, cultural practices and our heritage", he added.
The regulation requires an Indian to possess an ILP for entering four NE states – Arunachal, Mizoram, Nagaland and Manipur. Manipur was brought within ILP's ambit in recent years. In fact, the demand for introducing ILP in Assam, Tripura and Meghalaya is pending for a long time, Thabah told NewsClick.  
The other student outfits under NESO's umbrella are: Naga Students' Federation, Mizi Zirlai Pawl, Twipra Students' Federation, All Manipur Students' Union, Garo Students' Union and All Arunachal Pradesh Students' Union.
The writer is a Kolkata-based senior freelance journalist.
Get the latest reports & analysis with people's perspective on Protests, movements & deep analytical videos, discussions of the current affairs in your Telegram app. Subscribe to NewsClick's Telegram channel & get Real-Time updates on stories, as they get published on our website.
Subscribe Newsclick On Telegram