Anganwadi Workers Continue Struggle Despite All Odds
Even after getting no attention from the media or the state government, the anganwadi workers are determined to keep their struggle alive.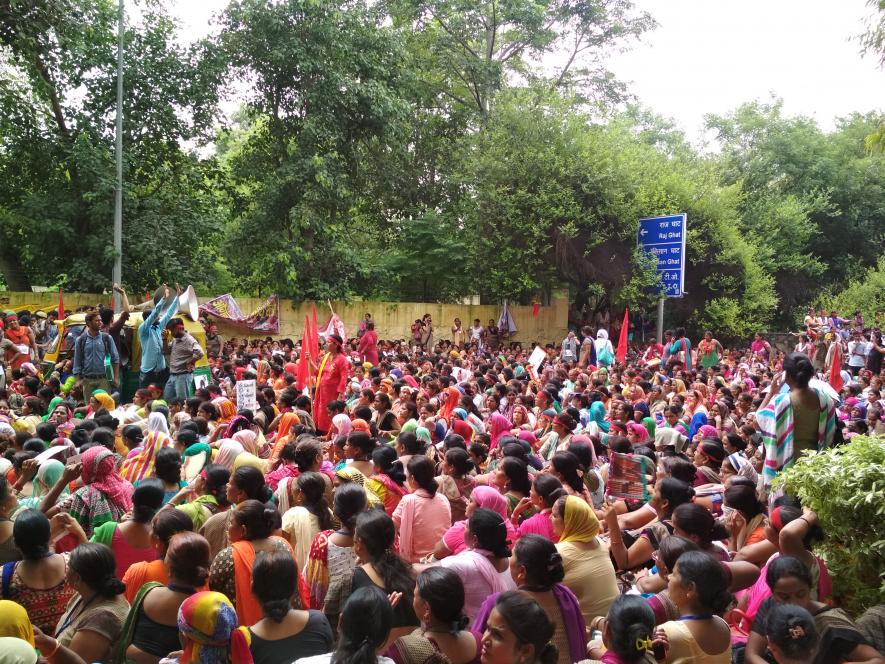 It was a hot summer afternoon in Delhi, and as the anganwadi workers' struggle entered its 37th day on August 4, a middle-aged woman fell unconscious . Thousands of anganwadi workers and helpers took out a rally from Rajghat only to meet the police blockade before they could reach Delhi Secretariat for their press conference. They marched under the leadership of Delhi State Anaganwadi Workers and Helpers Union (DSAWHU).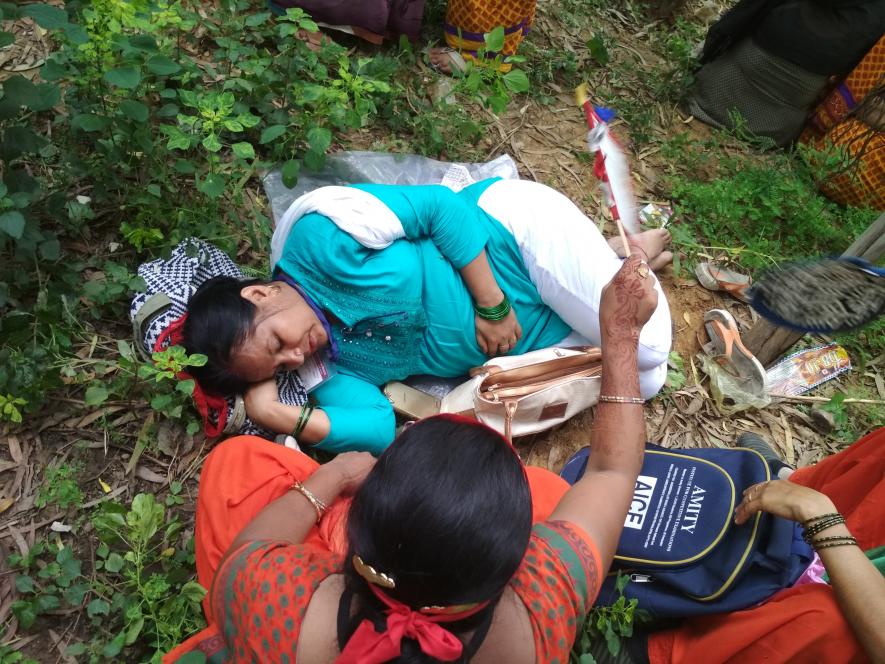 The union has been leading the strike for past one month, protesting against the non-implementation of a legally binding agreement that the Delhi government had concluded with DSAWHU in July, 2015.
Thousands marched from Rajghat to Delhi secretariat, raised slogans and briefed the media persons about the latest developments and reasons of continuing the strike.They were visibly frustrated at the Kejriwal government for not fulfilling their demands. The unified workers bore the brunt of Delhi's scorching heat. A sole ambulance stood waiting in case any protesters fell prey to the heat; which has been happening almost everyday, according to the workers.
Many of them – widows, sole breadwinners and single mothers talked about how their meager salary of Rs. 2500 cannot sustain their livelihoods.
The workers who get a salary of Rs. 5,000 want their monthly remuneration to be at least Rs. 16,000. The helpers, who receive a mere pittance of Rs. 2,500 for a disproportionately large amount of work that they are made to do, demanded their salaries to be hiked to a minimum of Rs. 12,000.
According to media reports, the honorarium paid to about 22,000 women at Anganwadi centres in Delhi, will be doubled soon. Chief Minister Arvind Kejriwal tweeted that the workers and helpers would get Rs. 9,678 and Rs. 4,839 per month respectively.
He added that the workers and helpers would get an additional Rs. 500 and Rs. 250 per month, respectively for mobile/internet charges.
Almost every other woman at the protest mentioned the tweets by Kejriwal and complained that the tweet has no truth in its assertion. Raj Bala, eagerly waiting for the demonstration to end, said that one of the girls had to sell her furniture to make ends meet. She had difficulties in providing food to her kids and to afford commuting to their dharna. "Some of us collected money to help her out," said Bala.
Cynicism about their rights and demands being met, ran strong in the women who had been braving the oppressive heat, torrential rain and humid weather, for more than a month. The anganwadi workers, who look after the nourishment of children from economically challenged backgrounds, talked about the abysmal quality of food and the dilapidated conditions of the centers.
"Thirty-two kilos of rice is mentioned in the records, but not even five kilos have been given to us," said Geeta, as she carried her 6-year-old daughter, Himani, in her arms.
"Half of the Khichdi is water. How are we supposed to feed this to children? Won't they get sick?"  a visibly angry Premmati remarked.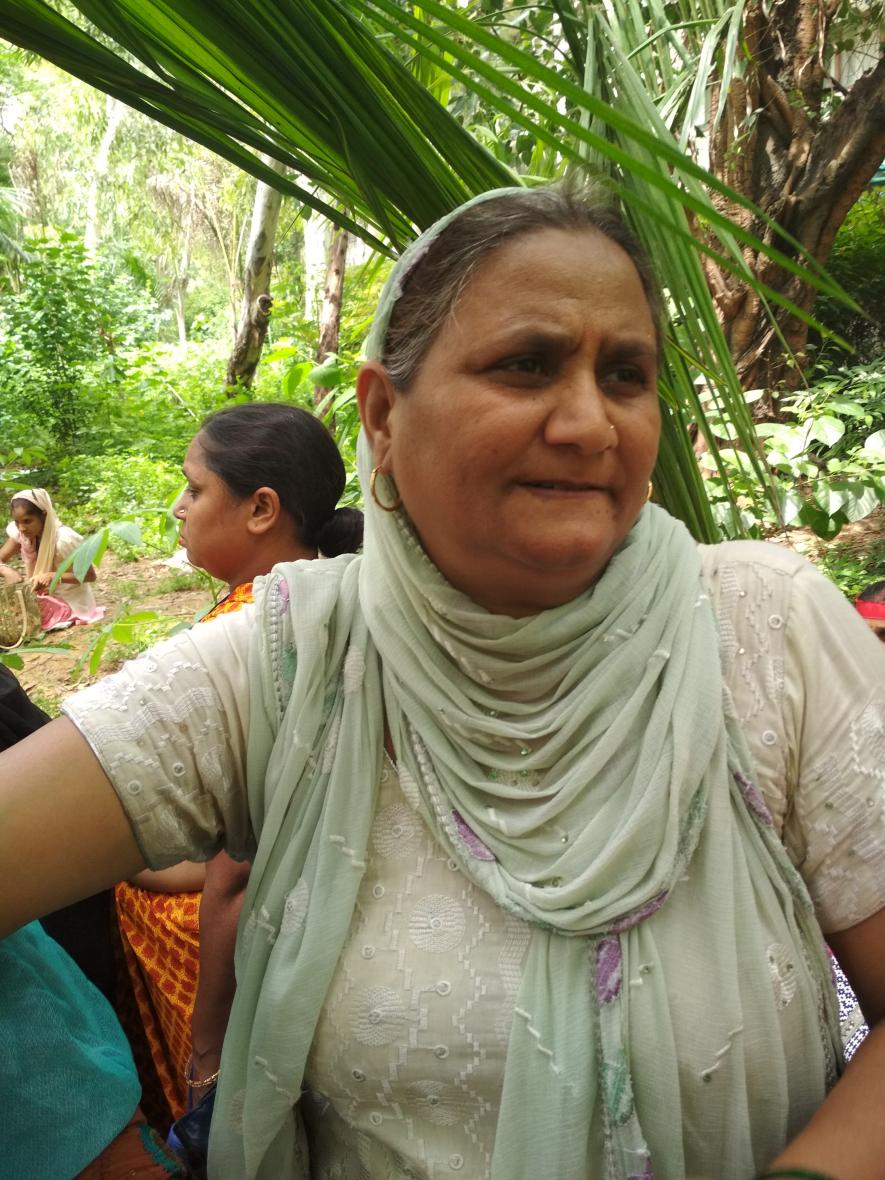 Premmati
Anganwadi women work from 9 am to 4 pm. They work for government surveys, data collection, in electoral booths, and in important immunization programs. They have been the backbone of the polio eradication programs in the country. And the countless number of hurdles that they have to navigate through - managing their households without being paid for months, taking care of their children after going back from protesting daily - isn't making them any happier.
Speaking to Newsclick, most of the women pointed out to the identity cards around their necks are only there to prove that they are legit workers. "All of us are wearing this ID card because Kejriwal has been saying we are not anganwadi workers, but hired only to stage a protest," 50-year-old Sunita said.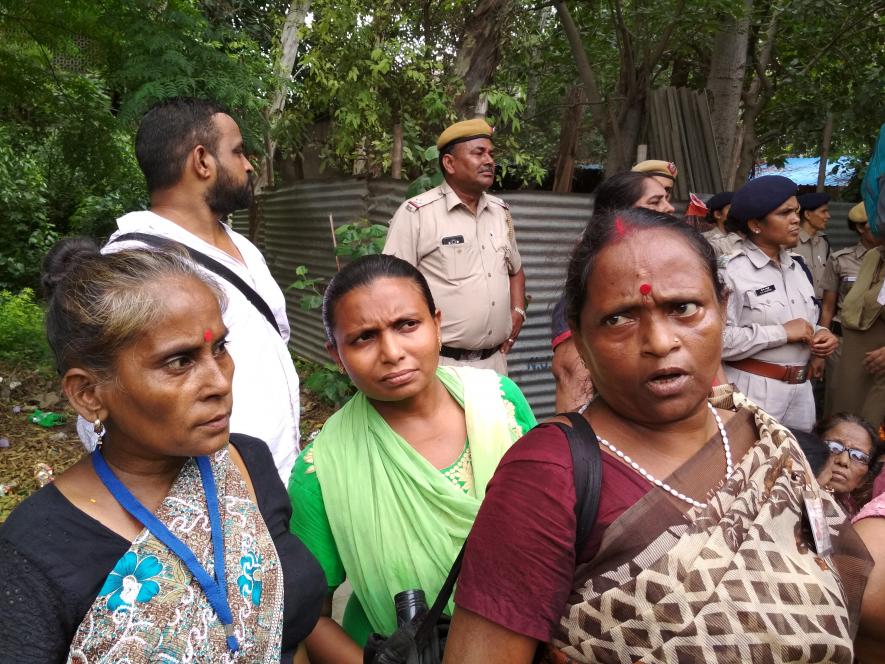 Sunita and Lakshmi point out their ID cards. 
The police and their barricades stand solemn, as the voice of Union President, Shivani Kaul rages, addressing the group of women. "We are ready to end the strike today if the government concludes a written agreement with us. He must come out and speak to us."
The women, with their umbrellas out against the blistering sun, applauded in agreement. "We want to declare from this open platform that strike is not our hobby, but a household cannot run on Rs.5,000 or Rs. 2,500. We do not trust the Kejriwal government because we haven't got anything from it for the past two years except false promises, betrayal and hollow announcements." Kaul added.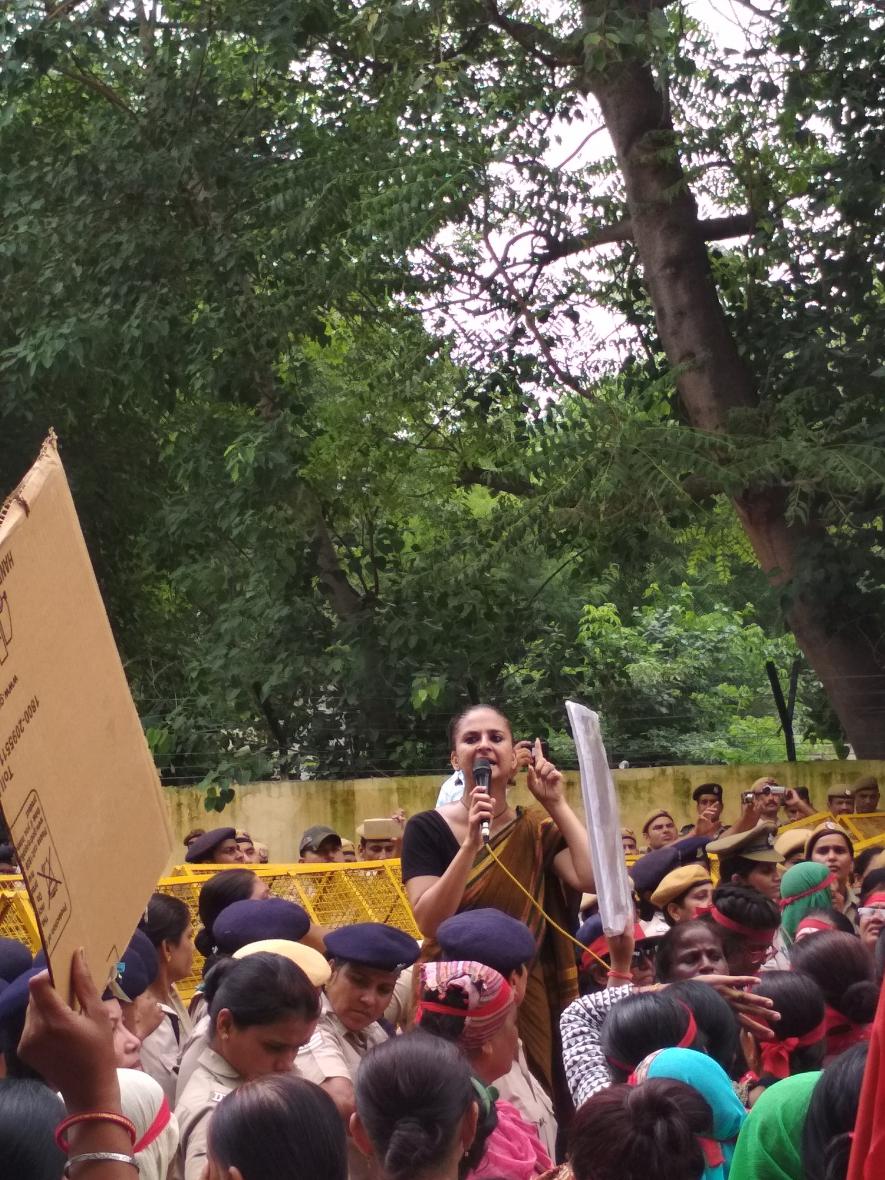 DSAWHU President Shivani Kaul addressing the workers and helpers.
Virmati, wiping the perspiration from her forehead with her pink dupatta, expresses a great displeasure at the media. She says that the media channels have not covered their issues in a proportionate manner and the government seems to be least concerned with  the plight of the anganwadi workers. "In 2015 we had been promised in a legally binding agreement with the Union that the honorarium will be increased; Arvind Kejriwal had agreed with six of our other demands also in 2015," she informed.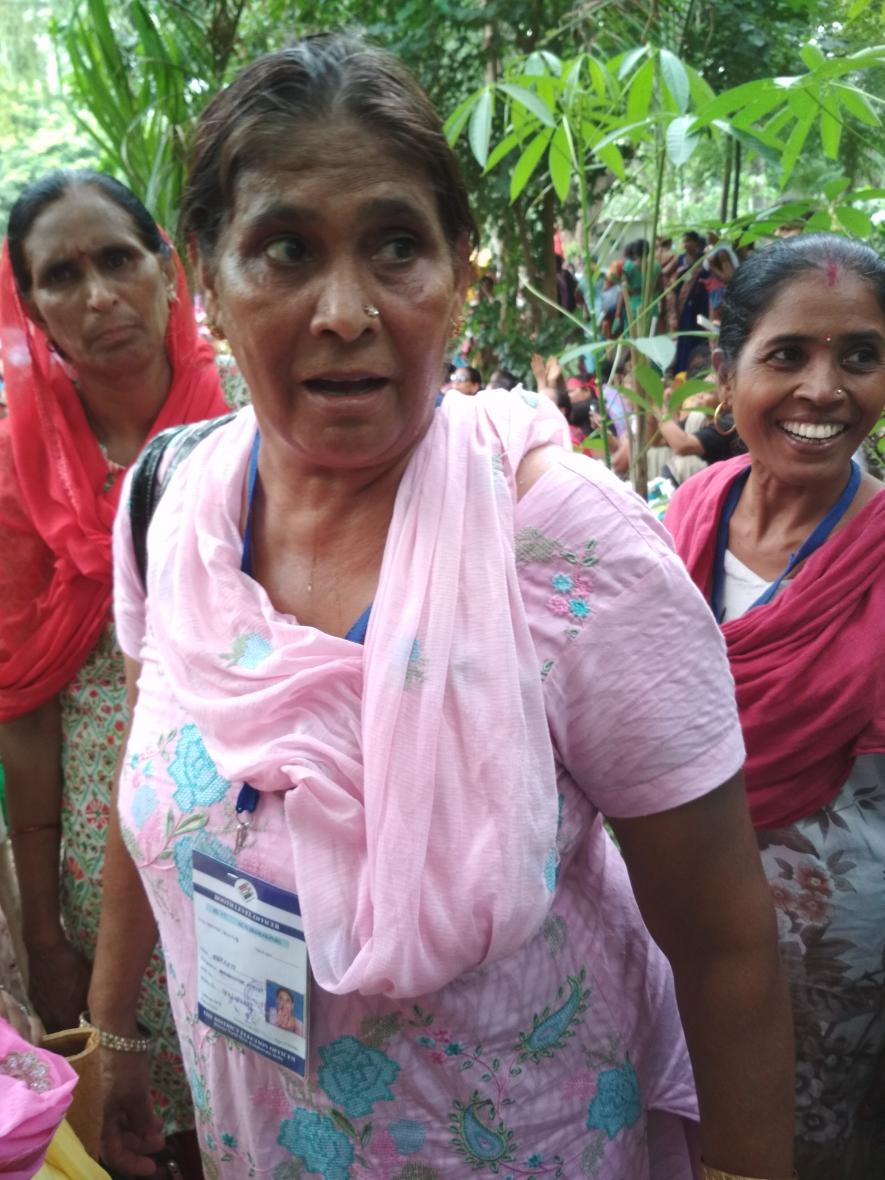 Virmati
Himani's eyes squint in the sun as Geeta tells that Manish Sisodia, deputy Chief Minister had promised them an increase in their tiny stipends but after winning, the AAP government reneged.
"The government uses its party workers to attack us. They conjure up imaginary workers with CDPO and its party workers. We are running a boycott campaign against the AAP candidate in the Bawana by-elections and we'll make sure that AAP loses." Her friend Anita helps her out by holding Himani while she comments, "We would have given them thousands of votes if they had fulfilled their promises. I'm never voting for Kejriwal again."
The Anganwadis have come to a halt due to the strike, as there seems no end  the problems of the workers. The huge rally of anganwadi helpers and workers brought central Delhi to a standstill. The DSAWHU media statement was clear - the strike will not cease unless there is a government notification, gazette or order stipulating the honorarium increment.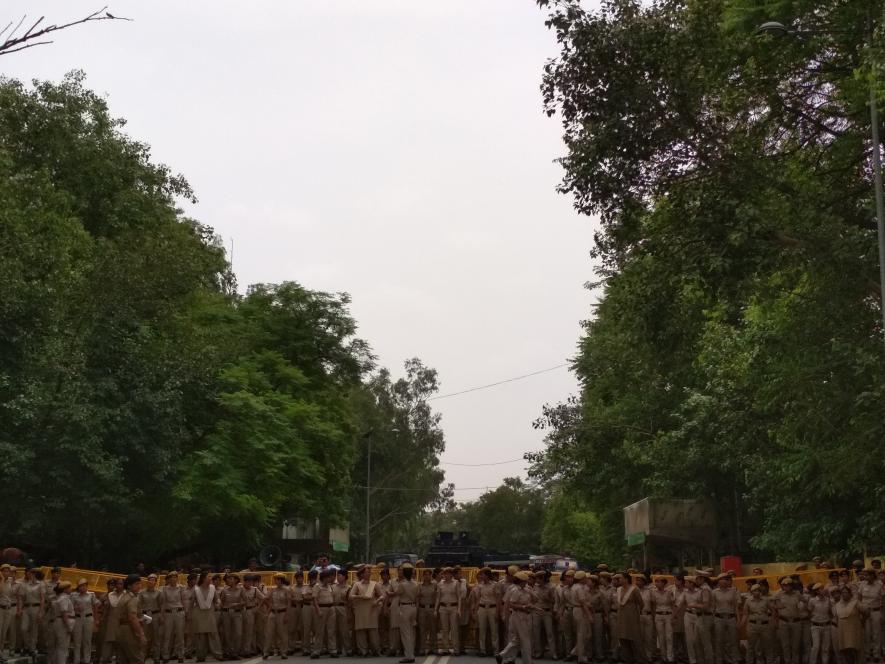 Get the latest reports & analysis with people's perspective on Protests, movements & deep analytical videos, discussions of the current affairs in your Telegram app. Subscribe to NewsClick's Telegram channel & get Real-Time updates on stories, as they get published on our website.
Subscribe Newsclick On Telegram