Annus Horribilis 2021 Leaves India Frayed, but Fight Must Continue
Our normal was bad enough with communal strife and anti-Dalit violence, but the new normal is far worse. Hate became the calling card of 2021, and India went several rounds down the spiral.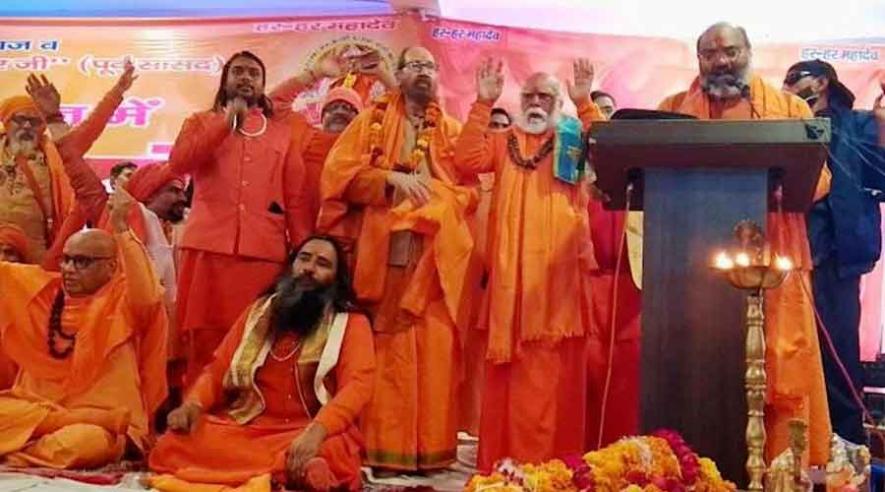 Image Courtesy: Telegraph India
If there is an annus horribilis gravis for India, this must be it.
The classic annus horribilis (year of disaster) was, of course, last year when the SARS-CoV-2 virus whipped the world around but, for India, this year was worse by a far mile. It not only unleashed the full force of the devastating virus which claimed millions of lives on a scale that the country had not witnessed for a century but it also brought forth the toxic mix of a sluggish economy and hate politics that threatens India's soul.
And what of our hope that hung by a thread when we bid goodbye to last year? That thread is frayed, fraying by the day, and seems more slender than it has been in many decades.
On December 25, which the Narendra Modi government rechristened as Good Governance Day in 2014, Home Minister Amit Shah heaped praise on his boss, Prime Minister Modi, for tirelessly working for poor and marginalised Indians. Shah did not intend it as dark humour but it is the darkest version possible.
For, as 2021 folds up, governance is barely visible – India's tryst with the pandemic leads to apprehension given the shocking mismanagement of the second wave in early 2021; signs of economic recovery are few and far between, more Indians are poorer than before, and India's descent into the communal cauldron gathers momentum every passing day. All this on Modi-Shah's watch. The chaotic democratic republic looks more like a poorer Hindu Rashtra.
PM of Hindu India
India is in the grip of a deliberately drummed-up hate storm. Make no mistake about it. The Hindu Dharam Sansad, more correctly called the Haridwar Hate Assembly, unmasked the Hindutva project. Self-appointed men and women of god spat out their hate towards minorities – especially Muslims – and called upon those gathered to pick up arms, prepare to kill and die for Hindu nation, asked the Army to replicate Myanmar (violence against Rohingyas) in India, and spoke of assassinating former Prime Minister Dr Manmohan Singh. A television anchor read out a similar pledge, and minor school children were seen taking this pledge in videos that went viral. Yati Narsimhanand Giri, the chief organiser of the Dharam Sansad, has been reportedly under the police scanner for previous hate speeches. Yet, he is a free man presiding over genocide calls and taunting the law. In 2020, his Dharam Sansad had preceded the riots in North East Delhi.
It is not an accident that the pledge to rid the republic of nearly 200 million citizens is openly flaunted, fired-up groups vandalise churches during Christmas and burn Santa Claus' effigy, determined Jai-Shri-Ram shouters prevent Muslims from holding Friday namaz at a designated public ground, and south Bengaluru's Lok Sabha MP demands that minorities be brought back to their "mother religion" at a time when the Prime Minister repeatedly alludes to Aurangazeb (and his heirs) to be taken on and vaunts his presence at Hindu dharmic rituals.
The fount of hate is in full flow in its hydra-headed manner. It must delight the Rashtriya Swayamsevak Sangh whose Hindutva project has been given space and protection by the BJP. Should the Prime Minister not live by his religion, is a question often asked. No one denies him that right. His predecessors too visited places of worship but the difference must be called out; they went to different religious places while Modi is obviously partial to temples, save an occasional gurudwara.
In holding his silence over the continued verbal and physical attacks on minorities, by not condemning the Haridwar genocidal calls and kill-Muslim pledges, he makes it clear to Hindutvawadis every day that he should be trusted to give shape to their dream of Hindu Rashtra. In 2021, through his words and acts, he left no stone unturned to repeatedly hammer home the message that he is a Hindu Prime Minister or the Prime Minister of Hindu India.
New Normal and Pushback
Hate expressed in vicious and violent terms towards Muslims and Christians, hate-filled catcalls made at women from opposing political parties at election rallies, hate-acts against Dalits and women, venomous hate expressed in lynching and beating incidents now filmed and circulated as proof of Hindu dominance are the new normal as much as living with Covid-19 is. Hate flows from many corners, hate is loud and chest-thumping, and hate is political capital. And hate dares the judicial system to take action and laughs at its evident surrender. Did you not see that video of Haridwar Hate Assembly's godwoman and godmen with a cop, laughing together?
The phrase 'new normal' is severely inefficient, inexpressive and tired. Our normal was bad enough – there was communal strife and anti-Dalit violence – but the new normal is far worse. Hate became the calling card of 2021, and India went several rounds down the spiral.
Somewhere in this majoritarian hate storm are little islands of acceptance, tolerance, accommodation, and some pushback. As many as 76 Supreme Court lawyers wrote to the Chief Justice of India to take cognisance of the hate speeches at Haridwar Members of All India Professional Congress (AIPC) filed cases against the hate speakers. Protests against and condemnation of the Haridwar hate speeches were organised in several places.
In Gurugram, where Muslims were stopped for weeks together from Friday namaz, Sikhs opened the gurudwara to let them pray in peace. When 12 shows of comedian Munawar Faruqui were cancelled across India's cities under pressure from right-wing groups, which threatened to vandalise venues where he was scheduled to perform, the state Congress unit took the lead. They provided him with a prestigious stage in south Mumbai and got the Mumbai Police to ensure an event-free evening. 
These are significant pushbacks and they send out an important message of solidarity. But commendable as they are, they cannot be enough against the tsunami of hate. These are the efforts of individuals or small groups and collectives. The Hindutva organisations which peddle hate and terror are non-state actors and enjoy silent acquiescence of the State, as has been evident on more than one occasion.
It is a most unequal battle but has to be fought. Those who push back in words and deeds may not be able to stop all hate and terror that flows from it, but they send out the message that hate will be challenged and taken head-on. In a frayed fabric, all such patches are welcome.
Pandemic and Economics Fall off Map
The Modi government's gross and shameful mismanagement of the COVID-19 pandemic when the second wave ravaged India is, by now, well documented. Through the horrific days and nights in April-May-June 2021 when Indians struggled and begged for hospital beds or oxygen cylinders, when mass funerals defined the summer and scores of bodies floated on Modi's beloved river Ganga, India's Prime Minister was not seen or heard. Likewise, India's Home Minister and Health Minister. Modi's ratings, which never seem to suffer from any of his missteps, dropped, showing the extent of people's anger. Inexplicably, that anger seems to have dissipated as the year closes.
Distraught Indians then had only their own networks, largesse of fellow citizens and do-gooders like the Youth Congress workers to lean on. Social media platforms became the go-to places for people caught in the medical emergency. The YC's national president BV Srinivas and his band of emergency workers in war rooms, approachable and responsive, were infinitely more visible and in control than the Government of India in those weeks. States with non-BJP governments, especially Maharashtra and Kerala, which reported high COVID-19 numbers, were targeted by the Centre; the BJP as opposition in Maharashtra also chose those opportune months to attempt to pull down the Uddhav Thackeray-led government.
India's economy, which seemed to be in free fall since Modi unveiled the demonetisation disaster in 2016, shuddered through the pandemic. Despite repeated assurances from Finance Minister Nirmala Sitharaman that "green shoots" were visible, the indices stubbornly refused to show recovery. The green shoots, such that are visible, are barely enough. Even when the economy recovers, it is likely to be uneven, say analysts. 
Jobs are harder to find, unrelenting inflation burning holes in household budgets, high fuel prices a cruel joke even among Modi's fans, children dropping out of the education system which itself is under attack from Hindutva revisionists, more Indians going hungry to bed than before, the value of senior citizens' savings shrinking by the month, worrying trend of exchange rate of currency, and the 2A (Ambani and Adani) consolidation approach of the government which takes crony capitalism to a nauseating peak are all marked on the 2021 calendar.
Look at it any which way, and this has been an annus horribilis gravis (seriously horrible year) for India. Only the Hindu Rashtra dreamers would rejoice at the end of this year. Given the many omissions and commissions, Modi-Shah should have reflected and done course corrections, but Shah is more his party's election chief than India's Home Minister and Modi more a performer for the cameras than Prime Minister.
It's hard to embrace hope or look for alternatives as we welcome 2022, but we must.
The author, a senior Mumbai-based journalist and columnist, writes on politics, cities, media and gender. The views expressed are personal.
Get the latest reports & analysis with people's perspective on Protests, movements & deep analytical videos, discussions of the current affairs in your Telegram app. Subscribe to NewsClick's Telegram channel & get Real-Time updates on stories, as they get published on our website.
Subscribe Newsclick On Telegram