Jan Sarokar: Civil Society Organisations and Political Parties Unite Against Communal Politics
Over 200 civil society and people's movements organisations from across the country gathered to present a 'People's Agenda'.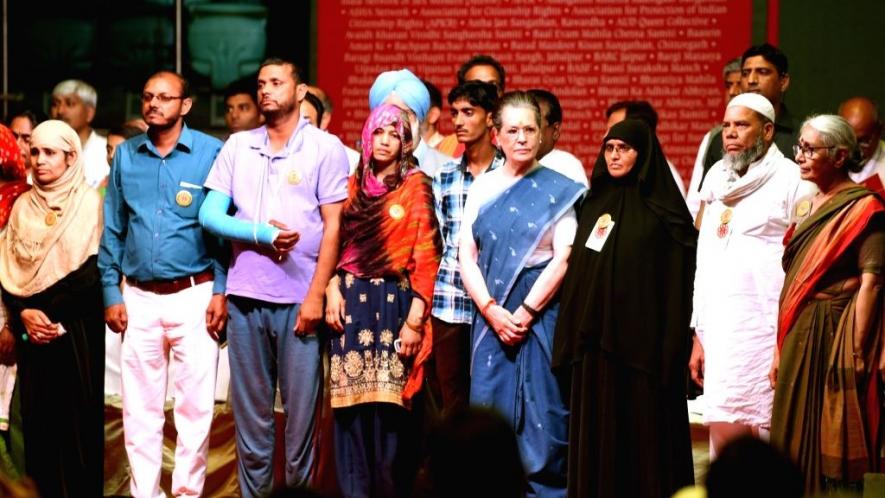 Image Courtesy: Prokerala.com
With the watershed Lok Sabha elections just around the corner, over 200 civil society and people's movements organisations from across the country gathered in Delhi on April 6 to present a 'People's Agenda' as well as a "chargesheet" recounting the PM Modi-led NDA government's failures.
A packed Talkatora stadium witnessed the unveiling of the agenda document called Jan Sarokar, as a number of political parties including Congress, Nationalist Congress Party, Dravida Munnetra Kazhagam (DMK), Communist Party of India (Marxist), CPI, CPI-Marxist Leninist (CPI-ML) and Aam Aadmi Party showed their support.
The 40-page 'chargesheet' that was released at this event raised several questions and accused the Modi government of failing on every front – farmers' issues, employment, economy, education etc.
Targeting the Bharatiya Janata Party (BJP) for unhindered propagation of communal hatred in the country, former Congress President Sonia Gandhi said, "Up until a few years ago, we couldn't even imagine the kind of hatred that would grip the nation." She also emphasised the need to bring back and reclaim secular spaces and constitutional principles.
TM Krishna, a renowned musician, said that the current dispensation has attacked the social fabric physically, psychologically, emotionally, economically and in every possible way. "[T]he common people have been worst hit by the draconian measures. The biggest lie that the ruling party has spread across the length and breadth of the country is that there is no alternative to them," he said.
Kavita Krishnan of the CPI(ML) said, "These elections are not ordinary. The current government is hell-bent on tearing apart the country and the Constitution that makes it democratic and equal in nature."
Accusing the Modi government of being anti-women, anti-farmer, anti-labourer, anti-Adivasi and anti-Dalit, D Raja of the CPI said, "The Modi government is serving the interests of the corporates and [catering to] all their priorities. People should not allow such governments to rule. Saffron outfits shall not get away with their divisive politics and we should all fight together to remove this government from our centre."
CPI(M) General Secretary Sitaram Yechury, RJD leader Tejashwi Yadav, NCP Chief Sharad Pawar, and Swaraj India founder Yogendra Yadav sent video messages, expressing solidarity with the Jan Sarokar initiative. 
Aruna Roy, Annie Raja, Sukhadeo Thorat, Hannan Mollah, Abhay Xaxa and Nikhil Dey also spoke at the event, and questioned the government's decisions and policies.
Highlights from the Jan Sarokar Chargesheet: 
1. Since 2015, at least 75 men, women and children have died of hunger across 10 states of India. The cause of death was "prolonged" hunger.  
2. Because of NDA's pressurise to make Aadhaar mandatory, lakhs of families' have not been getting their ration. People have died because they could not authenticate their biometric identity due to glitches in the Aadhaar technologies. 
3. Under BJP, the unemployment rate has jumped to over 7.0%, the highest in 45 years. 
4. Under NDA, India lost 1.1 crore jobs in 2018 alone, with rural India losing 90 lakhs jobs! PM Modi promised 2 crore jobs every year to India. Yet, 11.56 crore educated youth were unemployed in 2017-'18! 
5. Rs. 1.33 lakh crores of public money have been looted by fraudsters under the  NDA. Of this, Rs.1.2 lakh crores were looted from public sector banks.
6. Despite promising housing for all (PMAY 2022), until March 2018, only 8% of houses were built under PMAY urban. Only 21% of the total allocated funds have been used over four years.
7. Under NDA, nearly 2.6 lakh people (both in rural and urban areas) were displaced because of various projects. This means that nearly 150 homes were destroyed daily.
8. NDA excluded 86% of India's 2.7 crore mothers by limiting the Pradhan Mantri Matru Vandana Yojana to the first birth.
9. Excluding the generic expenditure that NDA deceitfully included as Adivasi welfare, NDA allocated 52% less than what was allocated in 2014-'15.
10. Re-establishing the Company Raj, BJP's draconian amendments to the Indian Forest Act give forest officials the power to shoot Adivasis without any liability!
11. NDA has diluted several Acts (MMRDA, Land Acquisition Act etc.) to allow corporates to acquire Adivasi and forest land without the consent of Adivasis and gram sabhas.
12. PM Modi's Ayushmann Bharat allocated merely Rs. 2000 Crore to provide insurance to 40% of India's population. This would amount to a measly Rs.40 person p.a.!
13. Contravening a Supreme Court judgement, NDA's NMC bill increases management quota in medical education by over 50%, thus enhancing the scope of capitation fees and reducing access to affordable medical education.
14. NDA's proposed NMC bill also allowed Ayurvedic, Unani & Homeopathy (AYUSH) practitioners to undertake a six month bridge course, and then practice allopathic medicine. 
 15. Ensuring India is uninformed, the pendency of RTI requests jumped from 8.5 lakhs (in 2014-'15) to 14.5 lakhs (in 2017-'18). Furthermore, 08 of the 11 commissioners have not been appointed by the NDA.  
16. NDA's electoral bonds allow anonymous political funding. The NDA's funding has consequently jumped up 12 times. 95% of anonymous donations (read black money) have been made to the BJP.
17. The NDA passed the highest number of ordinances since independence in a single term in office. It has passed 22 ordinances to bypass Parliament in key decision making.
18. The NDA has slashing funding for the University Grants Commission (UGC) by 55%. Consequently, grants to colleges have reduced, and fees have increased. In Panjab University, fees were hiked by 1,110%. In IIT-Bombay, fees were hiked by 55%, while hostel fees was hiked by 300%.
19. The NDA deliberately withheld Rs. 13,107 crores of the Post-Matric scholarship for Dalits and Adivasis. 
20. 48% of all teaching positions in higher education institutions have been lying vacant simply because the NDA withheld teachers' appointments for five years. There are over 1.6 lakh lecturers' posts vacant in rural colleges. 
21. The unit of reservation in universities and colleges has been shifted from the university/ college to a department. Consequently, a mere 7.22 per cent of faculty members are Dalits across 716 universities across India.
22. 56% of funds allocated to Beti Bachao, Beti Padhao, were spent on publicity.  
23. Contrary to PM Modi's claim that 55% of all loans under the Pradhan Mantri Mudra Yojana (PMMY) went to Dalits, only 11% of the total loans went to Dalits. 
24. The BJP constantly resort to violence to silence journalists through the Sangh affiliates. In the first three years of NDA, there were 189 attacks on journalists. In the first few months of 2017, another 21 attacks were registered. Since then, the NDA has stopped reporting data. Consequently, India ranked 14th on the 2018 Global Impunity Index 
25. The NDA has allowed the education system of India to collapse, with lakhs of vacancies of teachers at all level of education. There are 9,00,316 teacher posts that are vacant in Elementary Schools, and there are 1,07,689 teacher posts that are vacant in Secondary Schools. 1,05,000 government schools have just one teacher.
26. The completion rate for Dalit households under the Indira Awas Yojana declined from 74% in 2014-'15 to just 0.02% in 2017-'18.
Get the latest reports & analysis with people's perspective on Protests, movements & deep analytical videos, discussions of the current affairs in your Telegram app. Subscribe to NewsClick's Telegram channel & get Real-Time updates on stories, as they get published on our website.
Subscribe Newsclick On Telegram