Arbitrary Fee Hikes by Delhi Pvt Schools, Parents Mull Switching to Govt Schools
With the ongoing Lok Sabha elections, the parents wonder why the exorbitant fees and consistent mental harassment by the school administrations is not an election issue in the national capital, which goes to polls on May 12.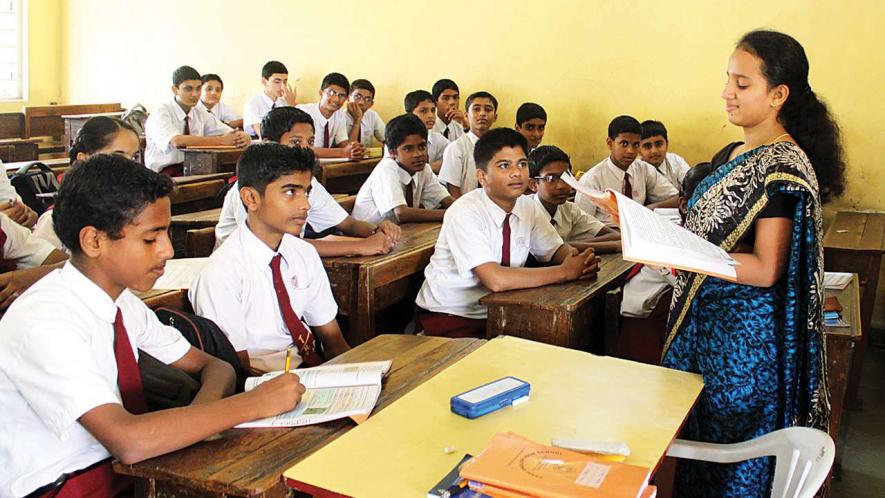 Image Courtesy: DNA India
Day 1, April 8: A group of 100 parents from different areas of South Delhi assembled outside St George School  in Alaknanda to meet the school administration to express their anguish against arbitrary fee hike. The heated arguments resulted only in police complaints, and parents were left in a lurch to decide the course of action – whether to submit fees or take legal recourse. 
Day 2, April 11: Several parents of students studying in K R Mangalam School in Greater Kailash II hit the road after the school sent a notice regarding the fee hike without even consulting with them. School argues that it is not based on public land. Thus, it is not obliged to take an approval from Directorate of Education to hike the fees. Parents mull legal recourse in this case as well. 
Delhi High Court, in its April 24 order, has prohibited schools based on the land allocated by the Delhi Government from hiking fees until the issue is resolved. But many parents are still clueless as the schools continue to press them to submit the increased fees. With the ongoing Lok Sabha elections, the parents wonder why the exorbitant fees and consistent mental harassment by the school administrations is not an election issue in the national capital, which goes to polls on May 12. 
Aam Aadmi Party (AAP), Congress and Bharatiya Janata Party (BJP) are locking horns over a slew of issues to win seven parliamentary seats in Delhi, but rising school fees hardly finds mention in the election speeches.
"The situation demands an immediate intervention by the government, as we cannot pay this much amount to the schools. Their greed has no limit," said Poonam Madan, a government employee and a parent.
She told NewsClick, "My two children are studying in Salwan Public School in Naraina. With the commencement of the academic session, the school informed us that it has increased the fees by Rs 18,000 per quarter. Additionally, it has also asked us to submit the annual charges. If I add transport and other expenses, the amount is nearly Rs 35,000 per student which needs to be submitted in a very short span of time. We met the school administration only to be informed that the school is based on private land and it is not obliged to seek approval from Directorate of Education. They even added that they are teaching 125 students from Economically Weaker Sections (EWS). Plus, they need to pay teachers' salaries as per the seventh pay commission. Thus, we must pay if we are keen on keeping our children in the school. How can you pay Rs 70,000 in such a short span of time? It no longer fits our budget."
A similar complaint was raised by another parent, Tarun Khandelwal, who said that the action by Bal Bharti School in Rohini is tantamount to extortion. He said, "My child is in first class in Bal Bharati School in Rohini. When the academic session commenced this year, we were handed a circular citing 65% hike in fees along with other charges including ECS. It further highlighted that teachers are required to pay salaries as per the seventh pay commission. So, we must pay Rs 40,000 per student to retain their enrolment. I am a father of two children. How can an average person arrange Rs 80,000 in two or three days? They deliberately issue such circulars mid-session so that we cannot transfer our children to other schools. When we asked the school to wait for Delhi High Court final order, they were not ready to listen to us. But we are also resolute that we will not succumb to this extortion." 
Ashok Agarwal argues that the problem is twofold. "The schools have been concealing information regarding their revenue. My estimate is that the schools are earning at least 50% profit per year (ranging between Rs three and 15 crore) which is why they are reluctant about auditing their accounts. Secondly, education is now a commodity and there is chain ownership of schools and university. For example, Mother's Pride, Presidium and The Knowledge Tree schools are owned by Sudha Gupta. A parent recently told me that he paid fees for 12 years in advance for his child studying in one of the Presidium schools. So, the schools are becoming avenues to extort money," he alleged.
Agarwal's claims appear to be substantive, as an article in The Economic Times recently mentioned that Paras Gupta, son of Sudha Gupta, owns super luxurious Rolls Royce Ghost Series II. The car, as per conservative estimates, costs Rs 4.48 crore. Another glaring example of rising fortunes of people engaged in the business of education is the profile of directors of K. R. Mangalam World Education and Technology who own the K R Mangalam schools across the country. The profile claims that the group has an annual turnover of Rs 2,500 crore. NewsClick could not check the veracity of these claims. 
Against this backdrop, many parents have now started considering government schools in Delhi an option. "I was educated in a government school in Sector 9, Rohini. When I was studying, it was run in tents. But we see a complete overhaul now, as a new building has been constructed. New desks and projectors have also been installed. I am fully convinced that the school can cater to the needs of my children. But my wife has some apprehensions. We may consider transferring our children to the government school in near future," said a parent.  Similar thoughts were shared by Ratan, who is mulling shifting his child to Pratibha Vikas Vidyalaya in Vikas Puri. "There is no option for persons like me. Given the facilities and quality of education, I believe these schools can challenge private schools in every aspect," he said.  
Also read: Elections 2019: For Now, AAP Has an Edge Among Muslims in North East Delhi
Get the latest reports & analysis with people's perspective on Protests, movements & deep analytical videos, discussions of the current affairs in your Telegram app. Subscribe to NewsClick's Telegram channel & get Real-Time updates on stories, as they get published on our website.
Subscribe Newsclick On Telegram