Are Anti-Terror Laws Being Used to Silence the Press?
Many journalists and activists allege that the government is using anti-terror laws to silence dissent and weaken the fundamental right to free speech.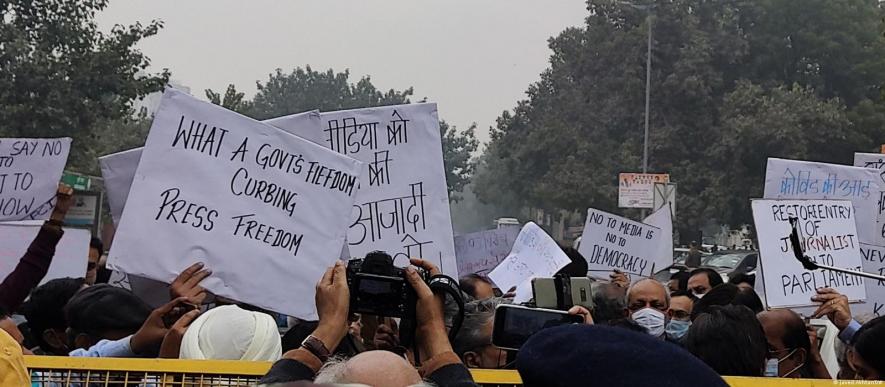 Clad in an olive green jacket, journalist Siddique Kappan walked out of prison on February 2 and eagerly embraced his wife and son. He had spent 846 days in jail. 
Kappan was arrested in October 2020, when he was on his way to Hathras district in Uttar Pradesh state to report on a gang rape and murder case of a young Dalit woman that sparked protests in India.
He had been charged with sedition, money laundering and criminal conspiracy.
Kappan was one of the journalists to be detained under sections of the Unlawful Activities (Prevention) Act (UAPA) — a stringent anti-terror law in India.
"I found out that I was booked under UAPA only when I read a newspaper in jail. I immediately resigned myself to the fact that I was going to remain in jail for a minimum of five years," he told DW.
While granting bail to Kappan, the Supreme Court of India noted the length of the reporter's incarceration and pointed out that "every person has a right to free expression."
What is UAPA?
UAPA was first introduced in 2008 with the aim of preventing organizations from engaging in unlawful activities.
In 2019, Prime Minister Narendra Modi's government amended the law, giving law enforcement authorities absolute power to designate individuals as "terrorists" even before their crime is proven in court.
The stringent nature of the law rests in the fact that — if charged under UAPA — obtaining bail becomes nearly impossible. This makes the process of getting to a trial a punishment in itself.
The law has been severely criticized by activists, lawyers, journalists, and even former Supreme Court judges for weakening the fundamental right to freedom of speech and expression.
There have been multiple demands from rights groups to amend UAPA.
Supreme Court Senior Advocate Rebecca John told DW "the act is draconian and goes against the spirit of the Indian constitution" and especially against the essence of journalism which is to "never be silent."
In 2021, after the arrest of Kashmiri rights activist Khurram Parvez, the UN said that India's usage of anti-terror laws was "worrying" and "hundreds of people remain in detention for exercising their right to the freedom of expression."
Despite much pressure, the Ministry of Home Affairs has made it clear that no amendments to UAPA are being considered.
'Journalism is in danger,' says Kappan
Since 2013, Kappan's coverage focused on the cases, stories and families of those who had been charged under UAPA.
Kappan said he was "not shocked" to find out that he himself had been charged under this law.
"I am a journalist and I am a Muslim. I am the perfect target for UAPA. This law is a political tool," he said.
However, he added, he was surprised that he was able to walk out on bail "so soon."
"I cannot believe that despite being charged under UAPA, I managed to secure bail. This was only because of media pressure, advocacy, and yes, I still have faith in our Supreme Court."
The day Kappan left prison he told reporters, "journalism is in danger in India."
In recent years, several other journalists have been charged under UAPA, including Kashmiri journalists Fahad Shah and Asif Sultan, photojournalist Masrat Zahra and journalist Shyam Meera Singh, among others.
Poor press freedom in India
In the World Press Freedom Index 2022 compiled by rights organization Reporters Without Borders (RSF), India ranked 150th among 180 countries — the South Asian nation's lowest ranking ever.
Indian tax authorities on Tuesday also raided the BBC's offices in New Delhi and Mumbai, weeks after the broadcaster released a documentary critical of Prime Minister Modi.
Modi's Bharatiya Janata Party (BJP) said Indian institutions worked independently and the tax department was "within the law in looking into tax compliance."
"India is a vibrant democracy where no one is above the law," BJP National Spokesman Gopal Krishna Agarwal said.
The government has criticized the BBC documentary as an attempt to push a "discredited narrative" and slammed the broadcaster as biased, lacking objectivity and showing a "continuing colonial mindset."
The BBC has stood by its reporting for the documentary.
Creating a 'chilling effect'
Neha Dixit, a freelance journalist, said in the past journalists were charged with criminal defamation but "since 2014, the political dispensation has actually started filing law and order-related cases against journalists. Such cases take a lot of time and resources when they go to court."
Dixit also pointed out that when UAPA charges are levelled against journalists, "it [press freedom] becomes worse, because then the state is setting a precedent for a lot of journalists — that if you continue to do your work, you will be put behind bars and stay there for many years."
In the long run, she explained, use of anti-terror laws like UAPA results in the "eroding of our democratic structures because if one can't even talk about what is happening on the ground, how do you even fix them [democratic structures]?"
New Delhi-based reporter Asmita Nandy said the increased use of anti-terror laws to target the press has created an atmosphere of fear among journalists.
Once a reporter is charged with UAPA, she pointed out, "it doesn't matter if the person is found to be absolutely innocent later, the headlines are made, the damage is done. You will live with the tag of terrorist for the rest of your life."
Abhinandan Sekhri, co-founder of the media outlet Newslaundry, told DW that the increased use of anti-terror laws "to completely intimidate or spook journalists and the press in general" has been successful in creating a "chilling effect."
"In an age where you could be arrested for a tweet or have the most draconian laws activated for benign speeches, it keeps people on edge," he said.
Edited by: Srinivas Mazumdaru
Get the latest reports & analysis with people's perspective on Protests, movements & deep analytical videos, discussions of the current affairs in your Telegram app. Subscribe to NewsClick's Telegram channel & get Real-Time updates on stories, as they get published on our website.
Subscribe Newsclick On Telegram