Are Encroachment Removal Drives in Assam Selectively Targeting the Minority Community?
Evicted people left to the mercy of elements amidst heavy rainfall, floods and Covid-19; administration reneges on relocation promise.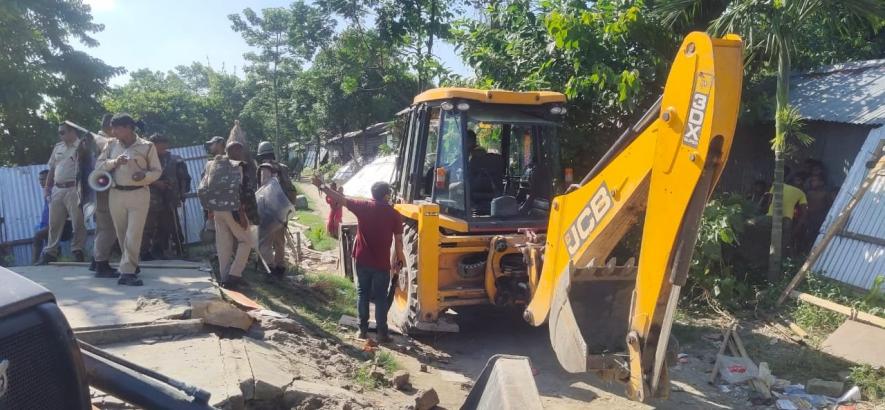 Image courtesy: Twitter / Assam Chief Minister, Himanta Biswa Sarma
Over the past few months, SabrangIndia has been reporting on the persistent eviction drives being carried out by the Assam government. While the action is being taken under the guise of cracking down on illegal encroachments to enable community farming, the sheer inhumanity of the evictions is evident in how people are being left shelter-less amidst the monsoon season even as the Covid-19 pandemic rages on.
The latest eviction and demolition drive took place on Monday September 20, where 200 families, all belonging to the minority Muslim community, were left homeless after they were forced out of their modest huts in Fuhuratoli in Darrang District.
Villagers told SabrangIndia, "Around 50,000 people have been living in Fuhuratoli villages number 1, 2 and 3, as well as Dhalpur and Kirakara villages, all of which fall under the jurisdiction of Sipajhar police station in Darrang district, for about 50 years." They feel that though the official reason surrounding a community farming project is just a ruse and that the government is just targeting homes of minority families. They ask, "The area has been lashed by incessant rains and is heavily inundated. Where will people go?"
It also appears that the villagers were not given proper notice for eviction. A villager told us, "Their notice was issued on September 10, but we got it only on September 18. Thus, we had just one day to pack up and leave!" District officials turned up with police personnel and first evicted and then demolished the settlement.
But instead of reconsidering the shocking decision, Assam Chief Minister Himanta Biswa Sarma is flaunting it as a huge achievement on his official Twitter handle, saying that he was "happy" and offering compliments to the district administration.
Continuing our drive against illegal encroachments, I am happy and compliment district administration of Darrang and @assampolice for having cleared about 4500 bigha, by evicting 800 households, demolishing 4 illegal religious structures and a private instn at Sipajhar, Darrang. pic.twitter.com/eXG6XBNH6j

— Himanta Biswa Sarma (@himantabiswa) September 20, 2021
Ever since Sarma became Chief Minister when the BJP-led government came back to power earlier this year, he has made the eviction drives his pet project. However, most of the settlements where these drives are caried out are inhabited predominantly my members of the minority community, and many of these villages are located in the flood-prone char areas. These are riverine regions where even mild flooding causes entire villages to be washed away! It is noteworthy that since independence, nearly 8 percent of the soil of Assam has been eroded away by rivers. These evictions only add to the trauma of the residents.
Here are a few examples of recent evictions:
May 17, 2021 - 25 families evicted of Dighali chapori, Laletup, Bharaki Chapori, Bhoirobi and Baitamari in Sonitpur District. These are flood-prone riverine areas.
June 6, 2021 - 74 families evicted from Kaki in Hojai District. Roughly 80 percent of the population here is Muslim.
June 7, 2021 - 49 families evicted from Dhalpur, Phuhurtuli in Darrang District. All, except one family, are Muslim.
August 7, 2021 - 61 families evicted of Alamganj in Dhubri District. 90 percent of the population here is Muslim. 
September 20, 2021 - Around 200 families evicted from Fuhuratoli, Dhalpur in Darrang District.
But the villagers' misfortunes are far from over. As many as 77,420 bighas of land are likely to be "cleared of encroachments" over the next 10 days. The Dhalpur eviction is shocking not only because of the floods and the pandemic, but also because of an alleged communal element, as four illegal religious structures, all allegedly belonging to the minority community, were torn down during the demolition.
Then there are unkept promises. A villager says, "Previously, after a discussion with the Assam CM, AAMSU and the villagers of Dhalpur, the CM had verbally assured the organisation and the people of Fuhurtuli, that 7 bighas of land will be allocated to the families residing there, before serving eviction notice." But later, when villagers spoke to the circle officer of Fuhurtuli, he said that instead of 7 bighas, 2 bighas will allocated to them, and a week's notice will be given so that they shift to the new allocated land before the eviction. But given how people were effectively given only one day, this promise was clearly broken. Villagers also say, that not a single bighas of land was given to them.
Seeds sown via Brahma Committee Report and Land Policy 2019
In an exclusive report from December 2019, SabrangIndia had reported previously on how the BJP government was using the Land Police (2019) to allegedly evict 70 lakh Muslims and 60 lakh Bengali Hindus. This was with respect to lands in tribal belts and char areas. This was to be redistributed among other indigenous people in the state. In furtherance of its overall ideological game plan to disenfranchise and invisibilise India's minorities, the plot can be spotted in points 1.11 and 1.12 of the Land Policy 2019, exclusively sourced by SabrangIndia.
Without defining who the indigenous peoples of Assam are, deliberately excluding sections who have toiled in the state from the turn of the 20th century, both the Brahma Committee report followed by the Land Policy 2019 provide for a change of user of these lands. 
Questions raised in Assam Assembly
It is noteworthy that when it comes to the subject of flooding and evictions, some written questions were raised by Senior CPI (M) leader and MLA of Sorbhog Assembly Manoranjan Talukder in the Assam Assembly on July 16, 2021 regarding this land in Dhalpur region. Talukder had asked the Minister of State for Revenue: 
(a) How many bighas of land were eroded by the river Brahmaputra in the Dhalpur, Fuhuratoli and Kirakara Char areas under the Chipajhar Mouza of the Chipajhar Assembly constituency?  
(B) In Dhalpur, Fuhuratoli, Kirakara Char and Garukhuti areas under Chipajhar Mouza of Chipajhar Legislative Assembly constituency, how many bighas of land have been cleared of river boreholes and presently cultivable and habitable?  
(C) In the Chipajhar assembly constituency of Chipajhar, have the government lands in Dhalpur, Fuhuratali, Kirakara Char and Garukhuti been given to the name of any institution, farmin or temple, mosque or not?  If given, kindly inform, how much land has been allotted for which purpose.  
To this the Minister of Revenue and Disaster Management Minister Shre Jogen Mohon replied stating: 
According to the information received from the Deputy Commissioner of Darrang District,
(A) More than 37,000 bigha land was washed way into Brahmaputra at Fuhuratoli and Dhalpur village under Chipajhar Mouza. Since no survey has been conducted in the area of ​​Fuhuratoli, Dhalpur and Kirakara village is an undeveloped village (NC village), it is not possible to determine the exact amount of land that has now come under the river.
 (B) In Dhalpur, Fuhuratoli area, although there was no detailed surveys, inclusion of Chorti area was made, resulting in approximately 25,929 bighas, 8 lechas of land, in which 16,878 bighas of agriculture land and 9,051 bigha of habitable land.  But since Kirakara is a remote village, it is not possible to say exactly how much agricultural land or habitable land. 
(C) A number of programs, institutions, temples, mosques, agricultural lands etc. in Dhalpur, Fuhuratali, Kirakara Char areas under the Chipajhar Revenue Circle of the Chipajhar Legislative Assembly have been proposed by the Land Advisor of District Committee but no land is given by the government yet.
Reactions to the evictions
The latest round of heartless evictions has drawn scathing criticism from all quarters. Harkumar Goswami, Convener, Forum for Social Harmony, told SabrangIndia, "The eviction of Dhalpur is inhuman, barbaric!" He added, "The government is moving forward with its own agenda. But even more frightening is the utter silence in this regard from the civil society."
Abdul Khalek Senior Congress leader or MP of Barpeta HPC tweeted:
I am always opposing eviction without proper rehabilitation plan. Darrang eviction is inhuman.
We are condemning it.

— Abdul Khaleque (@MPAbdulKhaleque) September 20, 2021
Raising the demand for the resettlement of the evicted people, Raijor Dal leader Ashraful Islam said, "The government has been continuously evicting people, targeting the Muslim minority only  for communal politics."
Social worker Shubrajyoti Bardhan, leader of CPIML (Liberation) said, "The issue of non-resettlement of evictions must be transformed into a social issue in Assam. Otherwise, the poor, landless, flood-erosion-affected people will suffer. The communal polarisation has become a barrier to build strong resistance in the interest of all those who have lost their land." Bardhan added, "We condemn this eviction campaign in Darang. Let's stand up for the evicted families."
*With inputs from Joinal Abedin
Get the latest reports & analysis with people's perspective on Protests, movements & deep analytical videos, discussions of the current affairs in your Telegram app. Subscribe to NewsClick's Telegram channel & get Real-Time updates on stories, as they get published on our website.
Subscribe Newsclick On Telegram