Are Indian News Agencies Being Killed for an RSS Substitute?
Rising government patronage for Hindustan Samachar, which was born in 1948 with the aim of making the RSS's thinking predominant, is putting a question mark on the future of national news agencies, such as PTI and UNI.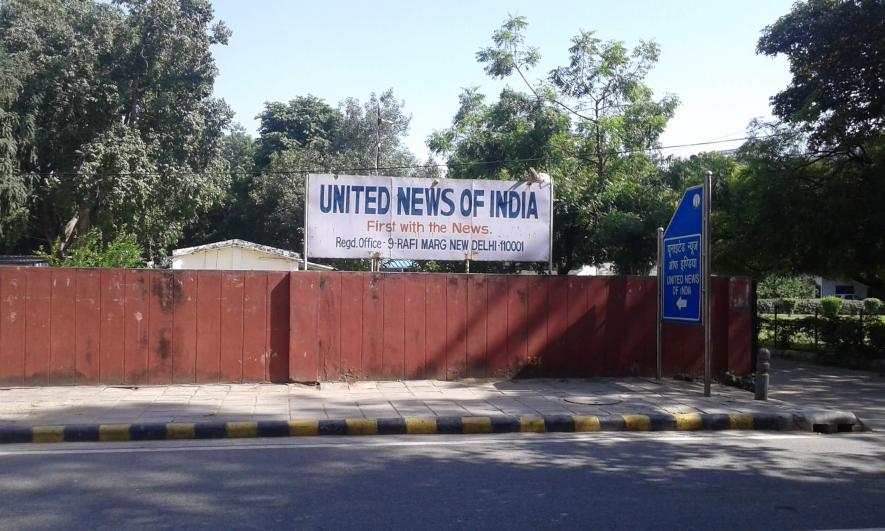 Seventy one years after Independence, the government under Narendra Modi has ensured that Rashtriya Swayamsevak Sangh's (RSS) dream of 1948, of a Right-wing national news agency spreading its tentacles even to rural areas, through the Hindustan Samachar, finally takes off with government patronage. This could put a question mark on the future of other established premier national news agencies under the Right-wing dispensation. This could also be a prelude to the 2019 Lok Sabha elections.
The last four years have seen the gradual killing of national news agencies, such as the Press Trust of India (PTI) and the United News of India (UNI), and the re-emergence of a multi-lingual news agency - Hindustan Samachar, born in 1948 with the aim of making the RSS's thinking predominant – to carry forward the art of 'manufacturing consent'.
Consider the following fact. In the past two years alone, Hindustan Samachar has been given a boost by the Directorate of Advertising and Visual Publicity (DAVP) policy which has set new criteria to assess newspapers' eligibility for getting lucrative government advertisements. One way is to get 15 points for subscribing to UNI, PTI , and now the hitherto little-known Hindustan Samachar has been added. Indeed, this policy has already boosted the profile and subscriptions to the agency, which had for years survived in its tiny offices in Delhi's Gole Market. It's earlier office was in Fire Brigade Lane.
Founded in 1948 by RSS pracharak, Dadasaheb Apte, to provide 'nationalist' news in regional languages, Hindustan Samachar had a not-so impressive past. It never really recovered from its enforced 'merger' (along with UNI and PTI) in the state-controlled Samachar news agency of the Emergency years. In 1978, the news agencies were 'demerged' and Hindustan Samachar passed into receivership in 1982, and then went back into RSS's hands after a lengthy court case.
During the Emergency, DAVP used its advertising policy as a tool of political and financial patronage as well as censure. Today, the RSS's news agency is being allowed to flower and bloom by the Narendra Modi government.
This is how the RSS's plan took off. On May 13, 2016, BJP Rajya Sabha member R.K. Sinha got an urgent call to attend an RSS gathering, Vichar Mahakumbh, in a small Madhya Pradesh town. It was an exclusive gathering, inaugurated by RSS sarsanghchalak Mohan Bhagwat, with Prime Minister Modi himself gracing the occasion. Actually Sinha had been summoned for a session with RSS general secretary Bhaiyyaji Joshi, who asked him to take on the responsibility for Hindustan Samachar Samvad Samiti. Sinha agreed. Soon after, he was made the patron of the Samvad Samiti. Within days, the imposing building he owned in Noida's Sector 63 got a plush makeover.
Around the same time came a new policy by the Union Ministry for Information and Broadcasting, which promised to give the RSS's Hindustan Samacharproject new prominence and revenues. In a bid to make the most of the BJP's emergence at the Centre and in states, the RSS has since expanded its publicity machinery by launching Hindustan Samachar in almost 10 more languages, especially keeping in mind the states where BJP wants to expand its footprint. The new languages include Malayalam, Bengali and Assamese. So, it was destined that DAVP, the "nodal agency to undertake multi-media advertising and publicity for various Ministries and Departments of Government of India" gave the booster dose to Hindustan Samachar.
The entry of business tycoon-cum-journalist-turned BJP MP, R K Sinha, connected with the Security and Intelligence Services (India) (SIS), gave a further fillip to the RSS's project. Sinha's company, set up in 1985, is a private security solutions provider in India and Australia, and is based in New Delhi. Today, SIS is one of the largest manpower security firms in the Asia-Pacific region with sales of over Rs 3,800 crore (2016). In 2008, SIS acquired Australia's largest security company, Chubb Security, becoming the first Indian multinational in security services.
Sinha also figured in November 2017 in an investigation conducted by the International Consortium of Investigative Journalism, which cited his name in the list of politicians named in "Paradise Papers" allegations. Another key luminary helping Hindustan Samachar is Ram Bahadur Rai, Padma Shri winner of 2015, a veteran journalist, and also head of the Indira Gandhi National Centre for Arts Board.
Ironically, the patronage to Hindustan Samachar has also led to increasing wage pangs of some UNI employees and ripples have been felt in PTI too. In UNI, it is a matter of record that journalists and other employees have a backlog of over 30 months' salary getting something from month to month, with some part-timers and veterans on contract somehow keeping the agency ticking. While PTI has seen employee sacking and some government pressures in reporting matters.
Flashback
The wheel has turned full circle: Shortly after the Emergency was enforced in 1975, many news agencies merged. PTI, UNI, Samachar Bharti and Hindustan Samachar merged to form a new agency called Samachar, which was directly under the control of the government. This merger was draconian. In fact, the merger of these news agencies did not last for long. After the end of the Emergency, a committee under the chairmanship of late Kuldip Nayyar was constituted, on whose recommendation the news agencies were allowed to work independently. Like the educational institutions facing the Saffron pinch, something worse is happening in the media. After all, the freedom of the press is doubly in danger, both from some press barons and the government. Is L' affaire Hindustan Samachar a pointer to the future?
Get the latest reports & analysis with people's perspective on Protests, movements & deep analytical videos, discussions of the current affairs in your Telegram app. Subscribe to NewsClick's Telegram channel & get Real-Time updates on stories, as they get published on our website.
Subscribe Newsclick On Telegram