Are Shared Values a Relic of the Past?
Events such as the recent judgment on Babri do hurt the image of Indian democracy, but we should not give up hope.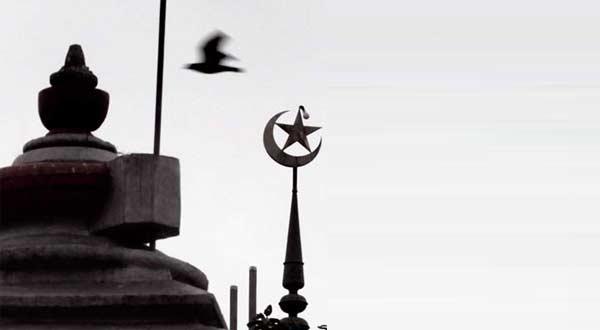 Communal harmony and India's Ganga-Jamuni tehzeeb have been maligned beyond recognition. A few decades ago, it was impossible to foretell the extent to which people would be disillusioned with these ideas today. Hindutva has wreaked such havoc that even people who firmly believed in shared values and coexistence are dappled in the shadows of suspicion. They are forced to wonder, time and again, whether talk about syncretic ideas is still relevant in today's India.
There is no denying that for hundreds of years the nation was glued together by shared values and harmony between Hindus and Muslims. Their coexistence was never without challenges from within and outside, but in the past the leadership made conscious efforts to maintain peace and mutual respect, as did common people.
Indian pluralism has faced a number of challenges, of which communal violence is the most alarming. Today, packaged in new form, the virus of communalism is spreading like wild fire. It has left innocent citizens horrified and shocked the world that more than 113 people have been killed by mobs in the name of religion and cow protection since 2015. These attacks have terrorised the Muslims and Dalits in particular. In a majority of cases, the courts have failed to come to the rescue of the victims. And now, in cases related to the February Delhi riots, it is once again the victims who are being projected as perpetrators.
This spectre of communalism was never institutionalised to the extent we see since 2014 and 2019. Mob lynching in particular did not have the wide-ranging support, let alone the patronage of ruling parties, that it now has. India had once preached non-violence to the world and boasted of its unique cultural heritage, which included the great exponents of non-violence—Siddhartha Gautama, Kabir, Guru Nanak and Mahatma Gandhi. This land is now stricken by communal hatred, which imperils its socio-economic and political milieu.
Yusuf Saeed, a documentary film-maker who has done wide-ranging work on communal harmony, finds the present state of affairs saddening and disturbing. "We call the world a global village today because cultures and ethnicities are meeting with each other more regularly, but cultural interactions have taken place since time immemorial. People always migrated for trade, to settle, seek wisdom etc. That is how languages, food, clothing, arts and music have so much common and are at the same time diverse", he says. Saeed believes it will always be impossible for any country or civilisation to claim a "pure" cultural identity. "The idea of returning to an 'original' culture is nonsensical; there is no such thing," he says.
Civilisation is born out of combinations and influences. If people remain secluded, their society would stagnate. India is the best example of cultural interactions since it has always been a melting pot of civilisations. Perhaps its tropical climate and fertile land attracted people from the more temperate Central and Southeast Asia and West Asia. It is a prominent spot on several ancient trade routes too. "Historians—rather propagandists—have declared that mingling of cultures is a "pollution" of India's ancient culture. And they say they want to take India back to its "original" Vedic period. But it is not only an impossible but futile exercise to look for centuries-old culture," says Saeed.
For Saeed and many observers of Indian history and culture, to expect or try and force a society to become homogeneous is an impossible exercise. For, differences and diversity are still the key to a healthy society and progress, especially in India. Seen another way, unless we respect diversity and differences of opinion, the shared cultural values and syncretism of India will get pushed to the margins.
It is this marginalisation that many who believe in shared culture want to prevent. Take Manish August Bhatt, a Delhi-based advertising professional. He says, "The Ganga-Jamuni tehzeeb is a reality. Our cultures are intricately interwoven, deeply and subtly mixed. Currently, we are in reality-denial mode as a people; wilfully blind." A lot has been achieved by India because of peaceful co-existence despite periods marked by clashes leaving ugly scars on our social history. The effort from certain quarters to create fault-lines, especially between Hindus and Muslims, have succeeded to some extent, Bhatt feels, but things do return to an even tenor. "I am convinced this too shall pass," he says.
Zafar Iqbal, an AIIMS alumnus based in Washington DC says that the Ganga-Jamuni tehzeeb, a distinctive syncretic culture, reflects in the fusion of Hindu and Muslim spiritual traditions and symbols as well. "All communities preserve their cultural and religious identities while facilitating the shared celebration of festivals, customs and traditions. This has been the reason for India's progress. Let us try to keep this tradition," he says.
In a paper published in Religion and Security in South and Central Asia edited by Kulbhushan Warikoo, Priyanka Upadhyay describes what Ganga-Jamuni tehzeeb is. "[It]... compared the Hindu-Muslim harmony and friendship to the holy confluence of India's major rivers, the Ganga and Yamuna. It assumed a peaceful merging of Hindu and Muslim culture and lifestyle in Banaras as expressed in their friendships, joint festivities and interdependence. As such, the Ganga-Jamuni tehzeeb reminded people of the incomparable unison they share across religious communities. This in turn sets a parameter for the people to uphold the religious peace. The metaphor is especially popular in the intellectual discourse as it coincided well with the Nehruvian rhetoric of a composite culture."
However, people's faith in syncretic culture has been shaken after the spate of violence aimed against minorities over the last several years. Judicial discrimination over the same period has made the loss of faith even more apparent. Many Muslim intellectuals I tried to speak with said this was not the right time to talk about Ganga-Jamuni tehzeeb. They said the institutional bias coupled with hoodlums who attack and kill Muslims going unpunished, even being openly supported by institutions, make this a bad time to talk about syncretic culture. This is becoming a common refrain.
"It was never really present or practised in our society. Communal hate was always there, just below the surface. However, thanks to social media and the present regime, people have become comfortable in bringing out hate and communal prejudice into the open discourse. Society cannot be built on fancy notions of Ganga-Jamuni Tehzeeb, it is only justice on which the foundation of an egalitarian society can be laid," says Abul (name changed), a health professional. He is not alone. Many expressed similar thoughts in almost similar words. They claim that we should not obfuscate the growing injustice with "phony catchphrases" when we have become a land where minorities are openly targeted, discriminated against, and killed in riots and mob lynchings, while the perpetrators are rewarded and elevated.
Who can deny that the Ganga-Jamuni tehzeeb is under unprecedented strain for the past three decades following the demolition of Babri Masjid in Ayodhya and the communal frenzy that engulfed the entire nation. Since 2014, when the BJP came to power, things have turned particularly dire, threatening even the concept of co-existence and shared values. Hindutva is particularly opposed to slogans that promote communal harmony. It is intrinsically opposed to Muslims and Hindus coming together, understanding each other and respecting other's faith.
The effort to demonise Muslims and normalise anti-Muslim violence is part of the Hindutva project to further the communal divide. Mob lynchings and cow vigilantism, and conscious efforts to spread videos of these crimes through social media, is part of a malicious design to make barbarity look ordinary and commonplace. This demonising effort is spread in many ways. One recent instance is how Sudarshan News channel instigated "UPSC jihad", accusing Muslims of "infiltrating" the civil services with nefarious designs. Similar is the case of Republic TV, which has been spreading venom against Muslims in the garb of freedom of speech.
In the past India had stellar leaders who firmly believed in coexistence. When violence erupted in a few Hindu-majority districts of Bihar in October 1946 before Independence, Jawaharlal Nehru as head of the interim government, went deep into rural areas where he stayed for almost two weeks until violence was quelled. Other leaders including Sardar Patel, Maulana Abul Kalam Azad, Acharya Kripalani, Jayaprakash Narayan accompanied him throughout. Now the people in power are actually fraternising with the opposite side.
Our future lies not in division, but in reviving the bonhomie among different faiths and creeds. As the renowned social scientist, Prof. Imtiaz Ahmad, says, "You seem to be overawed by the Sangh. They are not India. The regression is temporary. You and I don't have to preserve it. It is a living thing. Even the worst of Sanghis follow that culture despite repudiating it." The optimism of Ahmad and many like him is the only way forward—Ganga-Jamuni tehzeeb is still the glue that will keep India together, despite reversals and setbacks.
The author is a writer and columnist. The views are personal.
Get the latest reports & analysis with people's perspective on Protests, movements & deep analytical videos, discussions of the current affairs in your Telegram app. Subscribe to NewsClick's Telegram channel & get Real-Time updates on stories, as they get published on our website.
Subscribe Newsclick On Telegram