As Assam Paper Mill Employees Await Salary of 36 Months, Children 'Beg' for Donation on Streets
There are also allegations of government's 'conspiracy' to close down the mills of HPCL to favour private paper product-making firms.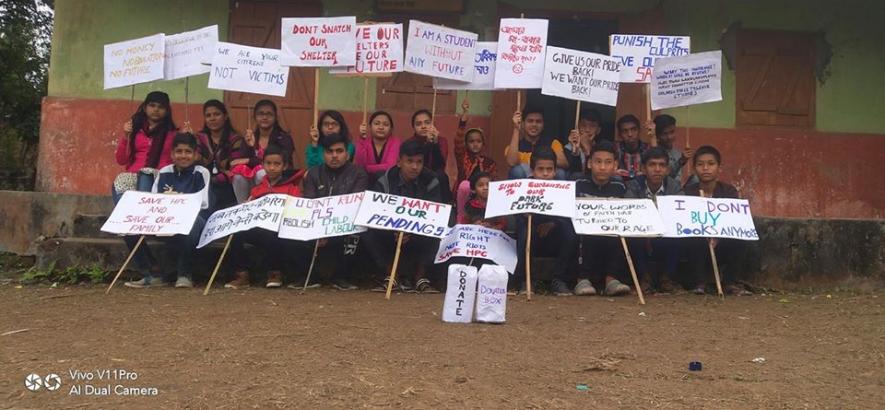 Once a Miniratna award-winning and Schedule-A Public Sector Unit, the Hindustan Paper Corporation Limited (HPCL) is now undergoing a liquidation process, thanks to the broken promises by the BJP government, including assurance by Prime Minister Narendra Modi himself, to revive the company. The employees of two of its main units based in Assam—Cachar Paper Mill (CPM) and Nagaon Paper Mill (NPM)—are awaiting their salaries for more than 36 months now; some are literally starving. Fifty-seven employees have died so far, including three suicides; and now they have been served a notice on December 23, 2019, to vacate their residential quarters amid massive protests by the employees and their children.
There are also allegations of government's 'conspiracy' to close down the mills to favour private paper product-making firms.
Production at CPM has been closed for more than four years now since October 20, 2015, while the HPCL management suspended production at NPM on March 13, 2017. Both companies were declared insolvent on June 13, 2018, as per a National Company Law Tribunal (NCLT) order after the HPCL had declared itself unable to pay the dues of one its creditors M/s. Alloys and Metals.
While work at the CPM and NPM units of HPCL in Assam had been suspended owing to a lack of "working capital", another of its unit at Kerala's Velloor, the Hindustan Newsprint Limited (HNL) — the only unit that was operational between 2014 and 2018 — is also suffering the same fate as hundreds of its workers are also awaiting their salary for the past 14 months. In June 2018, the Kerala government run by the Left-Democratic Front (LDF) made an offer to the Centre to take over the Velloor unit of HNL, but to no avail. Later, on November 25, the NCLT ordered the central government to hand over the unit to the Kerala government, but the BJP-ruled central government is still delaying handing over Instrumentation Limited Palakkad (ILP) to the state government. NewsClick reported in November 2019 that the process is being held off over the issues related to land assets. Interestingly, while the Centre has been in denial over giving any money to revive the HPCL, it did pump a sum of Rs 469.41 crore into another government-owned PSU, NEPA mill in Madhya Pradesh right before the Assembly polls in the state in November 2018.
CHILDREN 'BEGGING' ON STREETS TO SHOW THEIR PLIGHT
While the employees of CPM and NPM are awaiting their salaries and other dues since January 2017, their children have taken to the streets of Jagiroad (NPM) in the Brahmaptura valley and Panchgram (CPM) in Assam's marooned Bengali land Barak valley with placards reading 'I don't buy books anymore' and 'Don't snatch our shelters'—literally begging for donation and to highlight their plight.
Talking to NewsClick, a class V student, Umme Kulsuma, said, "My father has not been receiving his salary for three years in a row. How can he afford to pay for my education now? The PM has said he would release salaries of three months, but not even one month's salary has been given. How are we going to continue like this? If my father gets ill, he doesn't even go to the doctor; he awaits recovery from the illness sitting at home. How can he afford medicine now that even medicines are so costlhy?" Kulsuma's father works at the CPM unit of the HPCL.
Another girl student, who has passed her class XII examination, said, "I cannot continue studying anymore owing to the lack of money. My father can't afford that anymore because I've got two younger sisters who also need to study. He has to take care of them too. Their fees are pending owing to which they are yet to getting their results. We still don't know whether my sisters have actually passed their exams," said Sunita Nath, as she stifled a sob.
These children said they cannot afford new books or clothes anymore, while the nearest Kendriya Vidyalaya (KV) Panchgram, where most of them are studying, is also facing closure. Some of the students also alleged they have to pay an extra fee of Rs 500, as the KV teachers have also been deprived of their salary and so, an extra fee had been imposed on them, which they are unable to pay now. The All Assam Students' Union has already taken up the study-related expanses of the children of NPM employees at Jagiroad, near Guwahati. The children of CPM employees are, however, yet to get any such respite.
Meanwhile, on January 9, Assam's Finance Minister Himanta Biswa Sarma announced multiple incentives for the children of CPM and NPM employees — including Rs 1 Lakh as one-time incentive for students doing professional courses, Rs 75,000 for those pursuing post-graduate degrees, while students of graduation, polytechnic and similar courses will be provided with an incentive of Rs 50,000. The government said it will also grant Rs 25,000 to the students of higher secondary and equivalent courses. The children, however, apparently have rejected these incentives as 'sops' — as is evident on their Facebook pages Save Hindustan Paper Mill - Save Our Generations ? and Children of NPM.
DISGRUNTLED EMPLOYEES
"For three years, we have not received salaries. Our roti (food) is no more, kaapda (clothes) is not there and now this notice of December 23 says we have to vacate our makaan (homes) too. Now tell us what we can do; we don't have money or resources, where can we go?" asked a disgruntled employee, Ajay Kumar Singh.
"While I have not occupied the residential quarter illegally, we haven't come from any outside country, we were rather invited to this PSU to do our job and we've served well for this firm. Now, they are asking me to vacate the quarter allotted in my name. Our situation is so grim that we cannot abide by this direction. You give us our dues, we will we will vacate your quarters," he added.
The Officers' Associations of both CPM and NPM have taken their fight for pending dues already to the Gauhati High Court and are getting ready to challenge the notice to vacate as well. Talking to NewsClick, CPM Officers' Association General Secretary Deepak Chandra Nath said, "We are soon going to take some legal steps against the recent order dated 23.12.2019 issued by the liquidator to vacate the quarters. We have already filed a petition in the Gauhati High Court, along with unions and our counterpart at the NPM, seeking relief, asking the management to clear our dues, including the pending salary, PF, gratuity, VRS and other such dues. Until and unless they clear the dues, we are not going to vacate our quarters."
The Officers' Association of the NPM at Jagiroad near Guwahati echoes views of its counterpart at Barak valley's Panchgram. Hemanta Kumar Kakoti, the president of the Officers' and Supervisors' Association of NPM, said, "We got a notice on December 23 from our plant head. The liquidation process had been started as per a court order on 23rd. So, accordingly the liquidator had issued the notice."
INSOLVENCY, LIQUIDATION AND GOVERNMENT APATHY
Elaborating on the way the liquidation process had started, Kakoti said, "The insolvency process was started on June 13, 2018. After that, an 180-day period was given to make a resolution plan and a resolution professional was appointed, Kuldeep Verma. Then, during this period, no resolution came; so, ultimately, the period was extended for another 90 days, that is, total 270 days, as per the guidelines. During this period now, three vendors came forward for resolution. But finally, nobody came up with concrete plan. Then, on May 2, 2019, the court ordered liquidation. This (HPCL) comes under the central government, and it had not given any response in the meantime."
"The order (by the NCLT Appellate Court) came on May 29, 2019, but responding to that, the central government said that they cannot release any funds. In that order, a direction was given to the liquidator to make it 'going concern' and to be tried under Section 230 of the Companies Act; some compromise formula had to be found. For that, another 90-day period was given to come up with some compromise formula with the creditors. In that period also, nothing really materialised. Then, the liquidator wrote to the court and the process had to be started. We demanded for some interim relief fund because people had not been receiving salaries for so long. For this, we met the finance minister of Assam, the industries minister of Assam. We tried to contact the chief minister also, but we have not got an appointment in the last 6–7 months. So, ultimately, we are now depending on the court only," added Kakoti.
ALLEGATIONS OF CORRUPTIONS
Back in September 2018, NewsClick wrote about former Finance Director of HPCL, Palash Gowsami, submitting a petition to the PMO in 2017, alleging "various irregularities in entire operation and management of the organization" leading to "operations in both mills ultimately stopped" and the company "not in a position to release the salary of its employees". The PMO, however, closed the case, while Goswami was sacked after a couple of months amid allegations him being involved in corruption himself. A reply to Goswami by the HPCL authorities mentioned that multiple CBI inquiries on allegations of corruption had already been initiated prior to Goswami's petition. The outcome these inquiries is unknown to any HPCL employee so far.
Apart from this, in 2019, Shiv Sena's Arvind Ganpat Sawant, the then Union minister of Heavy Industries and Public Enterprises, through a statement in Lok Sabha on June 9, 2019, had noted that the central government had made investments of Rs 4,141 Crore in the HPCL during the years 2014-15 to 2017-18. However, as per a reply to an online RTI application, the Heavy Industries Ministry declared that it had actually spent only Rs 509.66 crore. Where did the rest of the amount worth Rs 3,631.34 crore go? No one seems to know. Meanwhile, the ‬Cachar Paper Project Worker's Union (CPPWU), an Indian National Trade Union Congress (INTUC)-affiliated union, had reportedly written a letter to the CAG, alleging a 'multi-crore scam', but are still awaiting reply from the CAG office, as was told to NewsClick by CPPWU President Manabendra Chakraborty.
While in the NCLT court, the HPCL management had declared that it had been unable to pay only Rs 98 lakh to its creditor firm Alloys and Metals, which led the company to insolvency by an NCLT order of June 13, 2018, and then to liquidation. NewsClick has obtained a payment order dated June 6, 2018, which says that 90% of the payment of a locomotive engine had been made by purchase order numbers 3014101307, dated June 30, 2016 vide a cheque, numbered 071630. The rail engine was purchased from San Engineering and Locomotive Company Limited, a private firm based in Bengaluru, at the cost of Rs 1,33,13,120, and 90% of the payment has been made. So, the question arises as to why the decision to buy the engine was made in 2016, while production of the HPCL unit had already been suspended in October 2015. Moreover, even though the purchase order had been issued, why did the management issue a bank bill worth at least Rs 1,19,81,808 (90% of the total Rs 1,33,13,120), especially when it had already declared to a creditor that it had been unable to pay a much lesser amount of Rs 98 lakh, thus leading the company to insolvency and liquidation—putting lives of more than 2,000 employees at risk?
Another interesting aspect of the whole insolvency-cum-liquidation issue is that while Alloys & Metals filed a case over payment of Rs 98 lakh with the NCLT against HPCL, its sister company Hindustan Produce Company—both owned by the Keyal famil [Vijay Keyal's name appears on both the company's websites]—supplied coal to HPCL till September 2015, and they also have dues worth at least 6 crore, as per a list of creditors and claims admitted by the liquidator—updated till February 15, 2019. The question is: while Alloys & Metals took HPCL to the court for only Rs 98 lakh, its sister company did not file any case for its dues worth more than Rs 6 crore?
While an estimate says there are more than a lakh people directly or indirectly involved with the suspension of work at HNL in Kerala, in Assam's CPM and NPM, there are more than two lakh people who are suffering because of the liquidation process. Even though the Centre could pump in bucks to revive NEPA mill right before the assembly polls in MP, the BJP governments—both in Assam and at the Centre—did nearly nothing apart from making promises to the workers in Assam. This brings forth another important question. Was the ruling BJP ever serious about reviving the dying paper industry of India? Or maybe more pertinent question is whether they actually wanted this paper industry to die in favour of private firms—as CPPWU's Manabendra Chakraborty alleges.
These questions remain unanswered as the Officers' Associations are meanwhile fighting for a relief fund at the High Court, HNL handover to Kerala's LDF-run government has still not been completed due to the Centre's 'delay', and children of both mills in Assam are starving and begging for donations on streets.
Also read: HNL Goes to Kerala Govt, Centre Delays Handing Over ILP
The writer is an independent content management consultant in Assam.
Get the latest reports & analysis with people's perspective on Protests, movements & deep analytical videos, discussions of the current affairs in your Telegram app. Subscribe to NewsClick's Telegram channel & get Real-Time updates on stories, as they get published on our website.
Subscribe Newsclick On Telegram