ASHA Workers 'Pay Price for Protest': 25 Terminated, 10 Booked for 'Rioting' in Madhya Pradesh
Since 2018, around 84,000 ASHA workers in Madhya Pradesh have been facing challenges in their pursuit of a wage hike similar to their counterparts in states like Chhattisgarh, Telangana, and others.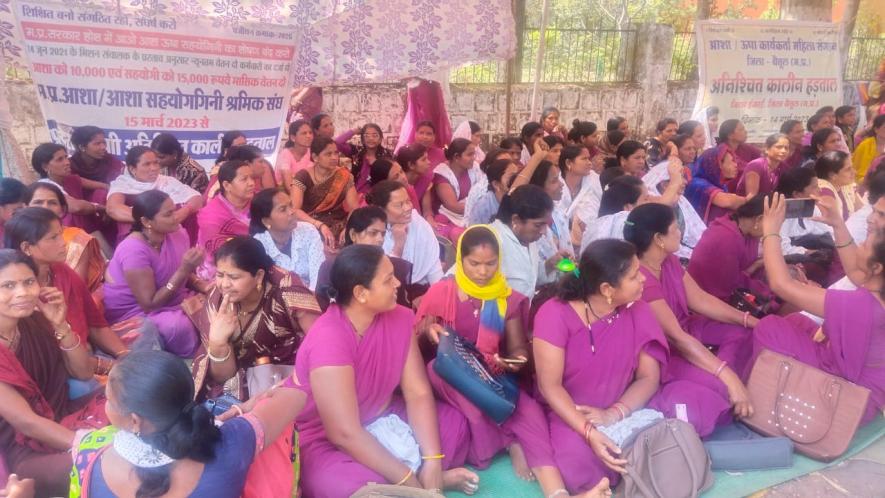 Bhopal: Protesting for the wage hike has purportedly cost jobs to 25 Accredited Social Health Activist (ASHA) workers in Madhya Pradesh.
"Peacefully raising voice against ongoing exploitation is undemocratic these days. You will not only be entangled in the FIR and litigation for protesting but also can be terminated over false allegations to suffer," said ASHA workers from Gwalior, Rajni Meena (39) and Menaf Khan (35), speaking about their termination.
ASHAs are community health workers employed by the Ministry of Health and Family Welfare as a part of India's National Rural Health Mission to deliver doorstep health services to pregnant women and toddlers around the clock. Each ASHA worker draws a monthly payment of Rs 2,200 in Madhya Pradesh and incentives of over Rs 4,000 based on their performance.
When the COVID-19 pandemic hit the country, ASHA workers emerged as the strongest frontline health workers linking the community with the health system in the midst of the outbreak. Their efforts were recognised by the World Health Organisation. ASHAs were one of the six recipients of the WHO's Global Health Leaders Award-2022 which recognises leadership, contributions to advancing global health, and commitment to regional health issues.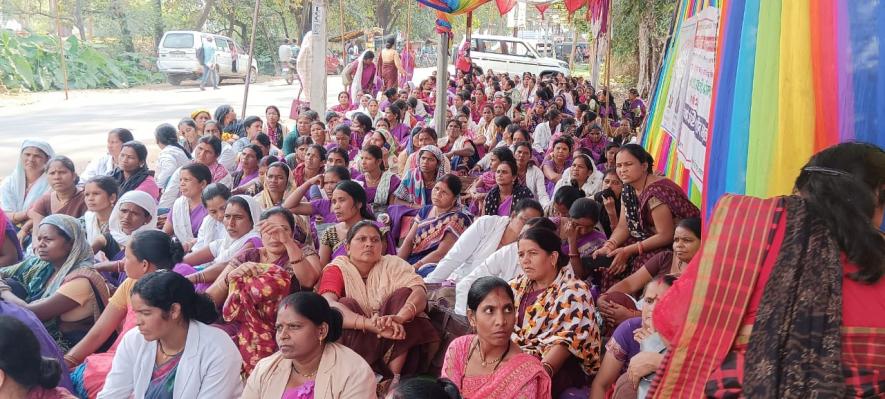 CM Shivraj Singh Chouhan too honoured ASHAs with kind words on several occasions for their contribution to controlling the pandemic. Yet, they are facing termination for a wage hike protest.
Meena and Khan – who have been working as ASHA workers since 2013 in Gwalior Urban – are among the 25 workers who were terminated. The reasons for termination were either being non-performers or that their names surfaced in an FIR lodged against 10 women for protesting at Chief Minister Shivraj Singh Chouhan's Gwalior event on April 16, 2023, when they were not allowed to meet him.
Speaking to NewsClick, Manish Sharma, Chief Medical Health Officer, Gwalior confirmed, "Ten ASHA workers were sacked after their names surfaced in the FIR and 15 workers were terminated for negligence or non-performance."
Menaf and Rajni are single mothers. Menaf has a 14-year-old son and Rajni is a mother of two teenage sons. After losing their jobs, both independent women are not only struggling to make ends meet but also worried about their children's future. "One knows how society stigmatises single mothers. After termination, our struggle has worsened," said Rajni.
Since 2018, around 84,000 ASHA workers in Madhya Pradesh have been facing challenges in their pursuit of a wage hike similar to their counterparts in states like Chhattisgarh, Telangana, and others. These states provide their ASHA workers with a monthly wage of Rs 10,000, in addition to incentives.
After several protests, strikes, and assurance from the government, when their demands were not met, a group of ASHA workers went on an indefinite strike from March 15, 2023, in Gwalior after taking formal permission in a bid to put pressure on the government.
When the state government and the officials did not pay heed to the strike, they sought permission from the Gwalior district administration to meet Chief Minister Shivraj Singh Chouhan, who was scheduled to visit the city on April 16 for 'Ambedkar Mahakumbh' to mark the birth anniversary of B R Ambedkar.
A day before CM Shivraj Singh Chouhan's visit, a news report on a YouTube channel elated the protesters. In the news video, CM Chouhan, while addressing government officials, is heard saying that the government is going to fulfil the demands of Rozgar Sahayak, Panchayat Sachiv, Anganwadi workers, ASHAs, USHAs, Patwari and others soon.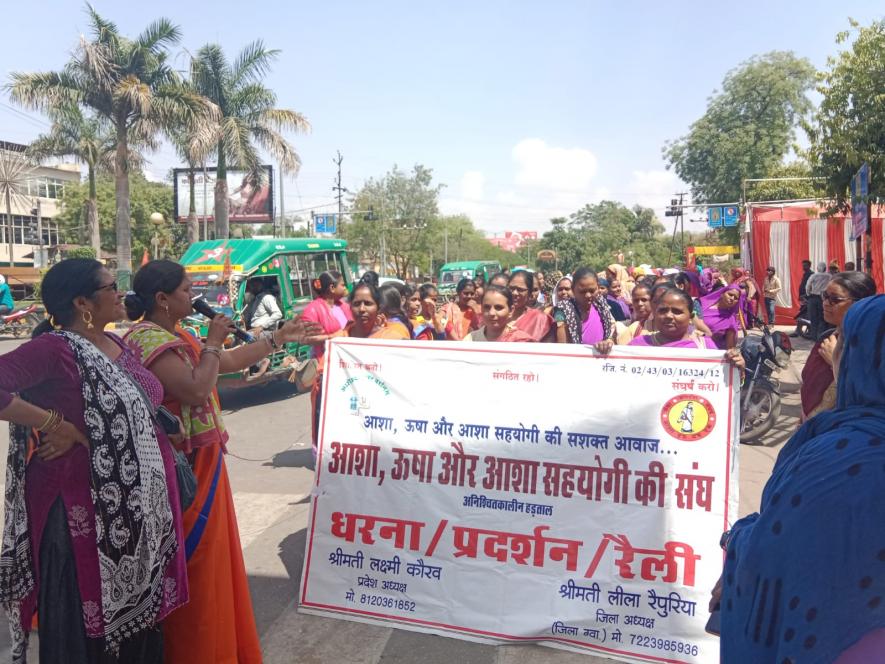 The two-minute video news concluded with the claim that the CM is going to make big announcements in Gwalior including a wage hike for ASHA workers. A bunch of upbeat protestors turned up at the event the following day with prior permission, anticipating an announcement by the CM. But their balloon of excitement burst when CM Chouhan did not make any announcement related to wage hikes but promoted the recently launched Ladli Behna Yojana. The scheme which was launched for women voters ahead of the Assembly polls scheduled in November this year, offers Rs 1,000 a month to women aged between 23 to 60.
The protesters pleaded with the officials present to allow them to meet the CM to hand over their memorandum of demands. But this request was turned down. This allegedly upset the ASHA workers who raised slogans for a wage hike during the event. In the subsequent minutes, they were dragged out of the pandal, allegedly manhandled and booked for creating a 'riot' and behaving indecently at CM's event.
"A group of women from Bhind district, distressed with penury created a ruckus when CM passed them over without listening to their demands. They were in plain clothes, unlike ASHA workers who were wearing uniform saree. The police mistook them as one of us and blamed ASHA workers for the whole episode," explained Laxmi Kaurav, president of the ASHA/USHA State Shramik Sangh.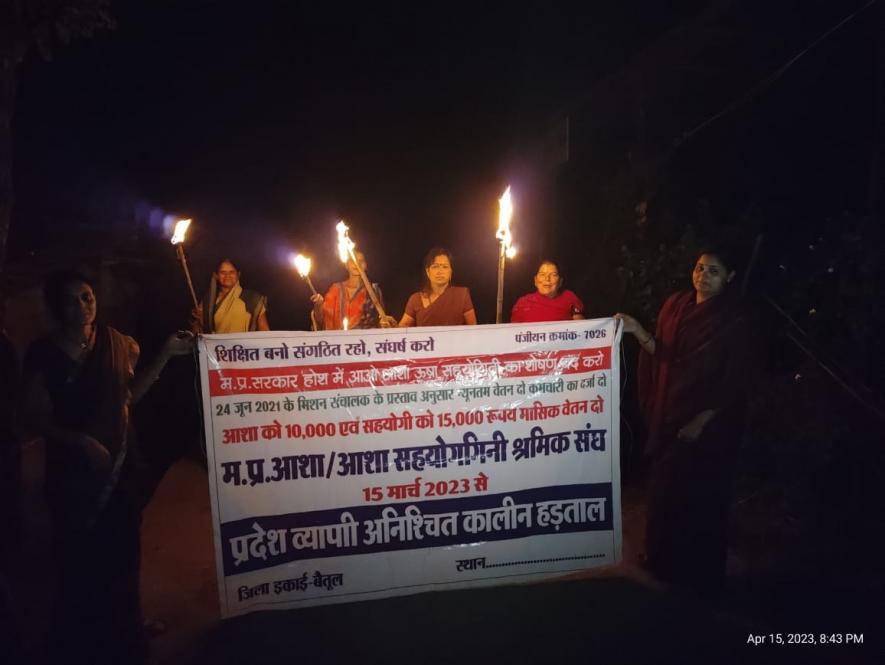 Over two dozen of the protesters received 'show cause' notices following the CM's event. "Officials used this episode to quell the voices of ASHA workers who were on strike. They also sacked key protestors who were vocal with their demands," Laxmi added.
The police booked 10 ASHA workers under Sections 147 (Riot) and 341 (wrongful Restraint) of the IPC on the same day. "Menaf Khan, who was at home because of fasting (Ramazan) was also wrongly named in the FIR. She was terminated without investigation which shows an attempt to target those who have been vocal about the wage hike demand," lamented Rajni Meena, speaking to NewsClick. "She is among the best ASHA workers in the state. She has won many awards and appreciation from the government."
Yet, the protest continued the next day. The FIR and show cause notices did not deter the protestors and it continued till May 15. After 62 days of protest, the ASHA workers called off the strike giving a window of over a month to the government. They submitted their demands including revoking the termination of ASHA workers at the CM House in Bhopal.
"We have submitted our memorandum in the presence of ACS Health Mohammad Suleman, Union Minister Narendara Singh Tomar, Jyotiraditya Scindia, Energy Minister from Gwalior Praduman Singh Tomar and others. Our demands seem to have fallen on deaf ears," said Kavita Solanki, president of the Left-backed ASHA workers' union.
ASHA workers claimed that they have not received their salaries or incentives since January 2023 and they are working without pay.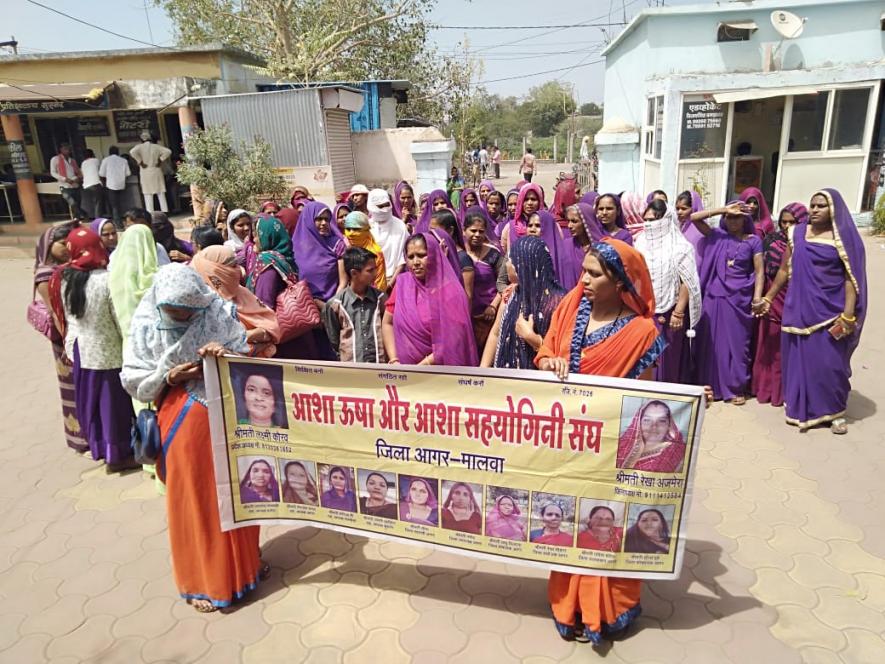 "The show cause notice mentioned laxity and negligence towards the work when we were on the strike. But the termination letter says that they were sacked for the fallout of the FIR," Laxmi contended.
CMHO Manish Sharma admitted that the ASHA workers went on the strike with prior information.
"Can an employee be sacked over false FIRs?" asked Laxmi. "Dozens of FIRs under serious charges are lodged against IAS, IPS officers and senior bureaucrats. Yet, they enjoy their posts. But ASHA workers were made scapegoats for demanding a wage hike in the election year."
Menaf and Rajni who are looking for private jobs to make ends meet are worried about their children. One has taken a loan from a relative to put food on the plates of their children and another has become dependent on their aged parents.
When asked about their termination, CMHO Sharma said, "We have already started the process to fill those vacant posts. The complaints were pouring in against them that they were not performing their duties properly lately."
 Speaking to NewsClick, Menaf said, "On the one hand, CM Chouhan claimed to have been empowering women with Ladli Behna Yojana and self-help groups and on the other hand, their erring officials have terminated Ladli Behnas for demanding a wage hike."
Get the latest reports & analysis with people's perspective on Protests, movements & deep analytical videos, discussions of the current affairs in your Telegram app. Subscribe to NewsClick's Telegram channel & get Real-Time updates on stories, as they get published on our website.
Subscribe Newsclick On Telegram