Ashoka Controversy: Prof Gilles Verniers 'Forced' to Leave, Trivedi Centre Board Announces Dissolution
The Board was allegedly not informed and consulted regarding critical decisions regarding the Trivedi Centre for Political Data.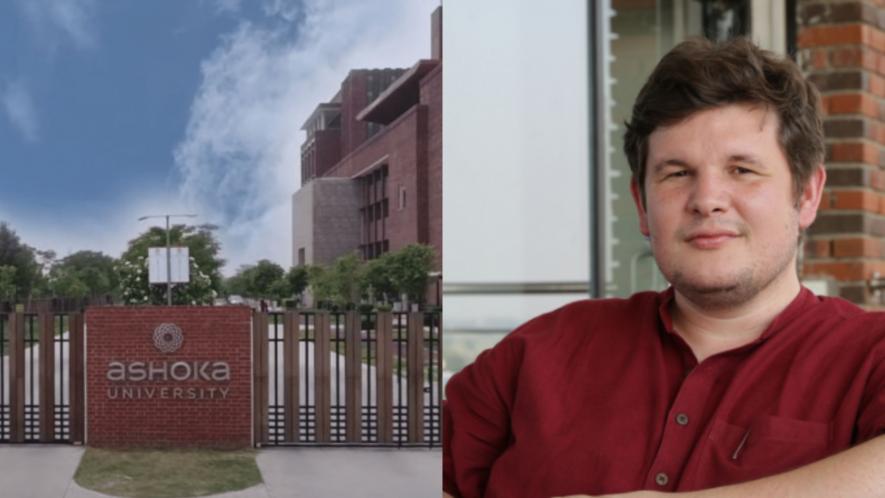 Delhi: In a recent open letter that has stirred the academic community, the Trivedi Centre for Political Data (TCPD) at Ashoka University announced its Scientific Board's dissolution after its founder and director, Professor Gilles Verniers, was "forced to leave".
At the heart of this decision lies a profound sense of disappointment and dismay among the board members, who were allegedly neither informed nor consulted regarding critical decisions that have far-reaching implications for the future of TCPD, a pioneering institution in the realm of Indian political data and research.
The abrupt departure of Professor Gilles Verniers and the subsequent lack of communication and consultation with the Scientific Board has cast a shadow of uncertainty over TCPD's future. The Scientific Board comprised esteemed academics from across the globe and even a former Indian chief election commissioner.
The open letter by the Scientific Board cites Prof Verniers' "forced" departure and "breach of academic norms" as a breaking point. It says, "TCPD's vibrant and important agenda, under the leadership of founding Director Professor Gilles Verniers, is what attracted each of us to serve on its Scientific Board, and contribute to its intellectual mission. We now write to state our regret that the Centre's founder and director was forced to leave, and that the university did not inform the Centre's scientific board about decisions that affect not only the leadership of the Centre but also its future as an institution."
The letter raises key questions about the role of academic institutions in nurturing research endeavours and the necessity for transparency and dialogue within academia.
"...we were surprised and disappointed that we, as the Scientific Board, were not consulted before substantial changes were made governing how the Centre is run and situated within its home institution, in breach of academic norms," the letter says, announcing the board's dissolution.
"Under such circumstances, we, signatories of this letter, are dissolving TCPD's Scientific board. We commit to supporting Gilles Verniers' and his partners' efforts to maintain the future and the integrity of the data and of the work associated with it," it adds. The letter was signed by the noted board members, including TCPD Chairperson Christophe Jaffrelot, Research Director at CERI-SciencesPo/CNRS and Professor of Indian Politics and Sociology at King's College London.
The story of TCPD is intrinsically tied to the visionary leadership of its founder and director, Professor Gilles Verniers. Over the course of seven years, under Verniers' guidance, TCPD changed the landscape of Indian political research. It provided real-time, high-quality, open-access data on Indian elections, changing the process where scholars had to wait for Election Commission of India reports, often in less-than-optimal formats.
"Currently, data made public through the TCPD website is a primary source for nearly all scholarship and commentary on Indian politics," the letter mentions.
The letter underscores the significant impact of TCPD's data on scholarship and journalism, stating that it is a primary source for nearly all research and commentary on Indian politics. 
The open letter also highlights Prof Verniers' pioneering work in building TCPD and making it a hub for Indian electoral politics research. It mentions that TCPD received recognition and awards for its contributions to public data, such as the Lipset/Przeworski/Verba Best Dataset Prize from the American Political Science Association in 2023, a prestigious accolade in the field.
TCPD also played a key role in nurturing the next generation of scholars, having mentored a substantial number of interns, primarily from Ashoka University, where it was housed. 
The dissolution of TCPD's Scientific Board serves as an important reminder of the delicate balance between institutional governance and academic freedom. 
This development comes on the heels of other controversies around Ashoka University. In August, Pulapre Balakrishnan, a professor in Ashoka University's economics department, resigned in the wake of controversy surrounding a research paper by his colleague, Sabyasachi Das, who has also recently resigned. Das's research paper, titled "Democratic Backsliding in the World's Largest Democracy," had sparked a debate as it suggested that the ruling Bharatiya Janata Party secured a disproportionate share of closely contested parliamentary seats in the 2019 Lok Sabha polls, particularly in states where the party was in power. The university initially distanced itself from the paper, leading to Das's resignation.
In response to these developments, Ashoka University faculty members, particularly from the Economics Department, have voiced their concerns. They have written an open letter to the university's governing body, warning that its "interference" in evaluating the research could lead to a faculty exodus. The departments of English and Creative Writing have also lent their support to the demand for Das's reinstatement, stating their inability to carry out teaching obligations without addressing concerns about academic freedoms.
Get the latest reports & analysis with people's perspective on Protests, movements & deep analytical videos, discussions of the current affairs in your Telegram app. Subscribe to NewsClick's Telegram channel & get Real-Time updates on stories, as they get published on our website.
Subscribe Newsclick On Telegram