Asia's Largest Animal Fair Reels Under Agrarian Distress
Sonepur's animal fair is filled with many dying breeds.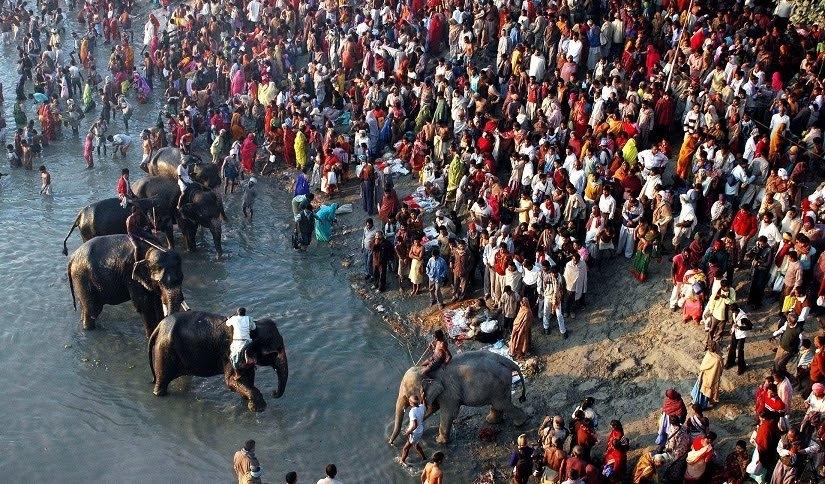 Asia's largest animal fair, the Harihar Kshetra Mela held annually at Sonepur in Saran district of Bihar, is a major event in India's agrarian calendar. Farmers and traders of all sorts of animals, from cattle to horses and elephants to goats, await all year for the fifteenth day of the month of Kartik in the lunar calendar. This day marks the beginning of the fair, which spans November and December, at the confluence of Ganga and Gandak, 50 km east of the state capital Patna. This year the fair was inaugurated on 11 November and will go on until 11 December. 
Not all is well at the Sonepur fair this year. Inactivity and dullness pervade its cattle market. Mohammad Raja, a cattle trader from Saran, says that hardly any buyers have made inquiries about the ten cows he has brought with him. A few years ago, Raja recalls, he sold at least 50 cows in the first seven days at Sonepur. Today, the situation has reversed. "I have not sold a single cow. There is an intense economic decline due to which nobody is buying or even making inquiries," he says. 
Raja pays Rs 30,000 for a spot in the market, and another Rs 10,000 for a tent. If his cows and calf remain unsold, his losses could cross Rs 1.5 or Rs 2 lakh.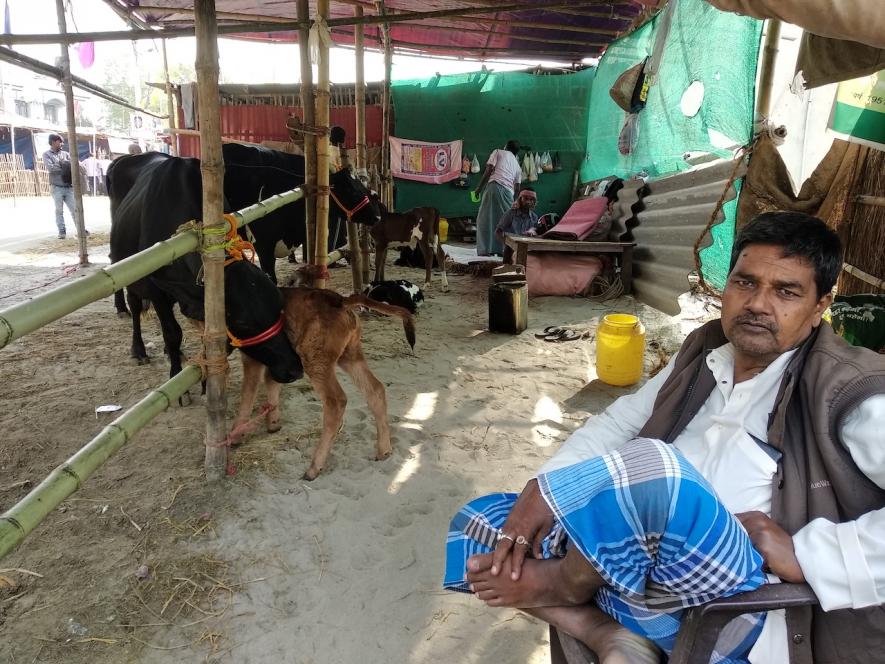 Md. Raja, owner of cows at Sonepur Cattle Fair
The fear of cow-protection mobs, known as gau rakshaks, is another factor behind the falling demand for cows. Several people have been lynched by mobs in Bihar while they were transporting or grazing cows. The trade in all kinds of milch animals has been ruined by the violent mobs and the fear they have instilled among buyers and sellers. Traders like Raja, if they are not able to sell their cattle, have to contend with an arduous return journey with their dangerous payloads.
There was a time when Sonepur would host 35,000 oxen and 10,000 or more cows and buffalos. Modern tools have made oxen (and male calves) irrelevant to farming. Naturally, their numbers have been falling at the fair. But cows from Punjab and Haryana, which are famous for their high milk production, were the crowning glory of Sonepur fair. In the nineties, so it was said, a 'river of milk' would flow while it was on. This was a reference to the milk that flowed when traders milked their cows on the spot to demonstrate their productivity to prospective buyers. Today, the craze for cows and all methods of promoting their cows, both have vanished.
Horses are sold at Sonepur on a two-acre plot that still has some activity, thanks to the 1,500 horses that have arrived here. In fact, horses are the only section drawing crowds. Of course, in earlier years, 5,000 to 6,000 horses used to be bought or sold here, but now demand has fallen. 
Sonepur's most high-priced horse, Chetak, has been priced at Rs 10 lakh. He stands next to his owner Parmanand Choudhary, from Parbatta in Khagaria district. He has been coming to the fair for the last four years with Chetak, who has won more than 85 races in Bihar. Last year, Chetak defeated muscleman-MLA Anant Singh's horse at the annual race held in Sonepur. "I bought Chetak from Vadodara a few years ago. He is very dear to me. He has filled our house with medals and trophies," says Choudhary, while patting down his prized possession.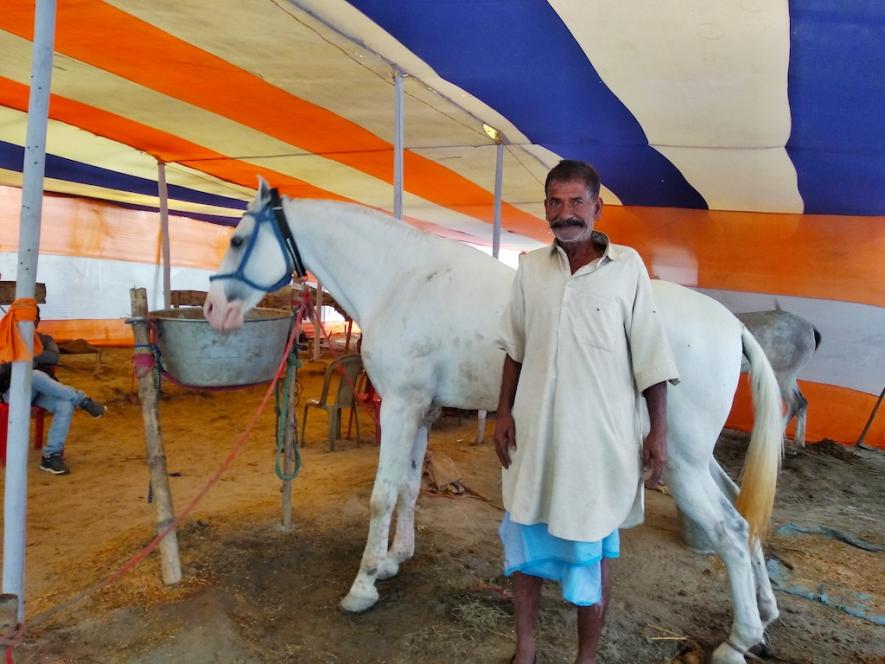 Parmanand Choudhary, owner of Chetak, Sonepur fair's costliest horse
Choudhary's nephew Chhotu currently rides Chetak. The horse drinks four kilos milk, 1.5 kg pure ghee, 2.5 kg of gram peas, 100 almonds and 100 grams of honey a day. This costs Rs 50,000 a month. Now a days, he says, keeping a horse such as Chetak can only be a marker of the owner's status.
The Goat market is somehow surviving. Sattar Warsi, a goat trader from Raebareli in central Uttar Pradesh, is camping at the fair for a month. "The market is slow compared to previous years but goats are still more in demand than cows or buffaloes," he says. During his long stay at the Sonepur fair, he wants to earn as much as he can—that way, he will know whether coming to next year's fair is worthwhile or not.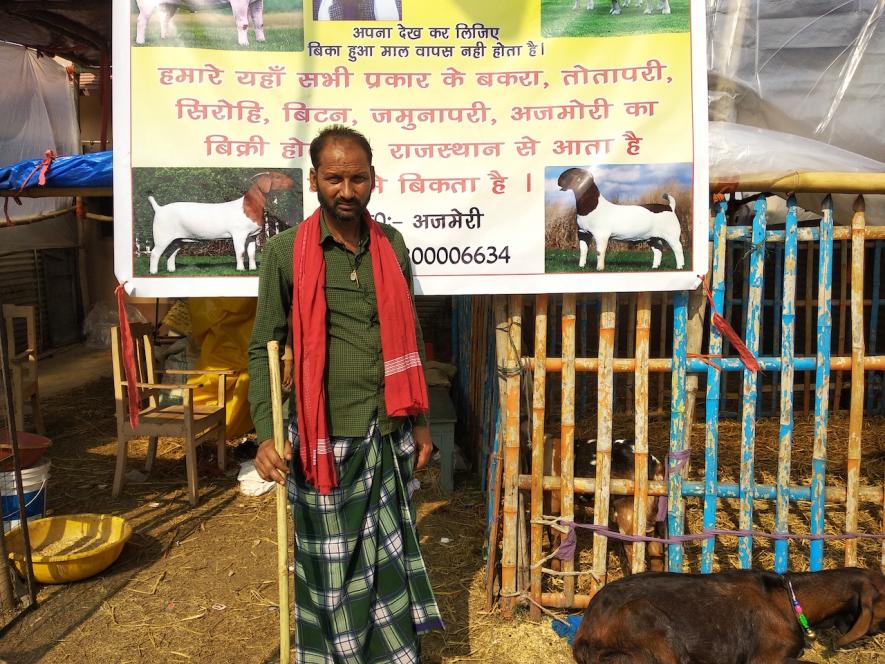 Sattar Warsi, Goat Trader from Rae Bareilly, Uttar Pradesh
This year, Sonepur Mela's once-famous haathi bazaar or elephant market wound up just six days after it began. This trade is losing its gloss, says Gopal Shankar Singh, who hosts the elephant fair on his land. The reason is the forest department and local administration barring the sale and purchase of elephants. Said to be a 1,000-year-old trade, the elephants are considered a sacred symbol of the fair. Until 2003, the Sonepur Mela would commence only after elephants were given ceremonial baths on the first full-moon day that marks the beginning of Kartik. 
Now these traditions have fallen into a deep silence. The Wildlife (Protection) Act, 1972, is being strictly enforced. It is prohibited to transfer ownership certificates for elephants. Raja Babu, an elephant owned by Bhupendra Singh, a resident of Gopalganj district, was the last elephant to leave the fair on 17 November. Singh told NewsClick, "It is sad to accept that the most famous attraction of Sonepur, its elephants, have had to exit in just a week."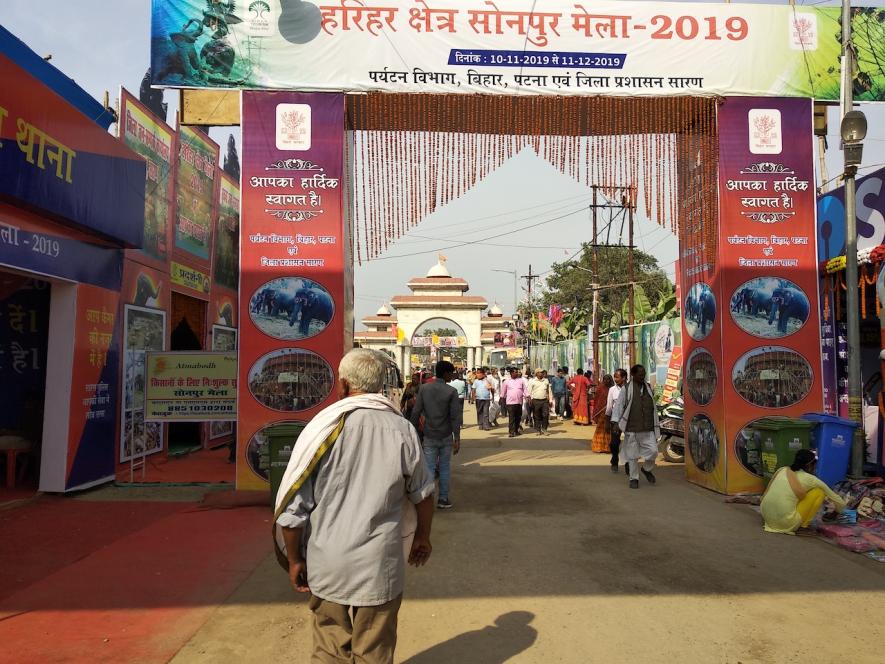 Entrance of Harihar Kshetra Mela or Sonepur Fair
The tuskers were the main attraction for foreign tourists coming to Sonepur during the fair. It is not surprising that the numbers of foreign visitors are also drastically low this year. There were 92 foreign visitors in 2001, only 14 in 2015 and this year a meagre seven came to visit the elephants. In all, 22 foreign tourists, including 11 from France, visited the Sonepur fair between November 12 and 16.
Managing the large gatherings at Sonepur Mela was always tough: To make the fair a success, all stakeholders from the government, to the Panchayati Raj Institutions and community organisations come together. This mela is generally regarded as a traditional fair, but it draws from two to three million people over a three-square kilometre area. Now the basic character of Sonepur's fair has changed tremendously. Its earlier rural ambience has been lost and it is now a platform to propagate government schemes. It has also lost its rustic appeal and that has been replaced with modern technology and paraphernalia to promote the government.
The writer is a freelance reporter and informal researcher based in Bihar. The views are personal.
Get the latest reports & analysis with people's perspective on Protests, movements & deep analytical videos, discussions of the current affairs in your Telegram app. Subscribe to NewsClick's Telegram channel & get Real-Time updates on stories, as they get published on our website.
Subscribe Newsclick On Telegram