Aspirants and Former Fellows Slam Govt Move to Scrap Minority Fellowship for MPhil, PhD
The MANF fellowship was aimed at providing financial assistance to students from six minority groups--Muslims, Christians, Buddhists,
Jains, Parsis and Sikhs--to pursue MPhil and PhD.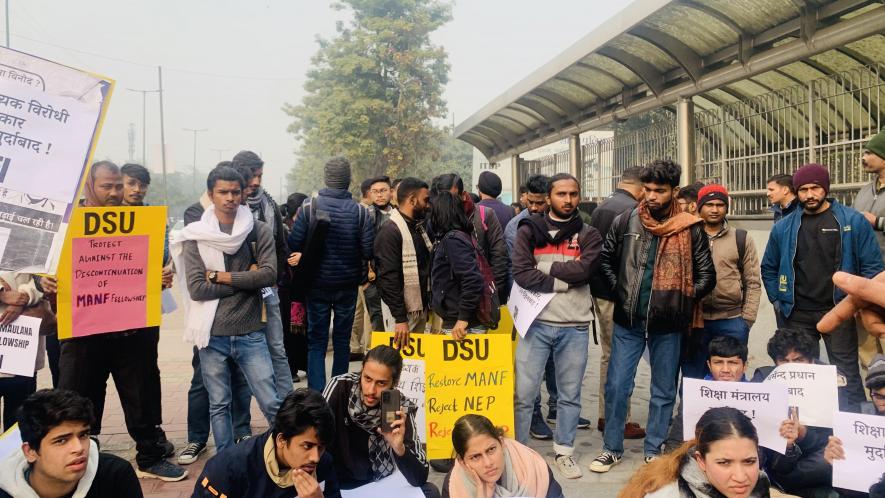 Delhi: Due to the scrapping of the Maulana Azad National Fellowship (MANF), many students who come from financially marginalised backgrounds have lost access to higher education and research. The government states the presence of other fellowships as the reason behind the cancellation, but students claim otherwise.
Back in 2009, the fellowship was announced to provide financial assistance to students from six minority groups, namely Muslims,
Christians, Buddhists, Jains, Parsis and Sikhs, to pursue MPhil and PhD. The fellowship helped many receive assistance to complete their education, pursue academics and do well in their careers. Many moved abroad, and others are well placed in their respective fields across the country.
"MANF is what I will be indebted to for the rest of my life," said Vani Xaxa, a recipient of the fellowship back in 2011, while speaking
to NewsClick. Students who have received it in the past narrated how important the fellowship was for them and how it changed their lives.
The aspiring minority fellows from far-flung belts of the country faced a big jolt when the ruling regime, in December 2022, decided to scrap the fellowship altogether. "I now cannot imagine continuing my education any further. I had plans to do my MPhil, but now, I do not see a way to do it," said Yunus, a student from Kishangunj, Bihar. The Minority Affairs Minister Smriti Irani said that the fellowship overlapped with the other schemes, and hence, it had to be cancelled.
Protests erupted over the government's decision, and very soon, students from different universities in the national capital were on
the streets. The story of this fellowship extends to both the ones who have received it in the past and the ones who were supposed to get it.
Vani from Kolkata, who got married in Chattisgarh's Jashpurnagar, had given away the hope of pursuing her PhD until she learned about MANF. Unlike most other scholars, the journey of pursuing her research began at the age of 37, when she had to take care of two kids while continuing her education alongside.
"I wouldn't buy a pressure cooker to avoid the noise which could wake my kids up late at night when I prepared my supper. I would study below the table where I placed my lamp to avoid any lights that could wake my three-year-old," narrated Vani as she was reminded of the days when she pursued her PhD.
Vani's life, she told NewsClick, was very different back then. Amid all the crisis she was undergoing, with the support of family and
friends, she somehow managed to have the courage to place her proposal for MANF. Since, in 2011, Chattisgarh had only three seats for the fellowship, middle-aged Vani was sure she would not be selected. On January 2, 2012, a friend from Hyderabad called her to give her the good news that she had been selected as a fellow. "I could not hold myself back. It was like the student inside me was alive again, full of hopes and aspirations."
To all the students who received this fellowship in the past, it was a boon that acted as a catalyst in their lives and helped them achieve more than they had ever imagined. Students from the agrarian belts of Bihar, scholars from the tribal belts and conflict zones of Jharkhand and Chattisgarh, and women students from Kashmir said they could have never achieved as much had it not been for this fellowship.
"The books are so expensive, the cost of living in a metropolitan city, the fieldwork that the degree demands, and the day-to-day
expenses, all are not possible without any financial assistance," says Waqar, another aspirant of MANF for the academic year 2023-24. For the ones who try to pursue their doctorates without the fellowship, taking tuition or working part-time is the only resort. This comes at the cost of the time they devote. Students post their classes, take tuition for as long as six hours, and only after that are they able to devote time to academics.
Waqar is one such student who has been taking classes to meet his ends. Since the criteria to apply for MANF also changed with the passing years, students had to adapt to the same. He is the first student from his village to reach the level of pursuing a PhD. Parents usually hesitate to send their kids out of the state, but with a little financial assistance, they are relieved and agree to support the students. "This was also the purpose of the scheme, to enable and make higher education more accessible for the minorities who otherwise are compelled to leave academics and start working elsewhere," narrated Waqar.
But even for the ones who did receive it, the implementation of the fellowship in the past few years had not been great. A sense of
exclusion was present there as well. NewsClick spoke with Rida, a PhD scholar from Kashmir who is just left with her viva to get a doctorate degree. But things never came easy for Rida. "I come from a place where it was difficult to get out of the state and assure my parents about my safety. After all the patriarchal challenges, I landed here, pursued my MPhil and did my PhD too. But what I had to face from the authorities is much worse."
Rida further expressed how she was discriminated against at several junctures for being a Kashmiri Muslim woman, and faced problems in getting the fellowship rightfully allocated to her. "I think I earned this fellowship, didn't I? Then why did I have to go from one table to another, one officer to another, and literally beg for my own fellowship?" she asked. Owing to the regular irregularities in the transfer of her fellowship, Rida works at a design company as a content writer to sustain herself.
As much as female students faced problems for their gender, it did not come easy for the others either. Shakeel from Uttar Pradesh has not received his fellowship in the past three months. He claims that he had a conversation with the Minority Affairs Ministry personnel, who told him that the recent transfer of fellowships from UGC to the Ministry recently was the reason why it was taking long. "I have savings only until January end. After that, I will either have to quit or start a job to support my research," narrates Shakeel. As he says, there is no definite date given by the Ministry as to when the pending money will be granted to the fellows.
Hearing about the disparities within the fellowship and the recent decision to cancel it altogether, Vani is appalled, but somewhere, she did foresee this. She said, "I could see this coming from the intentions of the current regime. Since the very beginning, it kept
making gradual steps towards cornering the marginalised. This is yet another move to do so. Everyone not being cornered feel safe for now, but sooner or later, everyone will be marginalised."
When she was on her fieldwork, Vani used to take her kids with her to Bastar. "From the travel, a dictaphone to record, printouts and photocopies, to stay, and everything else, to and fro Delhi, nothing would have been possible had it not been for MANF." A huge contrast can be observed when one wants to secure a doctorate while coming from a minority and financially marginalised background. The research material itself is expensive, let alone taking their loved ones along to fieldwork or supporting their family financially.
All the scholars and the aspiring ones that NewsClick spoke to see the government's move as an attempt to prevent them from getting higher education. The BJP regime has been criticised not just for MANF, but also for the dilution of other pre and post-matriculation scholarships for the marginalised communities. With the cancellation of MANF, research work by the minority groups of the country now stares at a bleak future.
Get the latest reports & analysis with people's perspective on Protests, movements & deep analytical videos, discussions of the current affairs in your Telegram app. Subscribe to NewsClick's Telegram channel & get Real-Time updates on stories, as they get published on our website.
Subscribe Newsclick On Telegram