Assam on the Boil as NRC Updating Gives Rise to Insecurity
Thousands struggle with documentation and procedures, while over 1,000 locked in detention camps.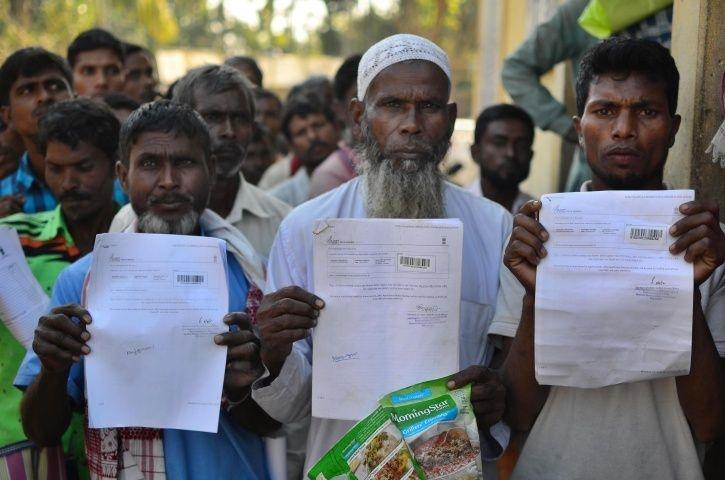 Assam is on the brink of a crisis that may tear apart the social fabric of this sensitive and strategic Northeastern state of India. Insecurity, uncertainty and trauma are looming large over sections of the people, mostly the very poor and deprived. The crisis is centred around two issues: the National Register of Citizens (NRC) and the Citizenship (Amendment) Bill, tabled in Parliament on July 15, 2016.
The NRC updating work – which is being supervised by the Supreme Court – began in 2015. All citizens registered in India before the cut-off date – midnight of August 24, 1971 – are legitimate Indians citizens. All individuals who have entered Assam after this cut-off date will be legally declared 'foreigners'. The cut-off date was decided under the tripartite Assam Accord between the then Rajiv Gandhi-led Congress government, the state government and All Assam Students Union (AASU), in 1985.
While the process of record-verification was seen as fair and objective, according to widespread perception, including within the civil society, problems started arising after the BJP won the assembly elections in April 2016. The new government fast-tracked the work, but also – allegedly – started tinkering with the process, giving it an undesirable tilt and creating difficulties for many poor people. Accusations of partisanship and arbitrariness began to plague Assam.
It is a massive, complex and difficult exercise. Unofficial estimates claim that as many as 35 lakh people might be directly or indirectly involved. Already, according to official estimates, 1.25 lakh voters have been presumed 'doubtful voters' – also known as 'D-voters'.
Also Read: With Final NRC Draft to be Released in 20 Days, Assam Witnessing Rise in Suicides
The NRC released its first report on December 31, 2016, in which 1.9 crore of 3.29 crore applicants were declared as 'Indian citizens'. The second and final report (to be reportedly revised in December 2018 after claims and verifications) was slated for release on June 30, but has been postponed till July 30, due to the floods, as stated by the authorities.
In the background, looms the Citizenship (Amendment) Bill backed by the BJP. It seeks to provide citizenship 'to illegal migrants' from Bangladesh, Afghanistan and Pakistan, who are of Sikh, Parsi, Buddhist, Jain, or Christian origin. Muslims, or its various sects and communities, are not included in this Bill, including those who are facing persecution in Pakistan, such as the Shias and Ahemediyas. It is being vehemently opposed by the All Assam Students' Union(AASU) and its political front, the Asom Gana Parisad (AGP), an ally of the ruling BJP in the state. The NRC is backed by both the BJP and the AGP.
AASU's founding President Prafulla Mahanta, who has been chief minister of the state twice, told Newsclickin an interview in Guwahati on June 29, "The AGP will break the alliance with the BJP if it pushes the Citizenship Amendment Bill."
Thousands are under the scanner of the Assam Border Police and the hundred Foreigners' Tribunals (FT). They have to reportedly supply 16 valid documents to prove their Indian identity. If they wish to appeal, they have to approach the one-judge divisional bench of the Gauhati High Court, led by Justice Ujjal Bhuiya. Most, especially the poor and illiterate living in distant villages and interiors, and those who seem to be directly affected, find this entire exercise difficult. If the high court bench rejects their appeal, they have to go back to the tribunal.
If their appeals are rejected in the final instance, they are declared as a 'foreigner' and packed off to jail – which serve as detention centres. In the six 'Detention Centres' in Assam, they have no prison rights, and are treated as 'undertrials'. They are condemned as 'foreigners' even though doubtful voters are legitimately under scrutiny because of technical or official anomalies in their documents. Local lawyers call their detention "illegal".
Most affected are Bengali-speaking Hindus and Muslims. Reports suggest that the NRC process is directly having the most impact on religious and linguistic minorities.
Also Read: Assam's NRC Officials 'Fudging' Data to Make People Indian or Foreigner?
In the rest of India, according to activists, the NRC is governed by Rule 4 of the Citizenship Rules, 2003. The NRC staff thereby has to go door-to-door to verify citizenship documents and testimonies. Under Rule 4A, which is specific to Assam, in each area (gram panchayat), NRC Seva Kendras are set up where residents have to take a form, fill it up and submit with documents. The onus is on those who are 'doubtful' etc, to prove their citizenship.
Who are D-voters?
The Border Police has been working since 1962 and the FT came into existence in 1964. During surveillance, if the Border Police finds anyone's citizenship doubtful, it chargesheets the person and sends the case to the SP(B) concerned, who then refers the matter to the FT and the tribunal summons the person to prove his or her citizenship.
Under the Foreigners Act, 1946, the Assam Police and Assam Border Police have the responsibility to verify ground reports under their police jurisdiction. They can file a case while giving grounds for doubt, then the FT sends notices.
There are allegations that the officers randomly pick names from electoral rolls, sitting in police stations, to declare people 'doubtful' without any investigation. Religious and linguistic minorities – alleged locals – are "framed" and "targeted".
There are other ways in which people can end up before the FT. The Election Commission introduced the 'D-voter' category in 1997. During revision of electoral rolls, EC-appointed LVOs (Local Verification Officers, who generally work on contract basis) can declare a person doubtful. Their report goes to the ERO (Electoral Registration Officer), who then sends it to the SP(B) concerned, who refers the case to the FT and the tribunal serves a notice to the 'doubtful' citizen.
According to civil society activists, the concept of 'D-voter' is only in Assam. Earlier, it was the complainant who bore the burden of proof, but now the burden of proof has shifted onto the accused.
Enumerators allegedly go to village headman's house and take all the names, so there are some discrepancies. Besides, they don't understand the difference between surnames such as Khatoon (who are unmarried), Begum (married) and Bewa (widow). The surnames of women keeps changing – as a cultural practice – based on her marital status. It leads to name mismatches in official records.
During preparation of the National Registerof Citizens (NRC), a report can be made of person(s) not being able to provide paperwork. This too goes through SP(B), and the person ends up before the FT, which serves notice to the person concerned.
Family tree – a tool to harass people
The FT has added the requirement of mapping a family tree history. As many as 16 documents were accepted earlier, but now, activists allege, the family tree legacy is an addition. The detention of 'foreigners' are done by the FT according to Foreigner Act 1946 (Act didn't have many amendments).
People complain that they have not got notices. The officials argue that the allegation is baseless and notices are uploaded online. But most have no access to Internet. If, thereby, they miss the hearing, since they have not got a documentary/written notice, they can be declared 'D-Voter' ex parte.
There was a reported case at Tarapur village in Cachar District, wherein a married woman died in 1982 at the age of 32-33 years. The Border Police probed in 1984 and said in 1996 that she is a foreigner. She had died two years before the probe and was declared foreigner four years after her death. Similar cases verging on tragic absurdity stalk the rural landscape.
The Foreigners Tribunal judge can only give opinion, according to human rights activists in Guwahati. They can't pass a judgement. In many cases, this principle is being flouted, according to villagers.
In Nalbari District, the divisional bench of the high court reportedly sent 84 cases back to the tribunal for review, according to activists.
Also Read: Assam: How Citizens Are Being Turned Into 'Foreigners'
Tea garden labourers, some of the tribals, or people from Bengal/Bihar/Jharkhand, others of Assamese origin, were not included in the NRC draft. Their 'citizenship' remains intact.
Many locals don't have valid documents, due to various reasons: shift in geographical location, erosion of villages, floods, theft, the ravages of time etc. Many women don't have birth/school/electoral evidence/certificates, especially when they move to other villages after marriage. Their families might have authentic documents, though. Hence, they rely on panchayat certificates, which have magisterial powers. This can be based on evidence of family tree, local testimonies by elders, neighbours and the panchayat, among others.
For instance, a father may testify that a particular woman is his daughter, which is ratified by the village, official enumerators and the panchayat.
The tribunal and high court had rejected the panchayat certificate. On appeal, the Supreme Court agreed that it is a valid document, with verifications. However, in the current scenario, several cases seem to have come up whereby the panchayat certificate is still not being accepted. People believe it is a gross miscarriage of justice, whereby a certain official bias, prejudice and partisanship is in full display.
NRC Seva Kendra is sending notices for re-verification, but many people are not getting notices. So the Seva Kendras are marking them absent, and the status of case is noted as pending. There are apprehension that lakhs of people therefore might be left out of the second NRC draft.
Civil Right activists say that when they assisted some people and met the concerned officials, some cases got corrected.
Supreme Court-appointed NRC State Co-ordinator is Prateek Hajela, an IAS officer who is working under the supervision of the apex court. People admit that his task is difficult, but they argue that he has to be unbiased and objective, and check out anomalies and prejudiced behavior on the ground by the officials and police, who are driven by "partisan agendas" or "vested interests", allegedly due to loyalties with the ruling regime.
He has given the impression that people can appeal and the process will be fair and foolproof. However, security forces have been deployed in some areas. There have been flag marches and mock drills. Activists argue, that if the process is fair and foolproof, why this show of military power?
Even former Chief Minister Tarun Gogoi told Newsclickthat "this is unprecedented in the history of democratic Assam". He said that Prime Minister Narendra Modi had declared in his election speeches before the assembly elections that all Bangladeshis should be deported. "So why has he failed to do so?"
He also said that those who are bona fide Indian citizens – according to the Assam Accord – should not be hounded and harassed. NRC, he said, is the most democratic product on the migration issue and it has consensus from all groups. Everyone believes in it. NRC was welcomed and celebrated by all groups and stakeholders, he said. Only if the NRC process can be done fairly and successfully, it will lead to resolution of identity politics of BJP/RSS and Muslim groups. Then development issues will come into focus.
However, there have been many cases of harassment, fear and trauma, he said. "Officials have been found to be partisan and prejudiced. They are harassing innocent and bona fide Indians. If so many Bangladeshis are coming, what is the Border Police doing? People will not take it lying down. If they are pushed to the wall, they will fight back," he said.
Ex-Chief Minister Prafulla Mahanta of the AGP also told this reporter that he agrees with the NRC process. "However, some officials might have made mistakes," he said.
Difficulties in proving identity
Land documents (settlement office certificates) are often 100-150 years old. They are often allegedly not accepted or difficult to prove with revenue records shifting/getting lost etc.
Seasonal migrants too face the difficulty in proving their identities. Similar problems are faced by flood-displaced people and other migrant workers. Their temporary address is used to declare them foreigners.
At Jaipur village in Barpeta district, Newsclickmet at least three people whose wives were declared 'D-voters'. These people work in Bongaigao, who were attacked by militants in 1990s and live in a refugee settlement there.
Bengali-speaking Muslisms and Bengali Hindus, including Rajbanshis, original inhabitants and tribals, have allegedly been targeted in the 'D-voter' category with 1997 as the cut-off date.
'D-voter' as foreigner
There are six detention camps, which are not separate camps, but a part of district jail. There are approximately 1,000 people in the detention camps in Tezpur, Silchar, Jorhat, Goalpara, Dibrugarh and Kokrajhar (only for women). The inmates have no prison rights; they are treated as undertrials.
According to sources in the Goalpara District Jail, there are 239 'foreign nationals' in the detention camp – of which 195 are 'D-Voters'. Local lawyers are of the opinion that declaring a 'D-voter' as foreigner, whose case is still being verified, is "illegal". Thereby, this detention is a constitutional violation.
Hari Das, 60, a Rajbangshi by caste who belongs to Bamanvita village in Barpeta had his name in voters' list. He was declared a 'D-voter' in 1997. He approached the court after he came to know about it, but the court reportedly directed him to wait till he gets a notice.
His wife too got a notice from the Foreigners Tribunal two years ago, fought case and got court decree clearing her as Indian.
His brother Buddeshar Das, 51, got a notice nine months ago. His case is in district court. The nationality of his wife Gitarani Das has also been doubted, and she got a notice nine months ago.
His third brother Roshik and a sister are declared Indians. Das's daughter, 32, has been declared Indian, but his son who is 18-year-old got notice nine months back. The case is under trial.
Foreigners' issue – a political instrument to win polls?
The issue has so far found prominence in the election manifestos of the BJP and Badruddin Ajmal-led All India United Democratic Front (AIUDF). The BJP is backing the Hindus while the AIUDF, the Muslims.
When the then Prime Minister Indira Gandhi visited Assam in 1983, she had said the Foreigners Act, 1946 cannot protect minorities. Therefore, FT was set up in 1983 under the Illegal Migrants (Determination by Tribunal) (IMDT)Act, enacted by the Congress government in the same year.
When the AGP were in power from 1985-90, they could not detect a single foreigner. It came to power again in 1991, it could have repealed IMDT Act, 1983. It was later struck down by the Supreme Court in 2005 in Sarbananda Sonowal Vs Union of India case.
Following this, no alternate act was made to "safeguard minorities". Activists and lawyers in the state demand that those judges of the high court who are from outside Assam be appointed FT members to safeguard minorities.
"Many current appointees are former AASU members and are biased. After the chief justice, Ujjal Bhuyan is the senior most judge. The roster is not rotated so that other judges get a chance to hear the foreigners' matter. He is also training all SPs in camps and is learnt to have said the matters discussed in these camps should not be disclosed. He gave directions in the garb of training. This is violation of Judge's Protocol," they added.
What experts say
Professor Hiren Gohain,a noted social scientist in Assam, told Newsclickif one particular document has been found invalid, it doesn't mean that the government can throw them (the alleged foreigners) to the wolves. "They are poor men and women, and in India, poor people usually have no documents. There should be natural justice and they should be given a chance to prove their credentials," he said adding that "unceremoniously herding out those found to be non-citizens as a bunch of cattle is impractical and impossible. So, we are not asking for it. Citizenship should be confined to people who have a legitimate entitlement to it. Those found non-citizens can still be residents of the state. It happens in many societies across the world; people go to those countries to live and work, have certain rights. They can't be criminally assaulted, can find employment, etc. If required, why not issue work permits to them?"
In order to relieve local anxieties, he said, citizenship should be limited in Assam until March 24, 1971, as per the Assam Accord. "I completely believe in it. Also, once we have an updated NRC, I hope and I believe that we shall find the exact number of immigrants residing in different districts of the state," he said.
"Many Hindu chauvinists keep saying that Muslims are going to be in a majority in the state in coming years. This theory is based on fear. An updated NRC will tell us the exact number, and will address that fear factor," he added.
Peasant leader Akhil Gogoi too accused the BJP and the AIUDF of allegedly pushing for the inclusion of foreigners in the updated National Register of Citizens, 1951.
"Those who want to derail the NRC update, are working against the interests of the state. The completion of the NRC update is a must if we have to resolve the foreigners' issue, which is the source of most ills afflicting Assam. Not only will the NRC update help resolve the sensitive foreigners issue, but also pave way for a much stronger Hindu-Muslim unity in the state," he told Newsclickin an interview in Guwahati.
"Those trying to oppose the process are in some way or other working against the state's interests. We warn such forces not to indulge in such anti-Assam activities. The BJP is backing the Hindus while the AIUDF the Muslims, even if they are foreigners. We will not allow this," Gogoi added.
Also Read: Updating the National Register of Citizens (NRC) in Assam and What it Means
Get the latest reports & analysis with people's perspective on Protests, movements & deep analytical videos, discussions of the current affairs in your Telegram app. Subscribe to NewsClick's Telegram channel & get Real-Time updates on stories, as they get published on our website.
Subscribe Newsclick On Telegram