Assam: CITU, AIKS lead State-wide Campaigns Onwards to Delhi Rally on April 5
The participants are looking to raise some Assam-specific demands in the rally, concerning daily wages in Tea gardens, and procurement centres, among others.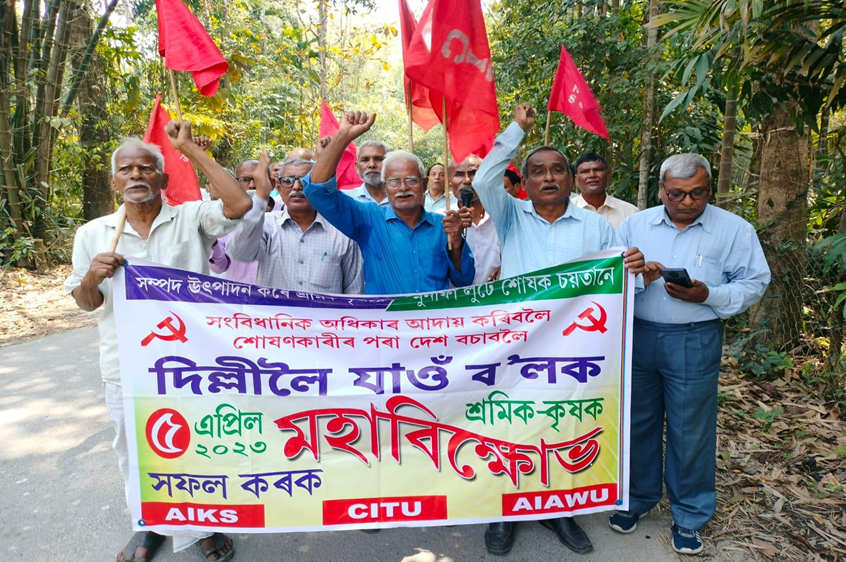 Campaign by CITU, AIKS and AIAWU in Assam for the Delhi Rally on April 5.
Farmers and labour organisations have called for a joint mega rally in Delhi on April 5. The organisers of the rally are AIKS (All India Kisan Sabha), CITU (Centre of Indian Trade Unions) and AIAWU (All India Agricultural Workers' Union).
Farmers and workers from across the country will participate in the politically important mega rally before the 2024 General election. In Assam, the organisers have also intensified campaigns for the event since December 2022. Leaders of CITU and AIKS in Assam told NewsClick that over 2000 people would go from Assam to join the rally on April 5.
Tapan Sarma, the state secretary of CITU, Assam, told NewsClick that the campaign started on December 18, 2022.
"There was a huge workers' gathering in the Bongaigaon district of Assam. The gathering was the start of the campaigns. On September 5, there was a meeting at the Talkatora stadium of Delhi where the mega rally was announced, and we, in Assam, formally started it in December," Sarma said. He said that as of April 1, over 300 people have already started to Delhi to join the rally.
Along with AIKS, CITU and members of the AIAWU, students organisation SFI (Students Federation of India) and AIDWA (All India Democratic Women's Association) joined in the campaigns in Assam. Almost in all districts, campaigns were organised in various forms like cycle rallies, mass gatherings, corner meetings, and door-to-door campaigns at several places, Sarma said.
"We targeted 1 lakh households to be visited during the campaigns. But various factors limited the reach to about 30,000 households. This year early rains and storms, as well as various cultural programmes, slowed the pace of the campaigns," Sarma said.
On February 11, under the leadership of CITU, a huge gathering was organised at the Sonaram field in the capital city of Guwahati.
"This was also a part of the months-long campaigns for the Delhi rally. In the Guwahati gathering, workers, especially those from the construction sector, came out in large numbers with several demands. The gathering was also joined by workers from other sectors like the tea industry, oil sector, scheme workers and the Anganwadi workers," Sarma apprised.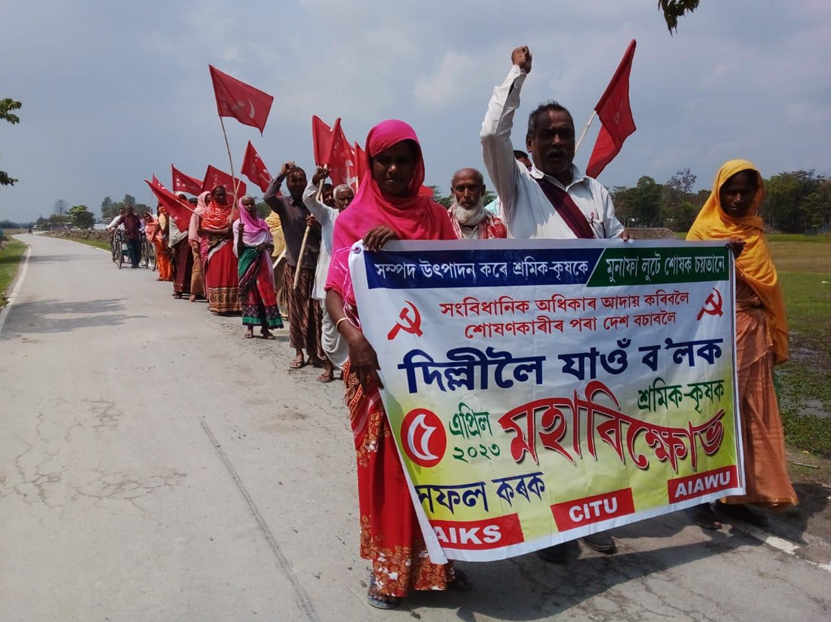 Newclick also spoke to Tiken Das, the leader of Assam Rajyik Krishak Sabha, the Assam chapter of the AIKS. Das said that people's response to their campaigns was inspiring.
"There will be participation from remote areas in the rally in Delhi," Das said, mentioning that workers from several tea gardens and farmers in different districts are the primary focus of AIKS and AIAWU.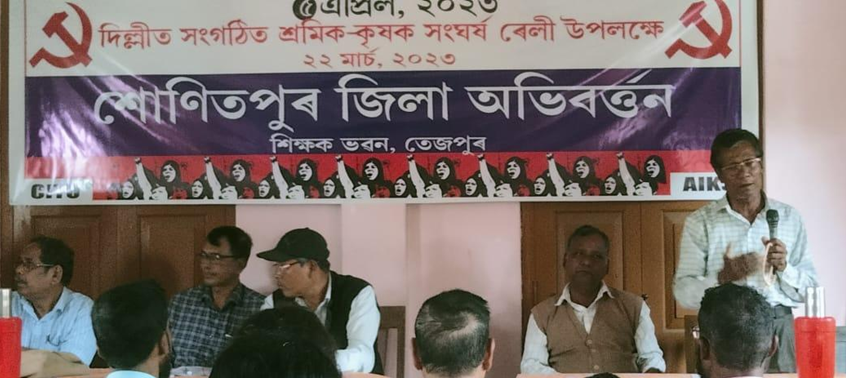 CITU and AIKS District Convention at Tezpur, Headquarter of Sonitpur District.
While discussing the demands, Das highlighted some specific problems that farmers in Assam face yearly.
"The government decided Rs 2,040/quintal of rice. But in reality, our farmers have to sell their produce at a much lower price, at about Rs 1200/quintal. This is a gross injustice. The government of Assam said that 10 lakh metric tonnes of paddy would be procured by it, but the actual figure appears to be around 3 lakh metric tonnes. Moreover, there are corruptions in the form of middlemen who buy the paddy at about Rs 1200/quintal and sell them off at Rs 2040."
Das emphasised that one of their primary demands is establishing at least one procurement centre at every gram panchayat.
"These centres are very limited; in some districts, there are only one or two such centres. Farmers must come from distant villages to these centres, and their paddy is often declared unfit to procure. They cannot return to their villages with their produce. They sell it off at lower prices," Das told NewsClick.
Along with the national demands that the mega rally has, there are some Assam-specific demands that CITU, AIKS and AIAWU highlighted during their campaigns.
"We demand that the Namrup Fertiliser Industry be returned to functional conditions, and the Sualkuchi garment industry be revamped. We also demand an immediate halt over the evictions without prior rehabilitation."
"The tea workers are deprived of all their rights. The daily wage should be Rs 661, whereas they don't even get the amount the government decides, which is Rs 352/day. The tea workers get Rs 232 in the Brahmaputra valley, while in Barak valley, they get Rs 205 as daily wages. We demand immediate government intervention in it. We will also raise this in Delhi on April 5," Sarma told NewsClick.
Get the latest reports & analysis with people's perspective on Protests, movements & deep analytical videos, discussions of the current affairs in your Telegram app. Subscribe to NewsClick's Telegram channel & get Real-Time updates on stories, as they get published on our website.
Subscribe Newsclick On Telegram